After Samsung announced its Bada 2.0 phones back in August, the Wave 3 has made its first public appearance today during the Samsung press event in Delhi. The new device with its totally revamped operating system is sure to be as good as what we saw in the past. Bada 1.0 was great and with Bada 2.0 we expect better applications from more reputed developers and multimedia content from Samsung's services, which Wave 3 has.
Samsung Wave 3 happens to be the flagship Bada 2.0 device and is priced at Rs 19,600. It will be available for purchase towards the end of this month or perhaps sooner.
Wave 3 looks brilliant in its 9.9 mm thick body and weighs less than 130 grams. It has a metal body which adds to both style and durability for long term use as well. Wave 3 has a 4 inch super Amoled display with 480 x 800 pixel resolution at 233 ppi pixel density.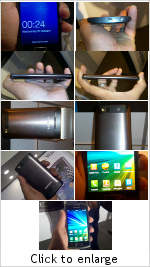 The device looks and feels great with its curved edges and slim profile, which make it easy to hold and operate with one hand. The power and display lock key has also been placed on the side of the device for easy single hand access.
Wave 3, along with the upgraded operating system, has been upgraded in terms of the hardware as well. The new device gets a 1.4 GHz application processor for much faster command processing time coupled with 3 GB of internal memory.
The device also has a 5 megapixel rear camera and VGA resolution front camera. It connects using WiFi, HSPA and Bluetooth 3.0. Wave 3, although priced at almost Rs 20,000 is well worth it.
Watch this space for a detailed review of Wave 3.