Just a couple of weeks back, we discussed why after sale service is important for a smartphone manufacturer. A customer steps into a service centre with some degree of hope, and importantly, certainty. Hope that his/her device will be back running once again, and the certainty that if the repair work is poorly done, she can go back and get it done again.However, sometimes the cost behind it leaves us stranded. A recent case with OnePlus where the company's quoted cost of repair cost even more than smartphone's original cost is a prime example how things can possibly go wrong with after sale service. With a typical smartphone made of hundreds of parts from different manufacturers or OEM's, 'some of the parts being greater than the whole' is a recurring problem.
The Mobile Indian has been tracking the after sales service of different handset brands over the last few months as a part of TMI survey initiative and here is the first part of the report.
In the last few months, wehave knocked the doors of a bunch of Xiaomi service centres across different cities in order to explore the real story behind the spare part costs. We enquired the cost of various spare parts at the service centres and compared it with the cost quoted in Delhi's famous Gaffar Market, the original, and still favoured refuge for cheap phones and repairs. Below is the detailed findings.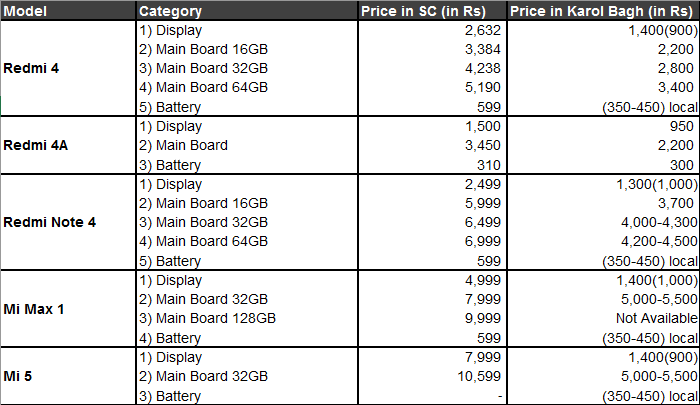 Note: The data mentioned above is based on our findings from authorized Xiaomi service centres.
Quite evident from the table, the price quoted in Gaffar Market is almost half of what is demanded at the service centres. While we looked specifically at Xiaomi service centres here, the story is true for almost all the major handset brands( data about other brands will be shared in further reports). And there is a reason behind it. A device repaired at the official service centre will give you much more assurance compared to what you get a local store. This is because spare parts available at the service centres are shipped directly by the smartphone manufacturer while we cannot claim the same for the third party vendors.
However, most of the customers are reluctant to spend after they have purchased a product. And with such prices quoted at the service centres, people often deviate to third party vendors which in this case is Gaffar market.
During our interaction with the customers present at the service centres, we concluded that most of them had their device under warranty and at the end of the day it does make sense to get your device repaired if it is under warranty. However, once the device is out of warranty, people often criticised the difference in the spare part prices forcing them to opt for local repair shops. In various scenarios, the price quoted at the service centres is about 90-100 percent more than what is quoted outside.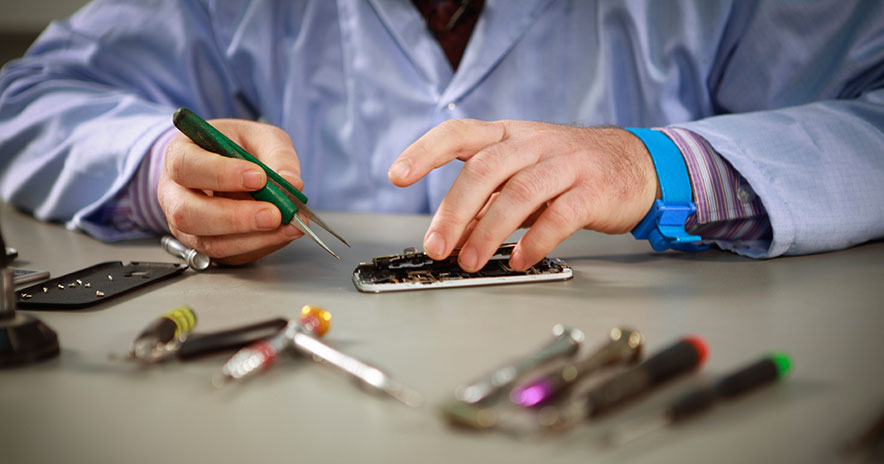 Again, we want to point out here is that you might compromise a bit on quality but a person spending Rs 15,000 on a smartphone would never want to spend another Rs 8-9k on repairs. Consequently, he turns to local shops where it is much cheaper but with a risk of inferior quality. Especially when the 'life'of the product itself is fast running out as per the usual replacement cycle of 12 to 24 months.
This issue has been long disappointing customers in India. We agree, procuring spare parts is not easy, however, more often than not, a lot of OEMs punch in great margin numbers on a spare part price. For example, if a smartphone's display actually costs Rs 3,500, the service centre will probably quote you Rs 7,500 adding up all other costs and a major chunk of their revenue margin. Of course, this issue is not unique to handsets, with the auto service business also plagued by the same challenge. But there, customers end up at official centres because the auto is purchased for a much longer run as compared to a smartphone, plus thereare worries around claiming isurance etc in case of major failure. But on smartphones, the difference is bound to pinch more for obvious reasons.
Another issue which was actually shocking to know is that a lot of service centres refuse to give any sort of warranty post repair or replacement of a particular spare part. Now this varies and depends on the degree of repair, but surprisingly, the local vendors actually give you a greater level of trust. In other words, if your device is out of warranty and you are out there to get its display repaired, the third party vendor will still give you at least a month of guarantee while some service centres refuse to give any kind of protection even on the spare parts, once you leave the store.
So what is an ideal solution here?
Opting for an accidental damage plan might help, but it will then plague you with delayed repair turnover time. Ideally, you should get your device repaired from the service centre during the warranty period, but if the cost quoted is too much for you, third party shops like the ones lined up in Gaffar Market do the job almost as well. Of course, you might not want to take the risk if you plan on continuing to use the phone for an extended period, especially if its a high end model over 25-30K. So what do you prefer, Quality or Cost? Let us know in the comment section below.
Inputs from Parth Pundir and Nirupam Manik