Apple has scheduled a 'special Apple event' on October 13. The company has sent invites which says 'Hi, Speed' and has an Apple logo with a lot of circles around it.
The virtual event will take place on October 13, at 10am PDT, or 10.30pm IST and will stream directly from Apple Park. Apple has not announced what it is going to launch at the event but it is likely to announce new iPhone 12 models.
iPhone 12 Leaks
It also suspected that the 4 circles in the picture of the invite might be pointing towards a quad-camera setup on the back of the new iPhones. A leak by AppleTrack also suggests that the new iPhones will feature enhanced Smart HDR that will be upgraded to 3rd-generation Smart HDR this year.
According to Jon Prosser, the tipster on Twitter, the pre-orders for iPhone 12 and 12 Pro will start on 16th October and they will arrive in stores on October 23rd. The iPhone 12 Pro Max and iPhone 12 Mini should arrive in November. The phones are also expected to come with a hard ceramic shield backglass coating.
Some new leaks have also made their way to Twitter through AppleHub where the expected prices and release date have been revealed. They can be found in the image below.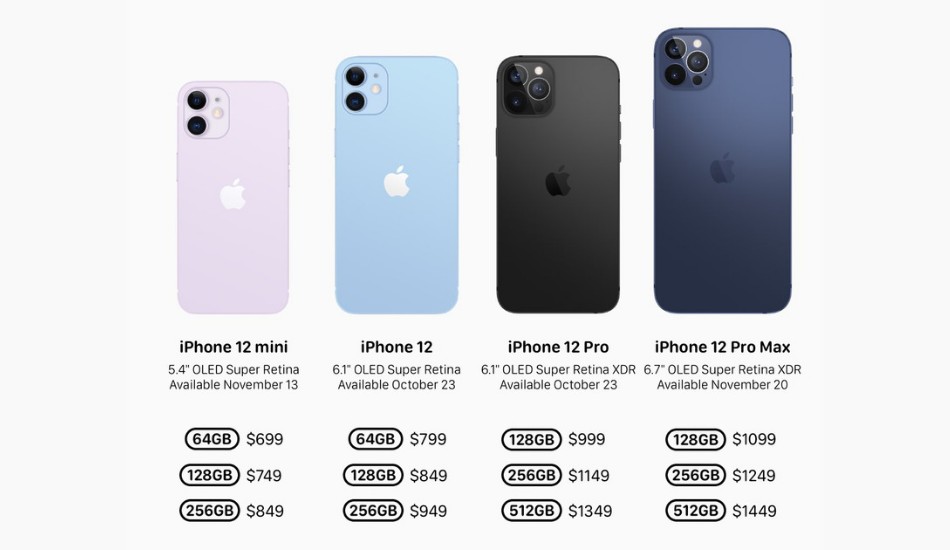 iPhone 12 Lineup
Apple iPhone 12 lineup will consist of iPhone 12, iPhone 12 Pro, iPhone 12 Pro Max, and iPhone 12 Mini. The smallest iPhone with the 5.4-inch display will be iPhone 12 Mini, the 6.1-inch device will be called the iPhone 12 and the remaining two high-end models with 6.1-inch and 6.7-inch displays will be called iPhone 12 Pro and iPhone 12 Pro Max respectively.
Read More: iPhone 12 Series could Skip Charger and Earphones in the Box
The iPhone 12 Mini and iPhone 12 are said to feature a dual-camera setup, while the iPhone 12 Pro and iPhone 12 Pro Max will reportedly feature triple-camera setup. The Pro and Pro Max might feature triple cameras with LiDAR sensor.
In terms of connectivity, all the models will come with support for 5G and will be the first 5G smartphones from Apple. All are expected to feature edge-to-edge OLED display with Face ID support inside the notches. The phones are said to not come with 120Hz displays. iPhone 12 Mini and iPhone 12 storage will start from 64GB whereas the Pro models will begin at 128GB storage.
Apple iPhone 12 Mini is reported to feature a 2,227mAh battery, while the Apple iPhone 12 will come with a 2,775mAh battery. The iPhone 12 Pro is said to feature 2,775mAh battery, while the Apple iPhone 12 Pro Max is said to come with 3,687mAh battery backup.
For the pricing, iPhone 12 Mini is expected to start at $649 while the iPhone 12, 12 Pro, and 12 Pro Max will start at $749, $999, and $1,099 respectively.
HomePod Mini
Another Mini product expected to be launched by Apple is the HomePod Mini which could be a smaller version to its original smart speaker, the HomePod.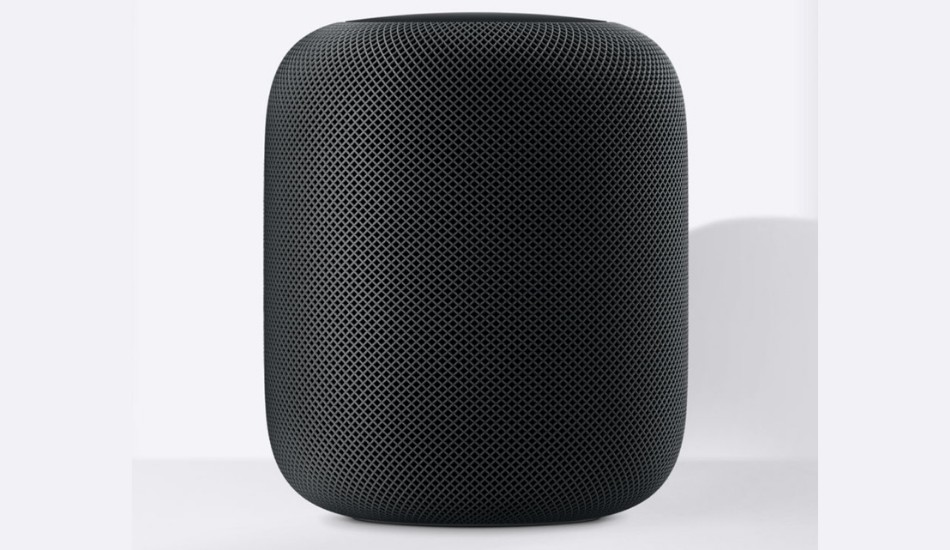 The HomePod Mini could borrow features from its bigger brothers, the HomePod and could come at a lesser price than the HomePod. The original HomePod didn't attract much customers because of its high price point which the HomePod Mini could solve.
AirTags
AirTags are chip like structures that have Bluetooth which can be connected to your smartphone. These tags can be connected to various things like Keys, Wallets, etc and will act as trackers for these devices if you forget them after putting somewhere or lose them.
With AirTags, your iPhone or iPad can find your wallet or keys simply by finding them on the 'Find My' app. The AirTags will have the ability to attach themselves to objects with the help of keychains.
Picture Credits: AppleHub