Apple iPhone 3GS is now an old phone, yet it has got the same incredible quality and user interface that the latest iPhones have. And with Aircel offering this phone for just Rs 9,999, it is even a better deal.
To grab this deal customers will need to pay advance rental of Rs 3,000 in addition to the cost of the phone which will offer them 2 GB unlimited (after 2 GB at a slower 128 Kbps speed) plan for 12 months in 3G circles, and in circles where only 2 G network is available users will get 1000 mins local and STD calls and 2500 local and national SMS along with unlimited 2G data for 6 months.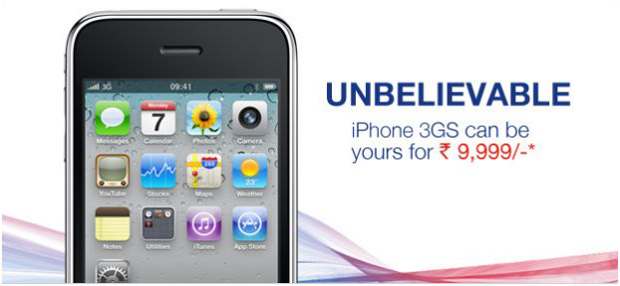 The only catch is that the plan is available only for the postpaid users. While the plan is more attractive for people where Aircel has 3G network is available but never the less 2G offer is also exciting.
If you are in the market for a smartphone with a budget of Rs 10,000, this is the offer that you can safely go for. Aircel offers only unlimited plans and have one of the cheapest 3G plans in the country, so even after 12 months (in 3G circles) or 6 months (2G circles) as the case may be, users will get very attractive data and voice plans.
Till now iPhone 3GS has been available for Rs 19,990 from Airtel and Aircel.