At the Google I/O 2018 event, Google introduced the Android Slices which essentially allowed users to toggle several actions from the Settings app directly from the Google Search bar. The feature was in testing phase until now but Google has started rolling out the same to all Pixel devices running Android 9 Pie which include the original Pixel, Pixel XL, Pixel 2, Pixel 2 XL, Pixel 3 and Pixel 3 XL.
Slices for Android has now been enabled on Android Pie Pixel phones and is expected to come to approximately 95 percent of all Android users dating back to Android 4.4. The feature lets Android users access various Settings-based toggles and adjustments right from Google Search or the Google app. For instance, when searching for "WiFi" or "Bluetooth" on Search, users will be greeted with a toggle to enable WiFi or Bluetooth on their phone without needing to access the quick setting tiles or the Settings menu.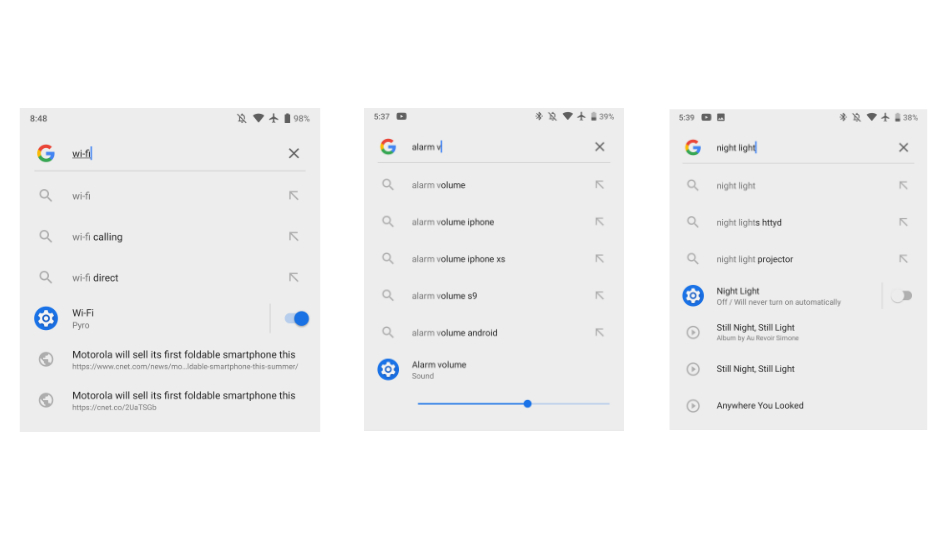 Image Source: 9to5Google
Similarly, when searching for audio-related Slices like "ringtone volume" or "alarm volume", you'll get manual adjustments to set your preference in the volume slider. Users can also toggle the Night Light on or off through Slices while also setting the Automatic Brightness to off or on.
The feature takes a second or two to load up but we can expect Google to improve the load times once it's made available widely. It's also expected that Google will enable Slices for third-party apps as well. This means you'll soon be able to browse through the Photos app or book a ride through Uber/ Ola by searching on the Google app or the search bar.
Android Slices is currently rolling out to all Pixel phones running Android 9 Pie and will be made available to 95 percent of Android devices dating back to Android 4.4 KitKat.