Android being one of the platforms which are criticised for its slow updates rollout is slowly catching up as the latest android distribution figures show about 7.1 percent of Android are running on Android Nougat of which 6.6 percent makes up for Android 7.0 and only 0.5 percent includes devices running on Android 7.1 or above. This is up from 4.5 percent for Android 7.0 and 0.4 percent for Android 7.1, as per the data from April 2017.
Going a little back, Android Marshmallow currently constitutes about 31.2 percent of android devices while Lollipop makes up for a total of 32 percent (8.7% for Android 5.0 and 23.3 percent of Android 5.1). Surprisingly, Android Kitkat which was launched in 2013 still takes up 18.8 percent of android devices. On the other hand, about 9.1 percent of android devices still run on Jelly Bean (Android 4.1, Android 4.2 and Android 4.3). Lastly, Android Gingerbread takes up 1 percent of Android devices while Ice Cream Sandwich runs on only 0.8 percent of devices.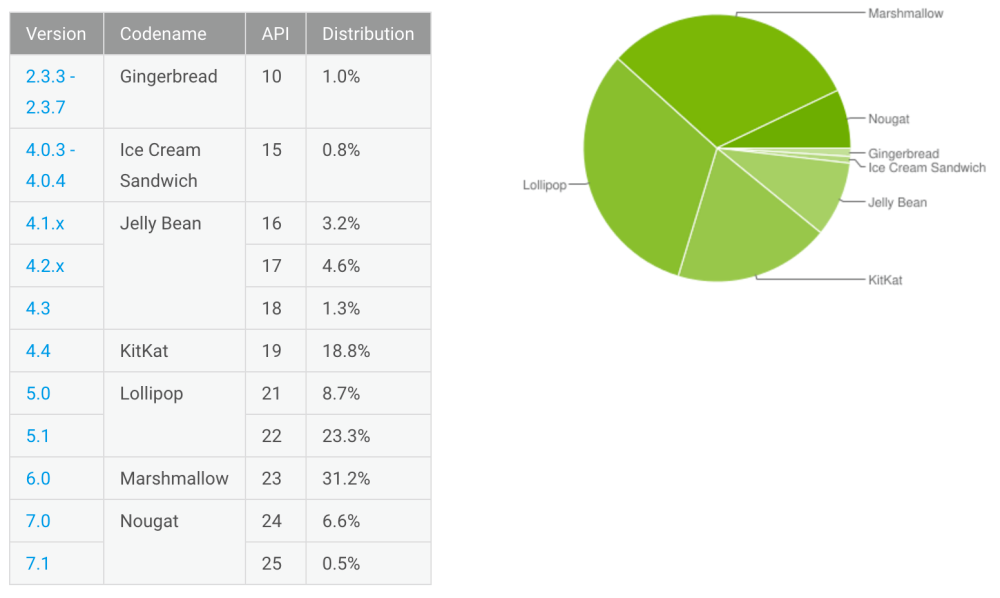 While 7.1 percent for Android Nougat doesn't look that impressive on paper, OEMs have recently accelerated its update cycle which is why we see the likes of Sony, Motorola, OnePlus and even Samsung in some cases. One reason for this might be the fact that Android Nougat was a major UI revamp from Android Marshmallow. The update works more on the internal tweaks which are, perhaps, not visible but does help the new OS work better.
On the other hand, Google has already rolled out the first developer preview of Android O which again looks to be more of an incremental update. After improving Doze last year, Google seems to have included an advanced version of Background limits which will aggressively manage apps running in the background and hence, saving some juice for users. Another visible change in Android O is more control on the Notifications which pops up in the notification panel. Multiple notifications from the same app will be clubbed and users can actually customise how they want to see the notifications based on app preferences. Besides, the first version of Android O developer preview also introduces something called – Adaptive Icons, which basically makes the icon of any third party app to look like the stock Pixel launcher apps. Google is also working on something called 'Picture-in-Picture' mode which lets you watch a video or any other content from a particular app in a pop-up window while simultaneously navigating around other apps on your device.
However, the question still arises, when will Android O land on your smartphone? No one can answer this question, as of now. Google will, perhaps, launch the new Android O with its this year Pixel devices after which other OEMs will get in the zone for providing faster updates. Comparing it with Apple, the US-based multinational has its own software and hardware so the amount of time it takes to push iOS updates is reduced naturally. Further, it launches only a couple or three devices per year which further makes the process easier. Android, on the other hand, is an Open Source Project where any company can get the source code and build their own skin of Android so manufacturers like Samsung, LG, HTC has to first blend their skin with the latest source code before they can push out the update.