As technology progresses the cost of devices, especially phones, comes down drastically and this is what the Top 5 list for the month of Oct-Nov shows. The Micromax Andro A60, which is one of the best low cost Android phones, has slipped into this category and has secured the first place in the Top 5 list. Along with that, the list of Top 5 phones below Rs 6,000 in July-August has changed to the list of Top 5 phones under Rs 5,000.
In contrast with the older list there have been many new additions in the form of Micromax Van Gogh, the Bluetooth headset embedded phone, and Sony Ericsson Cedar, which happens to be a budget 3G device.
Samsung Chat C322 still remains in our top list merely because of its features versus performance, and it's surely here to stay.
So here we have the Top 5 phones under Rs 5,000 for the months of October and November: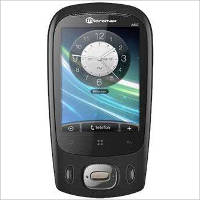 Micromax Andro A60 (Price Rs 4,300)
Micromax Andro has a 2.8 inch LCD touchscreen display which is capable of displaying 52,000 colours in a standard resolution of 240 x 320 pixels. However, Andro's resistive touchscreen is a heart-breaker. Although the screen is quite responsive, in this age of capacitive touchscreens, a resistive touchscreen feels like Stone Age technology and we dearly miss the 'pinch to zoom' function while playing Angry Birds.
On the performance front, the snappy 600 MHz processor does most tasks quickly but the moment you start multitasking it starts slowing down and needs longer breathing time. Occasionally, closing the unwanted applications gives it much needed space and power. The 150 MB internal memory doubles up as the RAM and makes sure you keep enough space free, otherwise the Andro will surely choke.
Andro A60 features a 3.2 megapixel fixed focus camera, although the box mentions it as an auto focus one. The camera is just for beginners and not for enthusiasts. It does not have a flash either. In bright light, the images are good and colourful but lack detail and sharpness.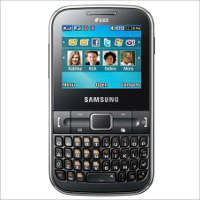 Samsung chat C322 (Price Rs 3,500)
Chat 322 offers dual SIM functionality with a very smart design, which gives it both usability and great looks. The phone comes with a Qwerty keypad and a 2.2 inch display. The C3222 is the first dual active SIM device from Samsung to sport a Qwerty keypad.
The phone features a 1.3 megapixel camera capable of recording video in QCIF resolution at 15 fps. It has regular social networking apps, which work well in conjunction with the keypad. The Multi Instant Messenger app aggregates MSN, Yahoo and Gtalk chat clients.
A 1,000 mAh battery powers the Samsung Chat C3222 and gives 12.8 hours of talktime. The 60 MB of internal memory on the phone can be expanded to 8 GB via a MicroSD card. The C3222 features a music player with DNSe 3D sound technology, FM Radio with recording, and comes with a 3.5 mm audio port.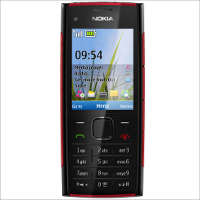 Nokia X2 05 (Price Rs 4,500)
Nokia X2 is a relatively new mobile phone that uses the Symbian Series 40 software platform. The handset is designed for music lovers and comes with dedicated music keys, a headphone jack and FM radio with built-in antenna. The device also has a 5 megapixel camera with fixed focus and flash, and at this price point Nokia X2-05 is the only phone to offer a 5 megapixel camera.
It features a 2.2 inch display with 320 x 240 pixel resolution and a regular alphanumeric keypad. The X2 also comes with dedicated keys for camera and music.
X2 is powered by a standard 860 mAh battery that gives it a talk time of 13 hours and standby time of 540 hours. The mobile phone comes with 48 MB of internal memory while its memory can be expanded using a MicroSD card to 16 GB.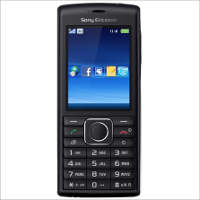 Sony Ericsson Cedar (Price Rs 4,400)
The Sony Ericsson Cedar is a very neat looking 3G enabled feature phone that falls in this price bracket. Even though while considering the Cedar there were quite a few contenders for this spot, finally Cedar emerged the winner both in terms of features and user experience. It comes with an alphanumeric keypad and a 2.2 inch TFT LCD display with a resolution of 240 x 320 pixels.
Cedar has a 2 megapixel camera without flash but promises Sony Ericsson quality. It has an inbuilt memory of 280 MB which can be expanded to 16 GB using a MicroSD card.
Sony Ericsson Cedar is powered by a 1000 mAh battery that gives talk time of 12 hours on 2G and up to 4 hours on 3G. One of the best features of the device is that it is 3G enabled and falls in the Rs 5,000 bracket.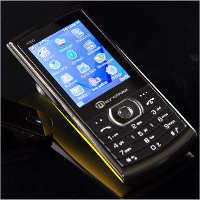 Micromax Van Gogh (Price Rs 3,500)
Micromax Van Gogh is truly a marvel of technology and comes with a decent Bluetooth hands free kit. It features an integrated Bluetooth hands free kit, which not only sits at the back of the phone, it also charges using the phone's battery, eliminating the need for a second charger for the Bluetooth handsfree. It also eliminates the possibility of losing this kit as it is part of the phone without being one more thing to carry.
The phone has a regular bar design. It has a multitap keypad with well placed keys that give decent feedback, and a 2.6 inch screen with a QVGA (320 x 240 pixel) resolution. The phone is a dual SIM device with 8 GB memory expandable through MicroSD card, a 2 megapixel camera, a 3.5 mm audio jack and a pre-installed Opera Mini browser. It supports GPRS and application downloads.
The 2 mega pixel camera unit is nothing much to talk about; it's only good for occasional snaps when you do not have any other option. The battery backup of 1000 mAh is good for two days of low to medium use.