Music is an essential part of mobile entertainment and is a widely expected feature from a mobile phone. The Android operating system is blessed with a decent music player but there are many things that it cannot do which music lovers sorely miss.
Here we have listed five music related applications that would make your Android device a true music device.
SoundHound
How would you identify an amazing song that you probably have heard after a long time or probably for the first time? The SoundHound app makes it really easy to identify it. SoundHound is an innovative app that is based on music recognition engine.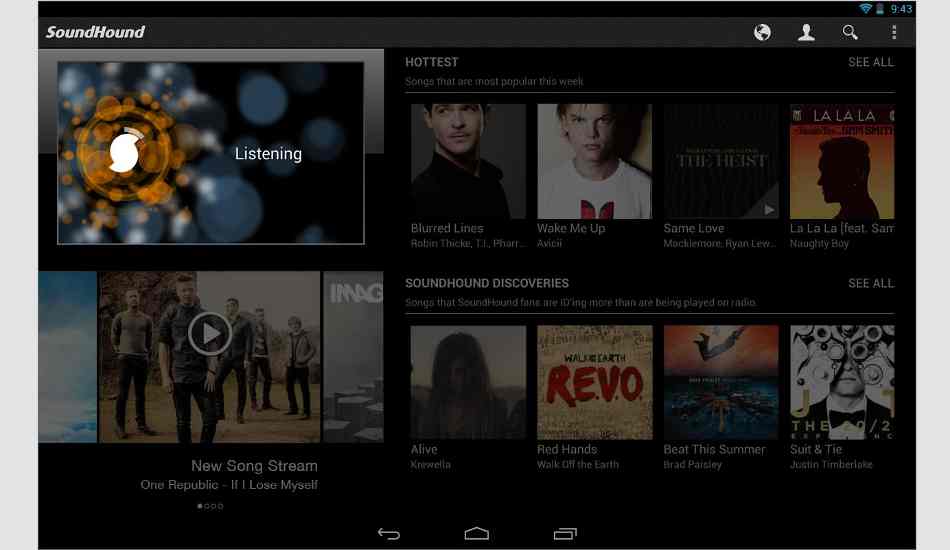 Open the app and let it listen to the music, and it will analyse the song to find out the song being played in couple of seconds. The search results help the user with online streaming links for the song if they are connected to a high speed network. One can also bookmark these songs to be checked later. The app also offers charts which basically lists the most popular songs along with their lyrics. Search for the song in YouTube to watch the music video or check out similar artists to enjoy more songs.
Jet Audio
The Jet Audio app is offered in Basic version, which is an ad-supported free version, and a Plus version – paid and without ads. The jetAudio app supports several popular music file formats. It offers some key desktop level features such as cross-fading, gapless playback, speed control and more options. Basic version offers three List modes and 10 Grid modes to choose the layout from. Apart from that, Jet Audio also adds some advanced effects and features to keep the user glued to the player.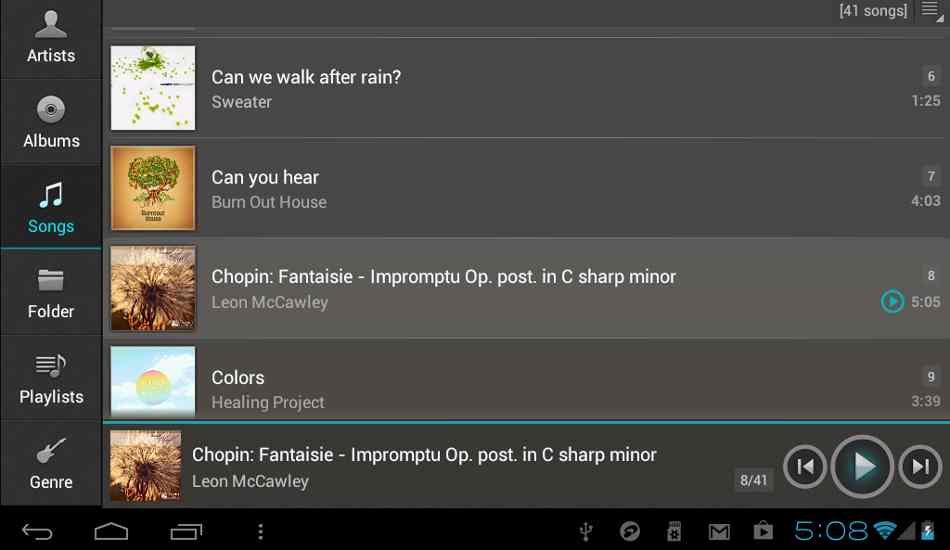 Those, who love listening to music at night, can make the best of its timer which makes the app go to sleep after specified time. The app allows posting the details of the song you are listening to over Facebook and Twitter.
###PAGE###
TuneIn
As its name suggests, the TuneIn app allows listening to online live radios. Users can also listen to the live commentary of football and other international level games through TuneIn. This app boasts access to over 100,000 live radio stations that can be checked out anytime.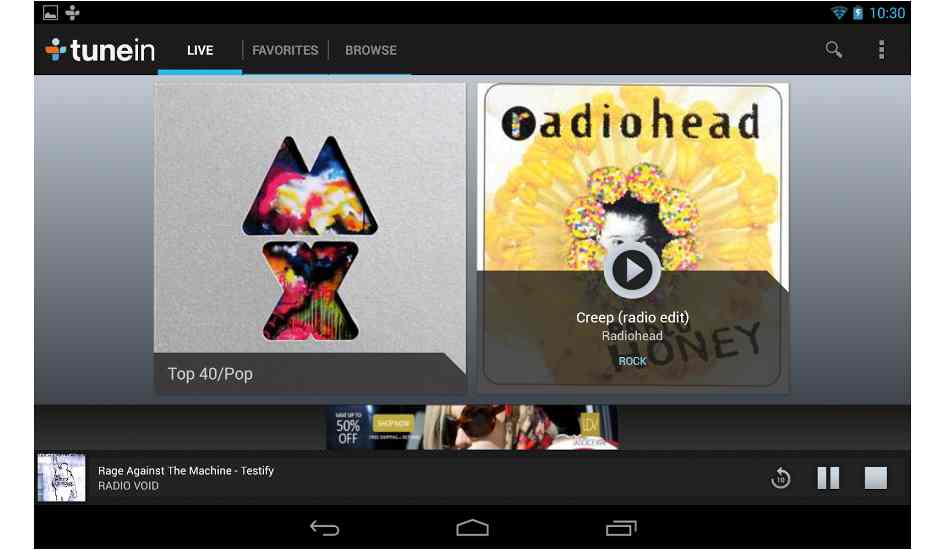 Choose between radio stations offering music, news, updates on sports, talk shows and more. The app also offers some of these local radio stations and streaming can be enjoyed.
Gaana
Enjoy free unlimited music streaming through this app and browse through the large library of songs – Bollywood, English and even regional. The app offers over thousands of playlists that have top songs listed to enjoy uninterrupted music. Users can set those playlists or songs as their favourite and also share the details over the social networks.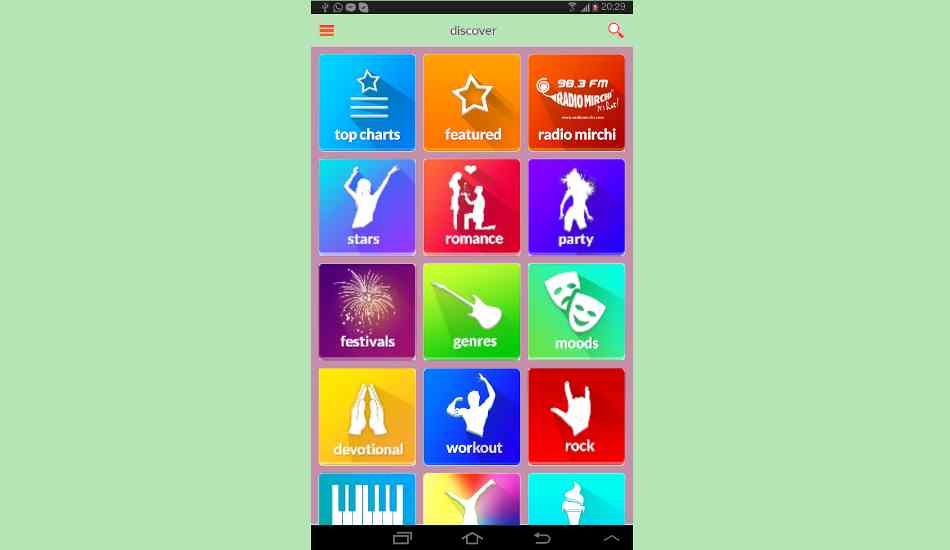 Radio Mode allows the user to build an automatic radio station to stream similar kind of songs. While the basic app shows some ads, one can subscribe to the Gaana+ to download the songs and listen to the music in higher quality.
Google Play Music
Google's very own Play Music acts as a bare-bones music player to play most popular variety of music files. For those who could not gain access to Google Play's music library, this would be a good alternative music player for you.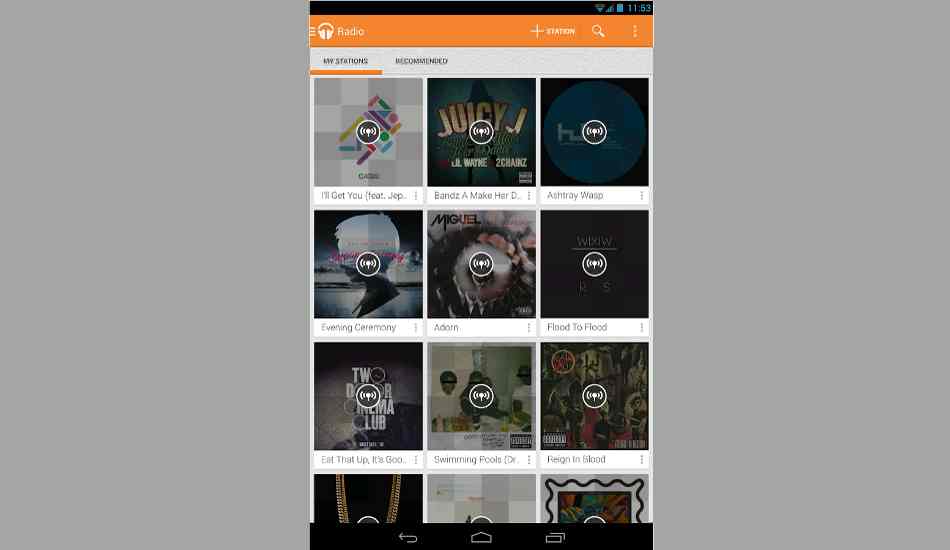 It will classify the songs on the mobile phone by Genre, Artist, Album and Songs. The Play Music could even play FLAC files. This simple and easy to use app allows creating Instant Mixes and Playlist without any hassles. The only thing it does not offer is a volume slider in the app user interface.