When it comes to mobile phones, Indian brands are usually looked at with a lot of suspicion and contempt. However, Xolo is a different company altogether. It started its business with the X900 a year ago, and the event also commemorated the entry of Intel into the handset business. The company has done a commendable job so far.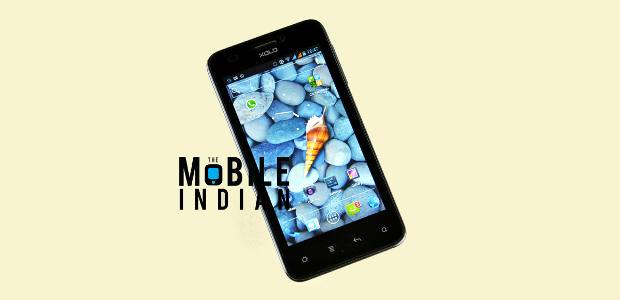 Unlike most Indian handset makes, Xolo has so far managed to make decent products, atleast if the quality of two of its products – Xolo X900 and Xolo X500 – has anything to say which we had reviewed.
A few days ago, we got the Xolo B700 for review and here is a detailed account of its performance and features.
Body
Construction-wise, the Xolo B700 is a pretty decent device with 12.1 mm thickness. At 160 grams, it is definitely a bit heavy but that is primarily due to its big battery -3450 mAh, which is considered just okay even for a tablet.
I particularly like the back panel of the B700. Its texture feels great and gives a good grip. Also, the panel houses the brand name (Xolo) in aluminum, which gives it a very premium look. The metal strip around the edges of the phone also gives the it good protection from occasional falls.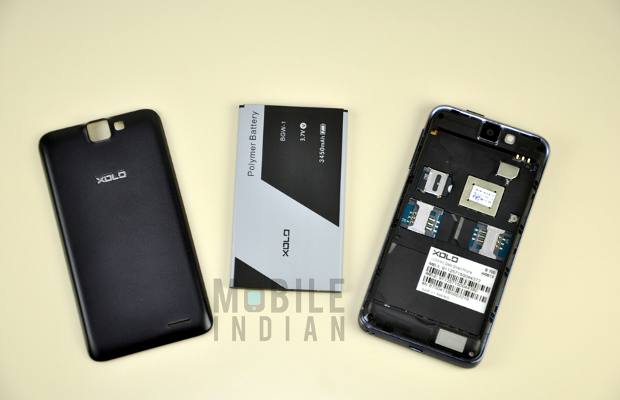 The handset is not cluttered much with ports and buttons – there is a power key on top along with a 3.5 mm jack; volume rocker on the top right; a micro USB cum charging port at the bottom; and a camera with LED flash on the back panel. The SIM slots and micro SD card slot are accessible after removing the battery, and they are very easy to use.
All in all, it is a solid device that looks good.
Display
The Xolo B700 comes with a 4.3 inch touchscreen with qHD (540 x 960 pixel) resolution, which means that it has 256 ppi (pixels per inch) resolution, which is pretty good for a device priced below Rs 9,000. Most of the handsets under Rs 15,000 come with 245 ppi pixel density or less. For instance, Nokia Lumia 520 comes with 233 ppi pixel density, while Karbonn Titanium S5 has 245 ppi pixel density, Sony Xperia Neo L, which costs around Rs 13,000 too has 245 ppi pixel density.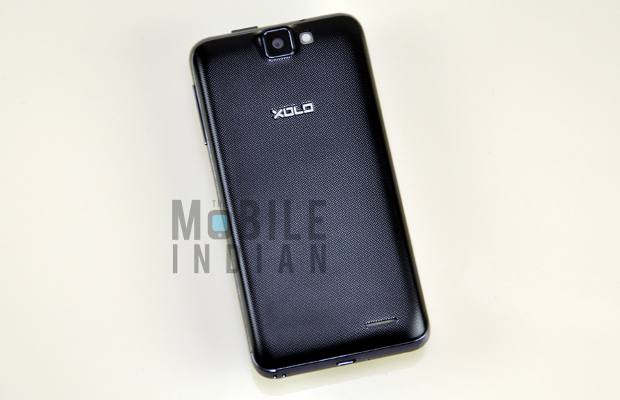 The display of Xolo B700 supports up to five point touch, which is handy while playing games. Further, it is made using IPS display technology that supports wide angle viewing, which further helps while watching movies and games. The display is not that reflective and has decent brightness that helps outdoors.
OS and user interface
The Xolo B700 comes with Android Ice Cream Sandwich operating system, but we have no qualms considering it as it is a sub-Rs 10,000 product. Jelly Bean may not allow the device to perform as it is now performing as the B700 has only 512 MB RAM.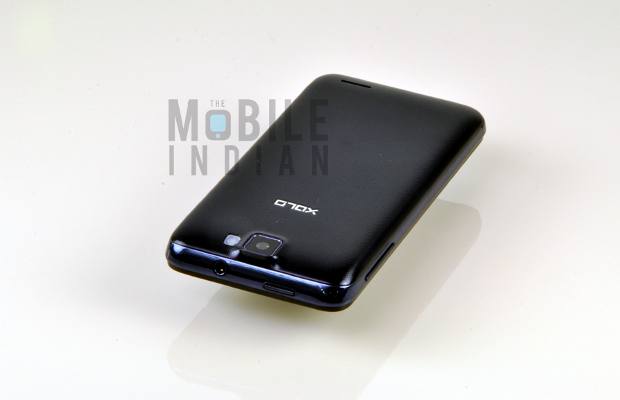 Xolo has not tinkered much with the stock Android user interface of the B700, so if you have already been exposed to an Android phone you will feel at home. There are four capacitive keys just below the screen, which help for navigation. Like most Android phones, the Xolo B700 also has the usual notification bar. Widgets and apps can be installed on the home page by pressing and holding their icons. A slight innovation on the part of Xolo would have been better though.
Storage
The Xolo B700 has just over 2 GB of internal memory and can accommodate up to 32 GB of external micro SD card. The micro SD card slot is placed just below the battery and is easily accessible.
Battery
The handset comes with a 3450 mAh battery, making it one of the largest to be featured in a phone. As per Xolo, the B700 provides 23 and 20 hours of talktime on 2G and 3G networks respectively. It can keep charge (standby time) for 380 and 363 hours on 2G and 3G networks, respectively, as per the company.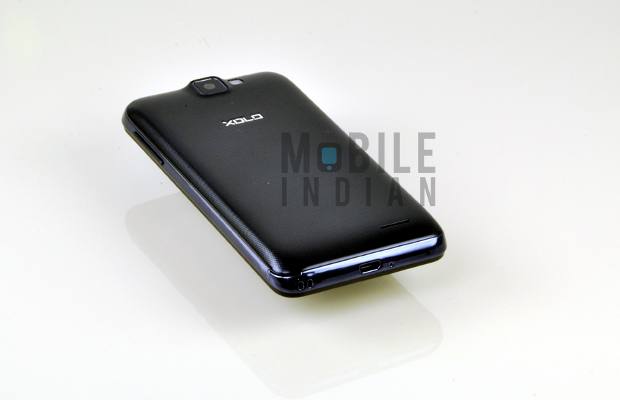 It takes a good hour and more to charge fully. Further, it does not hold charge as it should. For instance, within half an hour, it discharged twenty per cent despite the fact that we kept its brightness at minimum and had switched off its WiFi as well as data connectivity.
Performance
The Xolo B700 comes with a dual core processor with 1 GHz clockspeed. There is a PowerVR SGX 531 graphics processing unit in the handset as well. Like most other handsets under Rs 10,000, the Xolo B700 comes with 512 MB RAM only.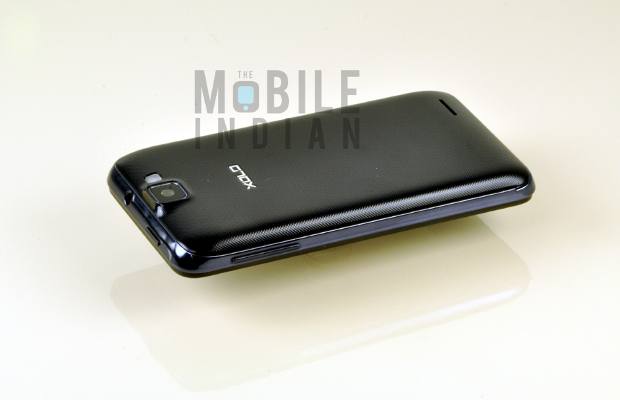 The combination does not look great but the performance is. For instance, it managed to play graphics intensive games like Temple Run Oz and Dead Trigger with ease. Not for a single instance did it freeze or show slackness. Of course, that does not mean that you can play any game on the handset as the software and hardware have their limitations. For example, we could not play Blood and Glory on the Xolo B700 while Frontline Commando D Day managed to run sluggishly. But such a performance was unimaginable from a handset priced at Rs 8,999. Curiously, on the Antutu benchmark it got very paltry scores but perhaps because of its optimization, the phone manages to run very high end games.
Connectivity
Xolo B700 comes with dual SIM slots. This 3G handset has WiFi, a micro USB port and Bluetooth for connectivity. Sadly, Xolo B700 has a slower Bluetooth 2.1 version when better versions are available. We did not face any problem vis-Ã -vis calling or internet connectivity either through WiFi or cellular data. The WiFi hotspot too worked smoothly.
Camera
The Xolo B700 comes with a 5 megapixel rear auto focus camera and a 0.3 megapixel front camera. There is an LED flash beside the rear camera to assist in low light conditions. As per Xolo, the rear camera can capture HD (720 x 1280 pixel) videos at 30 frames per second.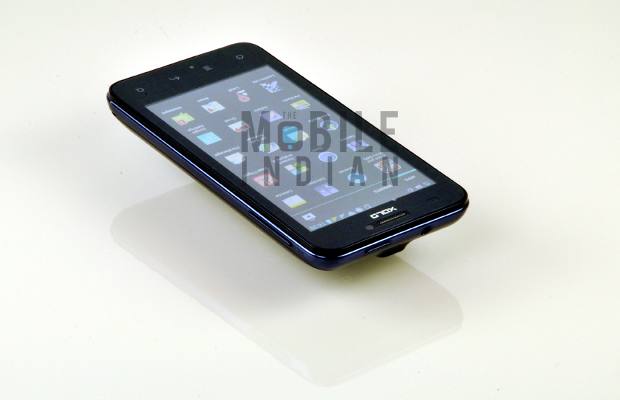 But frankly, the camera does not seem to be an auto focus unit. and the images don't deliver the claimed results at all.
Conclusion
The Xolo B700 is highlighted for its big battery. But we ought to say that it is the best performing handset under Rs 10,000. Though it did not impress us a bit through its camera functionality, its overall quality makes it the best buy if you are considering a handset below Rs 10,000.