When Zync launched the new Z990 tablet with Android 4.0 Ice Cream Sandwich it became one of the first budget tablets. Featuring a 7 inch display, the Zync Z990 tablet is competing with devices from Beetel, Reliance, HCL and iBerry to name a few. Zync Z990 tablet has been assembled in China and comes with a very budget quality build.
Zync's first Android 4.0 Ice Cream Sandwich tablet – Zync Z990 was introduced in India at Rs 8,990. This tablet features a single core Vivant GC340 mobile processor. The tablet has a full USB 2.0 port that can read data from USB flash drives and can connect the tablet to 3G networks using USB data modems. The tablet features stock Android 4.0 Ice Cream Sandwich user interface without any customization.
Here's our brief account of the Zync Z990 tablet.
Design and feel
From the front, the Zync tablet appears very similar to any other tablet but it is comparatively slimmer.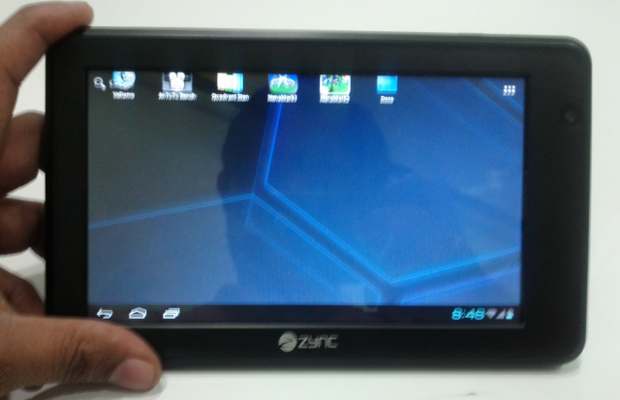 In terms of looks, it is very similar to Zync's Z900, Z909 and Z999 tablets. While one would have to search a little for the power button, Zync has labelled every button on the side of the tablet. Zync Z990's body has a matte finish and is slightly heavy due to the battery. Feels fine in the hand but if you hold it real tight then it might just get damaged.
The bezel around the screen makes it comfortable to hold as well as control with the thumb. When it comes to design and finish we believe it falls a step short for the price. Zync claims that the tablet has been built using RoHS compliant plastic materials for the shell and has been assembled in China. The internal components of the tablets have been manufactured in Korea and China. For the components and matte body finishing, we believe Zync tablet is for anyone who wishes to carry it around – at school, in college, and even while traveling.
###PAGE###
Display and hardware
Zync opted for the 7 inch capacitive display, which indeed is a great thing. Just to play it safe, the tablet supports WVGA (480 x 800 pixel) native resolution. That means most major apps meant for that resolution will be supported by default. However, because of that the screen does not appear as crisp as one ideally expects. In a way, it reminded us of the Reliance 3G Tab.
Now here's an issue that we believe might irk users: The tablet shows all homescreen icons a bit pulled when held in portrait mode, but when you move to landscape mode, all icons on the top of the screen and the search bar are just thrown out of the screen. That's the aspect ratio issue and we hope it gets fixed with a future update. The screen shows the webpage and texts too bright. Thankfully, the company has used a capacitive touchscreen display which is responsive enough. But if a number of apps are opened then it stops being instantly responsive. Under the chassis, the Zync Z990 tablet houses a single core 1.2 GHz Vivante GC640 processor coupled with 1 GB memory. Now it can be argued that this is probably one of the only tablets featuring 1 GB memory. However, only if we use it will we know how it works.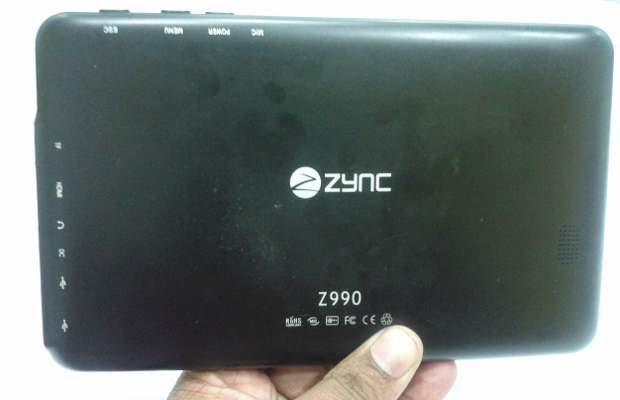 Zync has added WiFi and instead of offering a SIM slot, the company has enabled a USB Host feature. With a full USB 2.0 port at the side, one can easily connect select 3G data modems available in the market to make them work with the tablet. The tablet offers only 4 GB internal storage while one can add additional storage up to 32 GB via microSD cards.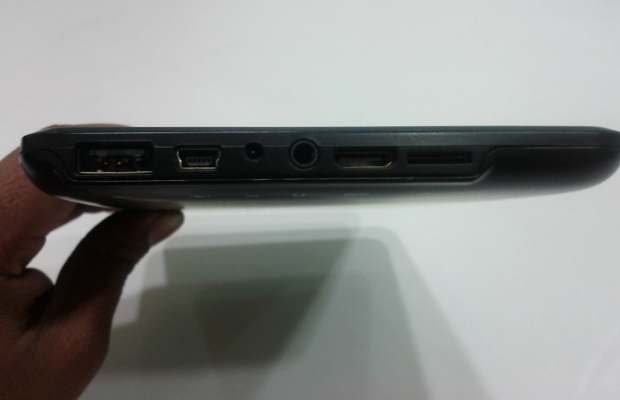 However, the tablet does not feature a Bluetooth module. On checking with the company we were told that it was part of the product differentiation strategy. But, honestly, if there's faster data transfer mode – USB Host, why would you even think of Bluetooth?
###PAGE###
Operating system and multimedia
Zync tablet runs the stock Android 4.0 Ice Cream Sandwich operating system with no customizations. However, be warned that not all applications will get downloaded and installed on the tablet. Obviously, the ones that support specific hardware won't. There were instances where we found the basic functions such as copy-pasting not smooth enough. The aspect ratio issue kind of hinders filling forms using the native web browser or copy-pasting a string of text.
Since the tablet doesn't have a great graphics chip the apps takes their own sweet 2-6 seconds to load.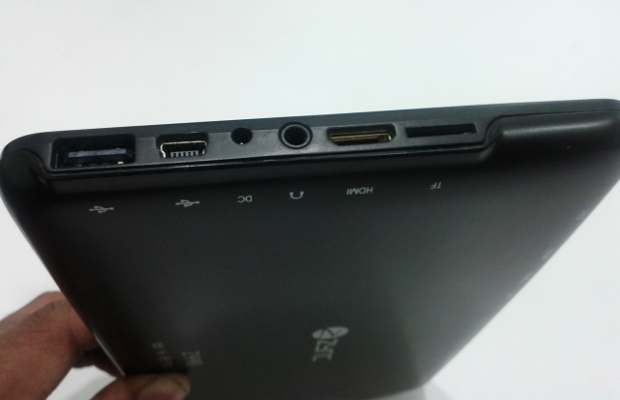 Zync tablet has a USB host feature that can read and write data on USB flash storage. Apart from that, the tablet is capable of using most 3G USB dongles available in the market for data connectivity.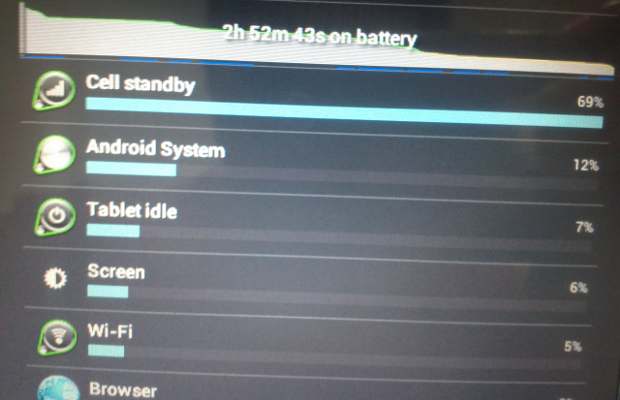 Do remember that only a select number of dongles would work with it. Once connected it works smoothly. In the battery statistics, the cell-standby process shows a very high consumption percentage and should ideally not consume more than 15 to 20 per cent. We hope that a proper update is pushed out to fix it.
The packaging boasts support for full 1080p HD video and we were surprised that it could actually run a full HD video. It does support MP4 and AVI formats, so we pretty much felt sorted for video entertainment. One can always connect the tablet to a larger display using the mini-HDMI port but the cable doesn't come bundled.
###PAGE###
Battery backup
The tablet packs a 3600 mAh lithium-ion battery. The thumb rule states that if you switch off the networking functions, the tablet gives great battery backup for normal usage. If you keep the WiFi and/or 3G network dongle attached, it offers run time of about five to six hours comfortably.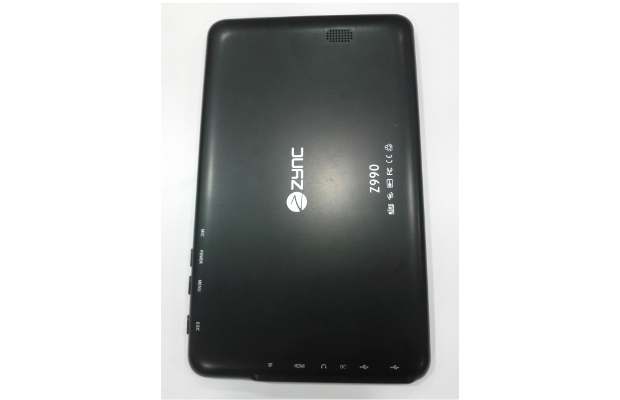 Other than that, the battery life of this tablet was quite average.
Wrap up
Certainly, a tablet with Android 4.0 Ice Cream Sandwich for Rs 8,990 has good sound, but this device is far from being ready for mass consumption. Android 4.0 ICS can deliver much better performance with an update that fixes most of the issues. Zync also offers a USB dockable keyboard for Rs 999.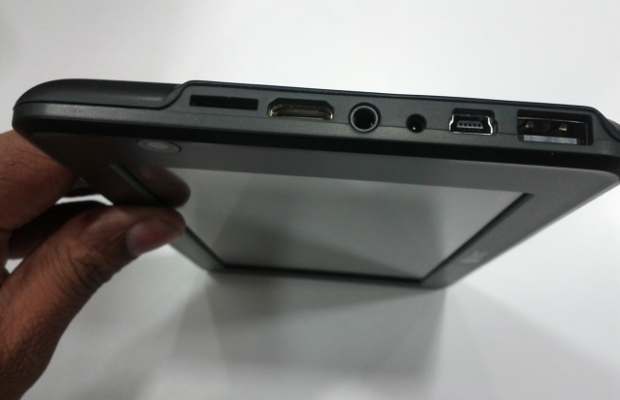 After the first contact with the tablet we expected to be impressed with specifications and with the fact that the device is an Android 4.0 ICS tablet for the budget segment. Sure, it may seem superior with 1 GB RAM but that is futile until its potential is tapped with a fast processor and graphics. The prevailing issue with the screen, lack of volume control buttons, and even Bluetooth will make anyone think twice before buying this tablet.