Indian handset manufacture, Intex has launched this SIM calling based tablet, called iBuddy Connect, sometime back. Priced at Rs 7,990, the tablet comes with decent features like a 7 inch screen, 1 GHz processor, 512 MB DDR3 RAM, Android ICS operating system etc.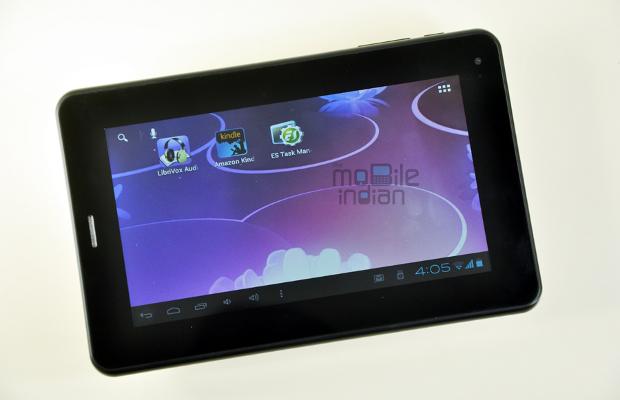 A Lot of people infact had reacted positively to the tablet when it was launched. But as our experience told us, devices do not always perform as per their specification in the real world. So we put the Intex iBuddy Connect into lot of rigorous tests to check its mettle.
Look and build:
A pleasing part of this tablet is its lightness. Since its screen is of 7 inch only, so it is quite easy to handle the tablet also. Considering that today there are smartphones with 6 inch screen too, so you can call the Intex iBuddy Connect a phablet (a phone with tablet functionality) as well. But whatever you prefer to call it, the fact of the matter is that it is easy to handle the tablet; you don't even need a bag to keep it – just insert in your jean's front pocket and you are ready to go.
It's front panel comes in full black while the rear is in white colour. The combination as well as designing makes it a decent looking device. The back panel is shiny but not slippery. However, somehow we weren't that comfortable with the quality of plastic used and its packaging. So take utmost precaution; if you drop it, then you may end up in seriously injuring the tablet including its inner as well as outer parts.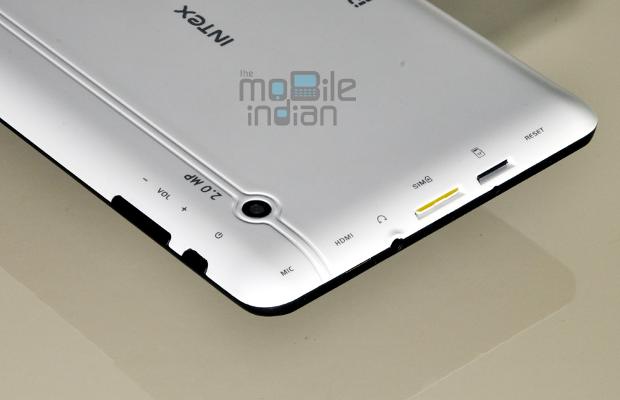 A good thing is that Intex has placed all the buttons and ports at the right spots that do not interfere while using the tablet. For example, the power on/off button and the volume rockers are placed side by side, towards the upper left hand side. So, even if you are holding it in portrait or landscape mode, neither they get under your hands nor they are out of reach. Intex has also placed all the ports – HDMI, 3.5 mm jack, USB port, SIM slot, micro SD card slot, and the power port – on the upper side. This also allows to use the tablet even while charging it or using a 3.5 mm jack; since they are on the upper side, your hands don't get tangled in the wires in any manner.
Also, in the iBuddy Connect, a speaker is just below the display (when you hold it in portrait mode) while two speakers are on the bottom back panel. So while calling, the speaker can be placed just below your ear that makes it easy to listen to callers.
Display:
As I said, the Intex iBuddy Connect comes with a 7 inch capacitive display. It has five point touch input system and 800 x 432 pixel resolution that amounts to 160 pixel per inch (ppi) density. To put things in perspective, the Micromax Funbook (WiFi) which costs Rs 6,500 comes with 800 x 480 pixels resolution while the Zync Z99 which is also priced as the iBuddy Connect comes with 800 x 400 pixels resolution. Clearly, this seems to be the standard resolution for such budget tablets.


Obviously, the pictures and movies do not look that great on the iBuddy Connect but you have to neglect this fact as it is a budget tablet. However, what I did not liked in it is the slow response of the display; it takes time to respond to touch inputs. Its brightness is enough indoors but not in areas with bright lights like under sun light.
Connectivity:
This is the unique selling proposition of the Intex iBuddy Connect so we have given due attention to it as well. First and the foremost is the tablet's SIM calling functionality. As we said earlier, Intex has placed speakers in the right areas but during calling we found it less efficient. It is quite difficult to hear voices of the caller but the person on the other side could hear me loud and clear. But this certainly is subjective and there would be many who would find the sound levels okay. We used Skype for video calls as well and we did not face any problems with that.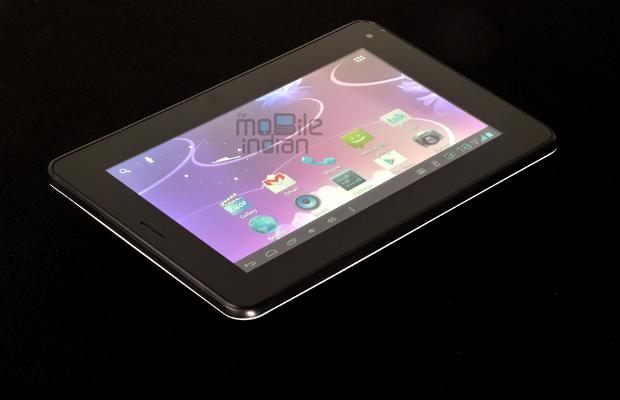 The Intex iBuddy Connect also comes with Bluetooth and WiFi. You can also use the SIM for 3G internet connectivity.
Performance:
Like most other tablets in its price range, the Intex iBuddy Connect also comes with a 1 GHz processor and 512 MB DDR3 RAM. It runs on Android 4.0 Ice Cream Sandwich operating system.
The tablet, however, performs quite unlike its specification. The tablet takes quite a bit of time to open and close apps. Even you can see the lag while scrolling from one screen to other. Obviously, it crashes every now and then while playing or even operating some apps like Skype. In a nutshell, its performance can best be said as erratic.
Battery:
The Intex iBuddy Connect comes with a 3000 mAh battery. It takes a lot of time, about 2-3 hours to get charged fully from scratch but gives a decent back up after that. To be specific, after charging it to 100 per cent, we read an e-book for half an hour that drained 15 per cent of charge from it which means if you continue to read an e-book on it, which requires the tablet's display to remain active all the time, you would get about roughly five-six hours at max and atleast four hours.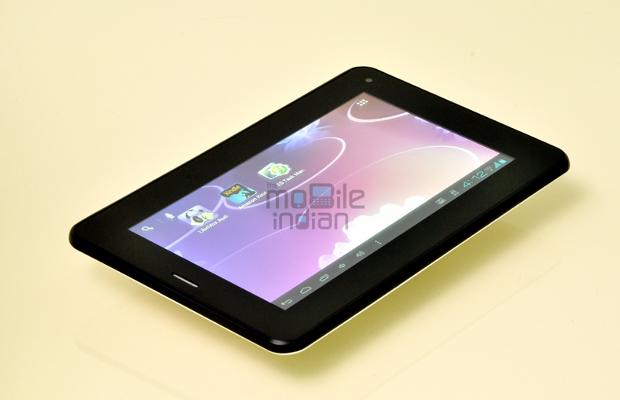 I also listened to songs over WiFi on the tablet for two hours that reduced its battery juice from 85 per cent to 60. This is definitely decent battery back up for a tablet with a 3000 mAh battery. If you be careful with WiFi and mobile data usage, you can run it for a full day without recharging it in between.
Camera:
It comes with dual cameras – a 2 megapixel camera at the back and a VGA unit in the front. However, do not harbor much expectation from these. The cameras are best used for video chats only. Though you can use both the cameras for taking pictures or videos, it would be best in your interest if you do so in emergencies only. During video chatting though, the front camera provided decent performance.
Conclusion:
Intex iBuddy Connect is a decent tablet with appreciable performance. The budget tablet is good for those who want a device which can work both as a tablet and as a smartphone. It has its own flaws as we said above and ofcourse it has lot of competitors. Newer tablets are coming to the market also. We would like to highlight the recently launched Acer Iconia B1 for Rs 7,999, which is just few bucks more than the price of this Intex tablet.
You can also check an earlier story of The Mobile Indian to know the best tablets around Rs 8,000.