While with each passing day, the screen of the phone's seems increasing, there is still a section which still prefer a compact smartphone over a phablet. The Sony Xperia Z3 Compact is one such handset which, despite having a 4.6 inch display, looks quite small. Feature wise though the Z3 Compact is no way inferior to other high end smartphones.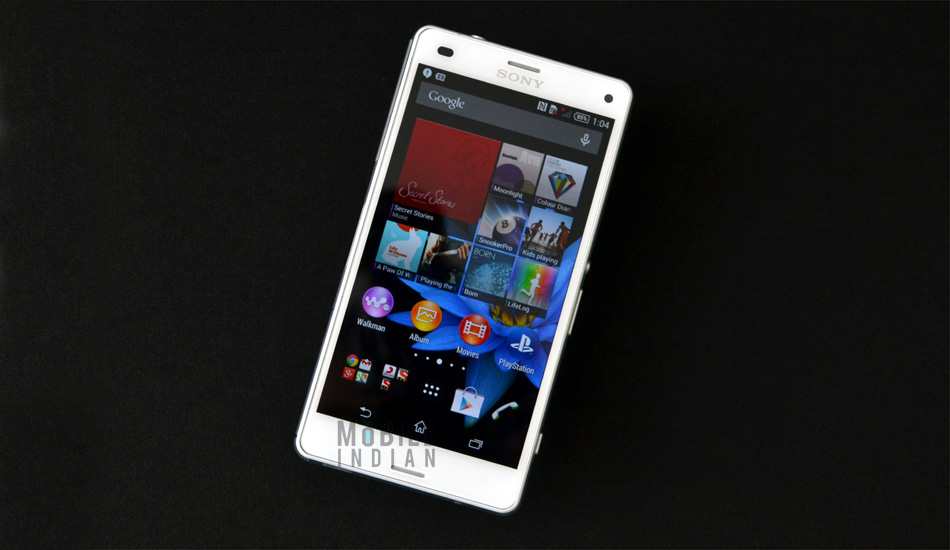 Here we have detailed how the Sony Xperia Z3 Compact performs in real world scenario.
Design
While most other smartphone makers opting for matte finish in one way or the other, Sony continues to stick to glass design. The glass body has both advantages and disadvantages. First of all, the glass design creates a unique identity for the Z3 Compact. It gives it an aristocratic look too.
However, though quite tough, the glass panel is prone to scratches. Also sweaty palms would find it very difficult to hold the phone. Thankfully covers for Z3 Compact are available which will easily address the issue.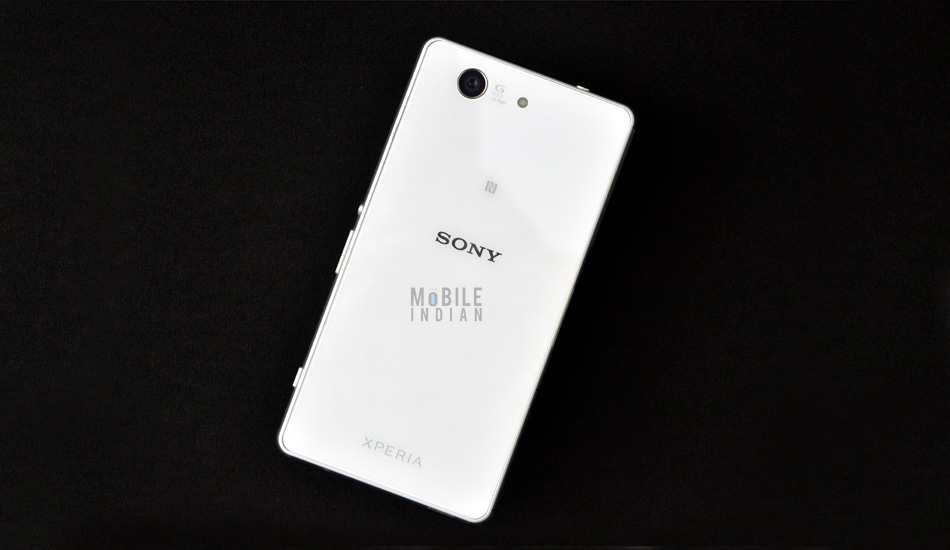 The side panels of Z3 Compact comprised of transparent rubbers that compensates for the slippery back panel. Also being compact, the phone fits the palm easily and that's why the slippery body doesn't bother much.
But the highlight of the phone is its water and dust resistant capability. Note that it is not merely splash proof; it can be kept under 1.5 m of fresh water for up to 30 minutes in compliance with IP68. It is also protected against low-pressure jets of water from all practicable directions in compliance with IP65. So worry not if you come under a sudden downpour. The Compact is also dust tight.
The handset comes with a unibody which was expected as it is being a water resistant device. The micro SD card slot and the micro USB port are placed side by side at the top left hand side. These are also well covered by a flap. The mini SIM slot is located at the bottom left hand side and it too is well covered by a flap. A docking slot is located between these two flaps. The audio port though is left open which is strange for a water proof handset but Sony must have some arrangement for that too. There is an LED indicator just above the display which blinks while charging and when some notification comes; you can deactivate this from the settings.
Display
Coming to the display, the Z3 Compact has a 4.6 inch touchscreen which is pretty big for a mini version. Earlier, mini versions usually have 4.3 inch screen. However, despite the increase in display size, the phone still looks quite small; it measures 127.3 x 64.9 x 8.6 mm and weighs 129 grams.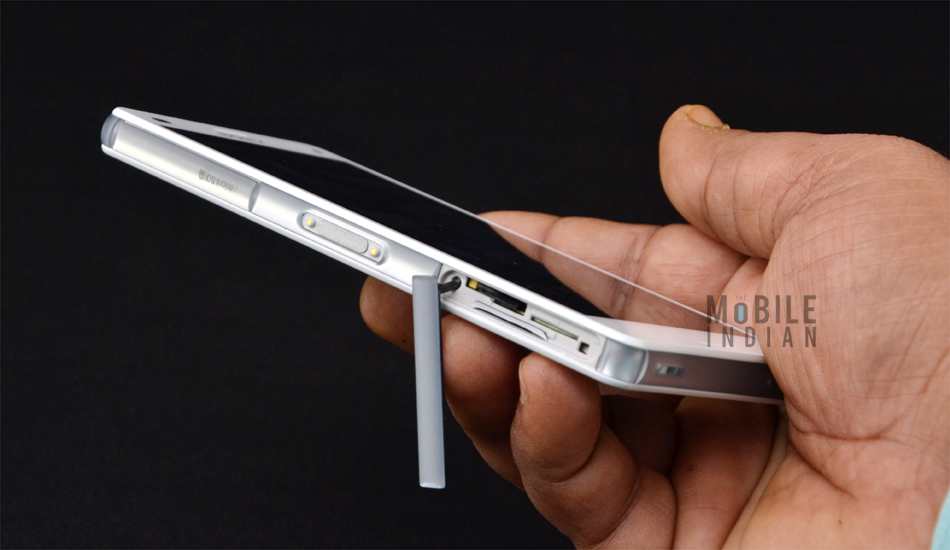 Sony has stuffed 1280×720 pixels into this screen, thus offering huge 319 ppi pixel density for sharp image output. For best colour output, the Compact comes armed with Triluminous display technology and X-Reality picture engine. The high pixel density and advantage of Sony's display technology kicks in while playing high end games and while playing full HD movies. The display has 10 finger touch input and shatter proof glass covering too.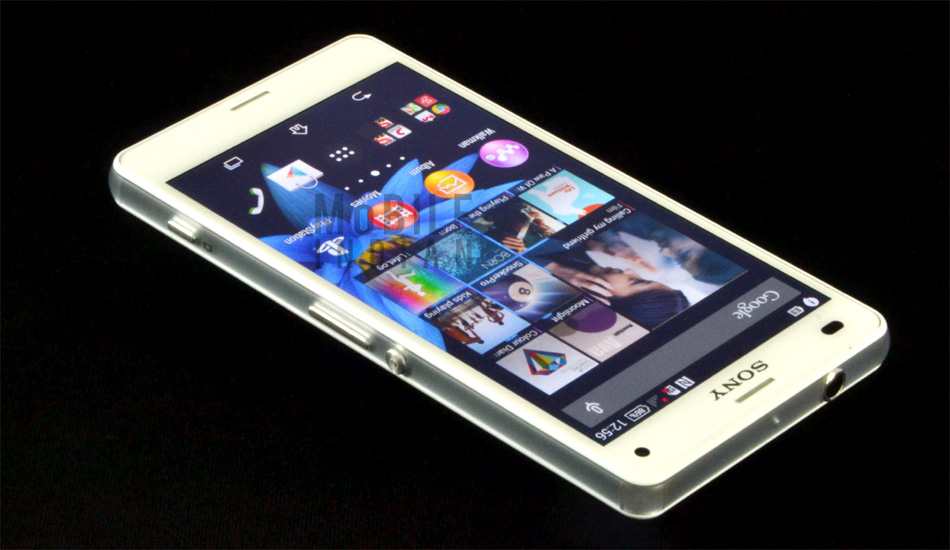 The phone has three modes: you can choose X-Reality for clear and vibrant images or Super Vivid Mode or can just go without any of these. The display is super sensitive and can be worked on even with gloves on; there is facility to switch off the gloves mode as well. As far as brightness is concerned, you would perhaps never need to keep it at maximum brightness. The auto mode is quite efficient too and quickly changes the display brightness as per surrounding light.
Like Samsung devices, the Compact has Smart Backlight Control mechanism too which keeps the display on till you are looking at it. However, it wasn't working properly during our review.
Battery Life
The Sony Xperia Z3 Compact has a non-removable 2600 mAh Li-Ion battery. Since it has a 4.6 inch display only, the power requirement of the phone is on the lower side. So I was expecting about 24 hours of battery back up but the Sony Xperia Z3 Compact's battery back up was way beyond my expectations. It goes on and on for days together with minimal usage. Even heavy users would get easily about a day's back up.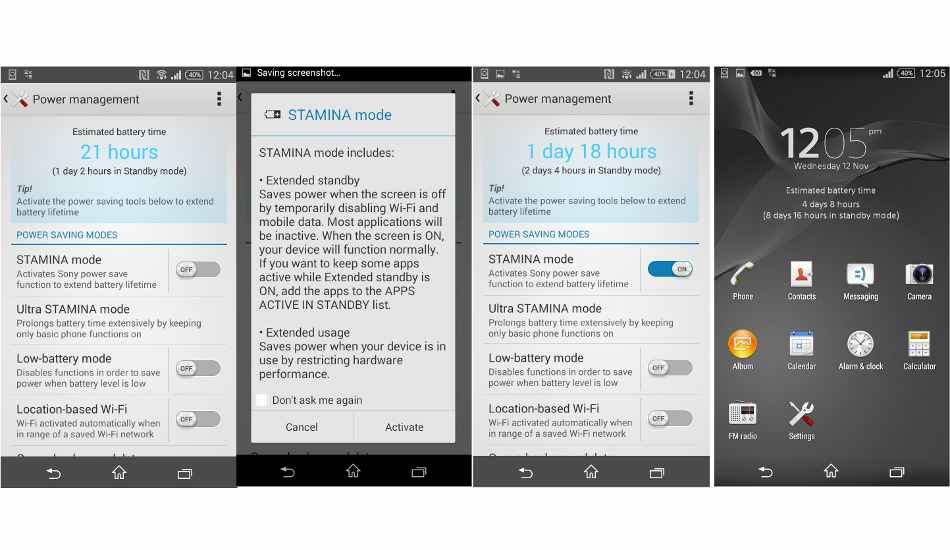 Standby was even better; officially, it can last more than a month. During our review, the phone consumed just about 10 per cent in about 2 days during which WiFi was kept on always and with minor usage. In another instance, the Z3 Compact lost only 14 per cent charge in playing a full HD movie of one hour and 16 minutes with maximum brightness and volume. So you can play videos for about 10 hours (or even more) continuously if you keep the brightness at required level.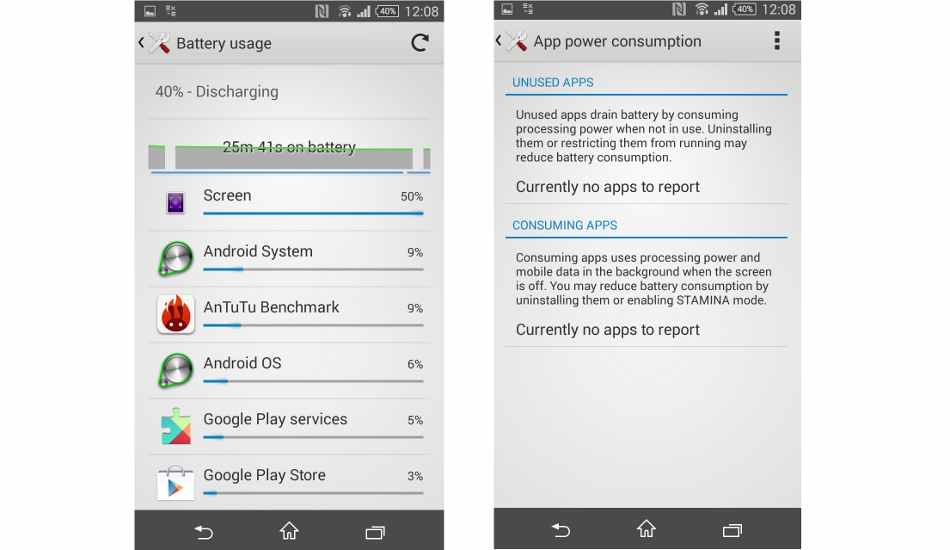 Notwithstanding, the terrific battery back up, Sony has further armed the phone with various power management tools which further help in extending the battery life. For instance, as the screenshot shows, with 40 percent charge, the phone claims to offer 21 hours of battery back up with WiFi on which gets extended to 1 day and 18 hours (2 hours and 4 hours in standby) in stamina mode. There is an Ultra Stamina mode that which significantly extends the battery life by killing almost all functions except the few basic ones (see image). When we opted for Ultra Stamina mode with 40 percent charge left in the phone, the battery back up got extended to four days and eight hours (standby was 8 days and 16 hours) – almost 10 times than the normal mode.
Needless to say, this is one of the best battery back up and battery management features I have seen so far in a smartphone.
Camera
The Compact has a 20.7 megapixel rear camera with ½.3 inch sensor and auto focus ability. Sony has used wide angle G Lens, Exmor RS sensor and an ISO rating of 12800, to further enhance the pictures. There is an LED flash in the rear panel as well. In the front, the handset has a 2.2 megapixel unit.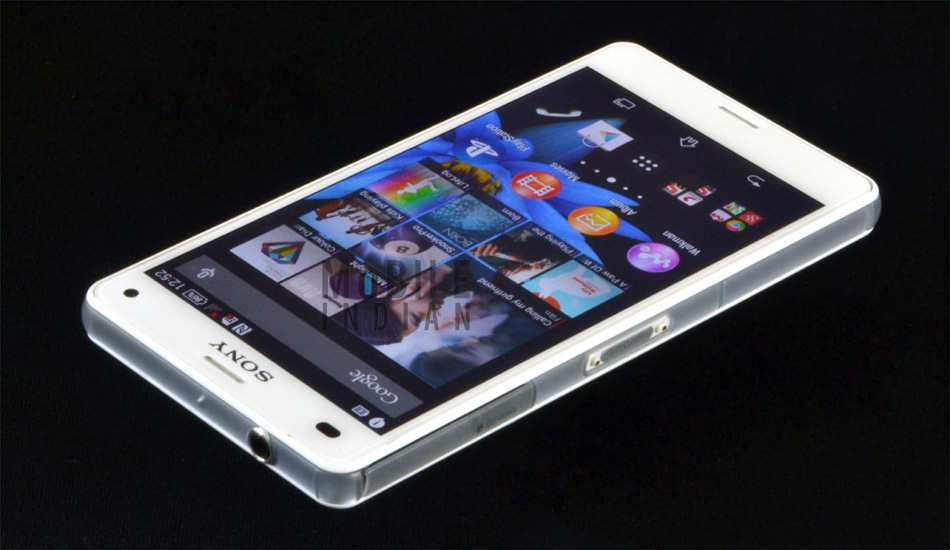 Like other high end Sony phones, the Compact too has several camera features including superior auto mode, sound photo, AR fun, AR Effect, Sweep Panorama etc. You can download many other camera applications too. These apps not only enhance the camera output but they come handy in many instance.
As you might have guessed already, the Z3 Compact does manage to click very good pictures. It is pretty fast in focusing on objects and processing images. It has no issues in capturing colours as they are and is pretty impressive in low light. Especially, in superior auto mode, it does a pretty decent job. Amateurs, which most of us are, would love this mode as they just need to point and shoot.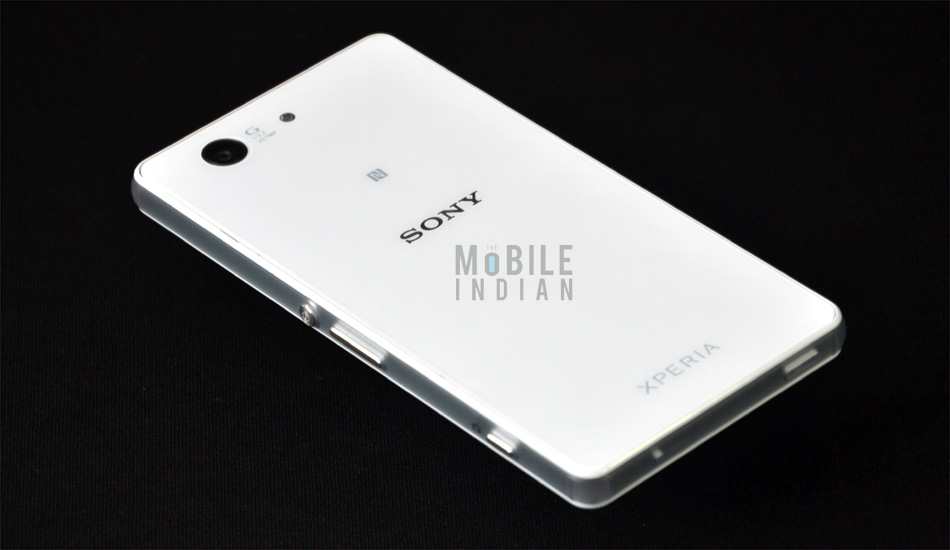 Having said so, the Z3 Compact is not perfect in camera department either. First of all, in auto mode, the images are not captured in full 20.7 megapixel resolution. In manual mode, you can capture 20.7 megapixel images only in 4:3 mode. HDR only kicks in when you reduce the pixel size to 8 MP or below. HDR and image stabilisation features are available for the front camera too. The Z3 Compact has a blur kind of effect as well but it sometimes blur the unintended parts too. In macro shots, the Compact also faces some issues if the subject is really close to the lens (about 25 cm).
To checkout samples Click here.
User Interface
The Sony Xperia Z3 Compact has Android 4.4.4 KitKat version. Since Android 5.0 Lollipop has just been released, one can expect the same to be released for the Compact in coming times. Meanwhile, like other Sony smartphones, this handset too uses the Xperia UI which is quite intuitive.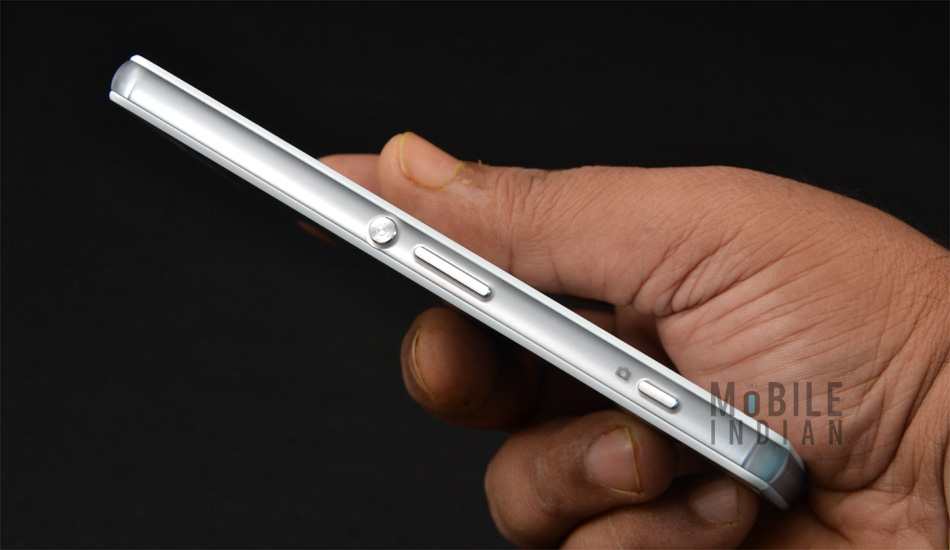 To start with, it comes with a new Bluetooth unlock apart from the usual pattern, pin, password, face and swipe unlock facilities. You can choose to keep any picture or widgets on the locked screen too (ofcourse that would be possible in case of swipe or no unlock pattern). The notification and quick setting bar can be accessed from the top and its upto you to decide what to keep in the quick setting. You can also choose to auto deletion of viewed notifications or can block certain app notifications altogether.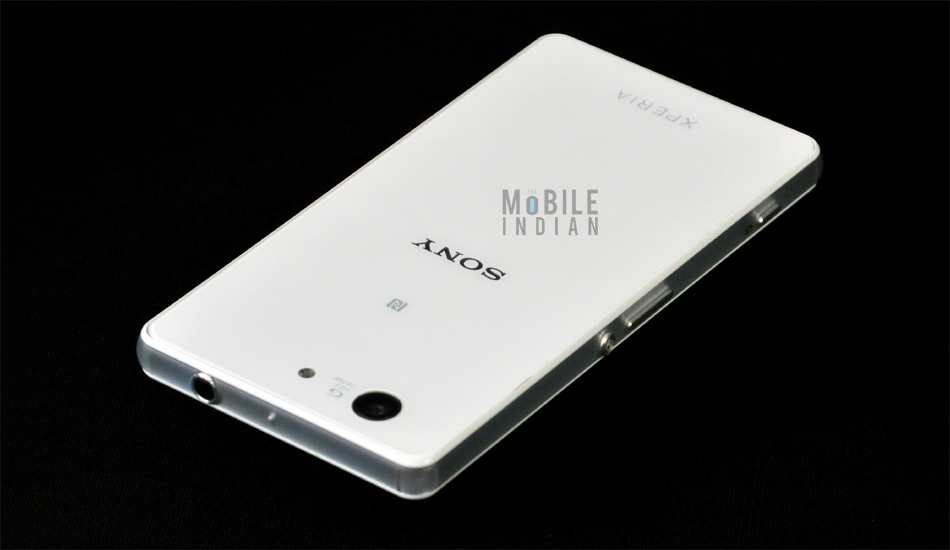 A long press on the home screen brings up a page to modify the same. From here you can choose wallpapers, themes, apps, and widgets to keep in the home screen. You can also add or delete home screens. In the menu drawer, a swipe from the left brings up a quick setting like page that has option to search for apps either by name, alphabetical order, most used, or you can just opt to see the installed apps. There is an uninstall tab which will activate a cross tab just above the display which can be removed so you need not to go the app all the time.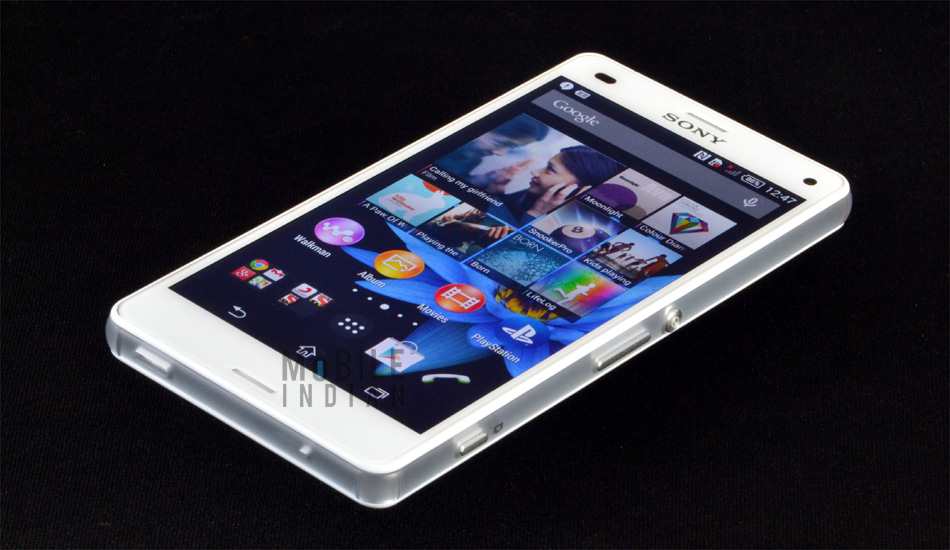 In the Sony Xperia Z3 Compact, there is Simple Home feature too that will simplify the interface by just showing most used apps and widgets in big formats. It also removes the complex setting page and shows few most used shortcuts. You can exit from this page in just a click from the settings page.
The only issue with the Compact is that it comes installed with too many apps which cannot be installed. Ofcourse, it has huge storage facility and thus the preinstalled apps does not affect in terms of memory. However, it unnecessarily clutters the menu drawer.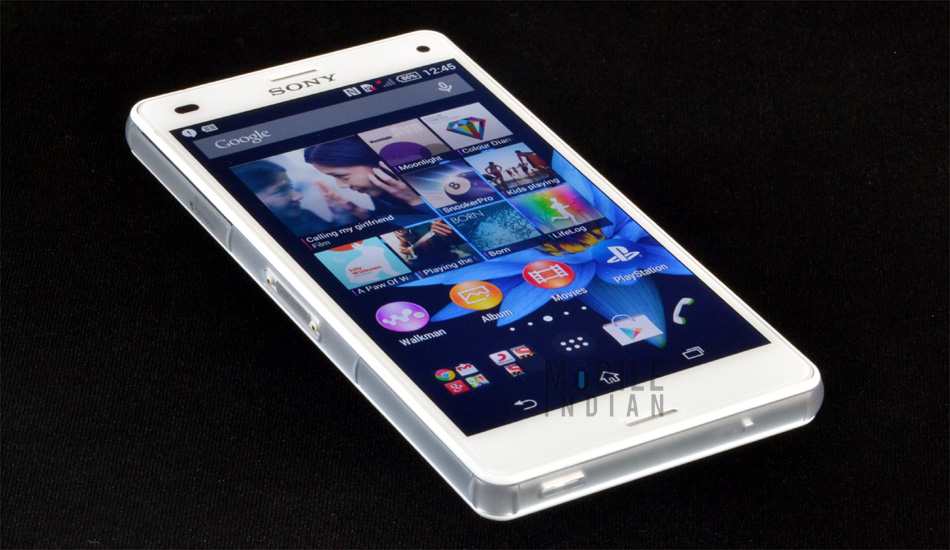 Performance
The Sony Xperia Z3 Compact has the powerful Qualcomm MSM8974AC Snapdragon 801 processor with Adreno 330 GPU and 2 GB RAM. For storage, the smartphone has 16 GB internal storage and has an expandable storage slot with 128 GB micro SD card. Of 16 GB ROM, 11.57 GB is available for users.
As apparent, the handset managed to run quite smoothly. It has no problem whatsoever in running games like Modern Combat 5. It scored very high in almost all benchmarks like Antutu, 3D Mark, and Quadrant Standard.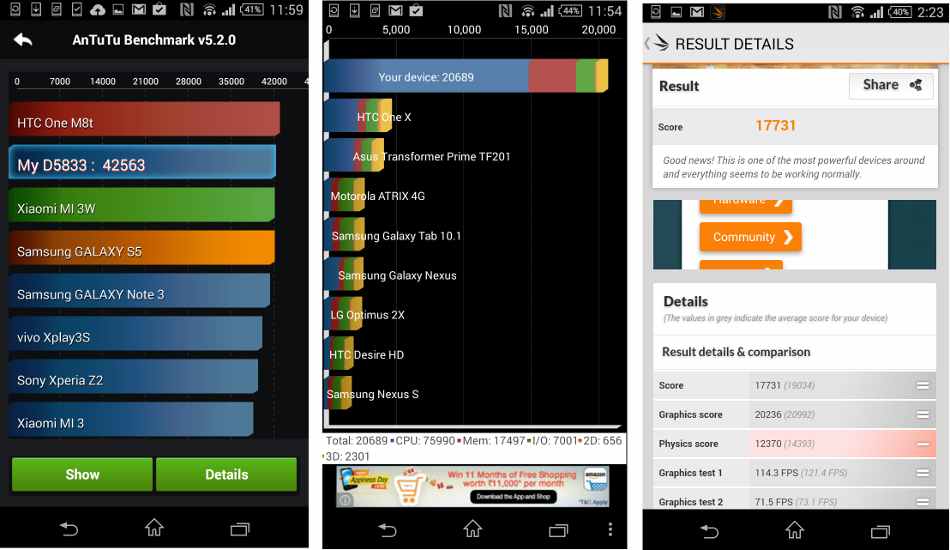 The Compact has a single nano SIM slot. I wish it had dual SIM slots. Anyway, the call reception was as smooth as data connectivity. Despite the small screen, typing was quite a smooth affair, partly due to the super sensitive display. For connectivity, it has Bluetooth, WiFi, NFC, and Android Beam features too. There is a Tap and Pay feature as well but that has no usage in India as of now.