Sony makes some of the best high-end over-ear headphones in the market and its WH-1000XM series products can easily be called Sony's pinnacle audio products. Those headphones are loved by most people, but today we are going to talk about a mid-end product from the brand, and it is the Sony WH-CH720N headphones which have a price tag of Rs 9,990. While Sony definitely needs to work on its model names both on high-end and low-end, can it create the same magic in the latter segment which it does in the former? Let's find out.
Sony WH-CH720N Headphones: Build Quality & Comfort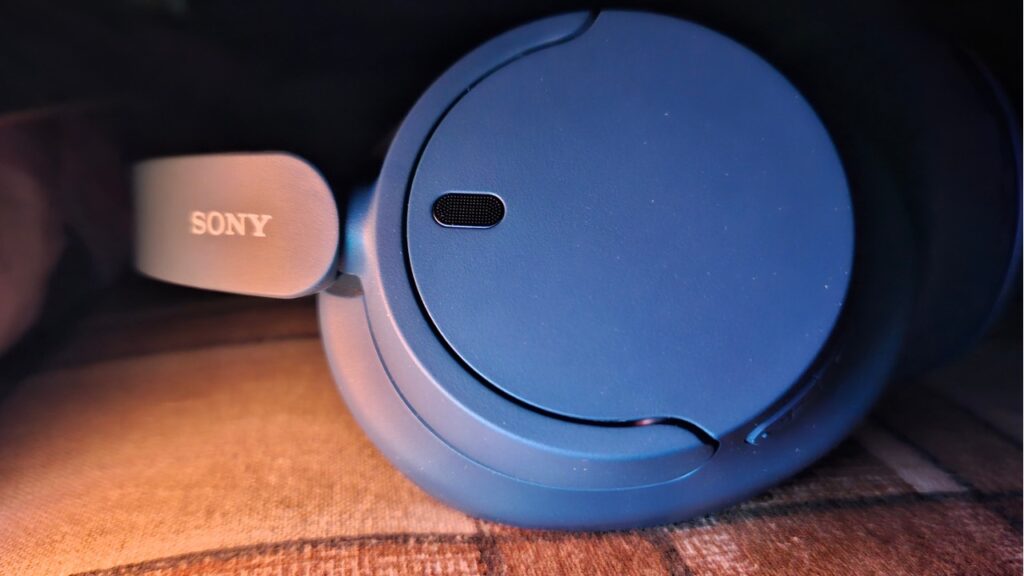 These new pair of headphones from Sony are made of plastic all around with a metal available only in the headband where you can extend the length of the earcups. The earcups can be extended quite a bit which makes them sit well on my head. There's enough cushioning on the earcups, making them super comfy.
I've had a problem where most headphones start hurting my ears after an hour or so, so I stopped using them a while ago. However, with the Sony WH-CH720N, I never faced any such issue which was quite surprising to me as well. You can easily wear them for long flights, which would never bother you. They don't fall off either, if you bend down while wearing them which is another issue I have faced with headphones in the past. Basically, they aren't very loose, but they aren't too tight either.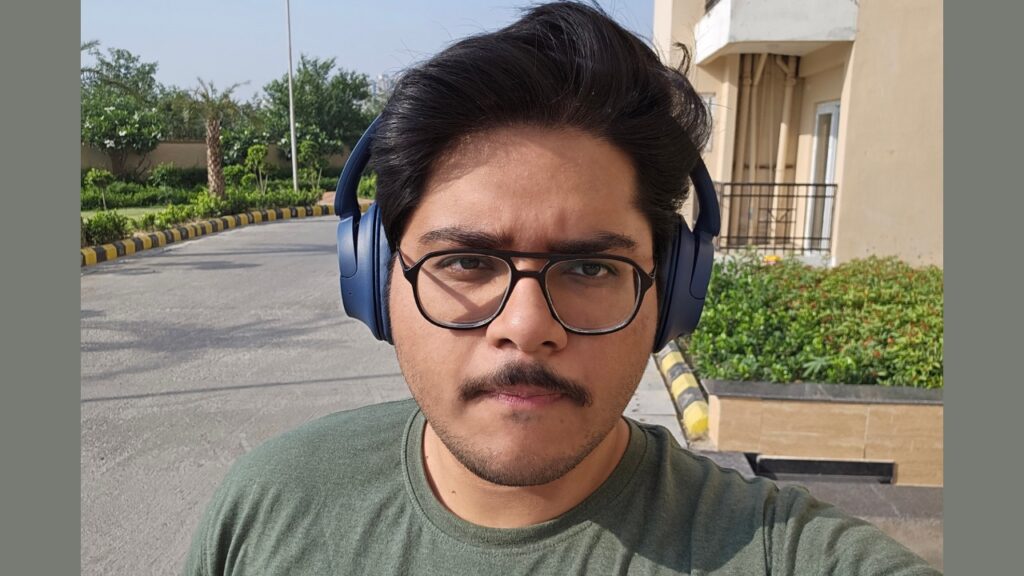 The headphones are quite lightweight with cushioning also available at the top of the headband. The blue hue we got for review also looked minimal, and I would actually prefer this over the black option. The cups can turn 180-degree which enables you to wear them on your neck without the earcups touching your chin area. They also tilt forwards so they can better adjust to your ears. In other words, Sony has paid considerable attention towards the comfort, and these headphones portray that.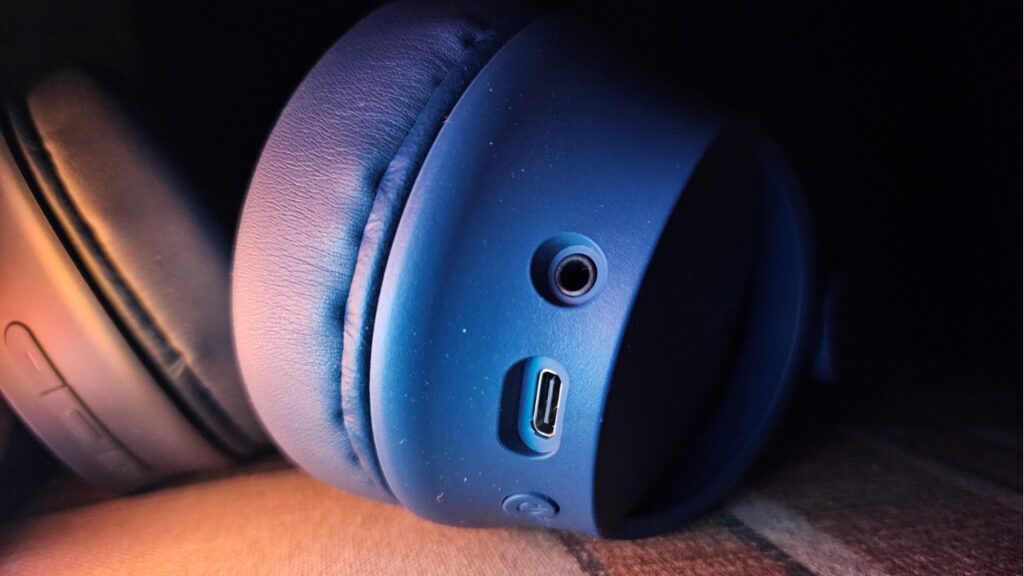 The power button lies on the left earcup with an LED light showing you the status of charge, pairing, and power. Next to that, you get two ports, including a USB-C port for charging and a 3.5mm headphone jack for the AUX input. Moreover, Sony also provides both the charging cable and an AUX cable in the box so you don't have to purchase them separately.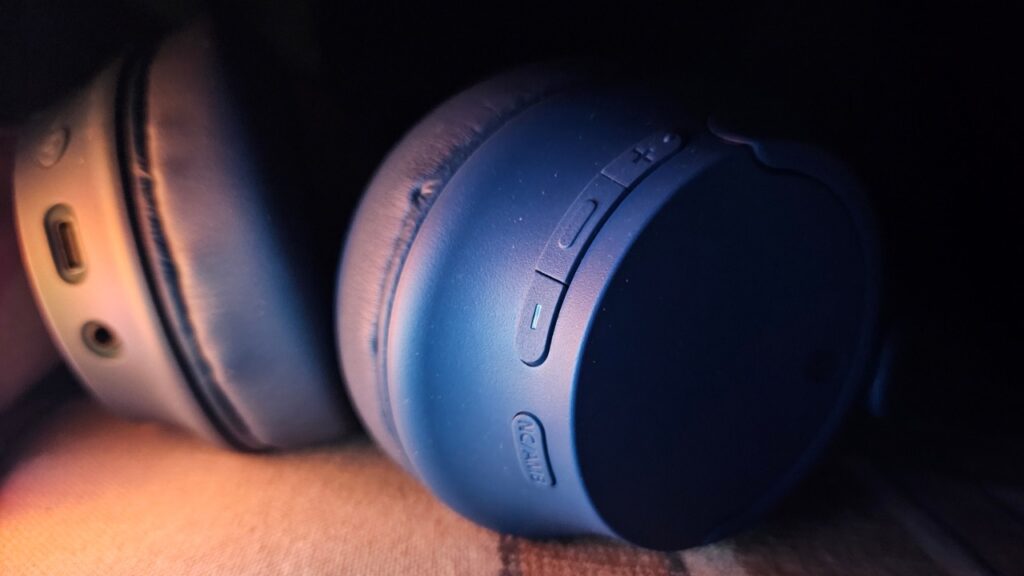 There are four buttons on the right earcup, including one for volume up, one for play/pause or call accept/reject, one for volume down and one for turning on/off noise cancellation or ambient mode. The finish of the plastic could have been done slightly better, but that's not an issue by any means.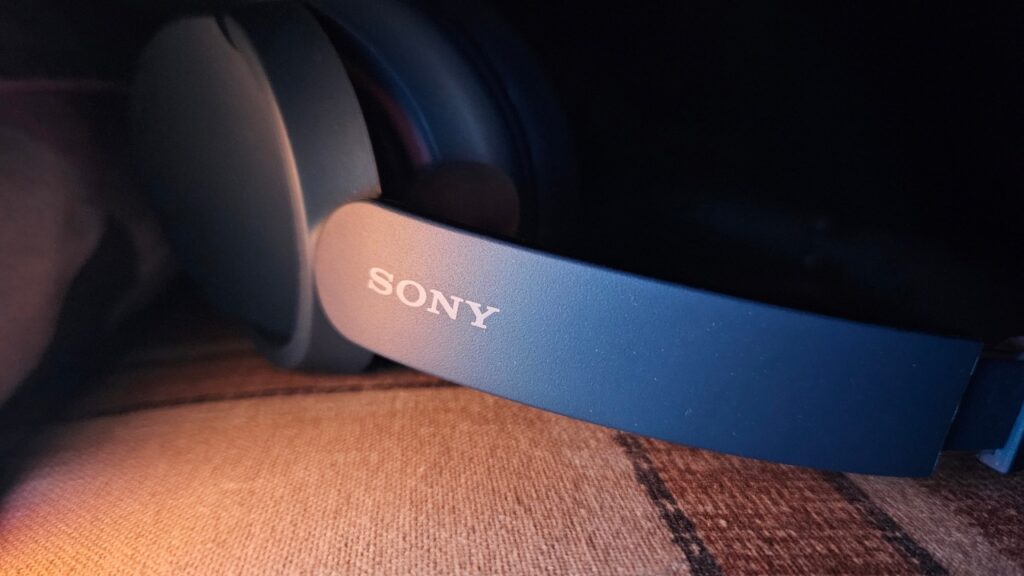 The only two areas where I feel these headphones lack is that you cannot fold them, so forget about storing them in a backpack. And secondly, Sony isn't giving you a carry case with the headphones meaning the safest place you can keep these headphones when they aren't in use is your neck.
Read More: Sony Bravia X75L series TVs launched in India: Check features, prices and more
They don't feel too fragile but would obviously break if enough force is applied. Also, the competition including JBL, Harman Kardon, and Sennheiser, are all giving headphones in the same price range that can fold. While not all of them have carry cases in the box, some of them do, and in Sony's case, I feel it would have been a nice addition, especially when the brand paid enough attention towards designing these headphones so elegantly.
Sony WH-CH720N Headphones : Audio & Call Quality, App support
The audio quality is where Sony shines, and spoiler alert, it did here as well. The WH-CH720N headphones from Sony pack a 30mm dynamic driver unit with SBC and AAC audio codecs support. They connect wirelessly via Bluetooth v5.2 and of course, support Active Noise Cancellation and an Ambient Mode as well.
Sony further says they come with integrated Processor V1 and Digital Sound Enhancement Engine (DSEE), which can upscale the sound quality. Personally, when I turned on the feature via the app, I didn't notice much of a difference. The overall sound did get slightly clearer, but nothing more.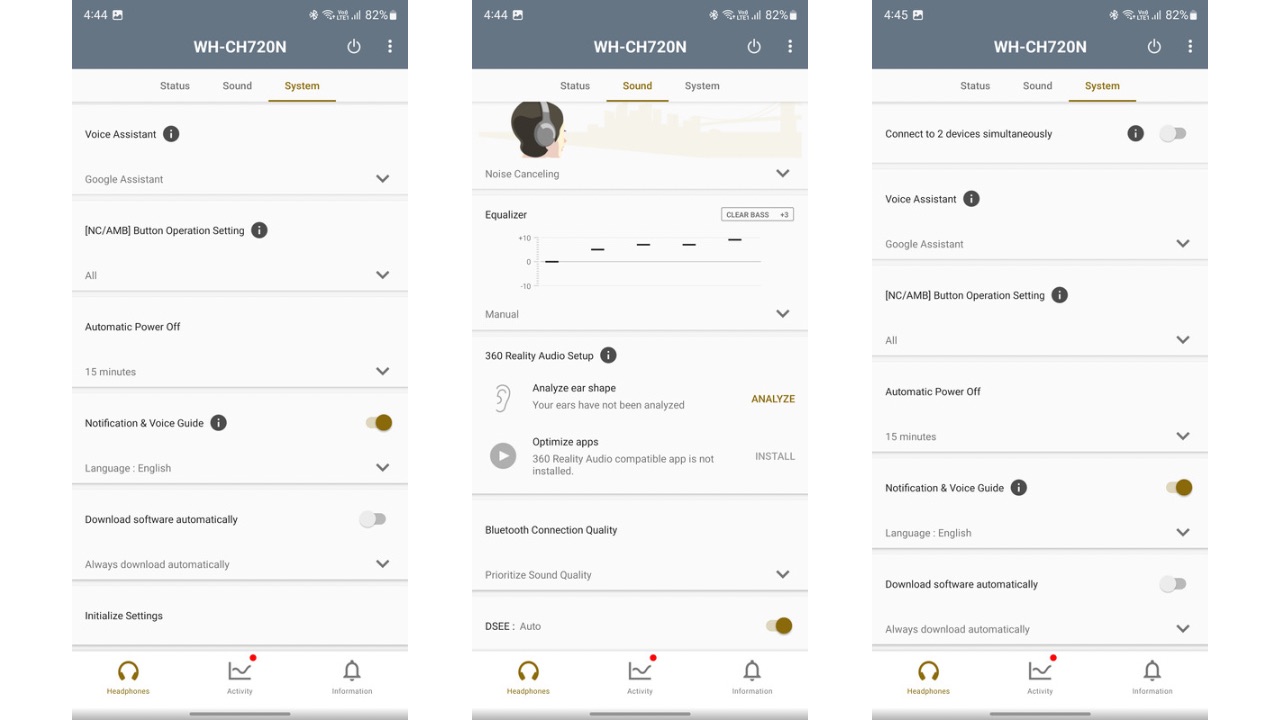 While I would have loved it if Sony also gave us LDAC support, AAC HD audio works just fine. There were no issues with connectivity as such, and because they support Google Fast Pair, my phone instantly showed me a popup to connect to these headphones as soon as I turned them ON.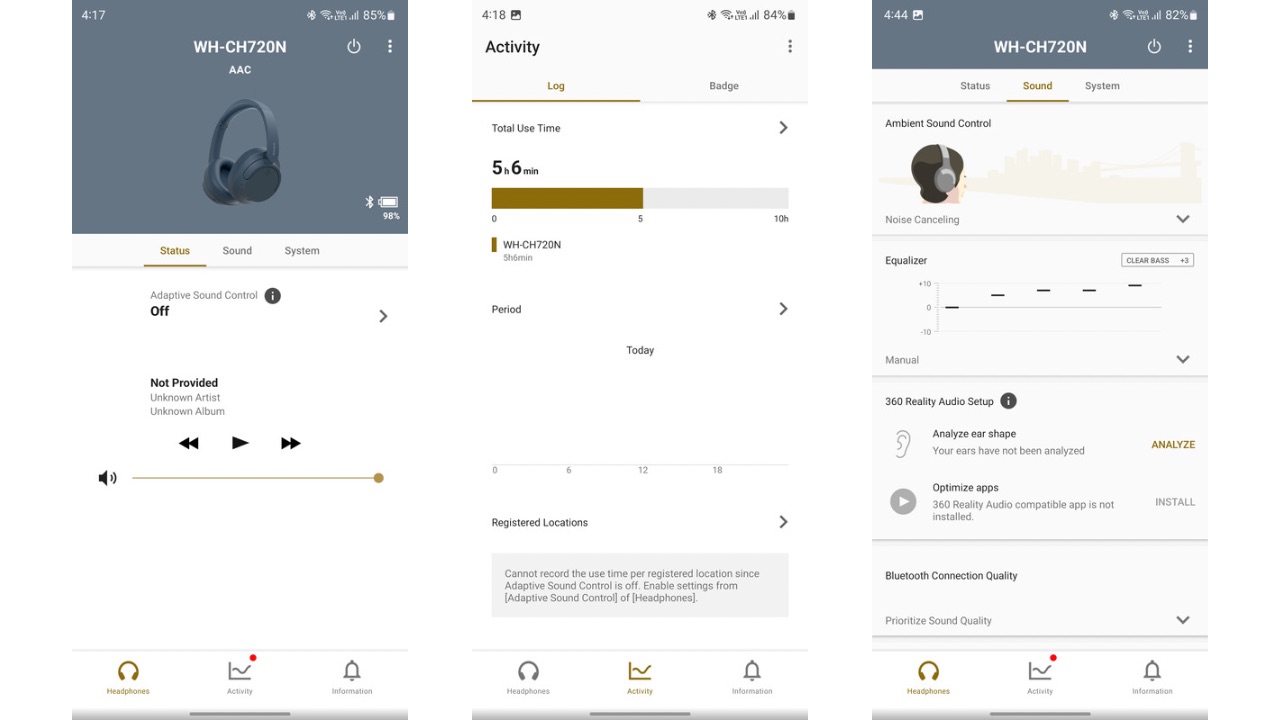 So connecting to them was a swift experience. Next, talking about the app, you can download the Sony Headphones Connect from the Play Store or the App Store and take full advantage of the features. The app allows you to turn ON adaptive sound control so the headphones automatically switch between Noise cancelling and Ambient sound modes according to your location. The feature worked as it should and was automatically switching between modes based on where I was.
Then, it shows you your activity as to how long you have been using the headphones. You can also update the software of the headphones with the app, which we did and didn't find any issues in it. Now, going into the Sound tab, you can find the Noise cancelling modes and a five-band equaliser that you can customise per your liking.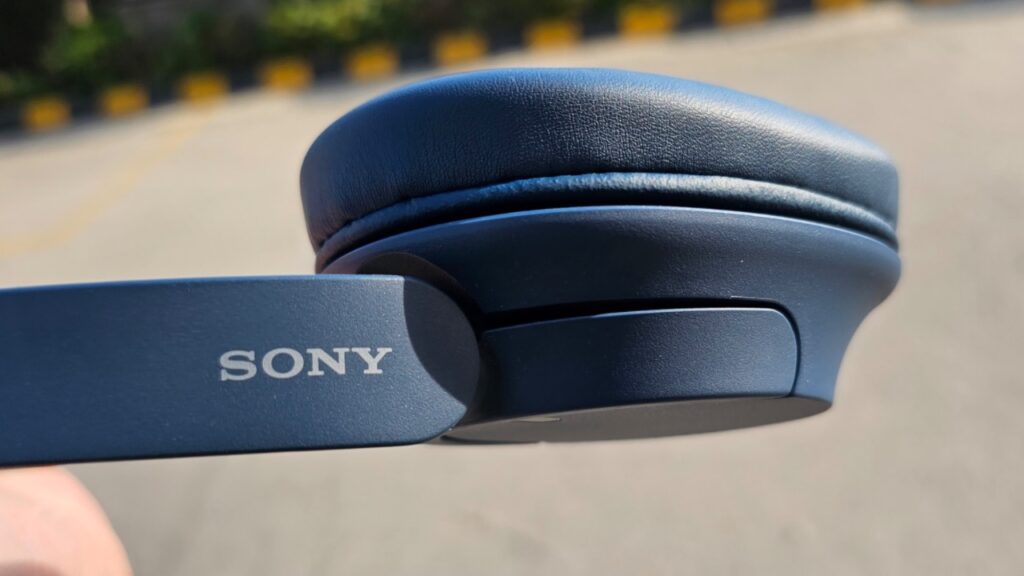 Sony also gives a bunch of preset options to choose from, with a Clear bass option that basically increases the intensity of the bass, but increasing it too much would make it overpower the treble and vocals as per my observation. I actually liked the 'Bright' preset with +3 clear bass, but you can set your own if you want to.
Read More: Sony WH-CH520 on-ear wireless headphones announced in India
Talking about the overall sound quality of the Sony WH-CH720N, the overall sound signature is a balanced one where not too much is happening on either end of the audio spectrum.
The bass doesn't overpower the vocals and other frequencies, but the punch is definitely there. The high-end frequencies could have been slightly more lively, but you can always tune those with the app via the custom equaliser. Instrument separation is decent, and the sound doesn't distort at high volumes, and it actually gets loud enough. The vocals sound good, and the overall sound profile is very much likable. A classic Sony characteristic, if you'd like to call that.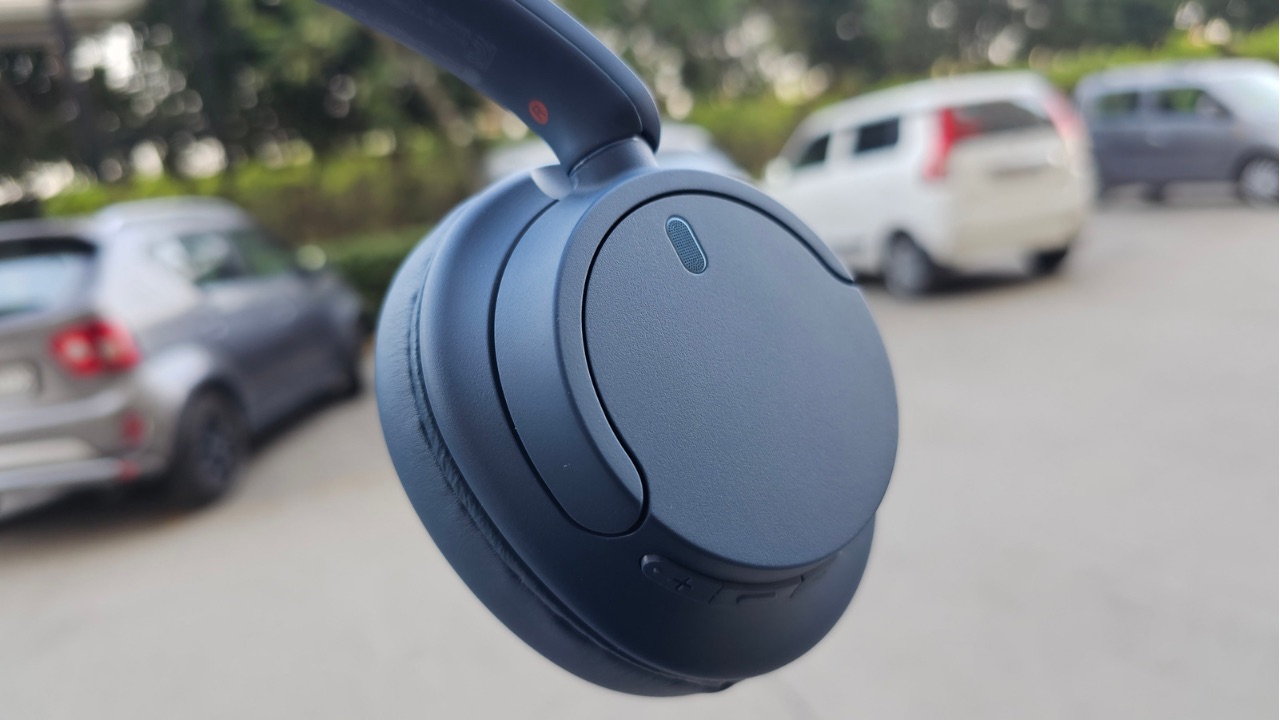 As for the call quality, Sony says it is using Precise Voice Pickup technology, a beamforming mic, and Wind Noise Reduction Structure for clearer calls. All of these features definitely work well and the call quality was surprisingly amazing. The person at the other end never complained of any issues and actually couldn't make it out that I was using headphones for the call until I told them. Due to such good quality of mics, the Ok Google commands also worked very well while wearing the headphones.
Next in line is the multipoint feature, where the Sony WH-CH720N headphones can be paired with two Bluetooth devices simultaneously. The feature works optimally as it should and switching between devices wasn't a problem. However, you will have to turn on the feature in the app before you can use it.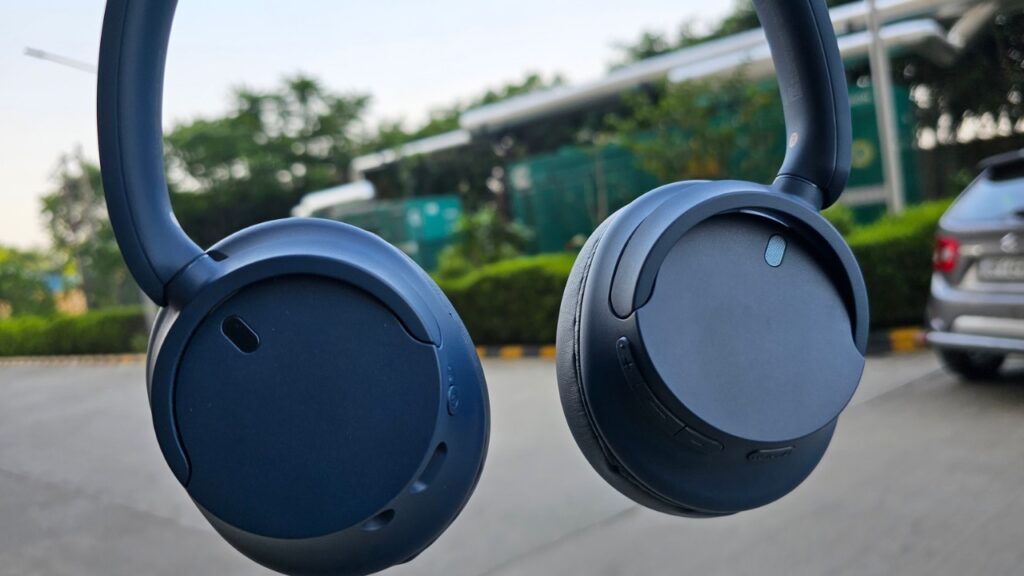 A 360 Reality Audio feature is also present that can give you a more immersive experience and make you feel like you are in a place with speakers all around you. However, you would need a supported service, such as Tidal, to use it.
Other settings are also available in the app, such as the ability to choose what modes to toggle through when pressing the noise cancelling button, your preferred voice assistant, automatic power off and more.
Not only that, but you can also backup the settings of the app to Google Drive so you can restore them if you switch headphones or re-install the app. Talking of Active Noise Cancellation, Sony did an outstanding job here. With ANC on and music playing, you can hardly hear the outside world except for high-frequency sounds which aren't filtered out well.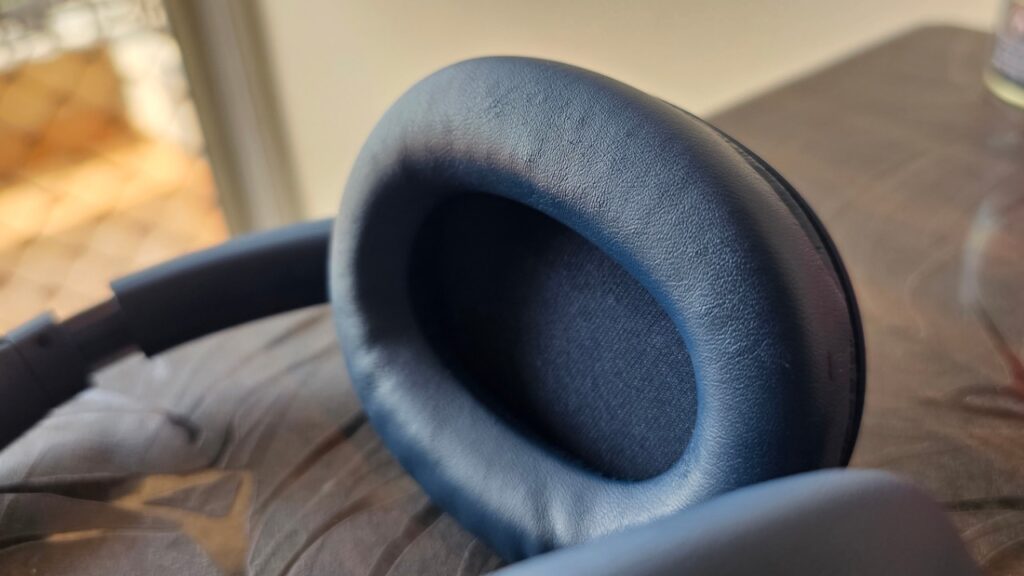 For instance, I could still hear the fan running above me with ANC on but not if someone was calling me from a little further distance. Human voices are also cancelled well and low-frequency sounds are better filtered. Street sounds and wind noise are handled well, or should I say cancelled, by the headphones.
Transparency mode enables you to better hear your surroundings and it worked just fine. While you obviously cannot hear as clearly because of the nature of the headphones covering your whole ear, the transparency mode or the ambient mode gets the job done without any issues. You can easily have a conversation with someone with this mode ON.
Lastly, if we talk of battery life, Sony claims up to 35 hours of playtime with ANC on and up to 50 hours with ANC off. While the playtime would depend on each individual's usage, I could get close to 30 hours with ANC as I regularly listened at high volumes. In my opinion, this is quite adequate and impressive. However, the headphones do take up to 3 hours to charge from 0 to 100 so you'll have to plan when to charge these accordingly. For those charging it overnight, it shouldn't be an issue by any means.