Sony's latest offering, the WF-1000XM5, reflects its commitment to evolving its wireless earbuds in several noticeable ways. Let's dive into the details of these new earbuds in this review, which have a price tag of Rs 24,990.
Design and Build
The WF-1000XM5 charging case immediately catches your attention with its compact size. The case has a matte finish, supports Qi-wireless charging, is significantly smaller than its predecessor and fits into the smaller jeans pockets.
Sonys rely on their tips and the insert and twist technique to securely lodge the earbuds in your ear, providing a good audio experience. The tip material debuted on the WF-1000XM4 and feels like a silicone and memory foam hybrid. Get the fit right, and you get a great seal, but we wish the material were a bit grippier so it doesn't feel like the slightest slippage could break your seal. You get four sizes of tip in the box, including an ultra-small SS option.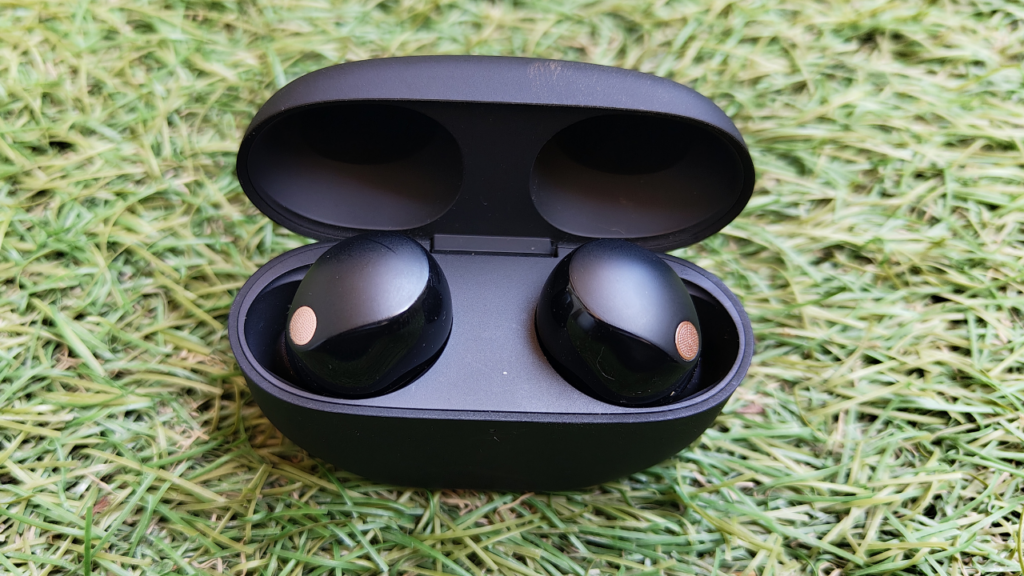 The earbuds have undergone significant downsizing, with Sony boasting a 20% weight reduction and 25% smaller footprint than their predecessor, the WF-1000XM4. The black earbuds are adorned with a gold Sony logo and rose gold mesh, adding a touch of luxury to their appearance.
However, getting the earbuds from the case can be challenging due to their smooth, glossy plastic exterior. I still have to figure out a way to take out the buds in one attempt. Also, while running, I always feared that the buds might fall out, but it never happened. Perhaps the outer body of the buds needs to shrink a bit more since the in-ear feel is good. Having said that, I always felt comfortable wearing the buds, even for long durations.
Features and App
A notable feature in WF-1000XM5 is the advanced spatial audio support with head tracking when used with Android phones or Widow-based laptops, offering a more immersive movie listening experience. However, it's important to note that Apple's spatial audio is not supported, limiting the experience to stereo when watching videos on an iPhone.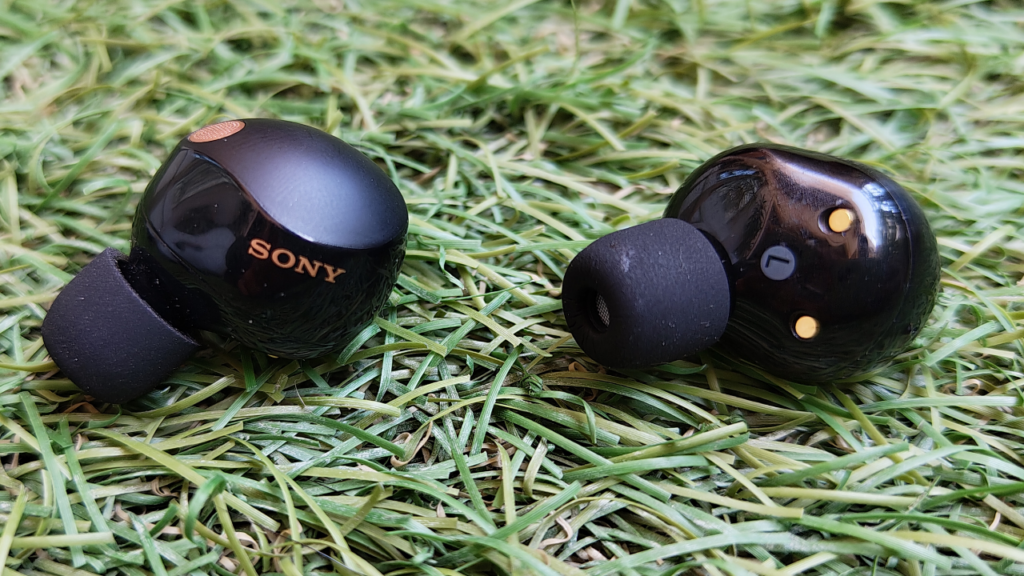 The next addition is Multipoint Bluetooth support, a long-awaited feature allowing you to connect to two devices simultaneously. Additionally, the App can automatically switch between modes based on your activities and location, enhancing user convenience.
The Headphones Connect app by Sony is available for Android and iPhone and offers a wide range of smart features and customization options for the earbuds. However, it may require some learning as only the tabs are straightforward in the app and other features need to be explored to get a hang of them. I felt that the app could benefit from a simpler UI and navigation.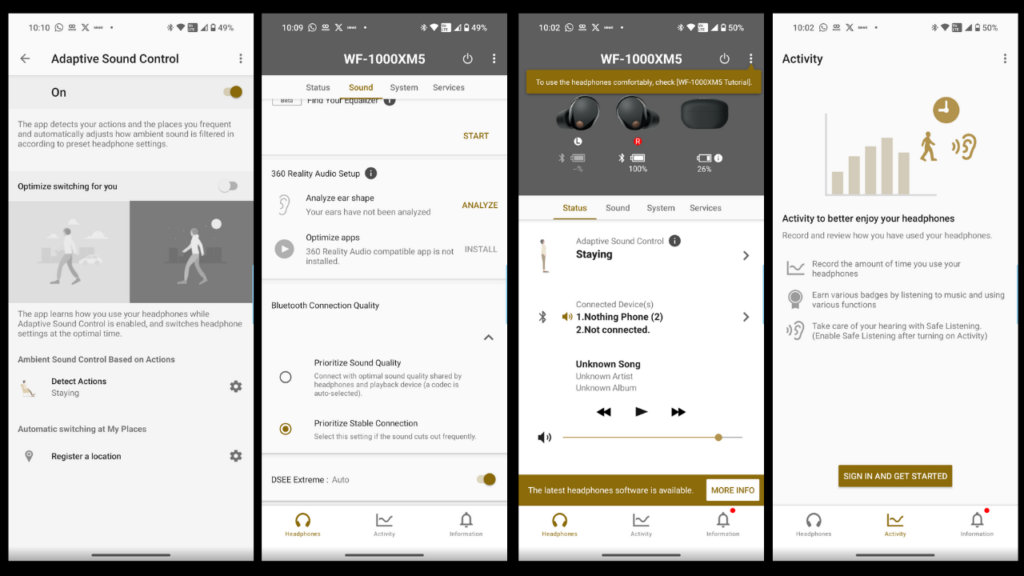 One thing in particular that I didn't like about the app was that it requested too many permissions beyond the initial set, which irritated me.
User Experience and Audio Performance
The earbuds come with a capacitive touch surface, allowing easy control. You can customize the tap actions on each earbud, including up to three taps and tap-and-hold gestures. However, it's surprising that there isn't an option to receive or make a call via a tap on the earbuds. To make up for this, you can use a feature where you nod your head up and down to accept a call or nod from right to left to reject a call.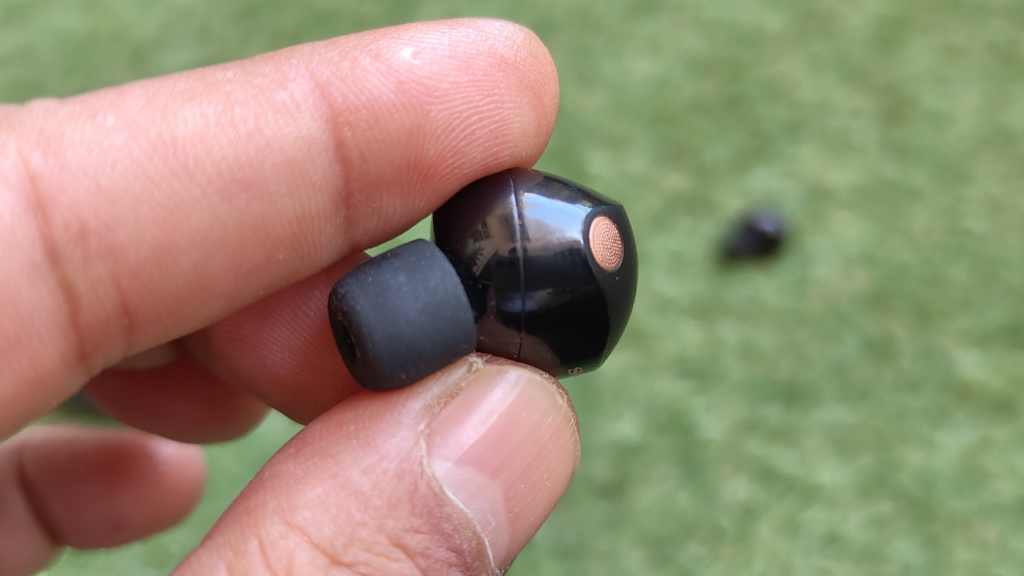 The transparency mode, although decent, can sometimes sound echoey in enclosed spaces. Notably, a tap-and-hold gesture on one earbud allows you to temporarily hear the outside world, which is handy for staying alert to announcements. Additionally, the speak-to-chat function will pause the music and turn on transparency when the earbuds detect you are speaking.
One significant change with the WF-1000XM5 is the introduction of a new driver, the Dynamic Driver X, at 8.4mm, larger than the previous 6.4mm driver in the WF-1000XM4. This larger driver aims to reduce mechanical noise and utilizes two different materials for high and low frequencies, contributing to an improved audio experience. Additionally, Adaptive Sound Control lets you create custom noise cancellation and EQ profiles based on your location or activity, offering versatility to tailor your sound experience.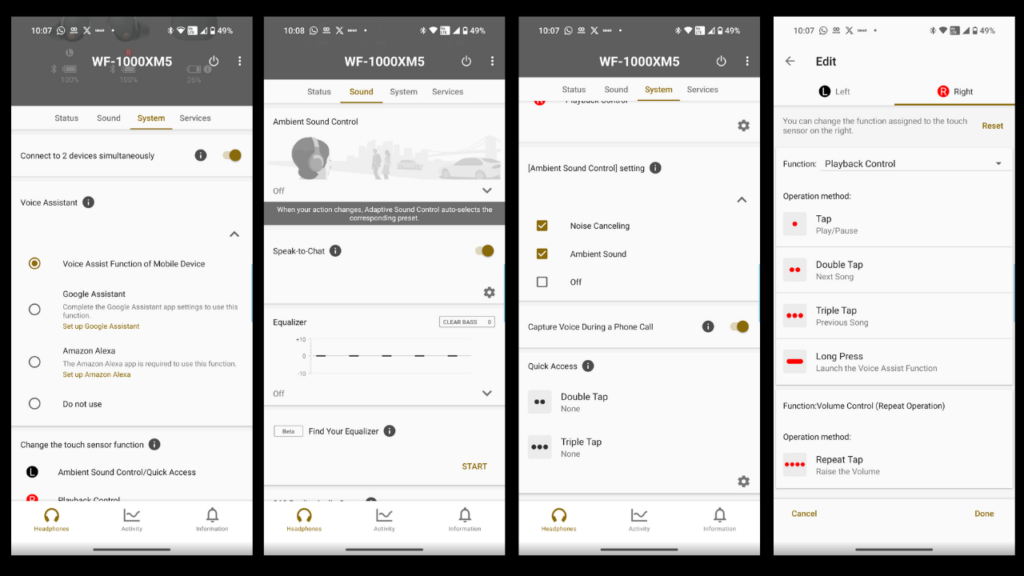 I found that the earbuds provide clear highs, clean mids, and decent lows during my usage. However, I recommend customization to suit individual preferences. As far as ANC is concerned, it was top-notch.
Three microphones per earbud and AI algorithms work together to ensure clear call quality and noise cancellation. Sony has made efforts to improve call quality by incorporating a wind noise reduction structure into the sleeker design and employing AI machine learning in noise reduction. The call quality for both the caller and receiver is loud and clear. The earbuds also feature a bone conductor sensor to detect when you are speaking.
Battery Life
The WF-1000XM5 boasts eight hours of battery life with Bluetooth and active noise-cancelling enabled, with an additional 16 hours provided by the wireless charging case. During testing, the earbuds lived up to their claimed figures.