Samsung Galaxy Tab S2 is currently the slimmest tablet in the world. It comes with 4G connectivity, WiFi (a/b/g/n/ac), Bluetooth 4.1, WiFi Direct, 32GB inbuilt memory and expandable storage of up to 128GB. The tablet has an 9.7-inch Super AMOLED display with 2048×1536 pixels resolution. The tablet measures 169 x 237.3 x 5.6mm and weighs 392g with a 5870 mAh battery.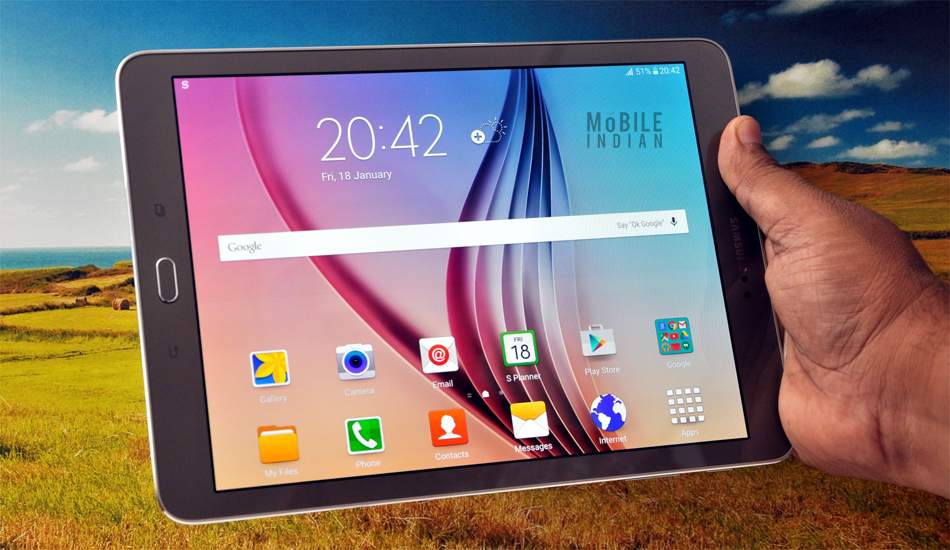 The Samsung Galaxy Tab S2 has a powerful Exynos octa core processor and huge 3 GB RAM. It also offers an 8 megapixel auto focus rear camera and a 2.1 megapixel front camera. The tablet has fingerprint scanner as well along with Accelerometer, Gyroscope, Compass, Hall and RGB sensors.
At Rs 39,400 it is not that costly either but does it justifies its price tag? Here we have tried to find out the answer for the same.
Design
The Samsung Galaxy Tab S2 is certainly the slimmest tablet with thickness of just 5.6mm.But its slimness is not the only design highlight of the tablet.
The Tab S2 has a metal body which seems durable and most importantly is comfortable to hold. Its right and left hand side panels are slightly chamfered to offer a comfortable grip; you won't realise its usefulness till you hold it in the portrait mode to read an ebook or to do similar tasks.
It is also quite strange for Samsung to keep its weight so low (the 9.7 inch tablet weighs 392 grams) despite arming it with a metal body, 9.7 inch display and a huge 5870 mAh battery.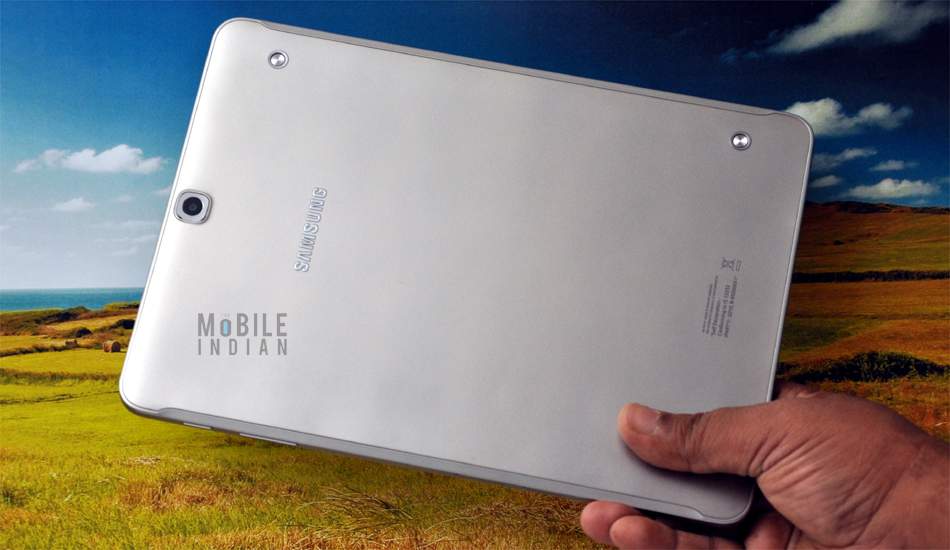 The tablet has the traditional Samsung home key at the bottom of the touchscreen which also acts as a fingerprint sensor. There are two touch buttons – home, return – on either side of the Home key.
The power and volume rocker – both of which are made of metal and look solid – are on the other right hand side along with the mini SIM card tray and the micro SD card tray.
At the bottom panel (when you hold it in portrait mode) lies the micro USB and 3.5 mm jack and two speaker grills. The back panel has a neat look as well with the rear camera at the top middle and two docking areas for the book cover (keypad). Unfortunately, the keypad cover is sold separately but is currently not available for the Indian market (we could not find the accessory on Samsung India's website).
All in all, the Samsung Galaxy Tab S2 has an aristocratic look without any fancy designing elements but it feels solid and is easy to use.
Display
After using the S2, I am sure most of you will fall in love with its display. It simply looks stunning. It has an 9.7 inch touchscreen which has 2048×1536 (QXGA) resolution, thus providing plenty of detailing. On top of that due to its Super AMOLED technology, everything seems come alive on this display. The screen is also super sensitive to touches.
But the best part, which I hope all other device makers should emulate, is the level of brightness that the S2 offers. So much so its brightness was that I used to keep its brightness at minimum always and I bet all those who are blessed with eyesight will not dare to increase it to highest brightness even outdoors.
The display comes with several modes. You can choose the average Basic mode or Adaptive display mode that optimise the colour range, saturation and sharpness of the display automatically or can go for the AMOLED Cinema mode which is equivalent to the Dynamic mode that you may have seen in your LCD/LED TV unit.
Interface
The Samsung Galaxy Tab S2 comes pre-installed with Android 5.0.2 Lollipop operating system and hopefully Samsung will soon release the Android 6.0 Marshmallow version soon. But at this point of time only the Nexus and Android One devices have got the latest OS so we cannot really complaint about that at least at this point.
Anyway, the Tab S2 has a customised UI anyway – so it has a different look and functionality than what you would see in a plain Android UI.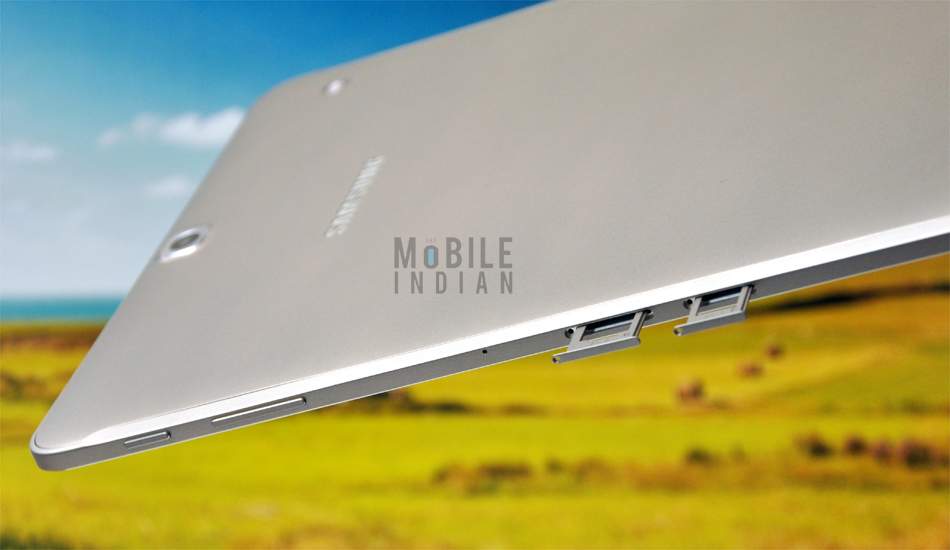 Let's start with locking mechanism first. The Tab S2 offers fingerprint sensor using which you can lock/unlock the device. It is pretty simple to use. If you haven't done it while using it for the first time, go to setting-lock screen and security and under screen lock type choose fingerprints. The first time it takes few seconds to register your fingerprint from various angles, once done, it is quite smooth. Unlike in many budget devices where you have to really press hard, the Tab S2 recognises fingerprints in a jiffy – just in 1-2 seconds.
Besides the TouchWiz interface offers some useful features like Reading Power, Smart Stay, various Indian languages and even a Private mode that hide content you want to keep private like Gallery, videos, music, my files etc.
It also comes with Microsoft apps like Word, Excel and PowerPoint.
Performance
The Samsung Galaxy Tab S2 comes with the Exynos 5433 chipset that has two quad core units – one with 1.9 GHz and the other with 1.3 GHz clockspeed. Plus there is 3 GB of RAM, 32 GB internal memory of which 6.59 GB is being occupied by the System. The tablet also offers expandable storage slot that can hold a micro SD card of up to 128 GB.
As expected, the tablet was quite fast be it gaming or multitasking. Especially, in multitasking where I have seen many failing, the Tab S2 has no issues whatsoever and the processor allows taking advantage of its huge 9.7 inch display to the fullest.
Battery back up was another forte of Samsung. During the review, I never had to charge it before 30-40 hours whenever my usage restricted to web browsing, gaming and reading. Note that during this I used to keep WiFi connectivity on, almost 24/7. For instance, after charging it to 100 per cent, I used it for Skype chat using WiFi for about half an hour and then was browsing internet for two hours and played games for about 15 minutes even after that it lost only about 25 per cent charge (note I was not using any SIM and had kept the brightness at minimum).
Plus the 4000 mAh battery of this 9.7 inch tablet has the backing of a 2A charger for fast charging and it also comes with Ultra Power Saving mode.
Camera
Though I doubt, anybody would use a big device like this for photography but having powerful cameras on tablet is quite useful. Especially the front camera. The Tab S2 offers an 8 megapixel auto focus rear camera and a 2.1 megapixel front facing camera.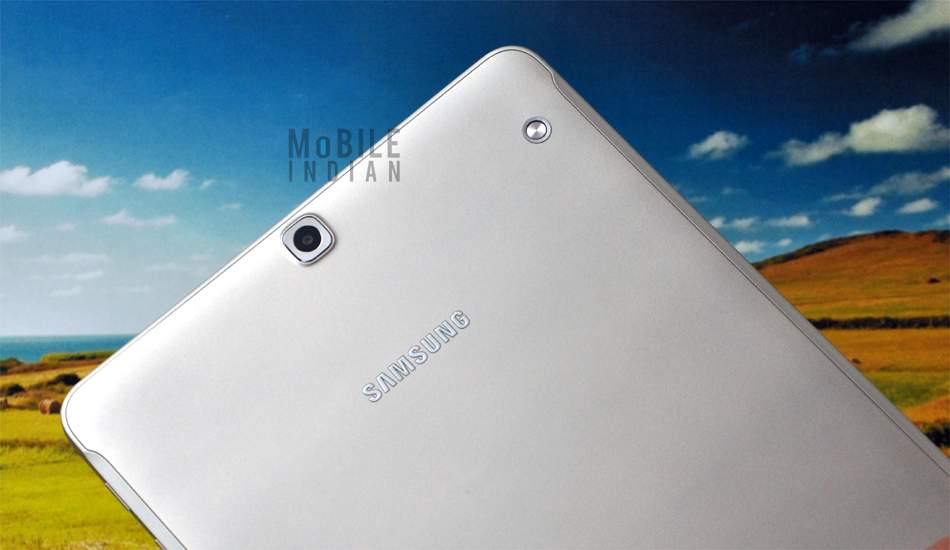 However, don't expect much from these cameras. The front camera especially do not offer much detail and is best for video callings only. The rear camera is okay for occasional photography.
Connectivity
The Samsung Galaxy Tab S2, as I said earlier, comes with a nano SIM card slot using which you can make voice calls and can access 4G networks. Like other Samsung devices, it also comes with download booster which though we could not tested as it requires your device to have access to both WiFi and LTE networks.


Besides, the tablet has the most advanced WiFi version – Wi-Fi 802.11 a/b/g/n/ac MIMO (2.4GHz/5GHz). It also offers Bluetooth 4.1 LE, WiFi Direct and a micro USB port.