Today quad core processors are becoming so common in tablets and smartphones that most of us have started equating it with performance, and any device above Rs 15,000 is taken for granted as having a quad core processor.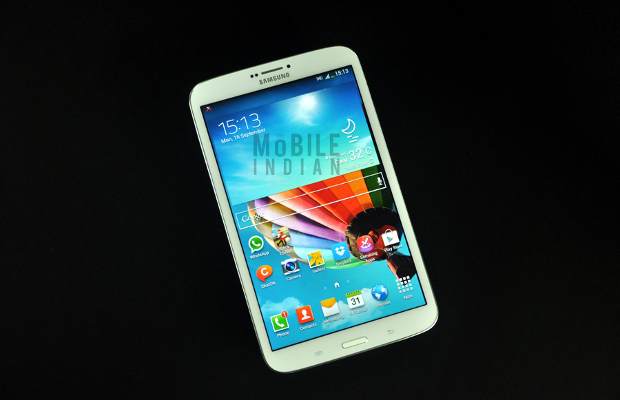 So when Samsung Galaxy Tab 3 8.0 (T311) was released in India for a price of Rs 25,000 plus, many voices were concerned about its dual core processor. Besides, there were concerns about its size, the viability of calling etc. So we put Samsung Galaxy Tab 3 T311 through many tests and here is what we found out about the device.
Design
Samsung Galaxy Tab 3 T311 comes with an 8 inch display, but before you jump to any conclusion about its perceived bulkiness, here are some facts: The tablet is just 7.4 mm thick, 123.8 mm (12.38 centimeters) wide and 209.8 mm (20 cm) long. Since it is uniformly thick you can guess how slim it actually is. In fact, it is slimmer than most smartphones available in the market today. In addition it weighs just 316 grams, a lot less than Asus Nexus 7's 340 grams and just a tad bit higher than iPad Mini, which weighs 308 grams.
The light profile and slimness make it very comfortable to hold and operate; you will feel the magic of Tab 3 especially while reading e-books; People with large hands like me can even operate it in one hand.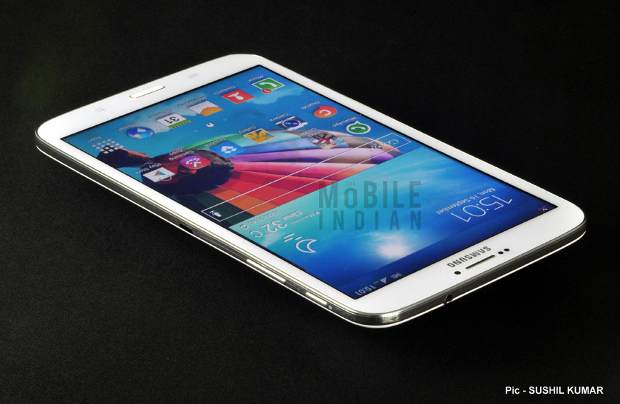 Samsung has also done its job well while placing the buttons and keys. First of all, the power key and the volume rocker are placed on the top right hand, close to each other but not so close that you will accidentally press the wrong button. The volume rocker and power key will be suitable for both right and left handers. The micro SD card slot and SIM slot are placed on the left hand side and are well covered. Most importantly, Samsung has placed two speakers at the bottom, which make it possible to hear callers very loud and clear. The micro USB port cum charger is between these two speakers.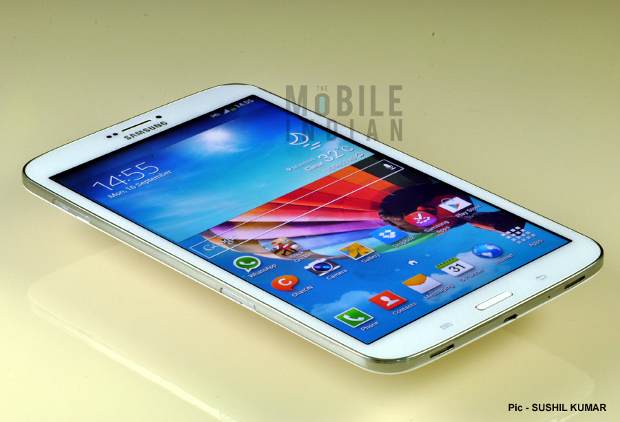 Otherwise, the Samsung Galaxy Tab 3 T311 has all the characteristics of a usual Samsung device. It has full glass covering on the front, a metallic strip that runs around the sides, a shiny yet non-slippery back panel, and a home button below the display flanked by menu and return touch buttons.
Overall, the Samsung Galaxy Tab 3 T311 is a superb tablet vis-Ã -vis its construction and is better than most 8 inch tablets in the market.
Display
As stated earlier, the Samsung Galaxy Tab 3 T311 comes with an 8 inch display. The TFT capacitive touchscreen offers 800 x 1280 pixel (high definition) resolution. Though it has no fancy technology like IPS, Super Amoled or Gorilla Glass, the display has wide-angle viewing. It is not a fingerprint magnet, nor is it that reflective, which is essential for a tablet, on which one is supposed to read e-books and watch movies a lot.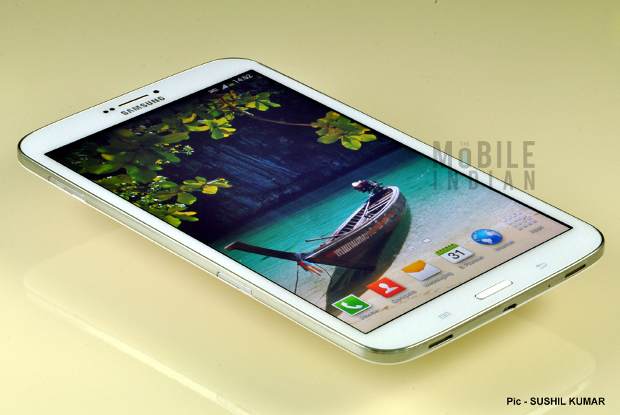 The response of the touchscreen is smooth. It has good colour reproduction and decent brightness that would make it easy to use in bright sunlight too.
OS and interface
Samsung Galaxy Tab 3 T311 comes with Android 4.2.2 Jelly Bean operating system and if we were to go by the history, Samsung would definitely release the Android Kitkat version for it as well. Of course, it comes with TouchWiz user interface, which is common to most Samsung devices.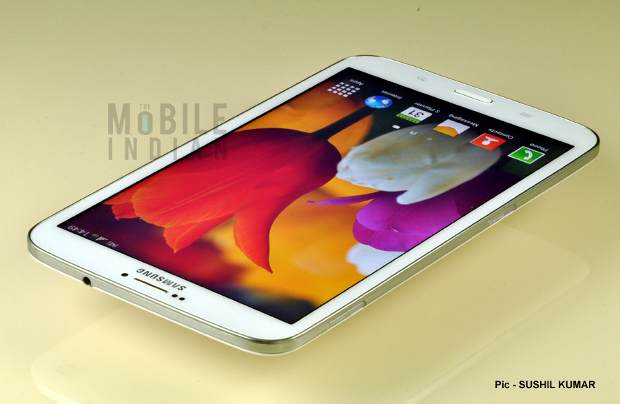 It has, like most Android handsets, a notification panel; but in this tablet you can customize that and can shuffle notification items as per your wish. You can create seven home screens.


Also, it has Samsung's celebrated applications, like Smart Stay, which keeps the device awake as long as you are viewing it from a certain angle. Besides, the tablet has something called Reading Mode that optimizes the tablet for reading and is applicable for certain apps. Besides, it has a multi-window feature that opens a notification like panel irrespective of what you are doing on the tablet-be it watching videos, or reading an e-book, or playing games. This makes it easy to switch to other tasks like calendars, browsers, email, YouTube etc, quickly making it a truly multi-tasking device. It also has the pop-up video feature that lets you do small tasks while you are watching a video.
Memory
The Samsung Galaxy Tab 3 T311 comes with a massive 16 GB of internal memory, which is sufficient for any user. If you need more don't worry as it has an expandable storage slot too that can accommodate up to a 64 GB micro SD card.
Dual core processor and apps
The performance of this tablet was one of our main concerns perhaps not unlike many of you, as it has a dual core processor. Its 1.5 GHz dual core Exynos 4212 too looks feeble in the league of quad core Mediatek and Nvidia Tegra processors.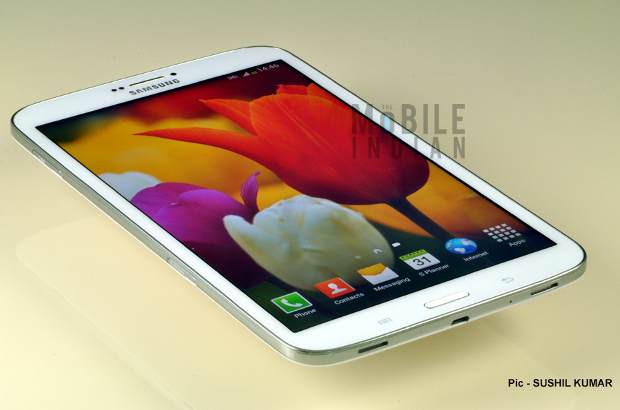 To test its mettle, we played many high end graphics heavy games like Modern Combat 4, Beach Buggy Blitz, Dead Trigger, RipTide GP2 etc at high resolution. But to our surprise, the tablet played them with ease; it did not freeze or hang even once. Neither was there any lag even during multi-tasking when we played games and surfed the web, read an e-book and opened many other apps simultaneously.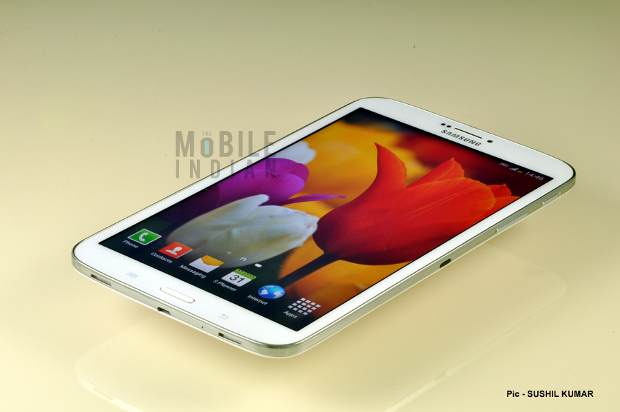 This is perhaps due to the high level of processor optimization, the 1.5 GB RAM, and Mali-400MP graphics processing unit.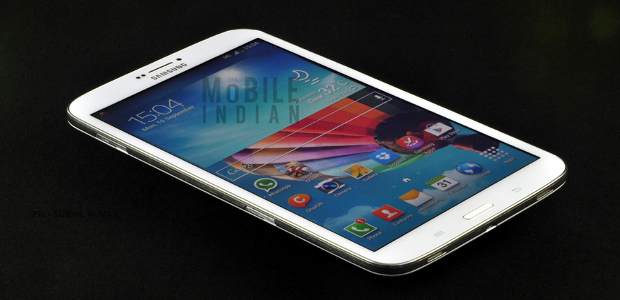 Moreover, Samsung has armed the tablet with many applications like Smart Remote, Polaris Office and Paper Artist. I would like to highlight only one app – called Readers Hub. It is unique only to Samsung's devices. This e-book app is wonderful and nothing like other e-book apps available in the Google Play store. With Readers Hub, reading e-books is a fresh and pleasurable experience.
Camera
The Galaxy Tab 3 T311 has a 5 megapixel autofocus rear camera and a 1.3 megapixel front camera. The tablet's camera comes armed with a CMOS sensor. However, it does not perform like we had expected. Pictures clicked through the rear camera looked washed out. The front camera too is good for video chatting but not for self-portraits.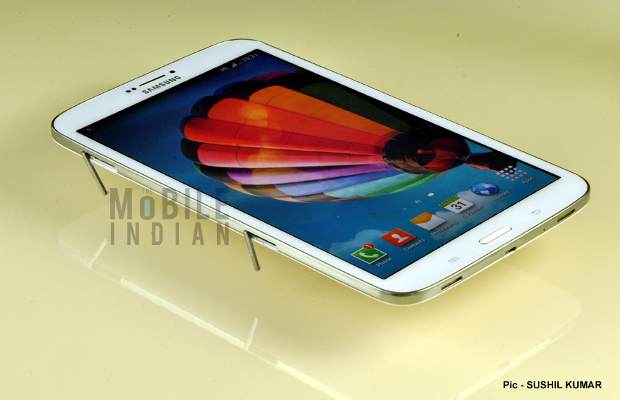 Below are some images that would give you a decent idea about the camera quality of Samsung Galaxy Tab 3 T311.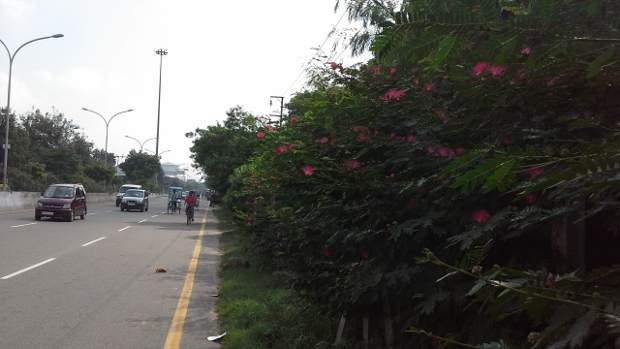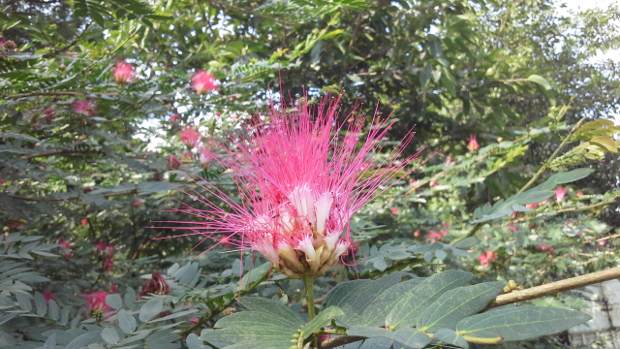 Connectivity
The Tab 3 8.0 comes with a micro SIM slot. You can use any operator's SIM to make calls and access 3G networks. Do you wonder how easy it would be to make calls using an 8 inch tablet?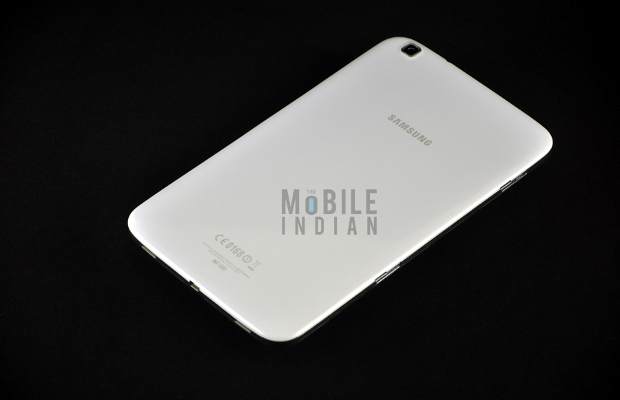 Believe me, its slim and light profile makes it very easy to use for calling. As I said in the design segment as well, the two speakers at the bottom also let you hear the caller's voice clearly. Anyway, you can use Bluetooth to make or receive calls, but of course the device is not a replacement for traditional mobile phone as you can't put it in your pocket.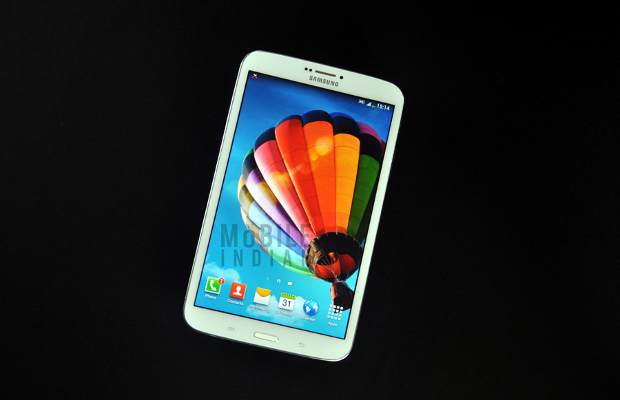 The tablet has WiFi and Bluetooth 4.0. It has a micro USB 2.0 charging port, which can also act as an HDMI port (MHL).
Battery
The Samsung Galaxy Tab 3 8.0 (T311) comes with a huge 4450 mAh Li-ion battery that claims to provide 24 hours of 3G talktime, which itself sounds very incredible. So we put it though a strenuous test. In one occasion, we kept its brightness at high; volume at mid-level (as we used the headset); and even kept WiFi on, and played Modern Combat 4 for exactly 40 minutes, and watched YouTube via WiFi for another hour. All this usage cost only 30 per cent charge.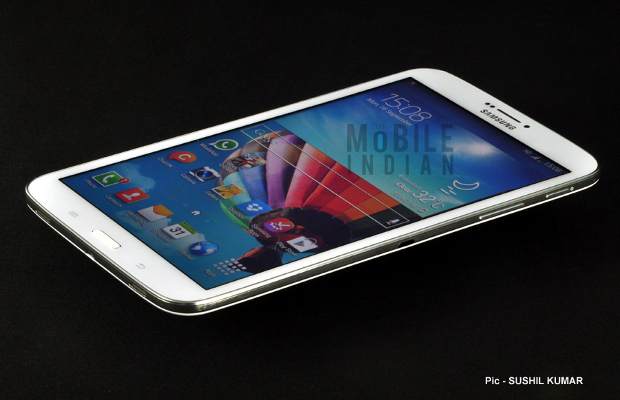 With normal use like two hours of e-book reading, few minutes of calling, an hour of game playing, and a few minutes of web browsing, it can easily last for up to a day and half.
Conclusion
Though the tablet impressed us with its performance and quality, we really were surprised to see no headset in the review unit box. However, some online retailers are offering headsets with the tablet, and sell it for around Rs 24,500-much less than the official best buy price of Rs 25,500.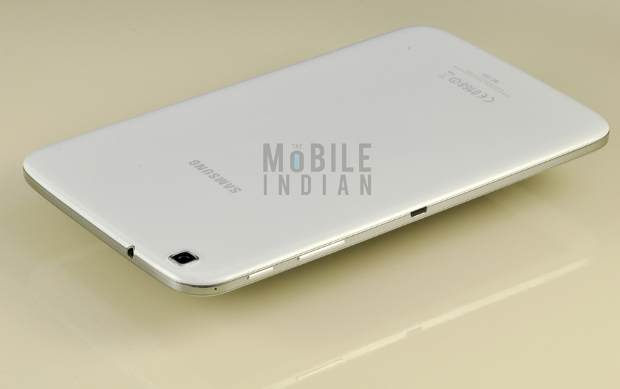 In a nutshell, it is a very good tablet which looks classy and performs better than many low cost quad core devices I have reviewed so far.