Samsung Galaxy Note Pro Review - Big in every aspect
By: Anil Satapathy, The Mobile Indian, New Delhi

Last updated : November 11, 2014 4:37 pm
It is huge in every aspect be it performance or size. Read on to discover the humongous Samsung Galaxy Note Pro.
PROS

»

The tablet has a very useful Stylus that gives naturalistic writing ability

»

It has a humongous battery which lasts for days together once charged

»

Excellent display and performance

CONS
Samsung in the past has gained many accolades for its tablets. Earlier, its huge Galaxy Note 10.1 managed to attract eyeballs with its performance. Now Samsung has gone a step further by launching even a bigger tablet - the Galaxy Note Pro, which comes with a huge 12.2 inch display.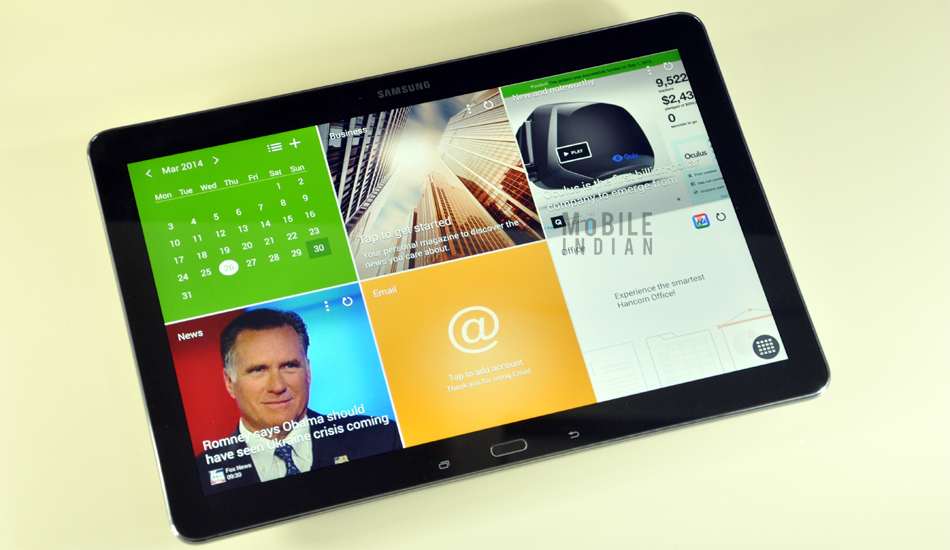 But several questions come to mind about this tablet such as: isn't it too big to handle? Should I buy it to replace my laptop? Is it better than its competitors?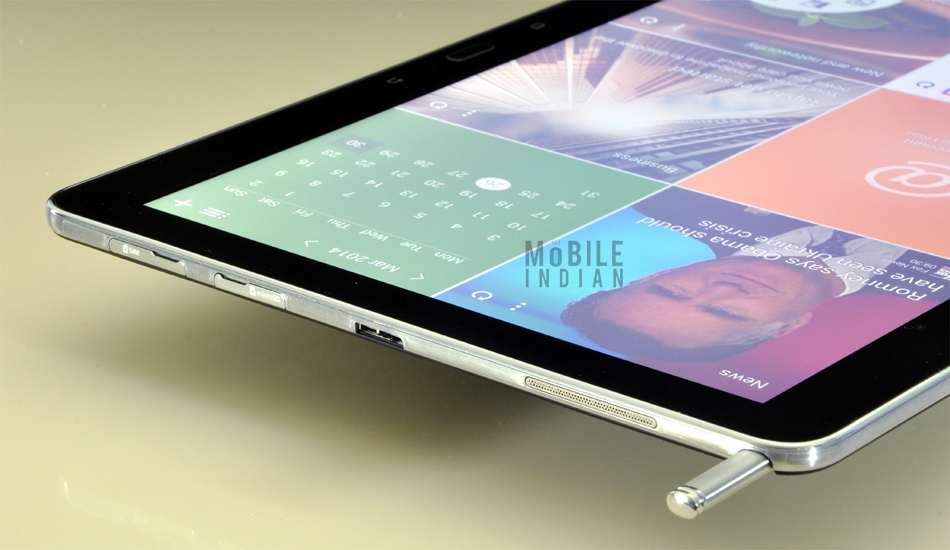 To find out the answers, The Mobile Indian used the tablet extensively and here is our detailed analysis of the Samsung Galaxy Note Pro.

Design

First of all, the Note Pro comes with a huge 12.2 inch touchscreen but thankfully, Samsung has armed it with the faux leather back panel, as is found in other recent Galaxy Note series devices. The back panel not only gives it an aristocratic look but also gives the much essential grip. The feel of the faux leather panel is also extremely smooth and is much better than even the best matte finish surfaces that you will find in other tablets and smartphones.

But don't think that this leather panel is soft and prone to cuts. It is as hard as any metal panel I have used so far. I tried to scratch it with all my strength with my finger nails but the panel is quite immune to those. Also it does not attract fingerprints, sweats or dust thus there is no need to wipe it clean every now and then. Like the Note 10.1, it has an aluminium strip that goes around its sides and gives confidence of some protection in case of a fall.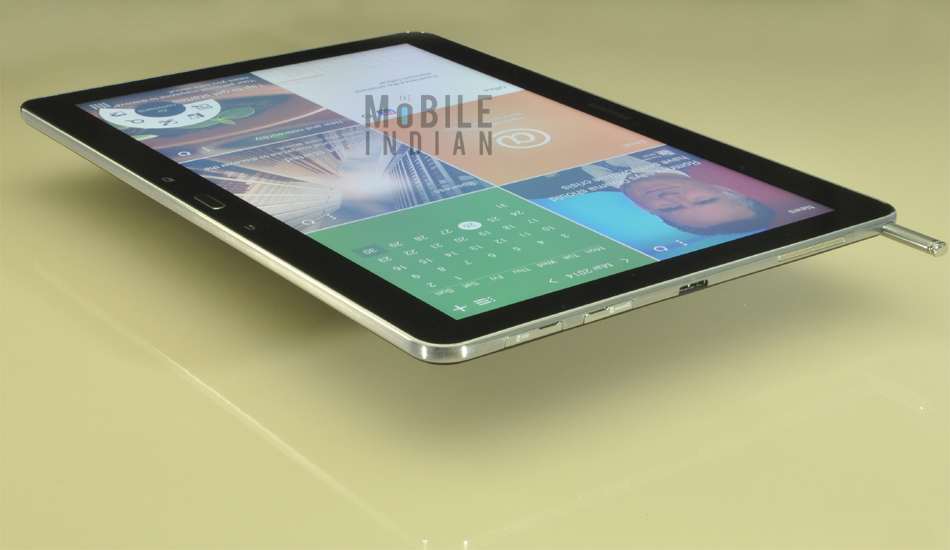 The tablet measures 295.6 x 204 x 7.95 mm (height, width, thickness) and weighs 753 grams. As is quite clear from the figures, the tablet is quite big and bulky. The placement of volume rocker and power button at the top (in landscape mode), towards the left, make it easy to operate the tablet. Besides, the Note Pro has a smart user interface which makes the use of this tablet much easier which we have discussed later in this article.

Another design highlight of the Galaxy Note Pro is that there are two speaker grills in the tablet - one in the left and the other one onright hand side (in the landscape mode). The speaker placement is such that it creates surround sound and thus watching movies was a really pleasurable experience in the Note Pro.

In the Samsung Galaxy Note Pro, the micro SD card, a SIM slot, and the charging port are placed on the right hand side (landscape mode) while an IrLED port is at the top. The charging port is not the regular micro USB port you would see in most Android devices because it is a USB 3.0 port with an additional slot. You can still use the normal Android charger with it as well but it will take a bit longer time to get charged than if you use the supplied charger.

Rating for design: 8/10

Display

The Samsung Galaxy Note Pro comes with a 12.2 inch display. This display has 2560x1600 pixels resolution which means it has very high 299 PPI pixels density. Thanks to the high resolution, you will certainly enjoy full HD videos on it.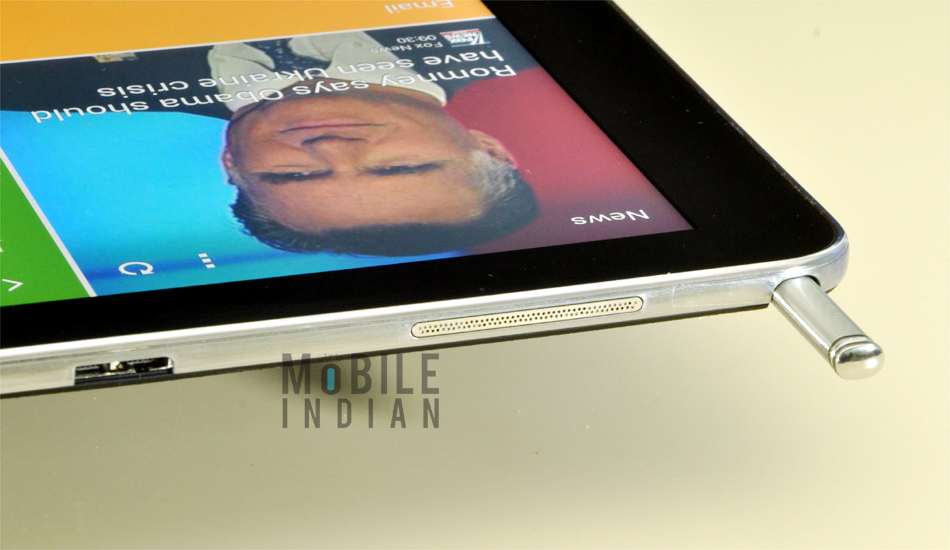 Moreover, the display of Note Pro has so much brightness that you can enjoy it even outdoors under a hot blazing sun. Even at quarter brightness, the display gains so much brightness that you could easily use it indoors.

As expected, we never faced any issued with the touch panel of the Samsung Galaxy Note Pro either. The display is also quite resistant to scratches (we did try to scratch the display with fingernails as well).

Rating for display: 10/10

User Interface

The Samsung Galaxy Note Pro is a much better tablet than most other Android tablets when it comes to the user interface. First of all, it comes with Android KitKat operating system but the Android OS is modified with Samsung's own TouchWiz UI.

When you first switch on the device, it will take you through the normal chores like setting up your Gmail and Samsung account and other few steps like you would do in most Android devices. Once done, it will create your account in the tablet. It allows also creating accounts of other users or guest users who have to again go through the set up procedure. The guest user will not be able to use the calling or messaging apps of the primary user. To switch between users, you just have to select one while unlocking the tablet. You can create seven guest user accounts, excluding that of yours.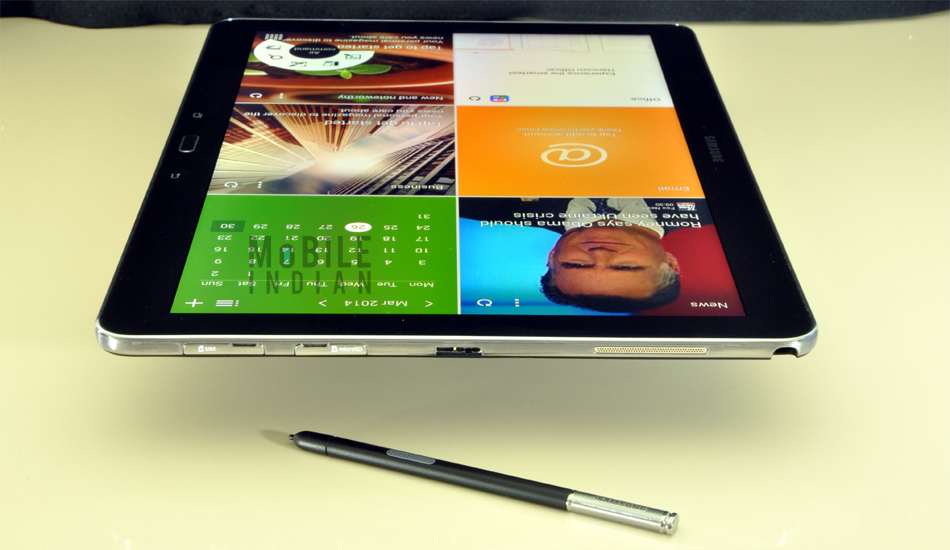 Another highlight of the tablet is its Magazine UX (accessible via an icon at the bottom of the display). It is like the Flipboard app and aggregates news from various beats like Business, News, Sports, Photos etc. You can select what you want to see on the page. In this section another pane shows the calendar and documents of the user as well. You can scroll the page (towards right or left) to get to the Magazine page as well.

Coming back to the user interface, there is a traditional Android notification panel from where you can control the brightness, volume, WiFi, GPS, Bluetooth etc. At the bottom of the display, the Google Search icon lies on the left hand side while the tray icon is on the right. The traditional Home Button is also there below the display; double tapping the home key brings up the S Voice while a long press opens up Google search.

The Settings page is divided into Connections, Device, Controls, and General segment. The Galaxy Noe Pro also comes with the Multi Window feature but unlike in other Samsung devices, here the intrusive arrow icon is not displayed; you need to swipe from right edge of the screen to access the multi window tray or alternatively, press and hold the return key (which lies besides the Home Button).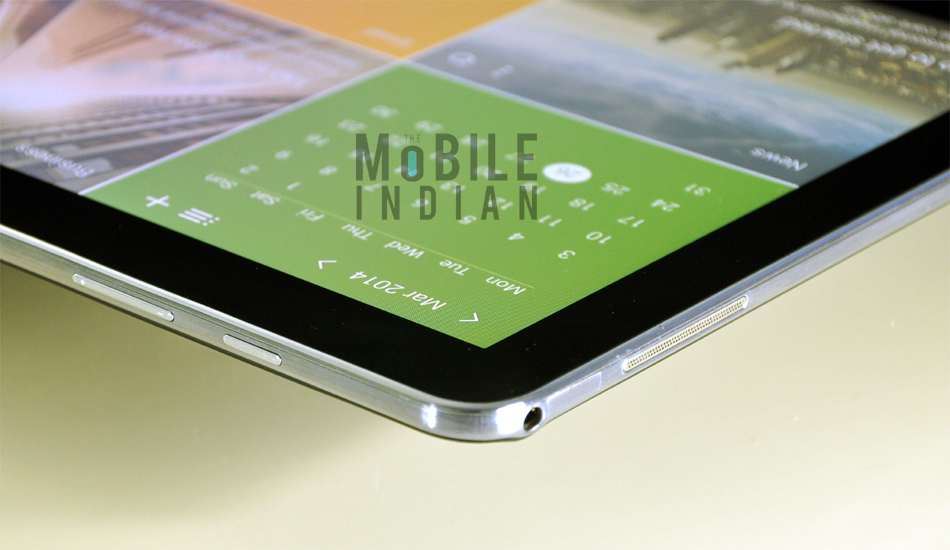 From the multi window, you can choose to open five apps which will come in stacks. So if by chance even you go to the home page from here, the apps will be displayed at the home page in form of small bubbles with the respective app icons inside. Thankfully the tablet has an octa core processor and 3 GB RAM that gives it the much needed headroom for performing such tasks.

It has also a number of useful features like Reading Mode, Smart Pause, and Smart Stay. The S Voice personal assistant has been improved a lot which flawlessly interprets the Indian accent as well and allows one to do many things like calling, texting, internet surfing, news reading etc by just speaking to the tablet.

The Galaxy Note Pro comes with a full size Qwerty keypad and due to the huge display, the keypad looks like the regular laptop keypad.

Rating for user interface: 10/10

S Pen

Like other Note devices, the Samsung Galaxy Note Pro also comes with the s pen. There is a dedicated slot in the right hand top side of the tablet for the stylus. When detached, an icon will be shown at the top of the display for the same. You can also disable the same from the settings page to extend the battery life.

As soon as you bring out the tablet from its closet, the air command will pop up at the bottom of the display which comprises of Action Memo, Scrap Booker, Screen Write, S Finder, and Pen Window. The stylus has also got a button of itself. If you press this key, it will also bring the Air Command.

Pen Windows is an extremely useful feature; it allows one to open an app no matter on which page you are. For instance, if you are using the camera and wanted to see a video on YouTube at the same time, just take out your stylus and draw a window anywhere on the screen. This will bring the YouTube page on top of the camera app, so you can watch the videos while clicking pictures! Similarly screen write allows one to get a screenshot and edit it immediately.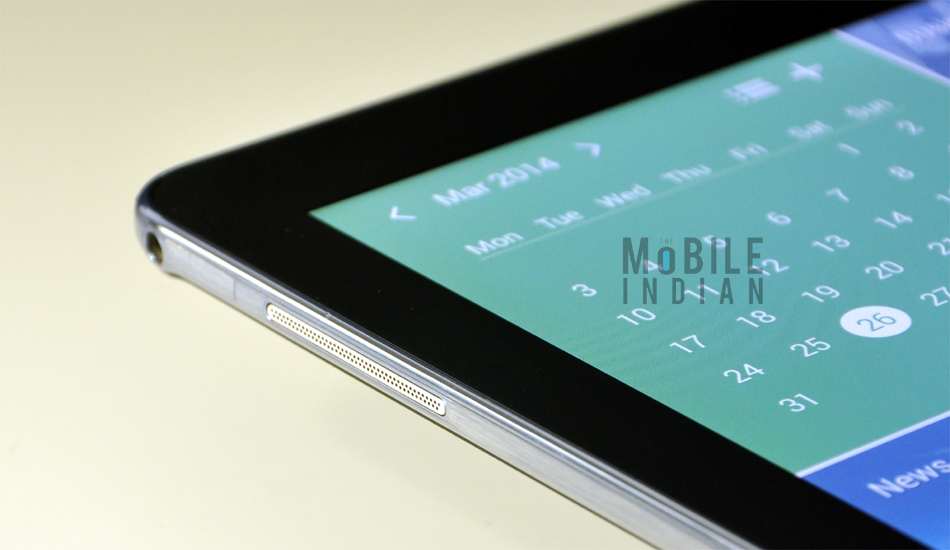 The s pen is about 4 inch (like a small pen) with flat sides that makes it easier to hold. It has got a rubber point and like a pencil it will deliver on the basis of the force that you are putting on the s pen. Also, the tablet will not accept inputs from finger (of course in relevant apps like text or sketch apps) when the stylus is being used.

In the keyboard also, there is an option for the stylus which opens a text document in place of the Qwerty keypad. And as far as our experience goes, it gives a very natural writing experience.

Rating for s-pen: 10/10

Battery

The Samsung Galaxy Note Pro has a huge 9500 mAh Li-Ion non-removable battery. For a device with huge display and resolution and an octa core processor, such a huge battery was expected. To put it into perspective, the 9.7 inch display bearing iPad Air has an 8820 mAh battery while the 10.1 inch Galaxy Note 10.1 has an 8220 mAh unit.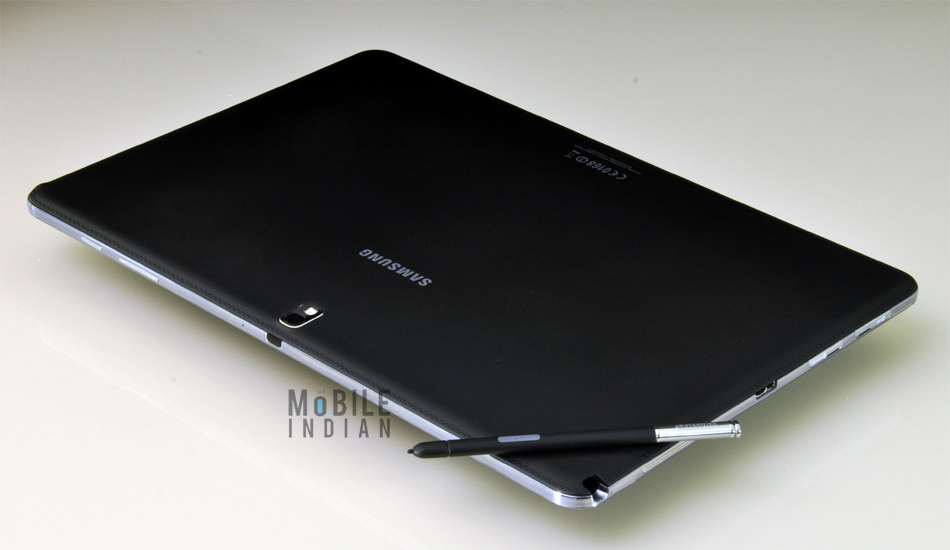 So we started the review with some apprehension about its battery backup but the tablet surprised us thoroughly. With medium usage consisting of few hours of WiFi browsing and gaming, it managed to stay over three days. Even with heavy use like couple of HD movies playback, WiFi browsing of 1-2 hour every day, and an equal time in gaming, the tablet can easily last about two days with half brightness level.

Moreover, the tablet comes with a USB 3.0 charger that allows for quickly charging it. It takes around three hours. You can also choose the normal Android charger but it takes relatively more time to gain charge.

Rating for battery: 10/10

Camera

The Samsung Galaxy Note Pro comes with an 8 megapixel rear auto focus camera. An LED flash is also there while in the front there is a 2 megapixel camera.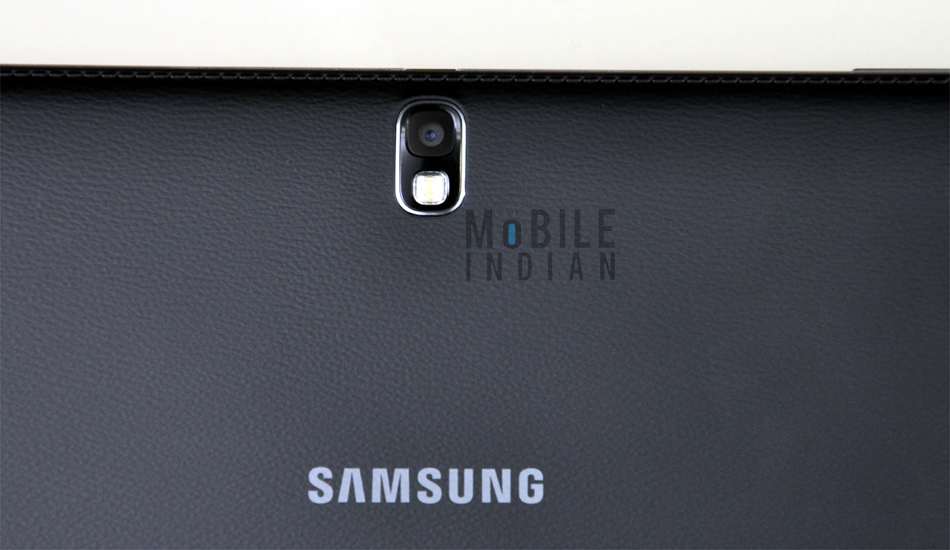 The camera application is the same one which would you find in other latest Samsung devices- it has different modes like Auto, Beauty face, Best photo, sports, panorama etc.

The rear camera does a decent job for a tablet's camera but in low light noises in the picture are quite glaring and pictures look much darker. The LED flash light though does a very decent job in illuminating the objects. Focussing is yet another area where the rear camera was found lacking.

Rating for camera: 7/10

Performance

The Samsung Galaxy Note Pro has the Exynos 5 Octa 5420 processor which comprises of a 1.9 GHz quad core Cortex A15 processor and a 1.3 GHz Cortex A7 quad core processor. Besides, it has the latest Mali T628 MP6 graphics processing unit and huge 3 GB RAM.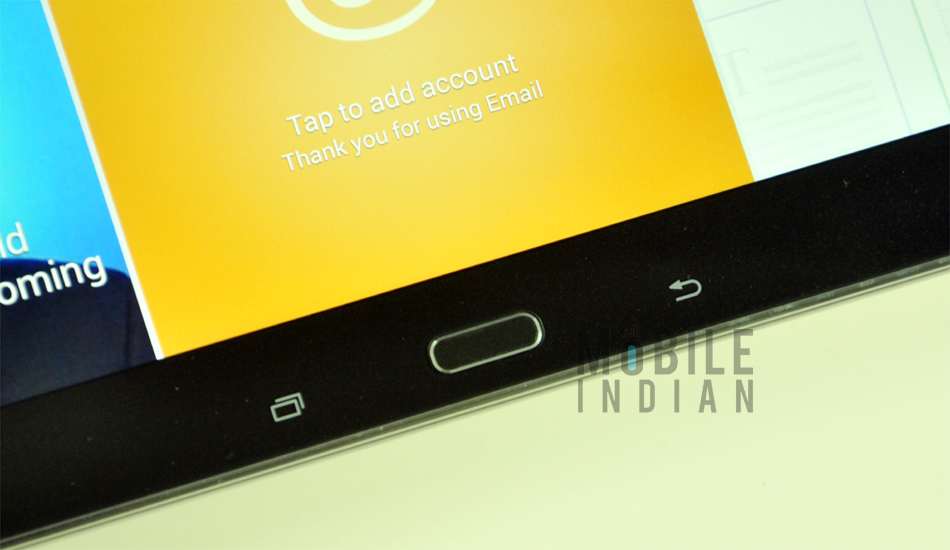 Thanks to this combination, the tablet managed to tackle anything thrown to it. Even (as I said in the user interface section) I opened multiple apps using its multi window feature apart from opening few browsers and an HD game but the tablet never showed any lag. Even the Dead Trigger 2 in highest graphics setting ran smoothly in the tablet.

Rating for performance: 10/10

Connectivity

Despite being a 12.2 inch tablet, the Samsung Galaxy Note Pro has every connectivity option that you would think of. To start with, it has got a SIM slot that allows calling as well as connecting to 3G network. I would have loved to see support for India's 4G network but that is not the case here. Besides, it has IrLED (infrared blaster) which acts as a remote controller for TV with relevant app. Besides, it has got WiFi (a/b/g/n/ac) - the newer band of WiFi technology that uses dual band wireless technology thus offering faster WiFi connectivity.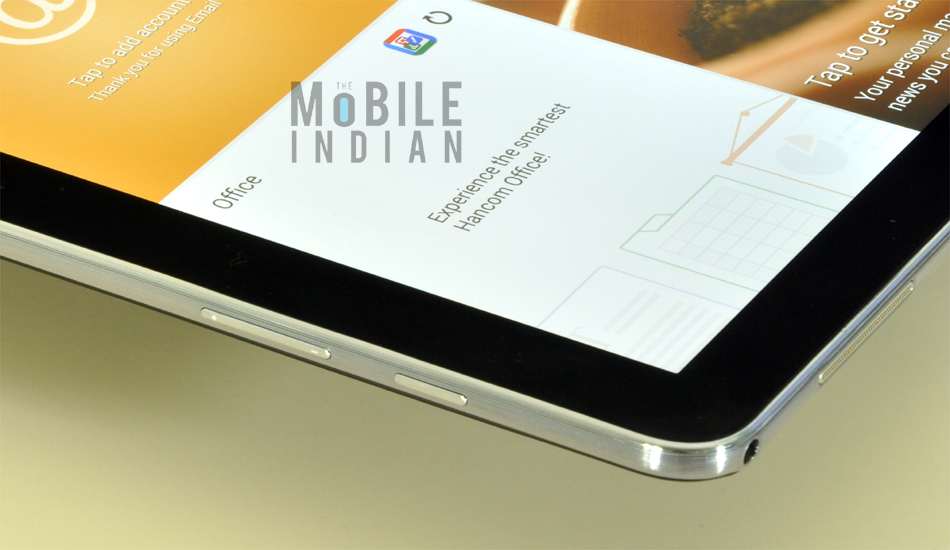 It has something called Network Booster which claims to speed up the download speed but it would depend on your network's property. Besides, the Galaxy Note Pro has Bluetooth 4.0. Its USB port also acts as an MHL port using which you can connect it to an HDMI television.

Rating for connectivity: 9/10

Storage

The Samsung Galaxy Note Pro comes with 3 GB RAM. It has got 32 GB internal memory out of which 5.96 GB is occupied by the system while the rest is available for users. There is a micro SD card slot in the tablet as well which can accommodate a micro SD card of up to 64 GB capacity.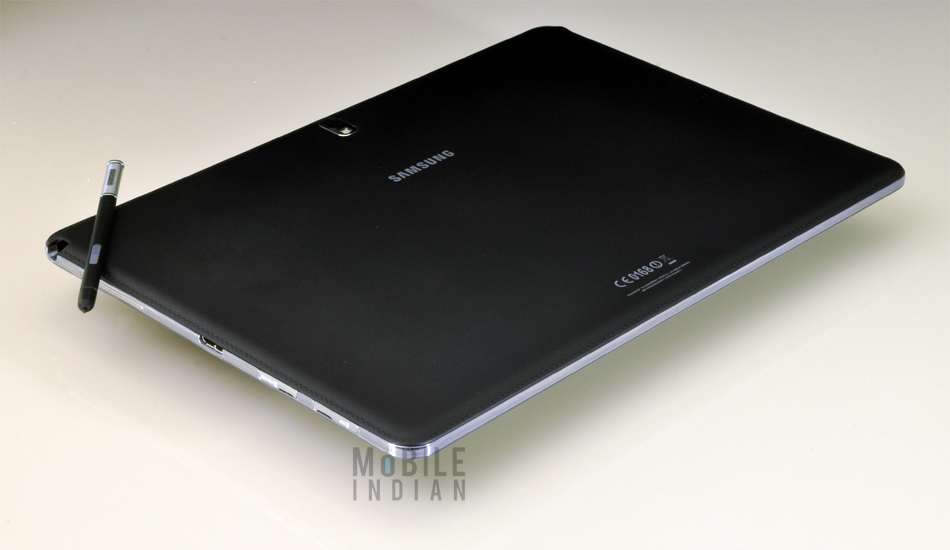 The combination of 32 GB internal memory and 64 GB capacity is certainly good but those who would go for such a costly tablet definitely deserve a little bit more. In that regard a 128 GB micro SD card slot is the most appropriate for the Note Pro.

Note that Note Pro's chief competitor (in terms of price and not size), the Apple iPad Air comes with 128 GB internal storage but ofcourse it has no expandable storage option.

Rating for storage: 8/10

Images By Sushil Kumar
Verdict
The Samsung Galaxy Note Pro has everything that majority of users would look for in a tablet. It has an ultra-fast processor, a very good display, a user friendly interface, and exceptional battery backup. Though, not the best but it still has decent amount of storage facility. The large keypad and the s pen make typing and writing a child's play; infact writing with s pen is much easier than typing on a laptop keyboard. However, the Note Pro is positioned very awkwardly: it is not a tablet that anyone could handle with ease. At around Rs 61,000 it is quite costly for a tablet as well; even you could buy an ultrabook for the same price. Thus in a nutshell, it is meant for a niche customer base; those who can handle this huge tablet and if you can't but still want such a tablet better go for the Samsung Galaxy Note 10.1.