Samsung, which had often been criticised for the boring design of its devices, has off late garnered much praise for faux leather back panels found in its recent devices like Note 3. It too has implemented the same leather like soft back panel in the 2014 edition of Galaxy Note 10.1 SM-P601. Apart from the design the tablet is known for its hardware – it was perhaps the first tablet to be launched in India with an octa core processor.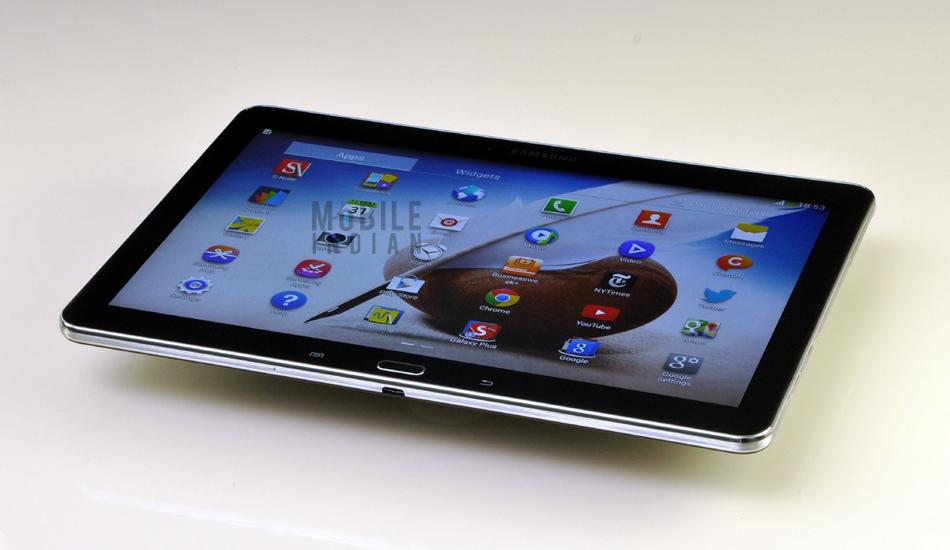 The tablet was launched in India last October and is now been selling for Rs 49,470. The tablet however has lot of good competitors including the newly launched Apple iPad Air, Sony Xperia Tablet Z etc. We got to use this tablet for about a fortnight and here are all the details that you need to know if you are considering to buy this tablet.
Design
Tablets with 10 inch display are certainly not for people with small palms. The Note 10.1 (2014) is no different in that aspect either. Though size wise it is no different than other 10.1 inch tablets but it is certainly a bit heavier than others.
To give you a perspective, the Samsung Galaxy Note 10.1 (2014) SM-P601 measures 243.1×171.4×7.9mm and weighs 547 grams. On the contrary the 9.7 inch display bearing Apple's iPad Air (64 GB, WiFi) measures 240 x 169.5x 7.5 mm and weighs 469 grams. Sony's Xperia Z tablet, which too has a 10.1 inch screen, measures 266x172x6.9 mm and weighs 495 grams.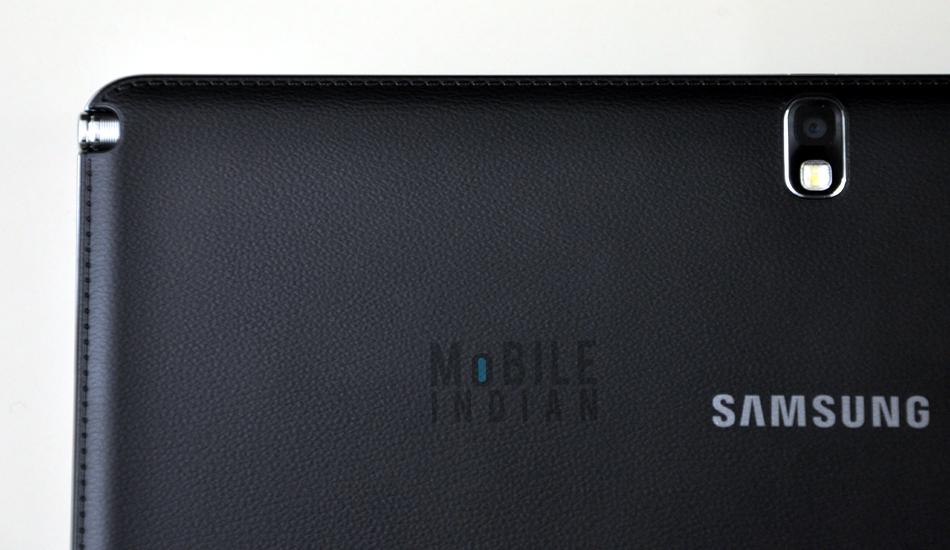 But what differentiates the Galaxy Note 10.1 SM-P601 from its rivals in terms of design is its leather-like stitched back panel which gives it an aristocratic look while providing a good grip which is very essential for holding such a big device. There is a thick metal panel around its edges which also gives a lot of grip while adding some glitter to the tablet.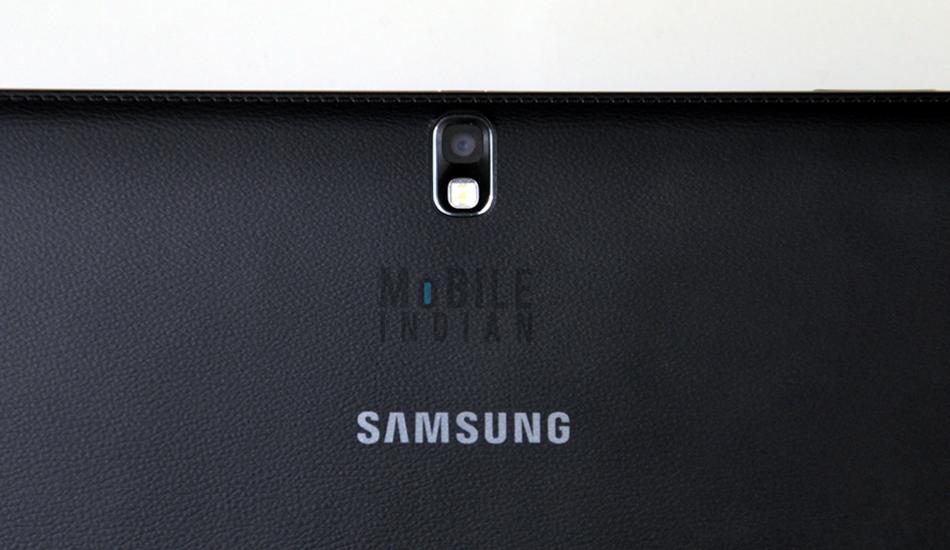 In the Galaxy Note 10.1 SM-P601, the volume rocker and power button are conveniently placed at the top left (if you hold it in landscape mode) which makes them very easy to reach out and also they would not interfere when you are playing games or watching videos. Like other Note series devices, this tablet too comes with a stylus and there is a dedicated slot to keep it. The micro USB port is just below the home button while an IrLED (Infrared) is at the top besides the volume rocker.
However, I would have loved to see a flip cover or something like that which would also give some protection to the touchscreen. Perhaps a flip cover with the same leather-like soft back panel would do the job.
Display
As I said earlier, the Note 10.1 SM-P601 comes with a huge 10.1 inch screen. This Super Clear LCD display has 2560×1600 pixels resolution that translates to 299 ppi pixel density. Though it is not too much considering high end smartphones now come with even over 500 ppi pixel density but it is still better than that of Apple iPad Air (264 ppi) and Xperia Tablet Z (224 ppi).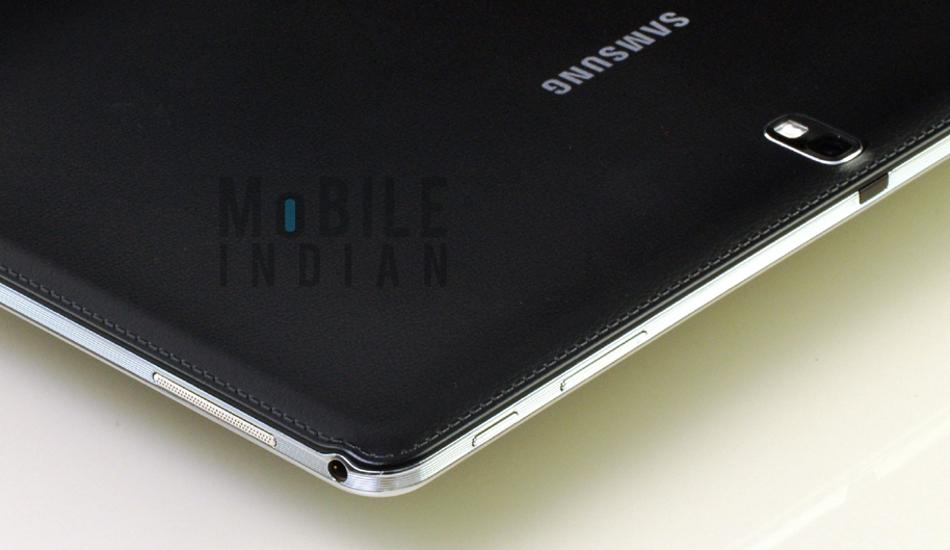 As its resolution suggests, the pictures just look awesome on the device. It has good colour output as well. An important thing is that the touchscreen has good brightness. At maximum brightness, you could also operate it in bright outdoors. However, the screen is a bit reflective which creates issues while reading e-books.
There is no information whether the glass used on the screen of Note 10.1 is Gorilla Glass or not but it is certainly is quite resistant to scratches. Also, it does not attract much fingerprints.
OS and UI
The Samsung Galaxy Note 10.1 (2014) comes with Android 4.3 Jelly Bean but it has the TouchWiz Nature UX 2.5 user interface. The interface is lot different than the regular Android user interface. Yes, it has the traditional Android Jelly Bean notification bar; you can also customise the bar as per your wish. Like most other high end Samsung devices, this tablet too comes with features like Smart Stay, Smart Pause, Smart Scroll etc. You can access the notification bar from any page no matter what you are doing, be it gaming or playing a video.
Unlike the traditional Android settings page where everything is kept in one page, in the Note 10.1, the settings menu is divided into Connection, Device, Controls, and General setting. If you are a first time Android user, you may not feel much but for traditional Android users it would be a bit awkward but you would eventually get used to it.
As said in the design section, there are three buttons below the display, one hardware key that acts as a home button (common to most Samsung devices) and two soft buttons for return and settings key. Via the settings key, you can add pages to the home screen (maximum seven), quickly add apps and widgets to the home screen, create folders, set wallpapers, or go to the settings page. The Home button is much useful than what you will find in traditional Android devices. A long press of the home button brings up a page where you could see all the recent apps that you have opened, a shortcut to task manager, Google search link and close all option.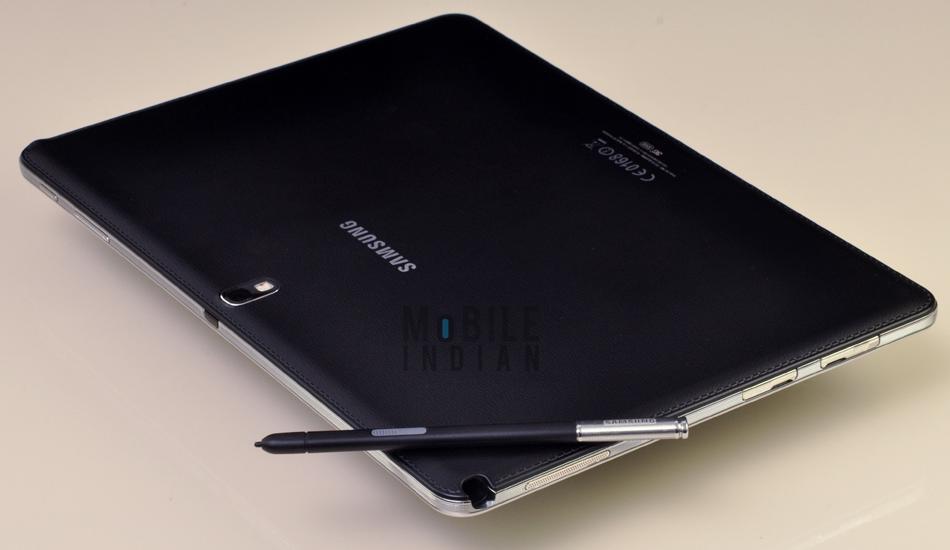 If you hold the home button about 1-2 second and leave it then it will open a page where you could see your stuffs (News, Personal, and Social updates) arranged in separate windows; you just need to flip through them (like you do in a magazine). In a nutshell, you need not to go to specific apps to see items, just press the home button and everything on your tablet will come to the fore, be it your photos or the day's news or your Twitter account update. It is like inbuilt Flipboard of the tablet.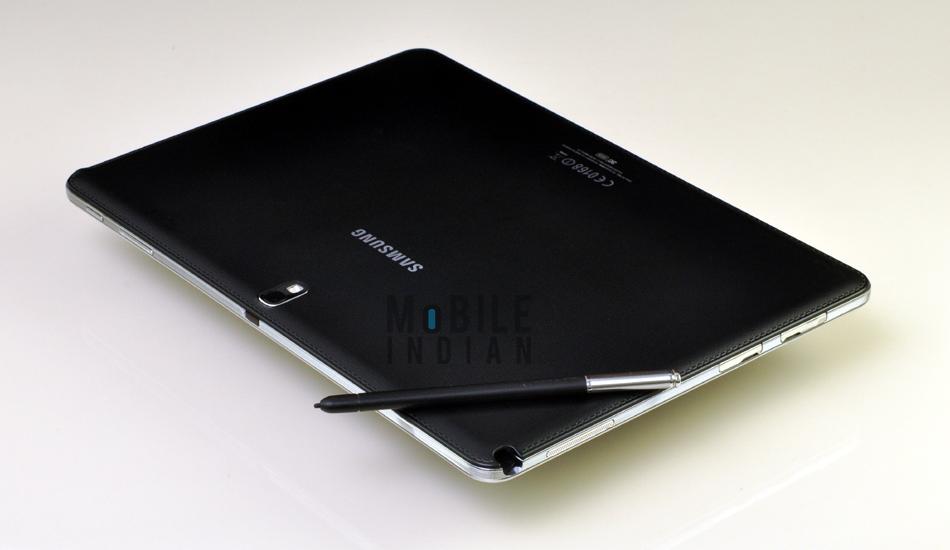 But the most important aspect of Galaxy Note 10.1 (2014) is its stylus. The moment you take it out, the Air Command pops up which consists of Pen Windows, S Finder, Screen Write, Scrap Booker, and Action Memo. The Pen Windows is an extremely useful feature; it allows one to open an app no matter on which page you are. For instance, if you are using the camera and wanted to see a video on YouTube at the same time, just take out your stylus and draw a window anywhere on the screen. This will bring the YouTube page on top of the camera app, so you can watch the videos while clicking pictures! Similarly screen write allows one to get a screenshot and edit it immediately.
To keep the stylus, the tablet has a dedicated place as well and the moment you take it out, a notification warning you about the same also pops up.
In short, the Galaxy Note 10.1 has a bunch of useful features and the only issue is that how much one can use.
Camera
The Samsung Galaxy Note 10.1 (2014) comes with an 8 megapixel auto focus rear camera. There is an LED flash as well for low-light photography. In the front, the tablet has a 2 megapixel front camera.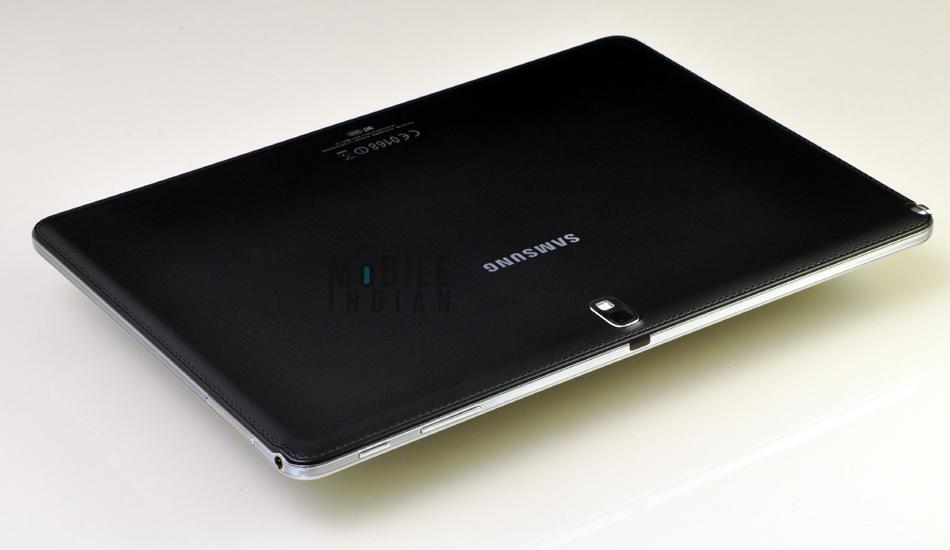 The front camera is good for both video calling as well as selfies (the below mentioned image was captured through the front camera).
However, the rear camera is far from satisfactory from a device priced close to Rs 50,000 and don't forget that it is an 8 megapixel unit and that too of Samsung's flagship tablet. The pictures look decent at first sight but the moment you zoom it even by 1x grains were clearly visible. See below for the sample pictures. There are though lots of shooting features like HDR (high dynamic range), panorama, best photo, best face and beauty face.
Battery
The tablet has an 8220 mAh battery which according to Samsung provides up to 49 hours of 3G talktime. As per our experience, the tablet gave us about 6-7 hours of video playback (in medium brightness). In another instance when we watched a YouTube video over WiFi in auto brightness, using our headsets (medium volume), the tablet consumed only 5 per cent charge in 25 minutes. As far as gaming (high end like Injustice Gods Among Us) concerned, the tablet gives about 3-4 hours of battery back up.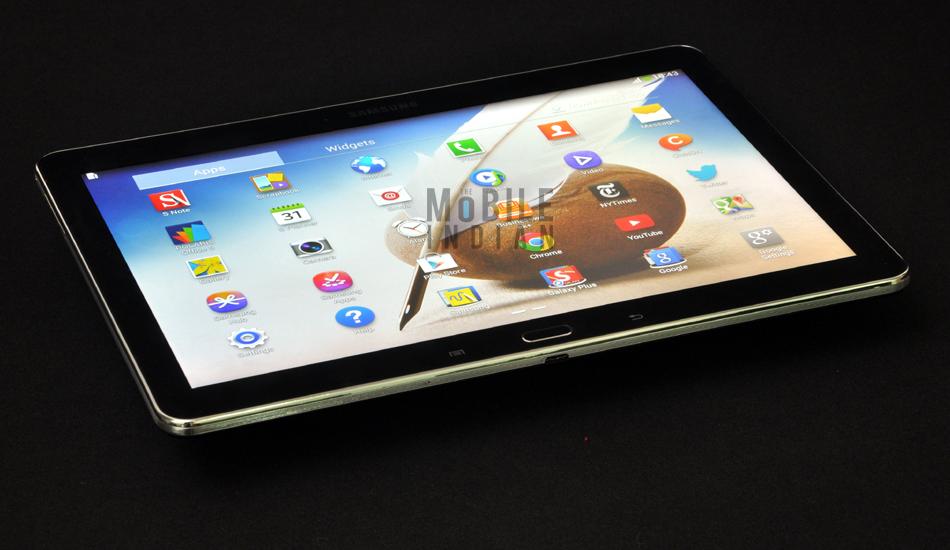 In contrast, Apple's iPad Air claims to provide 10 hours of WiFi browsing or video playback or music playback, or 9 hours of surfing via mobile network.
Storage
Samsung has launched the 32 GB internal storage version of Galaxy Note 10.1 (2014) in India which also has 64 GB micro SD card slot. In contrast, the Sony Xperia Tablet Z comes with 16 GB internal storage and 64 GB of expandable storage slot. At the same price bracket, you would only get 64 GB iPad Air.
Performance
The Samsung Galaxy Note 10.1 SM-P601 (the 3G model) comes with the Samsung Exynos 5420 chipset which is otherwise known as the Exynos 5 octa core. This chipset is actually a combination of a 1.9 GHz Cortex-A15 and a quad-core 1.3 GHz Cortex-A7 chip. It is assisted by Mali T628 graphics processing unit. The tablet has also huge 3 GB RAM.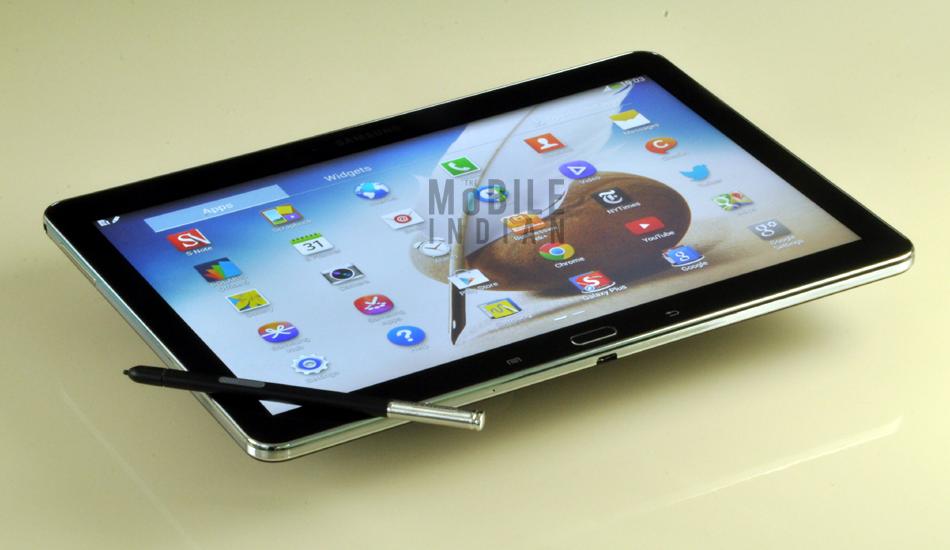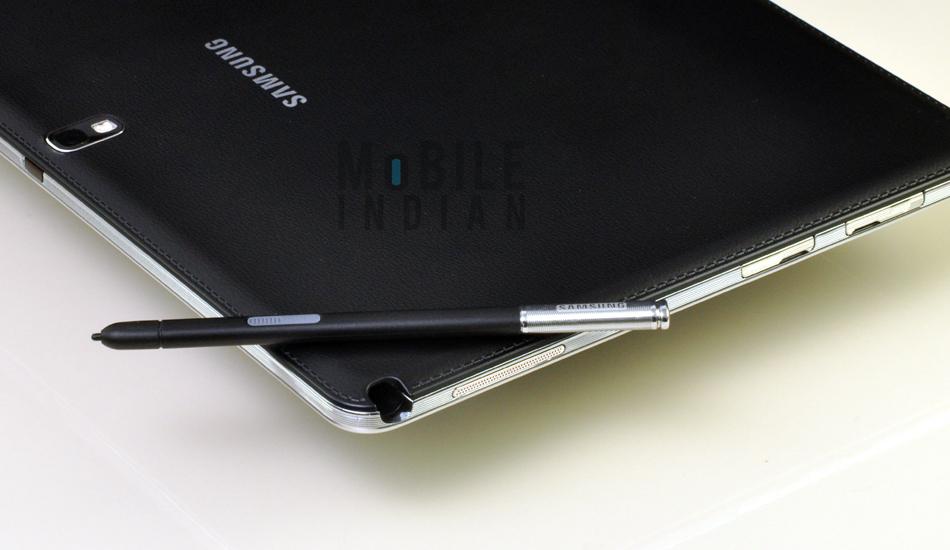 With such a powerful hardware, it was not supposed to slow down a bit and did not as well but on few occasions, when we had opened a high end game along with few other (5-6) apps, the tablet did show a hint of lag but it was once or twice and most of the time it ran smoothly.
Connectivity
The Samsung Galaxy Note 10.1 SM-P601 is a 3G tablet. It comes with a micro SIM card slot. You can also make calls using SIM card of any operator though you would look weird if you use it without a Bluetooth or a headphone. Besides, the tablet has WiFi with WiFi Direct capability. It has also Bluetooth 4.0 and micro USB port. It has also GPS and GLONASS for navigation. The micro USB port also acts as a MHL port so with a MHL cable you can connect it to your HDMI enabled TV. Besides, the Note 10.1 comes with NFC, DLNA, and screen mirroring functions.
Images by Sushil Kumar