As workloads continue to increase, finding a laptop that can handle the demand is crucial. While there are many high-performing options available, it's important to select a machine that fits your specific needs. If you're a professional creator seeking a laptop within a budget of around Rs 1.5 lakhs, Samsung's Galaxy Book3 Pro may be a suitable option. However, is it worth the starting price of Rs 1,31,990 or Rs 1,49,990 for the top-end model? In our review of the laptop, we'll explore the answer.
Galaxy Book3 Pro: Build Quality
The Galaxy Book3 Pro is made of aluminium from top to bottom. Because of that, it feels a little heavy in hand at 1.17kg but that doesn't stop it from being premium. It's also very thin at 11.3mm, which is actually thinner than last year's Galaxy Book2 at 11.9mm.
The matte finish on the laptop and the overall thinness make it really easy to carry the laptop wherever you go. Let's assume you are a creator with a lot of travelling involved in your job; then carrying this laptop would be quite an easy task.
The weight distribution is so well done that you can open the lid of the laptop while it's lying flat without having to hold down the keyboard area of the notebook.
The 14-inch model we got, I feel, is just the right size, while the 16-inch variant gets a little too big for my liking. The minimalist and sleek design of the Galaxy Book3 Pro definitely adds to its appeal.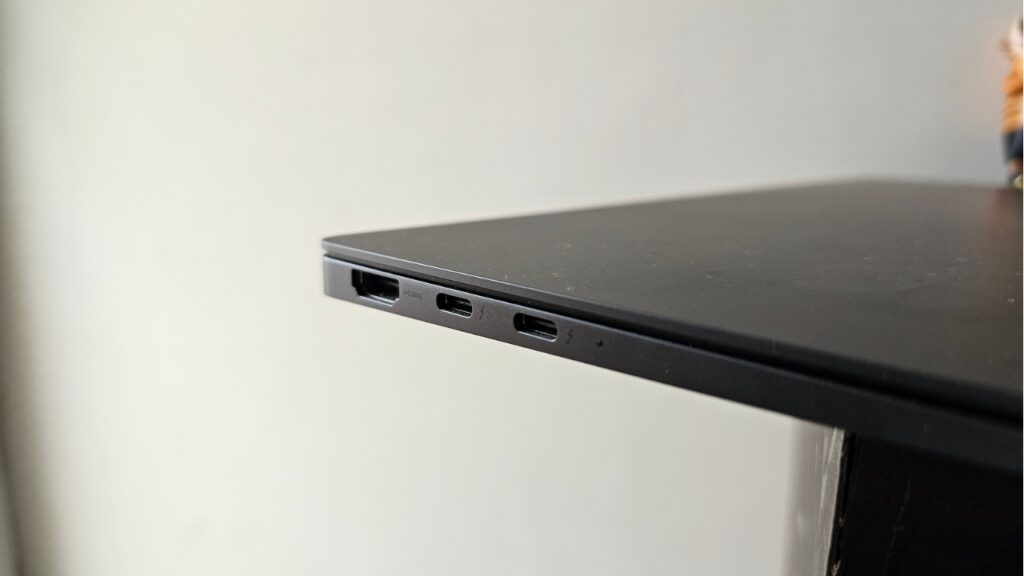 For ports, you'll find a single HDMI 1.4, two Thunderbolt 4, one USB-A 3.2, a microSD card reader and a Headphone Out/Mic In combo. To give you an idea, the laptop's maximum thickness is identical to that of the size of a USB-A port or the HDMI port.
In my opinion, Samsung made a great choice in terms of port selection. It effectively facilitates connecting a sufficient number of accessories, and the inclusion of an HDMI port for mirroring the laptop's display is a pleasant bonus.
The laptop's lid stays shut with the help of magnets installed into the bottom of the machine. An impressive feature which I liked and haven't seen on many windows based laptops is that it turns on as soon as you open the lid of the laptop without having to press any button. However, closing the lid doesn't shut it down but puts it to sleep.
Talking about the keyboard, it doesn't have a num-pad, but a regular-sized one is enough for this notebook. The keys have enough travel and click feel for a comfortable typing experience. The Caps Lock key has a dedicated light to show you when it's ON. As it's backlit, typing in dark environments shouldn't be an issue.
As for the function keys, Samsung has one's dedicated to the Samsung Settings app, display brightness, keyboard brightness (so you can toggle between 0%, 30%, 60% and 100% levels), volume up or down, locking both camera and microphone, and switching performance profiles.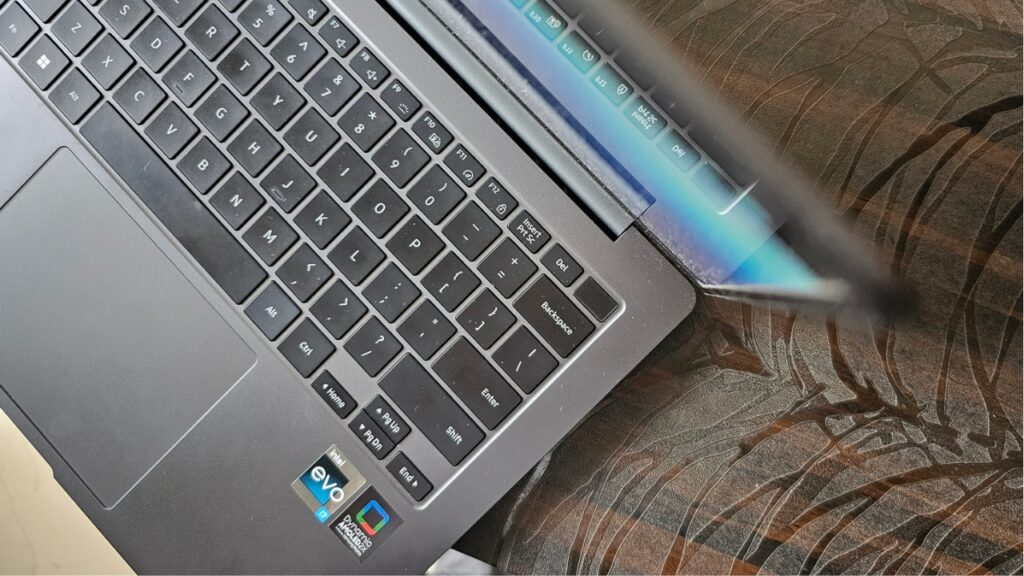 There's also a fingerprint reader at the top right of the keyboard that works very well and doubles as your power/sleep button. It is quick and accurate in identifying the finger. I would have liked it if there was Windows Hello IR support also, but the laptop doesn't get that.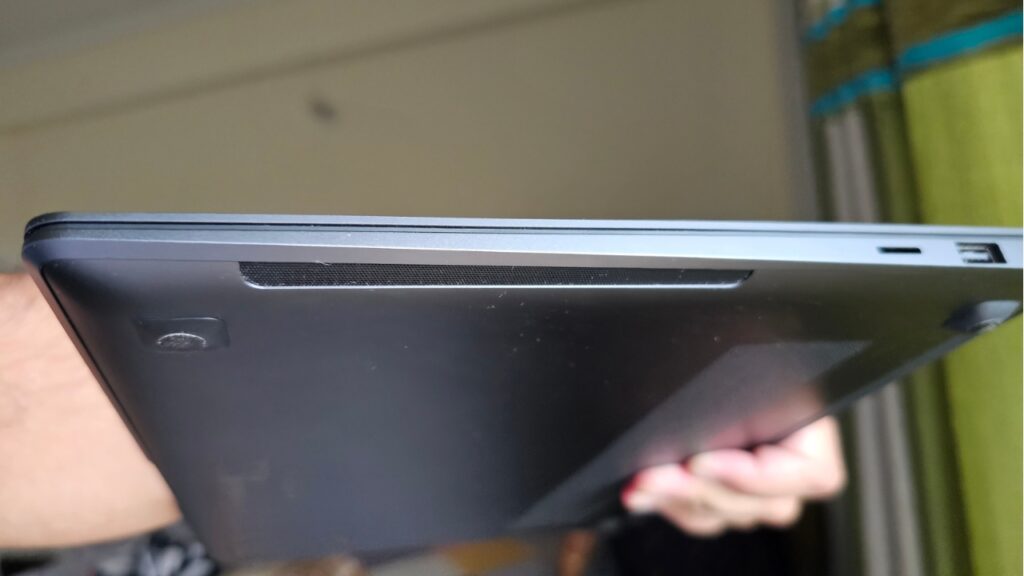 Next, there's a vent at the bottom of the laptop where the fans let out the heat. There's a quad-speaker setup on the laptop that has okay-ish sound. It lacks bass but is good with vocals and treble. It is loud enough if there's not a lot of noise around you, but if there is, you are better off with your wired or wireless earbuds.
Also, the speaker's position is at the bottom of the machine on both sides, making them down-firing. While they don't get blocked because of the slight curvature of the build, they are using the technology to bounce off the sound from the surface on which the laptop is kept on to make them sound louder.
Lastly, Samsung has also employed quite a large touchpad with integrated buttons at its bottom right and left corners. The trackpad works precisely, is smooth to the touch and has impressive palm rejection. There's also enough empty space around the trackpad for your hands to rest while you type.
Overall, the Galaxy Book3 Pro is built like a tank. From a premium feel to a functional and minimal design, it checks most of the boxes in this department if not all.
Read More: Samsung brings Yoga experience to its TVs via YogiFi app
Galaxy Book3 Pro: Display
Samsung makes one of the best sets of AMOLED panels in the industry and Galaxy Book3 Pro is another proof of that. The laptop comes in two options, one with a 14-inch panel and one with a 16-inch display.
These are Dynamic AMOLED panels with a 3K (2880×1800 pixels) resolution, adaptive 120Hz refresh rate, 16:10 ratio, 400 nits brightness, and 120 per cent DCI-P3 coverage.
The display has curved corners and makes for a gorgeous look. Not only the look but the display itself is quite impressive. The colour reproduction is excellent and they are punchy and vivid. The laptop can be easily used for photo or video editing because of how well the panel handles the colours. Apart from that, the colour profile can auto-adjust based on your viewing content, or you can set it manually.
The display supports HDR as well, which has to be turned on manually via the settings as it is turned off by default. Further, it can switch between 60Hz and 120Hz as per the requirement. The display gets bright enough indoors but can be a slight issue under direct sunlight.
While the reflectivity can be an issue for some, otherwise, this is one of the sharpest and most colour-accurate displays I have seen on a laptop in a while. It won't disappoint you in most of scenarios.
Galaxy Book3 Pro: Performance & Features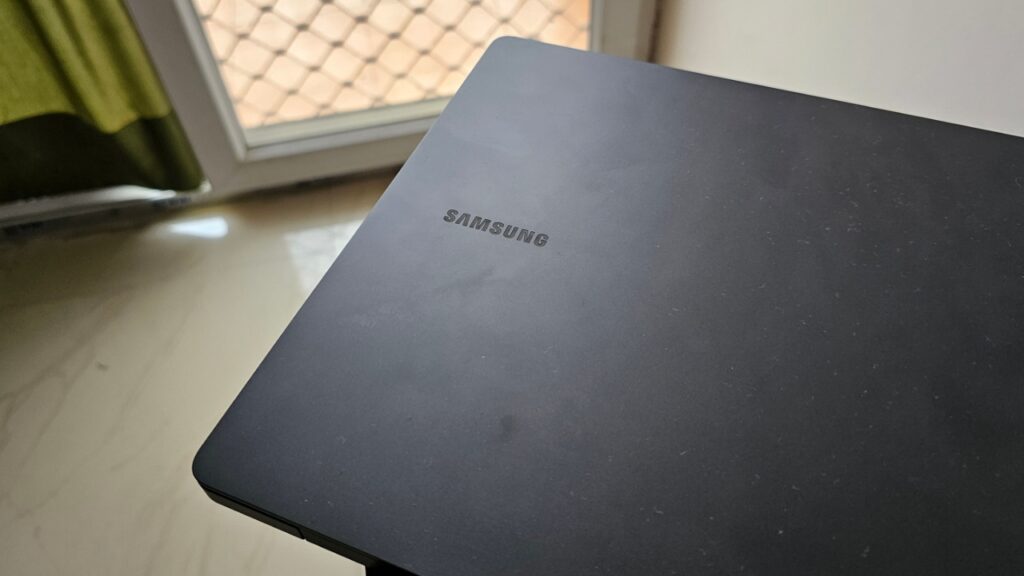 The Samsung Galaxy Book3 Pro has a total of three variants. The 14-inch model is available with 13th Gen Intel Core i5-1340P and i7-1360P processors while the 16-inch model is available only with the latter chip. You can choose between 512GB or 1TB of SSD storage with i7 models while 16GB of RAM is standard across all the models. In the i5 model, you only get 512GB storage.
We got the top-end variant in 14-inch size with Core i7 chip, 16GB RAM and 1TB of storage. The laptop runs on Windows 11 Home out of the box, and once again, it doesn't break a sweat in most of the tasks I threw at it. While most of my work involves typing, I did open more than 10 tabs in Chrome, and the laptop handled it well. RAM management is also on point, as most apps and services were kept in memory.
App opening times are also in control, and they open quickly without having you to wait. Windows 11 Home proves itself to be versatile with a more modern look and smoother animations. Because it is a Samsung laptop, it gets its own Samsung-exclusive features, such as enhanced connectivity between the laptop and Samsung devices.
The laptop comes with a Galaxy Book Experience App that shows you what all Samsung services are available for use on the laptop. You can use Bixby on the laptop, screen record, use Samsung Device Care to free up storage or backup the laptop, sync the Samsung Gallery of your Samsung phone with the laptop and much more. Then, if you have Samsung buds, you can quickly switch between your laptop and phone to select from which device you want to hear the audio.
There's also a studio mode that can change your background while on video calls, or use auto-framing to keep you at the center of the frame always. As for the webcam, its a 1080p camera that is decent for video calls but nothing more. It has a light indicator next to it to alert you when it's in use.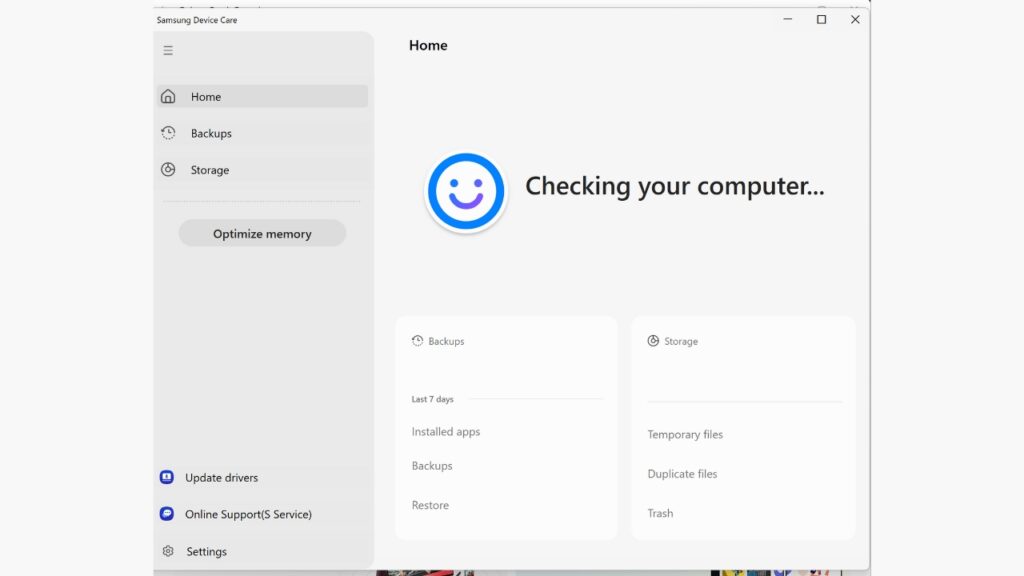 Galaxy Tab owners can use the Galaxy Book's keyboard and mouse for operations. You can also share files between your Samsung device and the Galaxy Book3 Pro with Quick Share. Galaxy Book also supports Samsung DeX for PC so transferring files can be as simple as dragging and dropping from your phone to the laptop.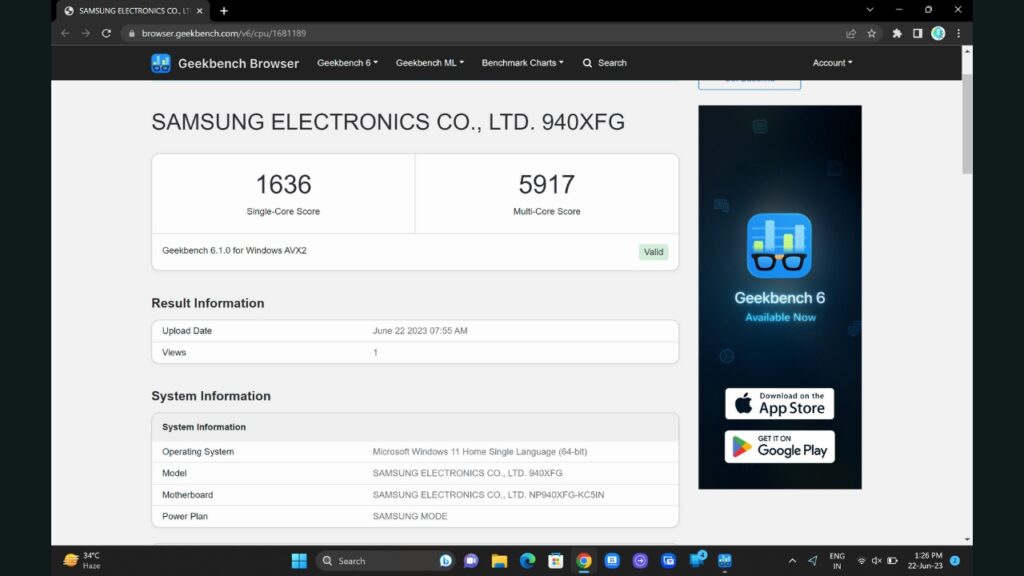 As for benchmarks, using Geekbench 6, I got a single-core score of 1636 and multi-core score of 5917, which is lower than I expected. However, the device was again operating in hot temperature that may have caused a slowdown.
There's little to no fan noise during heavy workloads. However, the fan vents are at the bottom that completely get blocked while you use the laptop. Also, it can get pretty hot if you are, say, playing graphics-heavy games. During my usage, it did get uncomfortably hot, but the ambient temperatures of more than 38 degrees definitely played a major role in that.
What was impressive was that despite getting so hot, the Galaxy Book3 Pro never showed signs of slowing down or any sort of lag. The laptop kept on running the fans at full speed and never struggled. Coming to gaming, I did play GTA V on the notebook at 1080p and 60fps and it played it fine. Yes, the Intel Iris XE graphics can struggle at times, resulting in frame drops, but the game was completely playable without any other issues.
Samsung also provides various performance profiles such as Silent, Quiet, Optimised and High Performance which are self-explanatory. Keeping the laptop on silent and quite profiles would of course, reduce the performance while High performance would make the most of the CPU.
Galaxy Book3 Pro: Battery backup
The Samsung Galaxy Book3 Pro has a 63Wh battery under the hood and on days that required heavy use, the Galaxy Book3 Pro was giving me around 5.5 to 6 hours of screen-on time with more than 50% brightness, 120hz adaptive refresh rate, using Chrome most of the time, streaming videos, and some texting via Telegram Web and WhatsApp for Windows.
This is decent battery life considering how thin the laptop is and how much power it has. However, it would have been even better if it lasted slightly more. With a 60Hz Refresh Rate and lower brightness, it can definitely get slightly past the 6-hour mark in terms of screen time but there are laptops in this price range that have better backup.
As for the charging speeds, it comes with a 65W charger inside the box that can charge the laptop in around 1.5 to 2 hours. If you have a Galaxy phone or tab, this charger can also double as your phone or tablet charger.