Big screen tablets are available today from every known brand and are liked by users largely because they offer great functionality while offering portability as well. The only downside with a big screen or even smaller 7 inch screen sized tablets is that their on-screen keyboards fail to do the trick.
It's good for use while travelling but if you want to do some serious work on them then most users would certainly skip the tablet.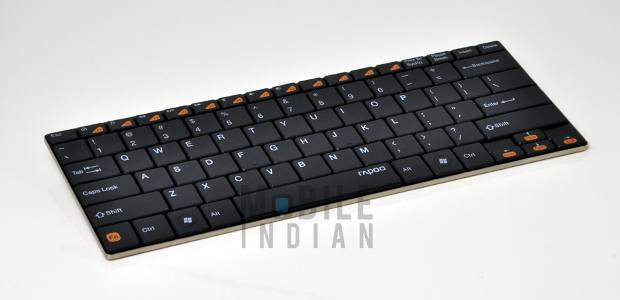 We had the Rapoo ultra slim Bluetooth keyboard with us, and it seems like the solution to our problems. Most tablet devices and even smartphones support Bluetooth keyboards as input devices and while at it it's a great replacement for bulky old desktop keyboards as well.
Look and design
Built using a minimalist design philosophy the Rapoo E6100 is slim and lightweight. The keypad hardly has any sides or bezel that encases all the keys. First looks might not be appealing for any person because of the simple fact that it looks more or less like a replacement keyboard of a notebook, but spending a minute or two with it changes one's opinion drastically.
The whole idea behind making the keyboard slim and of almost zero size is that it promotes easier transportation, which is a critical factor in the selection of any Bluetooth keyboard. The Rapoo E6100 comes in black and white options and we got the black color for review. The black one certainly looks good on the desk and the stainless steel case that holds all the vital components intact adds to its looks.


Even though the Rapoo E6100 is a slim and minimal design-based keyboard the keys are generously sized. They are well spaced and, more importantly, they are big so that even your biggest fingers will just glide over them.
The battery compartment has been designed in such a fashion that it becomes more like a height adjuster for the Rapoo E6100. The angle of use given in the keyboard is fixed but it has been set such that most users would find it comfortable.
Connectivity and battery
Rapoo E6100 slim Bluetooth keyboard is built using Bluetooth technology for keeping clutter and wires at bay. With the use of Bluetooth version 3.0 the Rapoo E6100 is capable of connecting to most Bluetooth powered devices including Apple iPads, Android tablets and smartphones, Windows 8 tablets and even computers.
The use of Bluetooth 3.0 also allows the Rapoo E6100 to get some good savings on power usage. Rapoo E6100 is powered using two standard AAA batteries that, as per the company, offer up to a couple of months' usage time between replacements. The use of replaceable batteries is a good idea as it certainly brings down cost of running and when the batteries run out you just have to replace them with new ones and get going again; simple. Well, we would not vouch for battery backup time as it's been just a few weeks since we started using the device.
The use of AAA batteries again helps reduce weight as compared to AA batteries that most wireless keyboards use. All in all, the entire keyboard has been designed with savings in mind. There is minimal use of LEDs-there is just one tiny LED on the base that glows when the keyboard is turned on and while it is being paired with devices.
Utility
Using the Rapoo E6100 is a simple and straight-forward task. All it requires is turning the device on and keeping the connect key pressed for a couple of seconds. The moment the light starts blinking you can connect to the device. Mostly the prompt on the device asks users to type a few characters on the keyboard to pair this up but for older devices the passkey remains the same as 0000.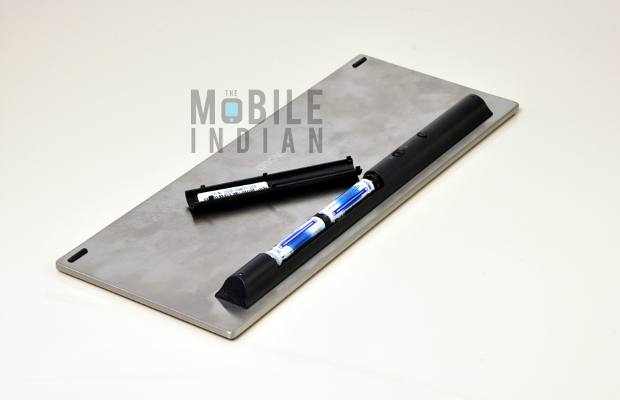 Rapoo E6100 is perfect in terms of the utility and comfort it offers users. The key pitch is perfect and the keys travel just the right amount so that you get nice feedback, which is not too less, nor too much.
After using the Rapoo E6100 for quite sometime now it would be right to say that the keyboard is great in terms of utility and features. What more can you ask for in a device? It features all the necessary keys minus the number pad, which is okay. Along with that the Rapoo E6100 offers function keys as well so that some devices like Windows based tablets and computers could benefit from them.
Finally
Well, where there is good there will be bad as well and so is the case with the Rapoo E6100. First off the lack of indicators is bad simply because you can never know whether the keyboard is in caps lock or not. Secondly, the keyboard does not have a spill resistant design. It misses out on liquid spill outlets, so if by mistake you spill your drink or some liquid on it you will have no other option but to shake and drain it.
Ultimately, it's all about design aspects and the utility it offers and the Rapoo E6100 is bang-on on all fronts. It's sleek, lightweight, good looking, connects with almost all devices and offers massive battery backup.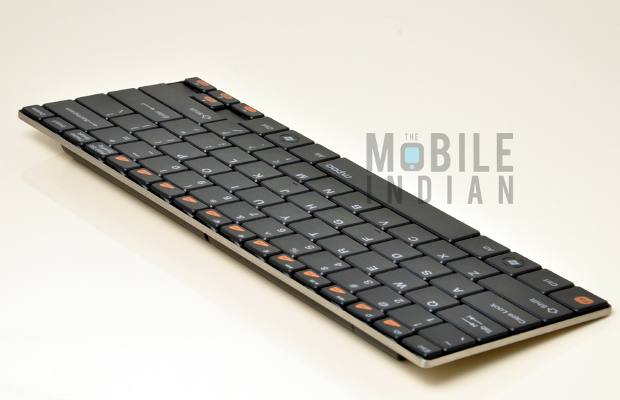 Rapoo E6100 is priced at Rs 4,345 and might sound like a pricey affair. But the retail market offers the Rapoo E6100 for around Rs 3,700 at which the keyboard is costlier than some of the competitor devices available in the market.
The only differentiation here is that the Rapoo E6100 is stylish and you would love to show it off in public. Plus, its minimal size offers great utility as well. So we would recommend this to anyone who has the money to spare for great utility and style, but for the masses the price needs to be a bit better.