The problem with accessories for mobile or tablets today is that they are getting too device specific and cannot be used with other devices.
Just consider this scenario, if someone has purchased iPad or iPad 2 along with a docking solution and now wants go for iPad Mini. The problem will be his old docking solution will not work for iPad Mini and one has to purchase a new dock.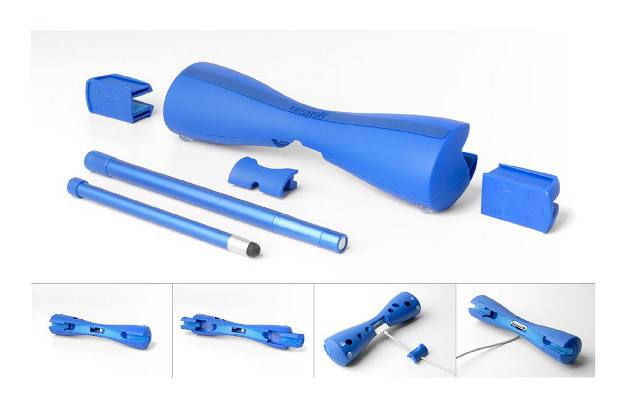 The problem here is that there is a serious lack of universal solutions, especially with devices coming in various sizes and dimensions and it becomes a really expensive exercise to go out and buy individual accessories and docking solution for each one of them.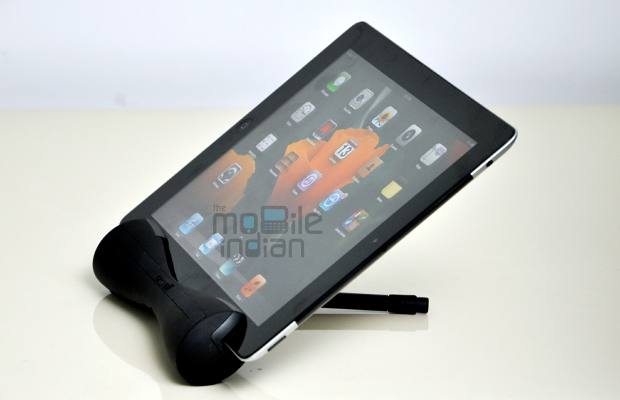 Working toward the same idea Petur Olafsson of onanoff developed a new solution called the Dock Minimal.
Dock minimal is an all in one solution for docking and stand needs of a tablet that can accommodate tablets of all screen sizes and dimensions.
The Design
The Dock Minimal has a design similar to a sand watch but slightly elongated ones. The ends of the dock are quite strong and have been given non slip silicone feet so that the dock can handle the weight of the tablet easily.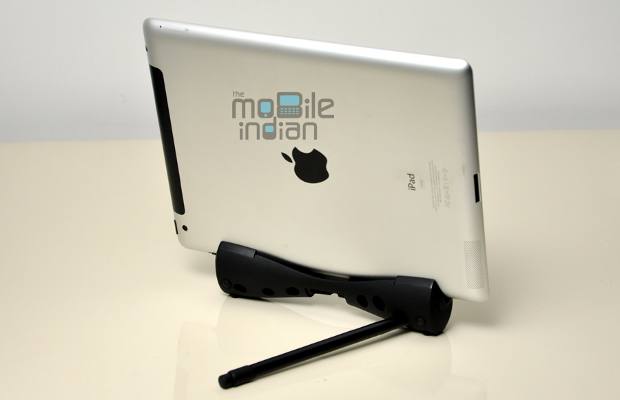 The construction of the dock minimal has been done using durable plastics on which a non slip rubberized texture finish has been given in order to enhance its grip while holding in hands as well.
Different viewing angles
When a tablet is placed on a Dock Minimal it supports upto 20 various viewing angles using a detachable kick stand. There are 6 angled slots provided at the back of the dock that take care of various angles in both portrait and landscape mode plus the dock can be used even without the kick stand to elevate the tablets for easier typing.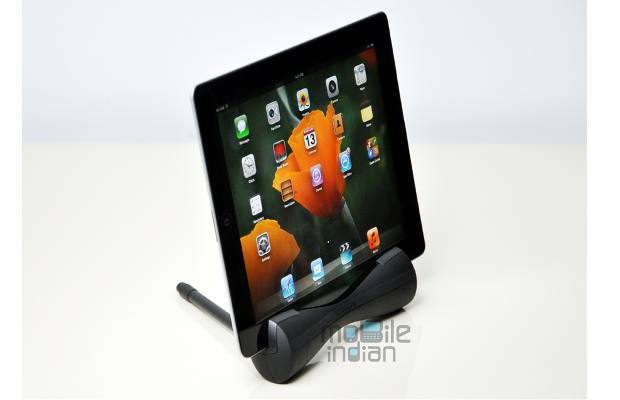 The kick stand has a level of innovation to its design as well, the tip of the stand has been given a magnet at the end that sticks to the metallic plates that have been embedded in the slots so that the stand never comes out while using or during transportation form one place to another. Also the biggest innovation is the inclusion of a capacitive touch stylus that goes neatly inside the kick stand.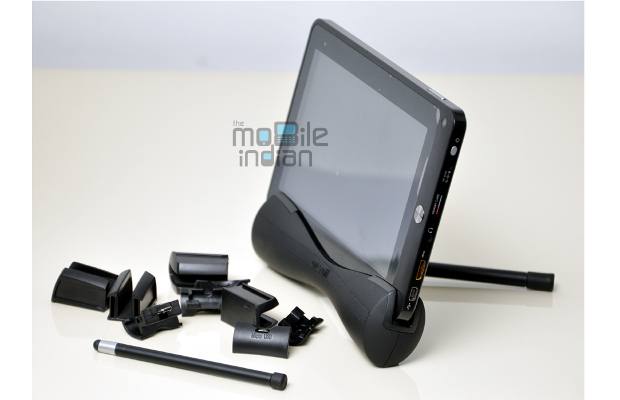 The stylus is universal and works on all devices including iPads and Android tablets alike. We used it on 5 different tablets and although varied pressure was required but it worked every time.
Compatibility
The dock has been given a flexible or rather customisable design that makes accommodation of different tablet on one single dock possible. The dock comes with interchangeable dock connectors that have been cleverly designed to accommodate data connector cables of the devices and also reduce cost the devices as well.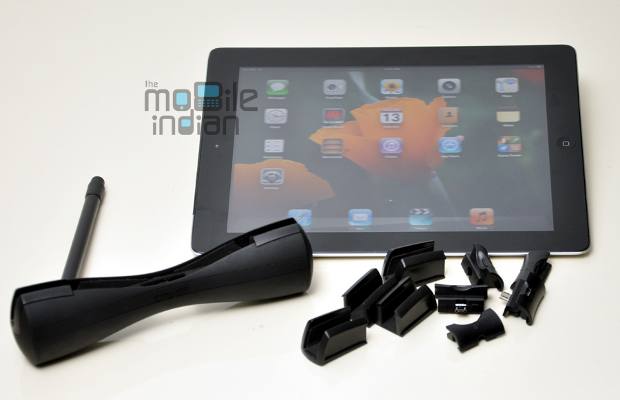 Users can simply slip on the desired connector along with the connector cable and the dock is ready for use. The dock comes with 5 different connectors including one for the iPads, one for Samsung Galaxy tabs and one for the Nexus and Kindle tablets as well.
To provide a snug fit for tablets the dock also comes with different sized holder clips as well. These clips are in there different sizes and can accommodate anything form 10 mm to 20 mm thick tablets.
Utility
We tried this dock on a number of tablets with the changeable clips ranging from a 7 inch non branded tablets to iPad 3, the dock supported all tablets with ease and offered a great solution every time.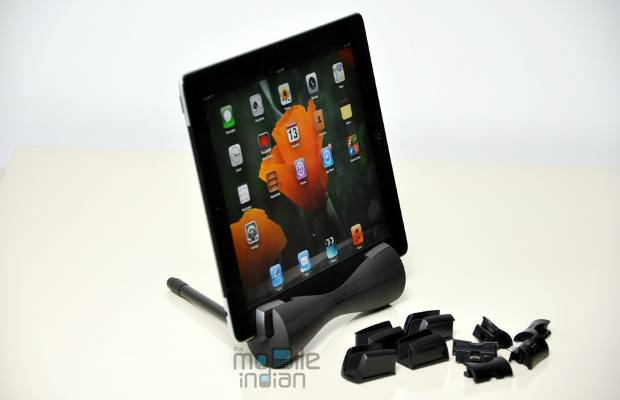 Although, users need a little understanding time to exactly get a feel of how thing work with the Dock Minimal but it's worth it.
Both in the simple stand mode as well as the dock mode the Dock Minimal offers great utility and portability. It can be packed up inside a corner pocket of a back pack or even inside a purse if ladies want to carry it around without sacrificing much on the make-up space.
Finally
The dock minimal offers great utility and a solid build quality that will ensure longer lifetime of this dock. The dock Minimal is priced at $40 or Rs 2,000 approximately plus shipping which brings it almost at par in terms of cost with other docking and stand solutions for tablet.
Its flexible design and compatibility with multiple tablets gives it an edge over other docks and with the added stylus the dock really becomes a great accessory to have for all those tablets that do not come with one.


Other than the standard Onyx Black the dock minimal is available in various color options as well for those who would like to add a little zing to their tablet, its available in Lava Red, Glacial Blue and Arctic White.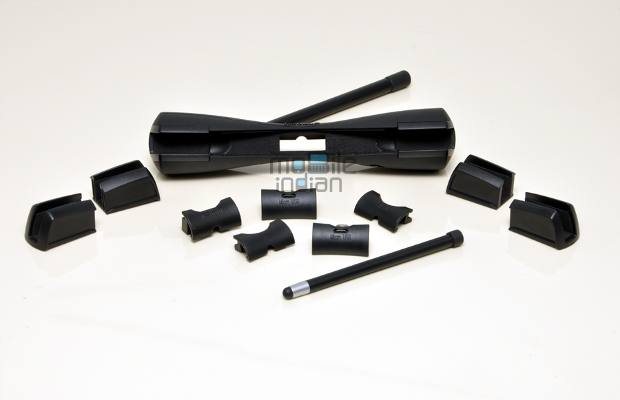 So those who are interested in buying an all in one solution for their tablets can head over to the onanoff website and order one for them.