Chinese handset maker, UMI has recently entered the Indian market with this 4.5 inch HD display totting phone which is priced attractively at Rs 9,999 and come with attractive features.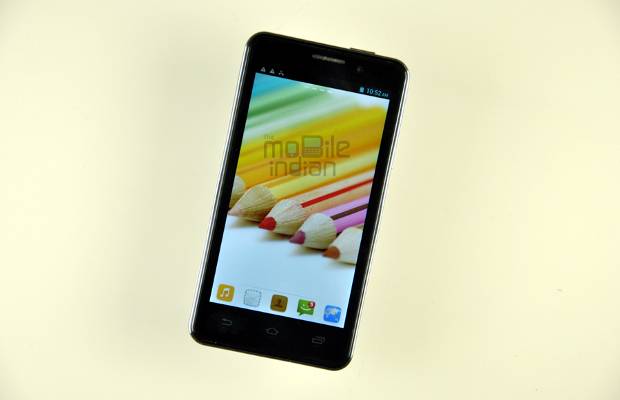 Despite being priced like the handsets offered by Indian brands, the UMI X1 comes with high definition display which is much better than qHD display being offered by Indian brands. There are other plus points also.
Here is our review of the phone.
Design
UMI X1 has a presentable appearance. Dimensions of the device are 129 x 68 x 8.5 mm and weighs 160 grams with the battery, which can be categorised as both slim and lightweight.
The entire front panel is covered by a single glass which houses a 4.5-inch display, a slot earpiece, front camera, proximity sensor and light, three backlit touch buttons "back", "home" and "menu".


On the back, the UMI X1 has an 8-megapixel camera with autofocus and dual LED flash. The camera sits on a slightly raised surface. There is a slot external speaker at the bottom.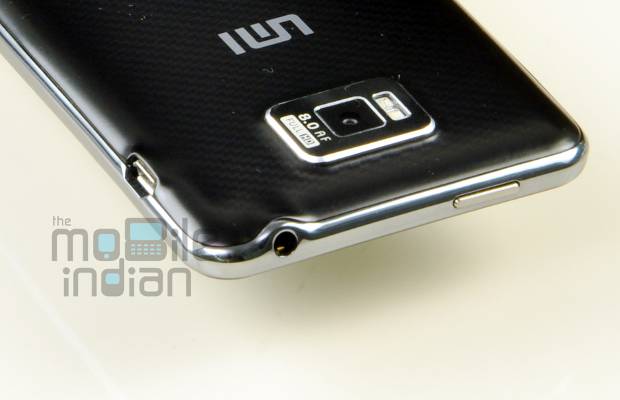 The back cover is made of plastic but is coloured to look like carbon fibre. On the right side, the phone has volume rocker with nice metal feel and hard which is a good thing as you get to feel it each time you put your finger on the same.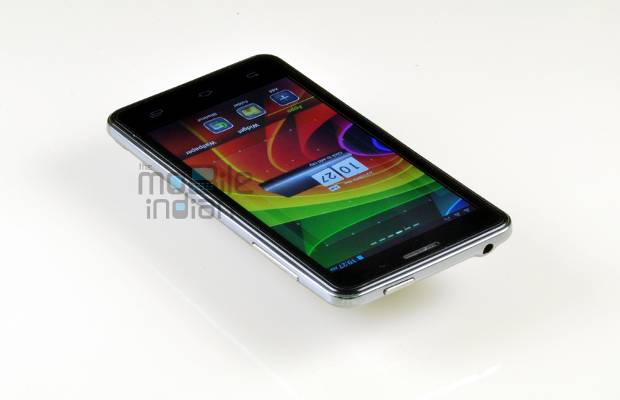 On the left side, you will see the USB slot while on the top lies the power button, again with a very sure feel to it. The 3.5mm jack is also on top side. The mic is placed in the bottom of the phone.
The dual SIM slot and micro SD slot is accessible after removing the back cover. The phone is very easy on hand and can easily be operated with one hand.
Display
UMI X1 comes with a 4.5 inch IPS panel with 1280×720 pixels HD resolution which is much higher than other phones in this category. The display is very attractive to look at; images and videos come out looking bright and vivid. The 326ppi pixel density for a phone under Rs 10,000 is also commendable.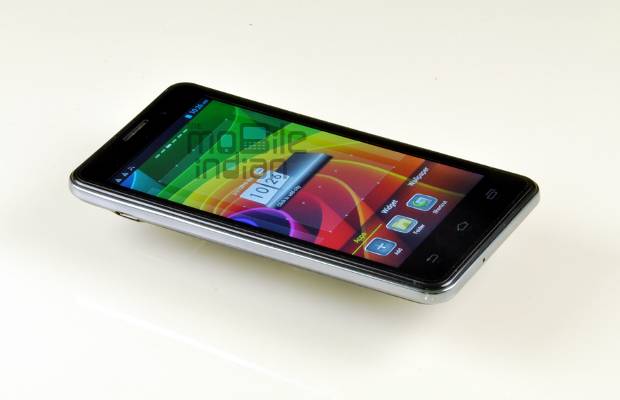 Being an IPS display, the UMI X1 comes with wide viewing angle that allows watching images from acute angles as well. The display's touch sensitivity is also good and there is no lag or missed touches.
Operating System and User Interface
The phone is based on Android Jelly Bean 4.1.2 and has a custom 3D user interface. The interface is more of an interesting thing to look at rather than a utility. However, the transitions between the screens are very smooth.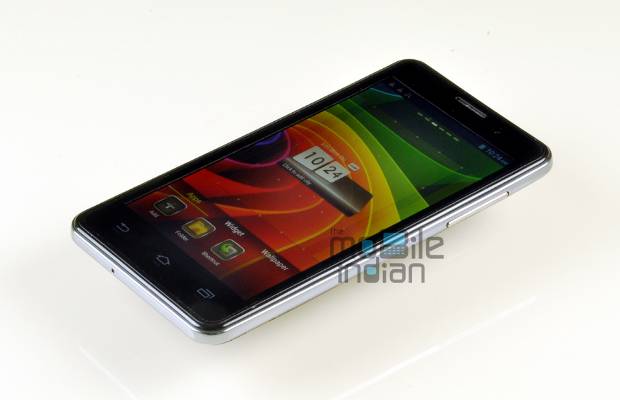 One of the issues that we face was use of Chinese apps including the keyboard, which even though supports English gets many buttons in Chinese like the 'Enter' and 'Abc' buttons. However, since the model we received was a test device, it was not probably customised for India. However, in the retail version of the phone this issue should be sorted. Anyway, one can always download apps of his liking from the Google Play store.
Other than that the Android Jelly Bean is as smooth as ever and is easy to use, there are no big changes in the operating system.
Performance
The phone has a 1 GHz dual core processor based on MediaTek MTK6577 chipset and has 1 GB of RAM. And while the phone doesn't beat any records in benchmarks with score of just 5573 which beats very old phones like Samsung Galaxy S, it does offer very acceptable performance and is a good match for its competitors.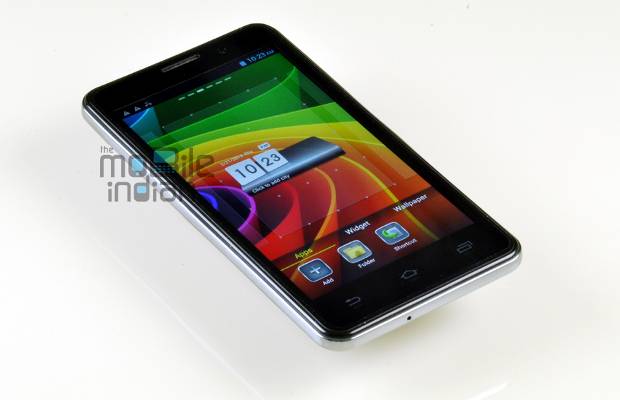 The apps open fast; it played games like Temple Run 2 effortlessly. What comes in handy for this phones performance is its healthy 1 GB RAM and 4 GB of ROM which ensures that processor gets fast access to information it needs.
Camera
UMI X1 has an 8 megapixel Autofocus camera at the back which is assisted by dual LED flash. However the 8 megapixel camera is not really as great as it sounds. Macro shots are not even possible as it is not able to focus, however normal shoots come out well, though no match to the bigger players.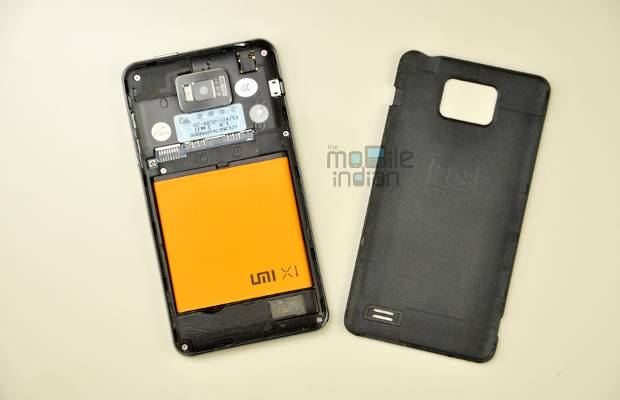 UMI X1 does an okay job for a phone in this price range. There is a 2 megapixel camera in the front of the phone as well which is great for video chat.
Connectivity and sensors
The phone comes with 3G, WiFi, GPS, Bluetooth, 3.5 mm audio jack and micro USB port for connectivity. All these features work with a hitch. UMI X1 also has Light, Proximity and G-sensors. Again there are no issues with the sensors and are sensitive enough to do their job well.
Battery
UMI X1 has a 1750 mAh battery, which is unfortunately not sufficient for a HD phone it seems. The battery runs out fast and barely manages to survive for a day in normal use conditions.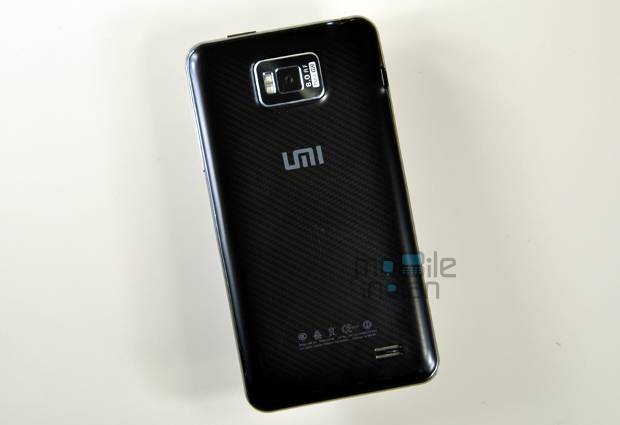 However, slightly careful user who takes care to switch off WiFi and GPS after each use might manage to extract more from this battery.
Competition
The phone competes with the likes of Byond B63, Intex Aqua Wonder, iBall Andi 4.5q, Salora PowerMaxx Z1 and Spice Stellar Virtuoso Mi 495. And while the phone gets better resolution than all these phones, it is also priced at the same level as these. Salora Powermaxx Z1 which is slight costlier boasts a much bigger 3200 mAH battery.
Conclusion
UMI X1 comes with the best display in its category. Infact, handsets price much higher than it do not have this kind of display. However in terms of everything else, the phone doesn't offer anything extra on what is already available. A very average camera and battery life reduces its wow factor as well. But overall, the phone beats its nearest rivals with decent performance and great display.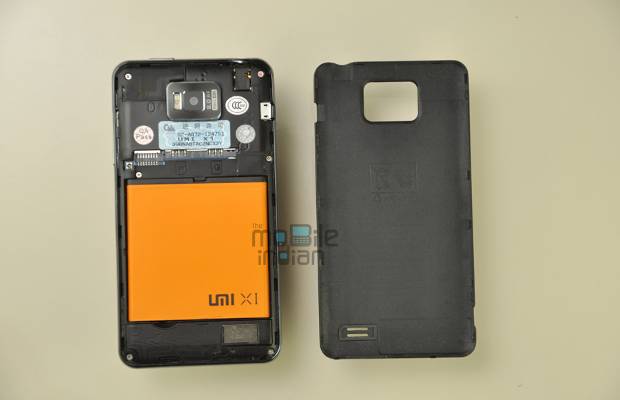 Another disadvantage of the UMI X1 is lack of brand awareness and sales and service network, which if sorted will make this phone a very good option who don't want bigger phones but wants a good display and decent performance.
We are deducting 1/2 point for camera (as others also have similar camera only in this segment) and 1 point for battery and giving it 8 and half points.