Nokia came out with its Lumia series of devices some time back. There are currently two Lumia handsets in India. These are the pocket friendly Nokia Lumia 710 and the stylish Lumia 800.
We got the Lumia 800 smartphone from Nokia at our test lab for review and here's how it does in the real world.
Looks and build quality
Nokia Lumia 800 looks classy – typical Nokia style.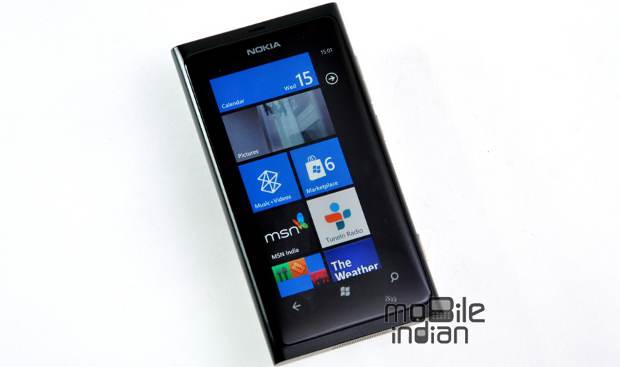 The device is slimmer than average Nokia devices at 12.1 mm and feels great in your hand. Its body is made of polycarbonate, which is a form of plastic. Rather than painting it in different colours, Nokia has coloured the casing itself so that even after months of rough usage it won't fade.
The keys on the device are placed on the right side, which includes the volume rocker at the top followed by the power key that also controls the display and standby. The power key placement is odd since many device manufacturers place keys on top of the devices for easy access, but we think it is inspired by the Nokia standby rocker that featured on Symbian devices. Last is the camera control key that is conveniently placed, making it useful for most shutter bugs.
The build quality of the device is yet another example of Nokia's craftsmanship. The device is capable of handling short falls and accidental drops easily while the Corning Gorilla glass helps protect its display from damage. The matte finish of the device makes it less slippery and easier to handle.
The top of the device holds the charging and data port nicely concealed under a lid, and a micro SIM slot as well. Yes, a micro SIM is required to power up the Lumia 800, which is definitely a bad thing for people having older SIM cards. But there is no other to get the device working.
###PAGE###
Display and touch
Nokia has employed a clear black display for Lumia 800 and true to its name the 3.7 inch display offers great contrast levels while vibrant colour reproduction brings images to life. The brightness level is optimum for making the display readable in the sun while not sacrificing battery life. The resolution of 480 x 800 pixels is perfect for playing high definition videos and photographs as well and it does justice to high end graphics in games like Need for Speed.


The touch capability of Lumia 800 can be described in one word – accurate. The display requires the gentlest touch to translate it to action. This is very important when scrolling while viewing longer web pages at one go. The keypad, however, needs a little tweaking as it works on absolute positioning and takes some getting used to, especially when you have another touch device running on Android. But overall the touch is responsive and makes navigation effortless.
###PAGE###
Performance
Nokia Lumia employs a faster 1.4 GHz single core processor that perfectly complements the new age WP 7.5 operating system. Lumia comes with 512 MB of RAM that might sound small but all throughout the test the device never froze or hung and executed every command with ease.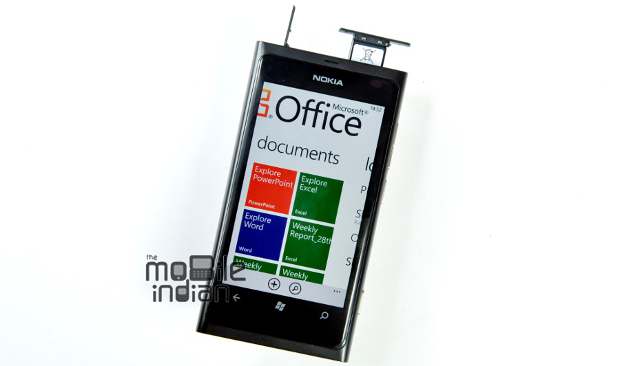 Lumia 800 comes with Windows 7.5 Mango preinstalled and features improvements on the original OS built as well. For instance, the OS does not come with multi-tasking capabilities but the Lumia manages to do it in the iOS way where the applications running in the foreground are kept in focus and consume maximum processing power; while background applications turn to a low power state but can be revived with a touch. But this too can be controlled in order to save battery and a little tweak in the applications menu does it all.
The Metro user interface of WP 7.5 is neat and brings more functionality with live tiles. Most commonly used applications and tasks can be added right to the home screen and accessed with one touch later on. The live tile interface also keep a track of your social life by integrating social media in the home page itself.
The app switcher is a nice addition and can be accessed by pressing and holding the back key. While newer apps are added to the folder, unused apps are automatically killed in order not to overburden the processor, but can be restored with just a touch on the app's icon.
The application store is definitely one area that requires a lot of work and is puny in comparison to the likes of Android and iOS. But the Xbox game place is a nice addition. The personalised avatar further spices up things for gamers as well.
###PAGE###
Connectivity
Nokia Lumia 800 is a 3G enabled phone that supports HSPA upload and download speeds. The quad band cellular radio of the device works really well and there are hardly any connectivity issues at all.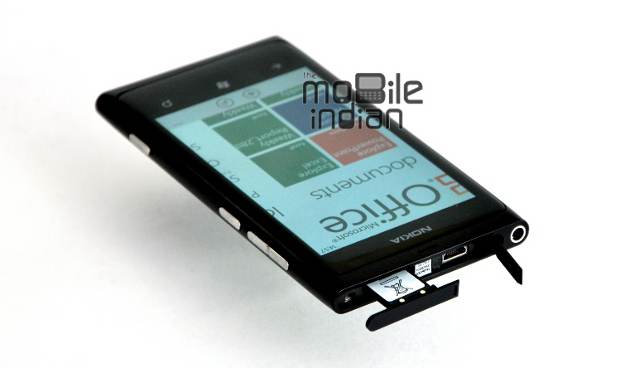 There is Bluetooth 2.1 for speedy wireless file transfers. Lumia 800 also features WiFi that allows it to connect to most services in the absence of cellular data or to conserve cellular data as well. The USB 2.0 connectivity allows for faster file transfers as there is no SD card slot, which means no storage enhancement option either.
###PAGE###
Camera and multimedia
Lumia 800 comes with an 8 megapixel camera, which is made better with Carl Zeiss optics. Image quality is great and auto focus works flawlessly. For low light photography, the device features a dedicated LED flash as well, which is good for close ups but not for wide-angled pictures. The camera is also able to capture high definition videos at 720p, and that too at 30 frames per second.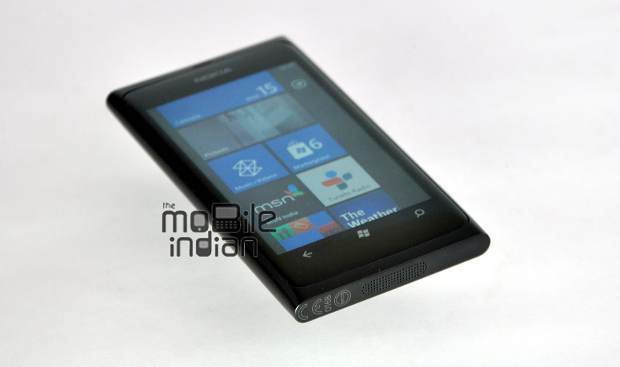 The standard 3.5 mm audio connector and the micro USB connector ensure easy connectivity with most other devices, as well as with most headphones and earplugs. The device features 16 GB of internal memory, which means you can carry your favorite videos, tunes and pictures with you at all times.
The default music player is simple and a pleasure to use with support for all known media formats and a very neatly laid out interface. Also, users can scout the application store for additional media players for enhancing the device's playback capabilities and looks.
###PAGE###
Battery performance
Lumia 800 features a 1450 mAh battery pack that is capable of powering it for up to two days of nominal usage, but as with all smartphones, battery life is affected deeply by usage pattern and the use of 3G networks.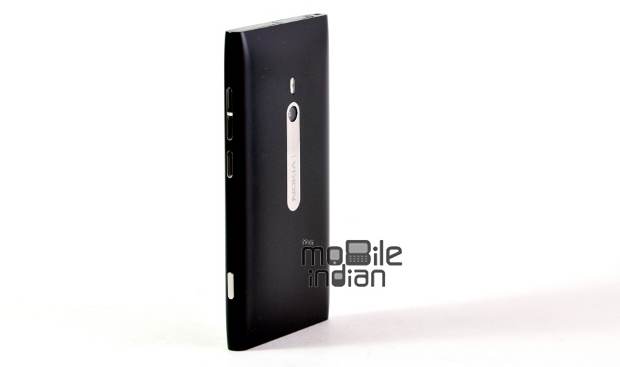 Overall, though, the battery life of the device is quite impressive and we have no complaints whatsoever. It depends largely on the user as to how long the device will function and if you want a longer backup, you will have to cut down on unwanted tasks and improve your usage pattern.
###PAGE###
To sum up
The Lumia 800 is good and has some impressive performance figures as well. But like every device, it also has its own set of flaws like the non-expandable memory and the micro SIM slot, which will be a problem for users with older SIM cards as they might loose their data in the process of upgrading to a micro SIM.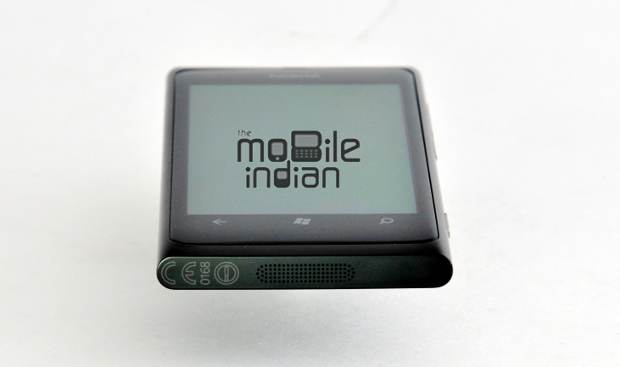 But overall, the device's performance is flawless and it is definitely an object of desire for people who like looks and performance.