Nokia added one more feather to its hat with the stylish Lumia 800, which will bewitch you with its beauty and performance. Read on to know more.
Advertisement
Pros
Speedy Performance
Great Display
Feature Rich
8 Megapixel Camera
Nokia came out with its Lumia series of devices some time back. There are currently two Lumia handsets in India. These are the pocket friendly Nokia Lumia 710 and the stylish Lumia 800.

We got the Lumia 800 smartphone from Nokia at our test lab for review and here's how it does in the real world.

Looks and build quality

Nokia Lumia 800 looks classy - typical Nokia style.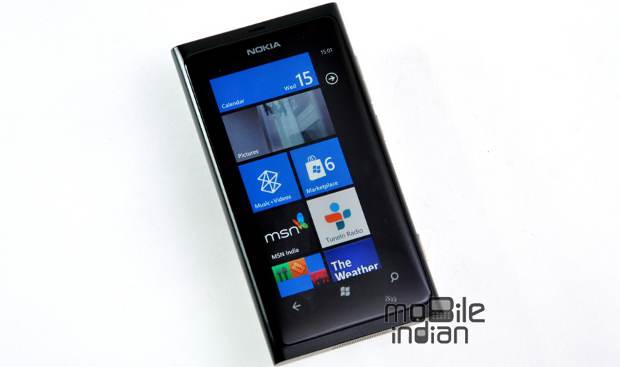 The device is slimmer than average Nokia devices at 12.1 mm and feels great in your hand. Its body is made of polycarbonate, which is a form of plastic. Rather than painting it in different colours, Nokia has coloured the casing itself so that even after months of rough usage it won't fade.

The keys on the device are placed on the right side, which includes the volume rocker at the top followed by the power key that also controls the display and standby. The power key placement is odd since many device manufacturers place keys on top of the devices for easy access, but we think it is inspired by the Nokia standby rocker that featured on Symbian devices. Last is the camera control key that is conveniently placed, making it useful for most shutter bugs.

The build quality of the device is yet another example of Nokia's craftsmanship. The device is capable of handling short falls and accidental drops easily while the Corning Gorilla glass helps protect its display from damage. The matte finish of the device makes it less slippery and easier to handle.

The top of the device holds the charging and data port nicely concealed under a lid, and a micro SIM slot as well. Yes, a micro SIM is required to power up the Lumia 800, which is definitely a bad thing for people having older SIM cards. But there is no other to get the device working.


Advertisement