Nokia's Lumia 620 can be called a significant improvement over the Lumia 610, which appeared to be a rushed job. In terms of design, both smartphones are quite distinct, but the capacitive Windows buttons is what connects them. The Lumia 620 has more of a rectangular design with well-curved edges. Also, it appears that Nokia was aiming for an edge-to-edge screen approach with the Lumia 620 for it is quite similar to the treatment given to Lumia 820's display.
The Lumia 620 has a backpanel cover, which almost looks like a case tightly hugging the back-side. However, getting this back panel off the body is quite tricky. The easiest way we managed was by putting a thumb on the camera and pushing it ahead while holding the shell's edges on the top with two or three fingers. This back panel is of a single colour and has a matte finish feel. Nokia Lumia 620 comes with dual-colour effect that shows through the shells in Lime Green, Orange, Magenta, Yellow, Cyan, White and Black colours.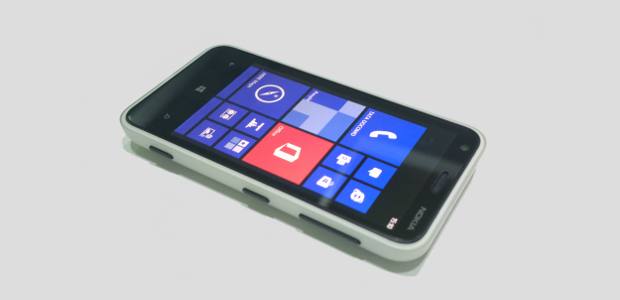 All the button controls – volume buttons, power/sleep and camera key, are located on the right side. With a hand-sized form factor, the Lumia 620 fits amazingly well in the palm and is ready for single-handed operation. Curved edges along non-protruding buttons make it easy to quickly slide the device into a pocket. We noted that only the black and white coloured back panel shells seemed to have a matte finish for a slightly better grip.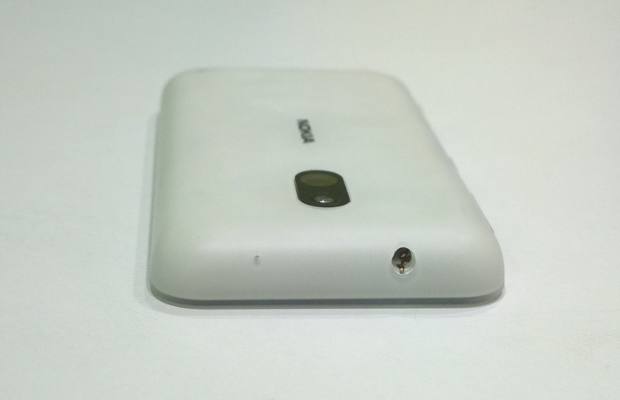 The Lumia 620 is 115.4 mm tall and 11 mm thick, somewhat thicker than the current generation of smartphones. This smartphone weighs about 127 grams. Lumia 620 carries one of the most comfortable designs, and it fits snugly in one hand.
Display and hardware
Nokia has packed a 3.8 inch touchscreen display that appears to be almost the size of the iPhone 4/4S. However, this 3.8 inch screen 24-bit panel has been constructed using Nokia's own ClearBlack layer for better black colour production by reducing the reflections on the screen. It carries 480 x 800 pixel resolution natively, thereby offering decent 246 pixels per inch density. The screen supports multi-touch and is certainly smaller in comparison to large display devices. The colours look just about fine without the bluesy effect of Amoled. Outdoor legibility of the text and menu options is quite decent. The sharpness and overall image quality did surprise us pleasantly.
About 11 mm thick, the phone does appear slightly stubby, but Nokia has tried to make it appeal to the young crowd. The idea was to pack decent hardware in a cosy shell to make the overall package affordable. The Lumia 620 packs a dual core 1 GHz Qualcomm Snapdragon S4 Plus MSM8227 mobile processor paired with an Adreno 305 graphics chip and 512 MB RAM. Apparently, Nokia has used the same processor, graphics and RAM combination for the Lumia 520 and Lumia 720 devices as well.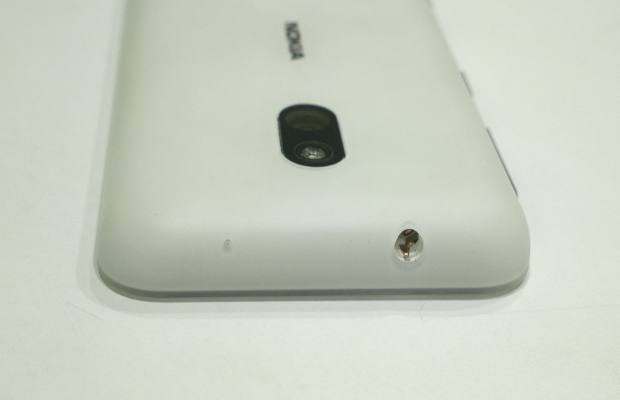 Nokia has packed a Near Field Communication chip inside the Lumia 620 back panel so that it can be used with different accessories like the Play 360 wireless speaker. This device gets quite a good bump compared to its predecessor – Lumia 610. Apart from twice the amount of RAM, the Lumia 620 packs 8 GB on-board storage and can support up to a 64 GB micro SD card. Nokia has taken care of audio output with a Dolby headphones sound enhancement feature.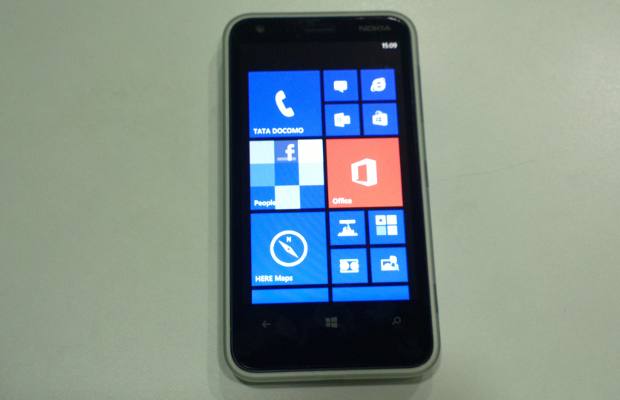 Apart from Bluetooth 3.0 bump, the only surprising change is the lack of stereo FM radio. Other than that, Nokia has packed a GPS chip with A-GPS and Glonass support for faster location lock.
Operating system
Microsoft has been bringing several popular and big names to the Windows Phone Store. Despite the good database of apps, not all will be compatible with the Lumia 620. Pushing that sour patch aside for a moment, Windows Phone 8 is seriously smooth and fluid even on 512 MB RAM. The touchscreen was quite responsive to touch after the most recently released update for the Lumia 620 smartphone.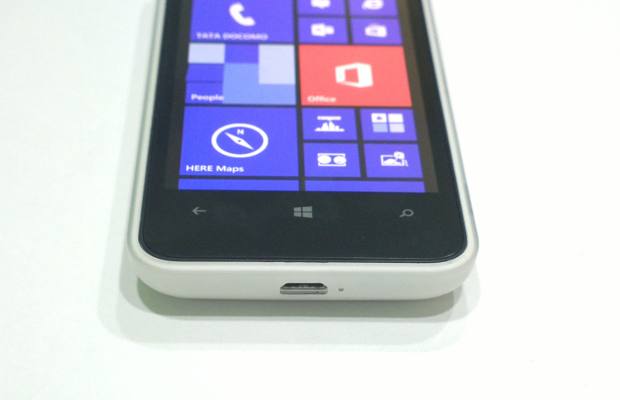 The built-in MS Office suite features make it quite competitive with other smartphones that are devoid of it. Now, if the user has an Office 365 subscription then working with documents over Windows Phone 8 becomes a joy. The user interface does not require more than 10 minutes for anyone to get used to. The best was the mail experience where one could sync all mails in one inbox and reply quickly with minimal window UI moments.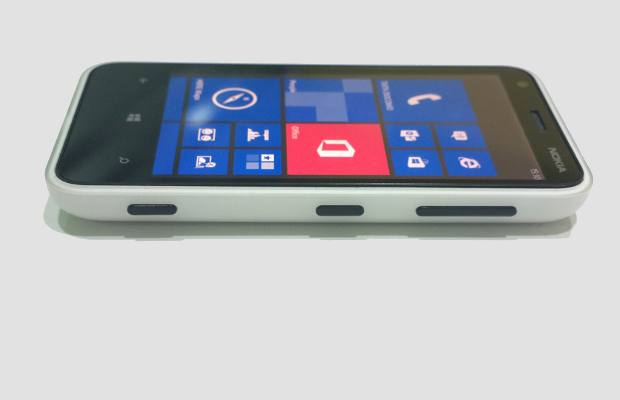 A majority of the apps have a decent minimalistic style user interface to match up with the overall user experience of Windows Phone 8. Rarely does one feel that an app is out of place. Nokia Here (previously Maps) is one of the biggest strong points of getting this smartphone for it not only provides regularly updated maps but also a bunch of additional features. The Nokia Here Drive is one of our favorite features on this device as it provides turn by turn navigation and it can also be voice guided. Apart from that, there is a nice City Lens app from Nokia, which brings augmented reality on the relatively small screen of this device. Twitter and Facebook app users will also be happy with the official apps as well as third party apps. WhatsApp is trying its best to deliver better performance without costing much to battery life.
Camera
Nokia has used a modest appearing 5 megapixel camera with LED flash, auto-focus and a two-stage dedicated capture key. Apparently, this camera module does not have Carl Zeiss Tessar lens treatment and carries f/2.4 aperture with 28 mm focal length. The touchscreen display acts as a large viewfinder and one requires to touch the display to have the camera focus on a particular area. The camera needs to be used only in landscape orientation. The camera app offers photo settings primarily set at default – scenes, ISO, exposure value, white balance, aspect ratio and focus assist light.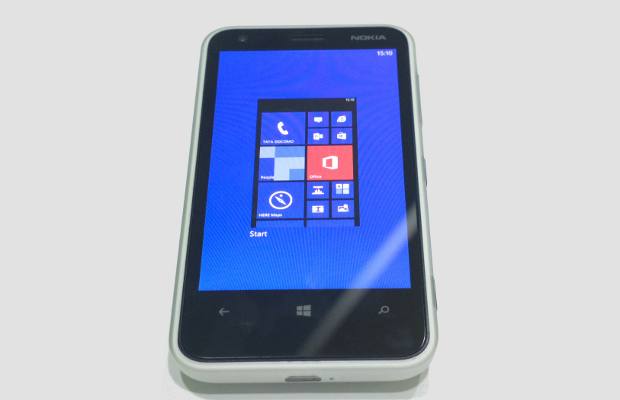 The LED flash can be wisely used by setting on or off, but one can always set it forced to throw some extra light in low luminance environments. Nokia has added four lense softwares pre-loaded with the camera app – Bing Vision, Panorama, Cinematograph and Smart Shoot. Either of these software based lenses can be used to enhance the images and take better pictures. Smart Shoot is kind of a burst mode for it shoots multiple images and the user gets to choose the best. Unfortunately, there is no PureView imaging technology used for the camera and therefore this camera can be used to record 720p HD videos with no exceptional quality expectations.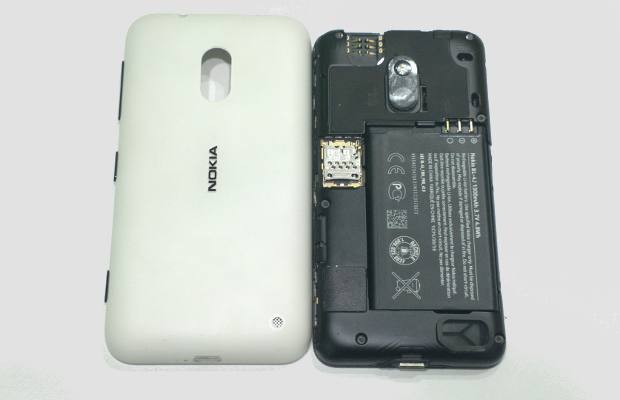 The front facing VGA camera also has f/2.4 aperture, but offers only 640 x 480 pixel resolution. This camera can be used for quick video chats and clicking selfies – self portraits. Lumia 620's camera app is not the fastest around but does a decent job of capturing images that can be shared quickly over email or social networks.
Multimedia
Nokia has added Dolby Headphone Enhancements to deliver better quality sound output when good quality earphones are used. Though the speaker at the back has a very small outlet, it is loud enough to wake you up from sleep, unless you are in a deep sleep. The biggest advantage Nokia has over other Windows Phone 8 makes is the Nokia Music Store and Nokia Mix Radio. To be honest, we spent most of the time at the Mix Radio, which offers free music streaming over data networks and also lets the user download the song (through a Nokia account). The music player brings software equalization presets to suit the needs of the listener and Dolby headphone enhancements for supporting headphones. However, it is not meant for audiophiles seeking a portable escape because audio quality is fairly average when it comes to audio output over great quality headphones. So our recommendation about music would be – keep it casual.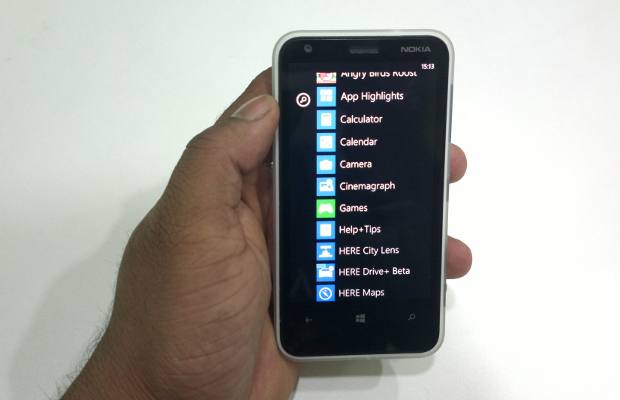 The phone can support MP4 and DivX files smoothly and watching videos is fun on it. However, we find the lack of subtitle support in the video player disturbing. Thankfully, the use of Zune to transfer music and videos can be totally leapfrogged with Windows Phone PC Sync client. Photo Hub is a great place to view photos at ease and one can set a background photo for Photo Hub, else the app will automatically choose one on your behalf. You can create albums or let the camera roll take images to be shown on the tiles at the home screen. In terms of multimedia, the Lumia 620 just manages to do the job.
Due to merely 512 MB RAM, we found loads of popular games that didn't perform smoothly. But casual games worked fine.
Battery
Nokia has used the same 1300 mAh battery and, quite honestly, we were expecting a bump here too. The battery, though it is not that powerful, lasted about two days with regular use involving a couple of phone calls, emails, social networking and music. With more frequent use involving loads of web data usage, music and calling, the battery lasted just about a day before an alert to recharge appeared. From the usage we can presume that it is not a big improvement in terms of battery life compared to the Lumia 610. Thankfully the battery is removable and Nokia should provide about 1500 mAh or 1650 mAh battery packs to make this phone run longer. Else, the phone will fail to impress those who are eager to check out the OS, the apps and use the web.
Final words
Nokia Lumia 620 smartphone with Windows Phone 8 is priced officially at Rs 14,515 and can be purchased for less. This smartphone is meant for those seeking an affordable smartphone with an overall good set of features and without any fancy/powerful hardware, for a decent budget price. Nokia offers Music, Maps and more along with the regular Windows Phone 8 OS package.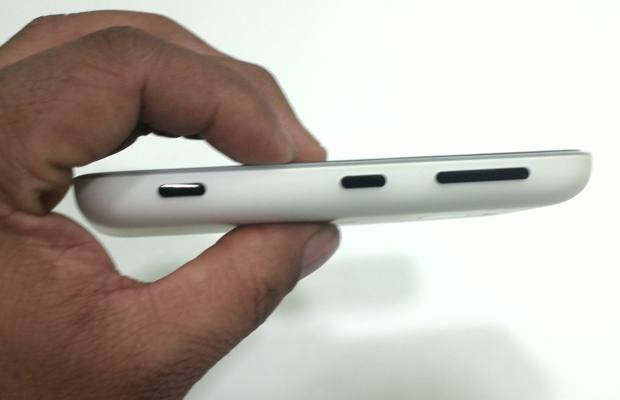 Amongst all phones available for a similar price, Nokia Lumia 620 would be our ideal recommendation. However, this smartphone is not meant for someone who wants to try out every app and game that pops up in the market. Thanks to small mercies like a removeable battery and buttons on one side.