Konka is a Chinese mobile brand which has entered the Indian market recently. Its first smartphone, called Konka Expose 970, comes with 4.5inch qHD display, 1 GHz dual core processor, 512 MB RAM and is based on Android 4.0 operating system. It is marketed as a camera phone for its 8 megapixel rear camera and 2 megapixel front camera.
Here is our impression of the device after using it extensively for about two weeks.
Design
Konka Expose 970 doesn't have anything radical about its design. A unique thing about the phone is its packaging. Unlike all other phones which comes in cartons, this one comes in a box made of plastic, and the cover of the box is designed in such a way that when you place your phone on top of it, the sound and depth of bass increases quite a bit. Konka calls it a Boombox and when you are at home it comes in really handy in converting your phone into a music device, however without the boom box the speaker is not very loud.
Coming to the phone itself, the unit we received was white which does not attract finger prints. The front bezel and the back is all made out of very shiny plastic and has a nice quality feel to it. The rear part is flat except for the raised camera and curves around the edges. The front portion is surrounded by chrome which lends it some good looks.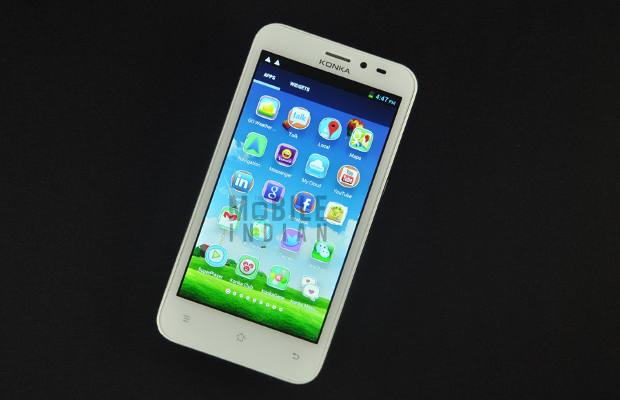 The phone has a micro USB port at the bottom, 3.5 mm jack on top along with power/lock button, and volume rocker is on the left side, all finished in chrome. Camera lens is recessed to protect it from scratches. The camera lens is encircled in chrome too; below the camera rests an LED flash.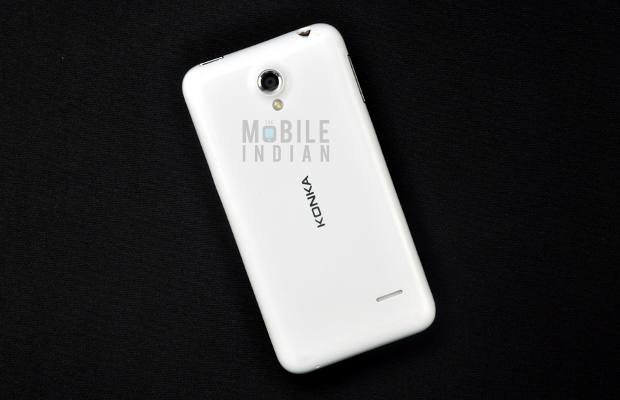 The micro SD slot and SIM slots can only be accessed after removing the battery. SIM slots are placed one above the other and I am not really a big fan of this arrangement.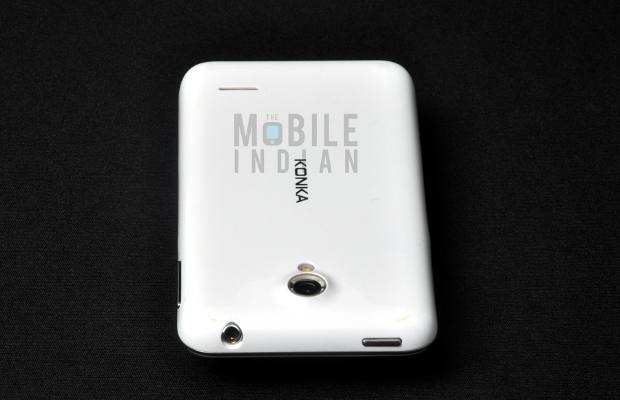 All in all there is nothing much to complain in the design department, but then there is nothing much to cheer about either.
Display
Konka Expose 970 comes with a 4.5 inch qHD IPS display. Since it is an IPS display, viewing angle is quite decent. The resolution is also on the higher side so pixels are not visible. The display is bright and is visible in sunlight too. The display is well balanced in terms of colour, brightness and sharpness, even the black levels are good.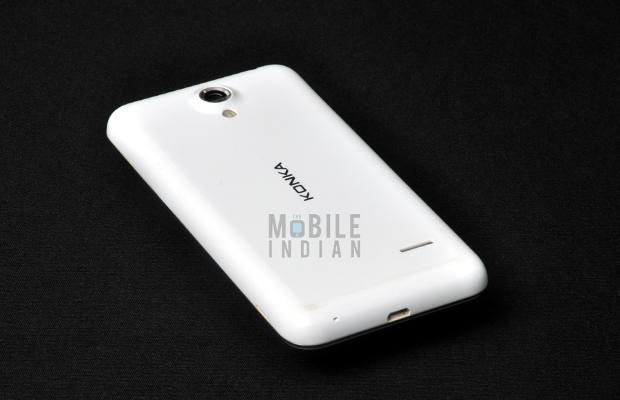 Touch response is also good. All in all, it is certainly not the best display in its budget category, but in terms of phones with similar specification, it is on the better side.
Performance
Konka Expose comes with a 1 GHz dual core processor and 512 MB RAM. Despite the ordinary combination, it has good benchmark (Antutu) score of 6314. Phone with similar specification tend to get scores in the range of 5000.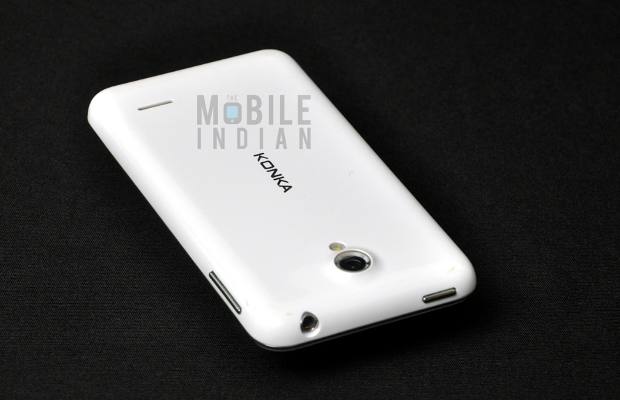 As the benchmark scores suggests, the phone managed to play decent games found on the Google Play. However the system is not very stable and does tend to behave abnormally at times, though very rarely.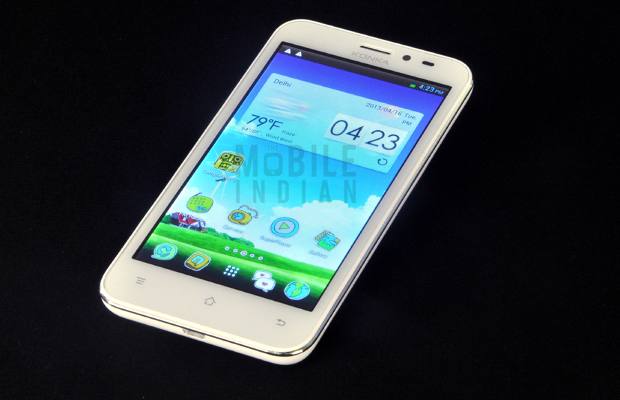 AS we said earlier, the phone is not that loud. Though the Boombox enhances its sound, it is not practical to carry around. The headphone supplied with the phone is of decent quality.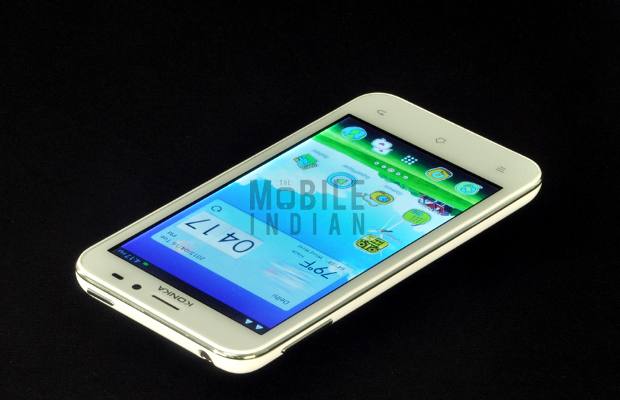 Call quality and WiFi and mobile network reception doesn't pose any problems. However there is no noise cancelation feature with the phone which is now a days available in many phones in this price range.
Operating system and user interface
Konka has put Android 4.0 on the phone which is not good since most phones launched these days come with Android 4.1 Jelly Bean. Konka has not made many changes in the stock Android user interface, however you do get a cartoonified theme, where apps looks like one from the cartoon world. However there is no difference once you open the apps.
Camera
Konka is marketing the phone as a camera phone and that is why perhaps it has been named as Expose. The rear 8 megapixel camera is an autofocus unit and captures 720p videos as well. And while the camera manages to capture decent images when compared to other phones with similar specification from Indian brands, it is not a great camera by any stretch of imagination. Putting it simply, cameras from most Indian and Chinese brand handsets are not good and so this camera looks better.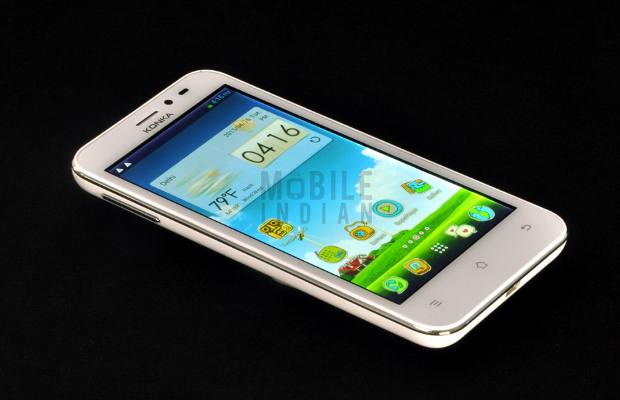 The images captured in well-lit environments come with visible grain; capturing motion pictures is simply not possible. It does focus quickly but not perfectly, so don't expect texts in pictures to be readable. However images are good enough to be shared on social networking sites.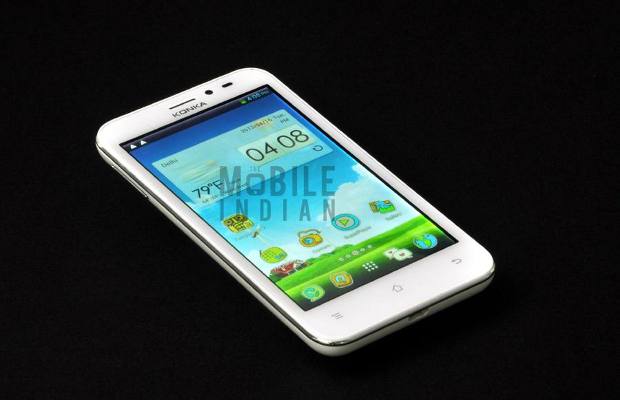 Front camera is decent and does a good job of capturing videos during video chats, but it is not a good one for self portraits and captures just about acceptable pictures.
Battery
The Konka Expose comes with a 1750mAH battery, which is good for a day but nothing more. The battery depletes very rapidly when you are on a WiFi network; simple browsing for couple of hours using WiFi will drain most of the battery. Its not even very quick to charge and takes about 2 and half hours to charge completely.
Verdict
While the phone in itself is well made, performance well and has a good display and acceptable camera. It fails simply because it is priced too high. Many similar phones from Indian brands are available in the range of Rs 8,000 to Rs 9,500 range and all of them offer somewhat similar quality and even performance. You can even get phone with similar size and quad core processor at much cheaper price.
Phone like Xolo Q800, Karbonn Titanium S5 offer much better performance for much less price. There is absolutely no reason why you should pay Rs 13,499 for this device.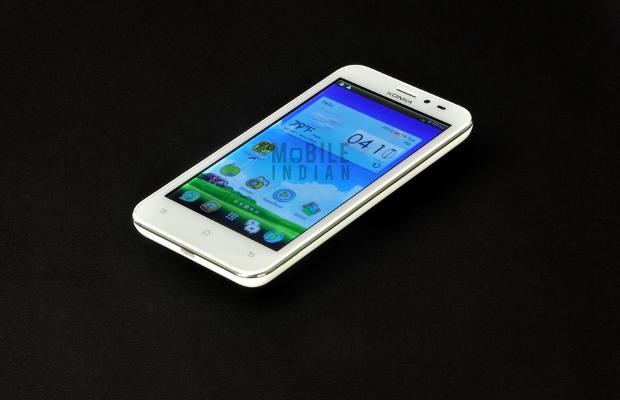 You can also look at Intex Aqua Wonder, Salora Powermaxx Z1, Spice Stellar Virtuoso, and Lava Iris 455 if a dual core processor is just fine for you.
You can understand a premium pricing from an established brand with reputation for quality products. But Konka is not an established brand and though the phone is widely available and also has service center backup thanks to its tie-up with MakMobility, which is the local partner for the company, Konka still has to go a long way before it can establish a brand name for itself to be able to charge a premium.