In the last few months, almost all major Indian mobile phone brands have introduced one or two 5 inch Android smartphones in their line-up. With all of them sporting similar hardware, software and even price, it is difficult for a consumer to decide.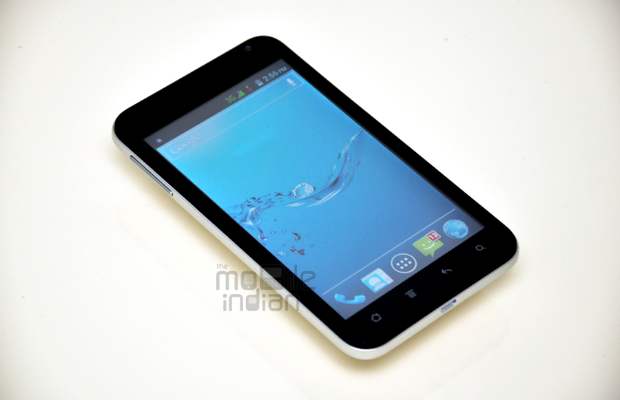 Last week, we got our hands on the Intex Aqua 5.0, an Android 4.0 based phone with a 5 inch screen. So is the Intex Aqua any different from its competitors? On paper, not really. But then the devil lies in detail. So let's delve in
Design
In the white plastic back with groove, sides with Aluminum finish and black glass front, the phone looks quite good. Though not the best looking handset, but it has definitely good looks.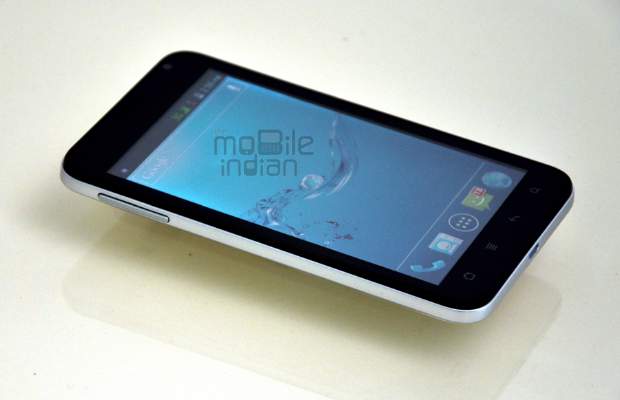 Holding the Intex Aqua 5.0 is quite comfortable and with grooved back and side power/lock button, it is easy to operate too. The phone is big and therefore people with smaller hand might have to use both hands to operate it, but taking a call or unlocking it will not require both the hands even for them.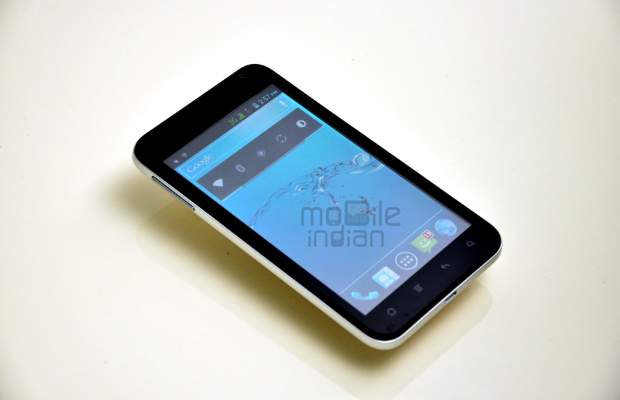 The camera and LED flash is placed in the middle-top portion of back cover, while the USB port is at the bottom and the 3.5 jack on top of the handset. In Aqua 5.0, the volume rocker is also there on the left side. As far as the buttons are concerned, unlike most Android ICS based handsets that come with three buttons, this one has four capacitive buttons, which is Android 2.3 type. This means that to open all the applications, you will have to long press the home button, not that it is a problem but Android ICS three button configuration would have been probably better. However, it does not have a dedicated search button which is an added bonus.
The phone is and feels slimmer and is also lighter than most of its peers which is a big advantage.
Display
Intex Aqua 5.0 has a 5 inch display with 800×480 pixel resolution which is slightly lower than what Micromax offers with the Canvas II. Also it does not have an IPS display. On these two counts, the phone certainly suffers. However, the display is vivid and has decent brightness, but the viewing angle is not great.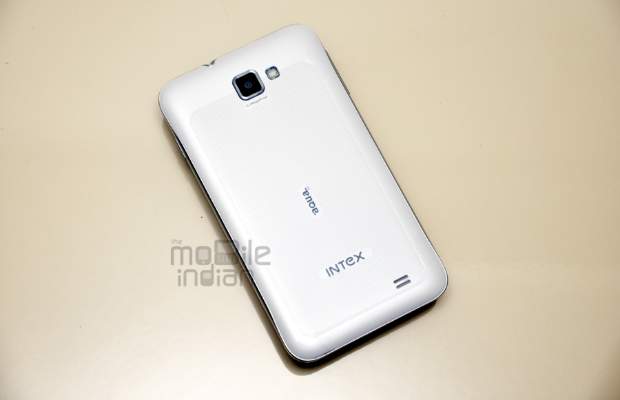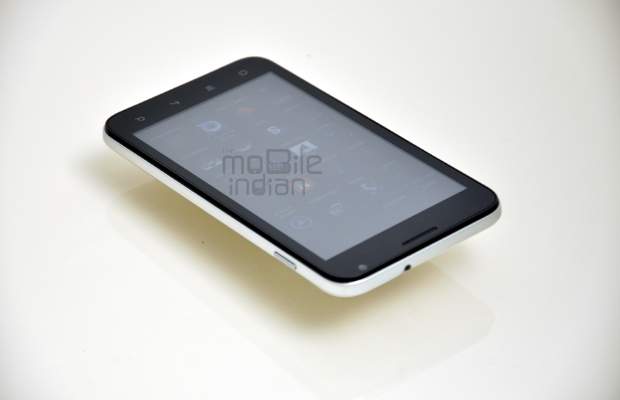 The touch sensitivity of display of Aqua 5.0 is good and we have no complaints regarding that as all the touch commands getting immediate attention from the phone.
Camera
The phone has a 5 megapixel camera at the back and a 0.3 megapixel unit in the front. The rear camera is also an autofocus one and comes with face detection feature. However, like all the major phones in this category from Indian brands, its camera quality itself is not so great and not even close to what a good 5 megapixel camera can do.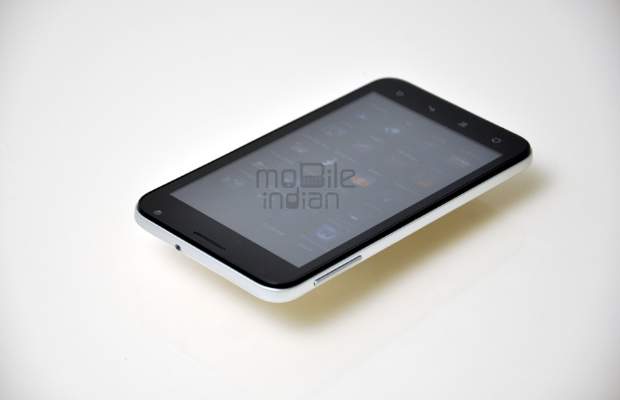 The autofocus of the camera is not very eager and takes time to focus and even then it does not do a very good job. However, we have seen worst cameras in this category and in that sense, this camera is almost acceptable. You will be able to get decent images in most conditions including in shade but in case of very dim light, the LED flash can be of good use but only for close ups.
The front camera of Intex Aqua 5.0 in a sense is better as it delivers what it claims, which is a low resolution image but a clear one.
Performance
Intex Aqua 5.0 comes with a dual core 1 GHz processor. Though, it performs well during normal tasks, it's not in the league of dual core's from Samsung, HTC and Sony. The smartphone did freeze on couple of occasions while playing high on graphics game. However closing few apps does make it a bit faster, which means that while you can play graphic intensive games (avoid too heavy games) on this, you should keep clearing RAM.
The issue lies in just 512 MB RAM that remains 60 per cent full even you use task manager to kill all apps, and while most phones in this category have the same specs the problem is also common. The phone has 2 GB user usable inbuilt memory which is good for this price.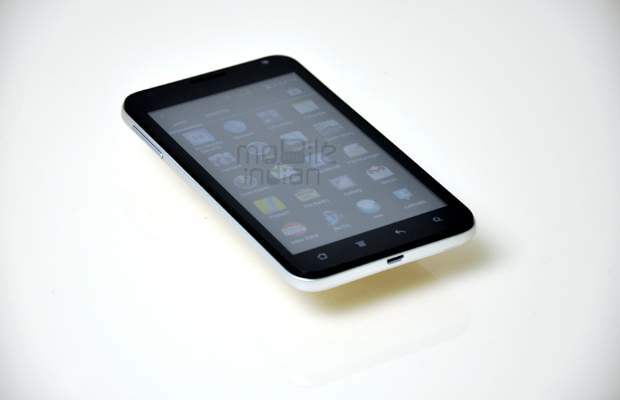 The smartphone has a 2000 mAh battery which gives it juice for one and half a day which is very good in fact. But again this can get reduced to a single day on account of heavy usage.
The phone has a dual SIM phone and the 3G only works with one of the SIM cards, we did not encounter any problems with mobile networks. It also has WiFi, Bluetooth and GPS which also work fine.
Competition
The biggest competitor for Intex Aqua 5.0 is the Micromax Canvas II A110, which has an slight edge in terms of display which only slightly more pixels but has better viewing angle thanks to IPS panel.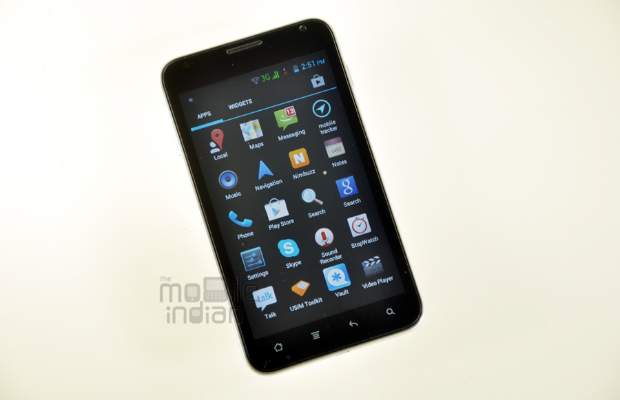 Spice Stellar Horizon Mi500 and iBall Andi 5C are another two competitors of Aqua 5.0 but they are priced a bit higher despite having similar specification as the Intex smartphone. Zync Cloud Z5 is very close to this phone in terms of performance and design and is in fact cheaper but lacks the distribution network of Intex.
Verdict
In a nutshell, the Intex Aqua 5.0 has good design in terms of look and feel, and also gets good performance for its segment. However, Micromax with its Canvas II certainly has an advantage in terms of specs (unfortunately we have not reviewed Canvas II till now).


At Rs 9,999, the phone is a very well-priced and given that Intex has distribution network of its own. Users who are in the market for a 5 inch phone can certainly look at this product as one of the good options.