The Apple iPhone 5 needs no introduction. It sits at the top of the smartphone heap and is arguably the best-known smartphone. Its predecessors had had their era and were regarded as the best at their time but iPhone 5 saw opponents like none of its ancestors did.
Today, companies like Samsung and HTC have announced smartphones that come with features equaling and, in some cases, bettering the iPhone 5. So what is in the iPhone 5 that attracts so many?
Let's find out.
Body and display
"It looks just like a toy," a colleague of mine reacted when I handed the iPhone 5 to him. Comparing it with the older iPhone 4, he said the older device feels rather solid and good in the hands. Well, believe it or not, many said this to me but it's their perception, which is due to the extreme lightness of the iPhone 5.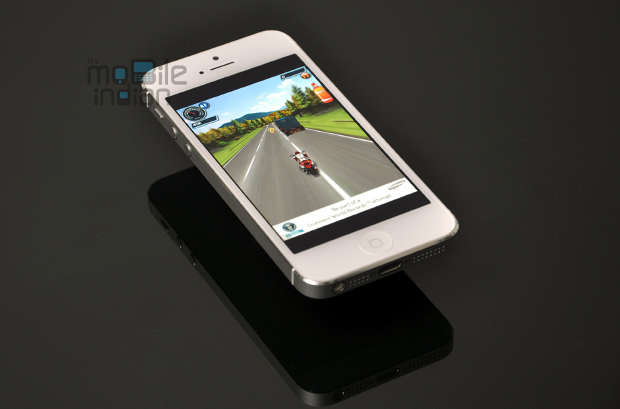 The phone comes with a 4 inch display, but it has a very slender body and is more elongated than square, which makes it really comfortable to hold. Moreover, it weighs just 112 grams and is 0.3 inch thick. But the lightness does not mean that it is fragile. Its body is made of aluminium and glass, and does seem really solid. The iPhone 5 doesn't have a plastic feel either. Rather, it feels like a solid brick minus the weight. Hold it in your hands and you will know the power of simplicity and class.
Apple has given due thought to its design as well. The speakers are placed at the bottom of the phone, which is the closest point to the mouth when the phone is held up to the ear, and it ensures that you will hear the person you're speaking to clearly. But this also means that you may end up blocking the speakers while playing movies and games.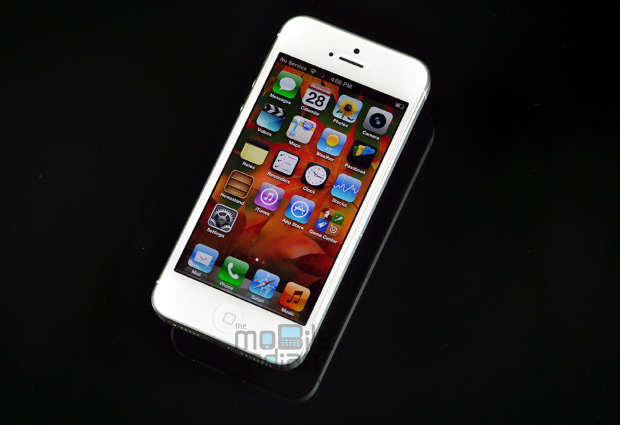 Since the phone is not very wide, it is easy to hold and operate with one hand. It is not very long either, so reaching the power key, which is placed on the top, is not difficult. Volume rockers and a key to mute the phone are placed on the left side. Apple has placed the charger port and 3.5 mm jack at the bottom, next to the speakers.
The Apple iPhone 5 definitely has the best smartphone body-wide enough to enjoy movies, books and surfing; while a decent width, thinness and light weight make it comfortable to hold as well. The device comes with a 4 inch LED-backlit IPS TFT capacitive touchscreen. It has 640 x 1136 pixel resolution with 326 ppi pixel density, compared to the 306 ppi pixel density of Samsung Galaxy SIII.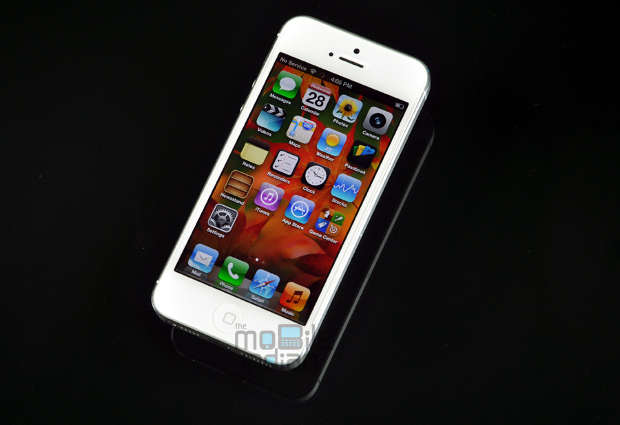 As the specifications show, the iPhone 5's display is marvelous. Looking at pictures and videos is an amazing feeling. Since it has an oleophobic coating, it gets very few fingerprints; plus the Corning Gorilla Glass makes it a tough screen that can easily withstand normal wear and tear.
Other specifications and performance
The iPhone 5 comes with an Apple A6 chipset with a dual core processor, which is clocked at 1.2 GHz. Along with that Apple has used a PowerVR SGX 543MP3 triple-core graphics core.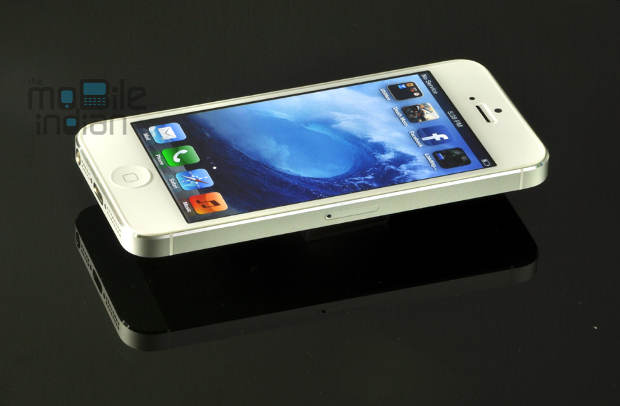 Though it isn't a quad core processor, the combination does work wonders. We played many graphics-intensive games on the phone, and it showed no problem at all. It went on carrying out every challenge thrown at it with such swiftness that you would forget it is just a dual core and not a quad core processor. The iOS 6 operating system and 1 GB RAM too support the processor well.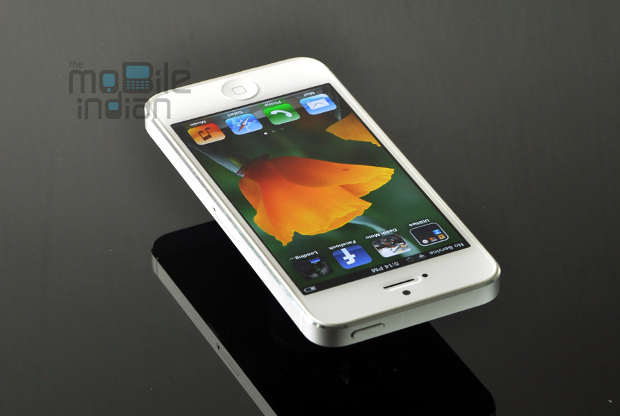 Unlike Galaxy SIII's 2100 mAh battery, the iPhone 5 has a 1440 mAh Li-Po battery, but do not underestimate it. With hours of gaming, net surfing, including YouTube, the phone's battery just refused to die. We can say in no uncertain terms that it can last a whole day with normal usage. The official figures say that it provides 8 hours of talktime over 3G. It also gets charged very quickly but the phone heats a lot during charging.
Downsides
We did, of course, find some glaring issues in the Apple iPhone 5.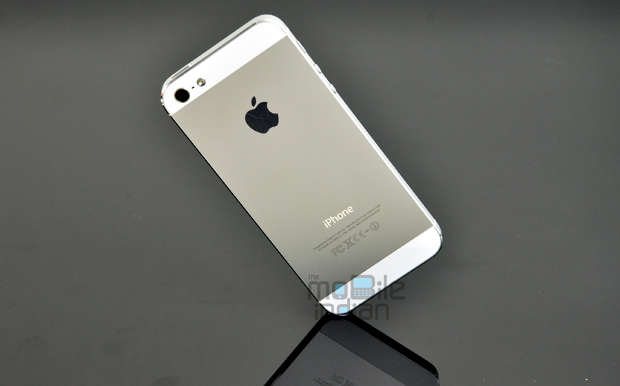 Limited connectivity options
The iPhone 5 comes with WiFi (b/g/n), Bluetooth v4.0 and a USB 2.0 port.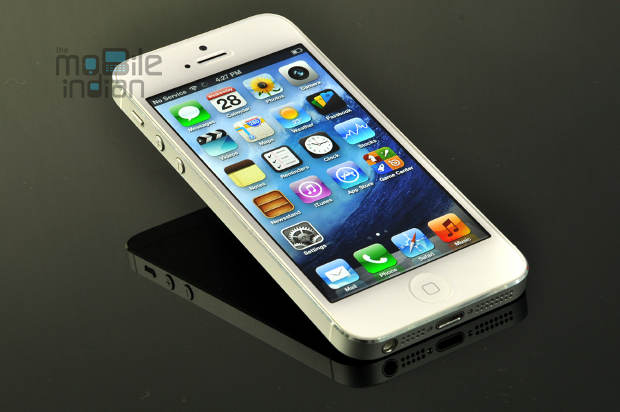 Though this sounds sufficient but considering its huge price of Rs 45,000 and above, one would expect an HDMI port too. Many, in fact, have argued that the absence of an HDMI port, which is there in the Galaxy SIII and HTC One X, makes the iPhone 5 less attractive. Notably, Apple has promised to release an HDMI cable for the iPhone 5 soon, but that means users will have to spend further.
Problems with WiFi
The biggest irritating issue with the iPhone 5 is its WiFi discontinuation problem. Identified in many iPhone 5 models, we too had a taste of the problem in the handset we got for review.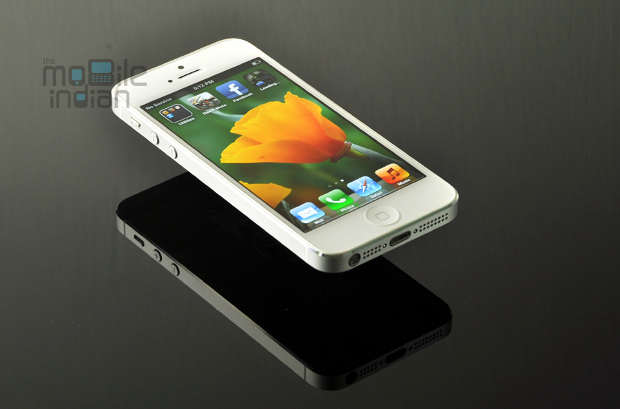 Currently, there is no permanent fix for the problem. The erratic WiFi connection makes it very irritating while downloading something or surfing the net. Moreover, the download speed over WiFi seems very slow. While over the same WiFi network, the Samsung Galaxy Note 2 faced no such issues.
Camera
The iPhone 5 comes with an 8 megapixel autofocus rear camera with LED flash.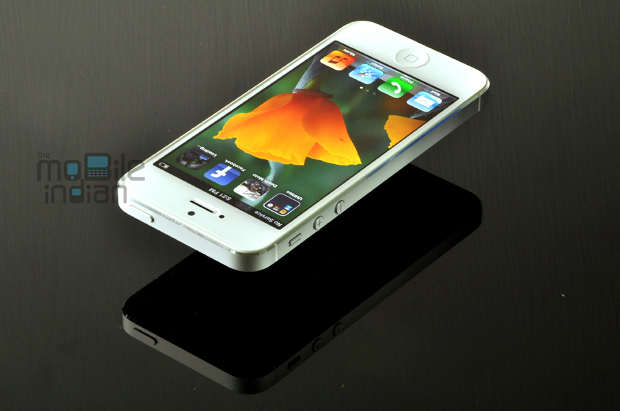 It can capture HD video and images simultaneously and has features like touch focus, geo-tagging, face detection, panorama, and high definition recording. There is a 1.2 megapixel camera in the front which too can capture video at 720p at 30 frames per second. Though the camera does justice to the said specifications, its autofocus capability is far below our expectations.
Storage
The iPhone 5 comes in 16/32/64 GB storage options but does not have a micro SD card slot. This means that you, despite spending Rs 45,500, will get only 16 GB of storage (while memory available for the use is lesser still).
Verdict
The iPhone 5 is a complete smartphone and definitely a very charming and resourceful one. Apple has made this device keeping minute details in mind. But as we said above, it has its disadvantages too. Also, if you are in India, you will certainly be irritated that it uses a nano SIM, which is not readily available from most telecom operators. Moreover, nano SIMs are not readily available in all outlets. Cost is another big disadvantage of the iPhone 5. Currently, the 16 GB version is available for Rs 45,500, almost Rs 10,000 more than Galaxy SIII, which has been considered an equally good smartphone.