Windows smartphones are always considered the poor cousins of Android and why not Microsoft and few other Indian device makers who have tried their hands have not been able to create any handset that would pose a serious threat to their Android counterparts. Especially, the affordable devices of Windows devices have not done well so far. But off late Microsoft has able to bring out decent Windows smartphones and that too with in the affordable segment.
Just recently, I reviewed Microsoft's Lumia 640 and was satisfied with its performance. The PC giant then topped that with Lumia 540 which was launched in India for Rs 10,199.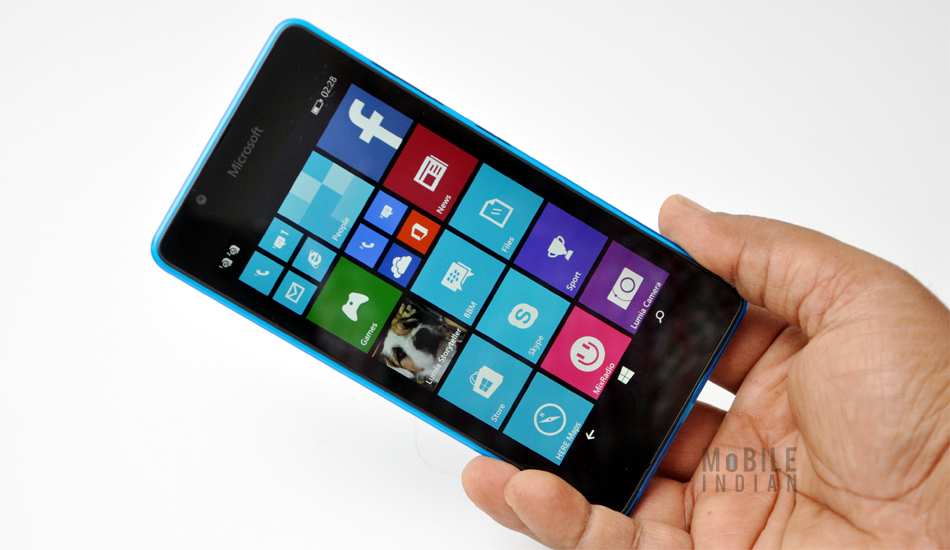 Like its colourful siblings, the Microsoft Lumia 540 Dual SIM comes in glossy layered cyan, orange, white and matte black colours. This Windows Phone 8.1 Lumia Denim operating system, which will be upgradable to Windows 10 later this year, has a 5 inch display with high definition resolution. The phone runs on the combination of a 1.2 GHz Snapdragon 200 quad core processor and 1 GB RAM. It has a 2200 mAh removable battery, 8 GB of internal storage and a micro SD card slot that can handle a card of up to 128 GB capacity.
The Lumia 540 Dual SIM measures 144 x 73.69 x 9.35 mm and weighs 152 grams. It has an 8 megapixel auto focus rear camera that is supported by an LED flash light; the phone offers a 5 megapixel wide angle front camera as well.
Design
Microsoft's devices are always colourful and the Lumia 540 isn't any different. It brings a colourful body to the table, sorely missed in its counterparts. It comes in blue, black, orange and white colours. The thick-plastic back panels like a shell on which the phone rests; it encompasses the back as well as the side panels. The back cover has glossy finish but it isn't slippery and due to the shiny finish, smudges don't get highlighted. The pack panel, though is a bit tricky to remove, feels quite sturdy. Under the back panel lies two SIM card slots, a 2200 mAh battery and a micro SD card slot.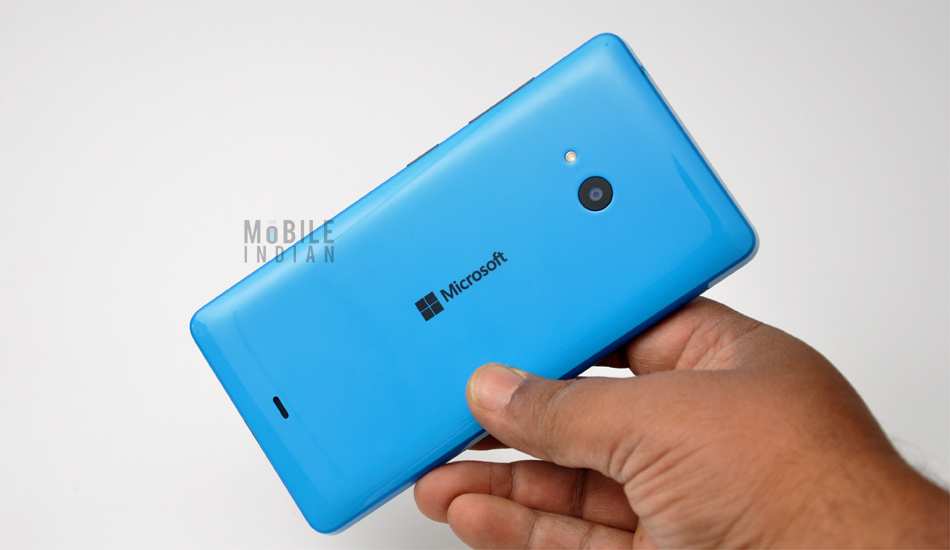 Also unlike many other smartphones, the rear camera of Lumia 540 isn't a potruding one and hence the camera lens doesn't get scratched if you keep it on a rough surface like table. The edges are sharp and along with the glossy finish, it makes the phone a bit slippery but thank goodness to its slim profile (8.6 mm, weight 152 grams), it fits nicely in palm. The power and volume buttons are made of plastic and are located in the right hand side, making them easily accessible. An audio jack is at the top while the micro USB port is located at the bottom.
Overall, I liked the design but it looks much like its predecessors
Display
The Microsoft Lumia 540 has a 5 inch display with the required high definition resolution (1280×720 pixels). The display has been made with ClearBlack and TrueColor technology that further improves the quality of the display. The combination of all these technologies and high definition resolution pays while playing games like GT Racing 2.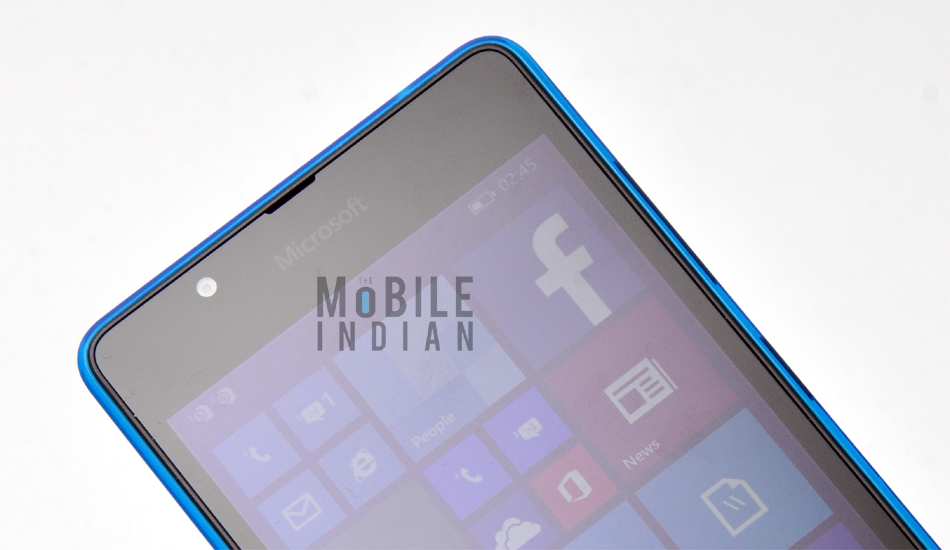 In short, the Lumia 540's display is quite pleasing.
OS and Performance
The Microsoft Lumia 540 is quite a potent device with the 1.2 GHz Snapdragon 200 quad core processor and 1 GB RAM. Ofcourse it isn't the best gaming device in the price segment (there are much better gaming devices with Android OS) but it nonetheless quite a powerful device. It manages to run games like GT Racing 2 but for that you need to close all other apps (not the default ones ). Except for such heavy games, the phone runs smoothly while closing and opening normal apps.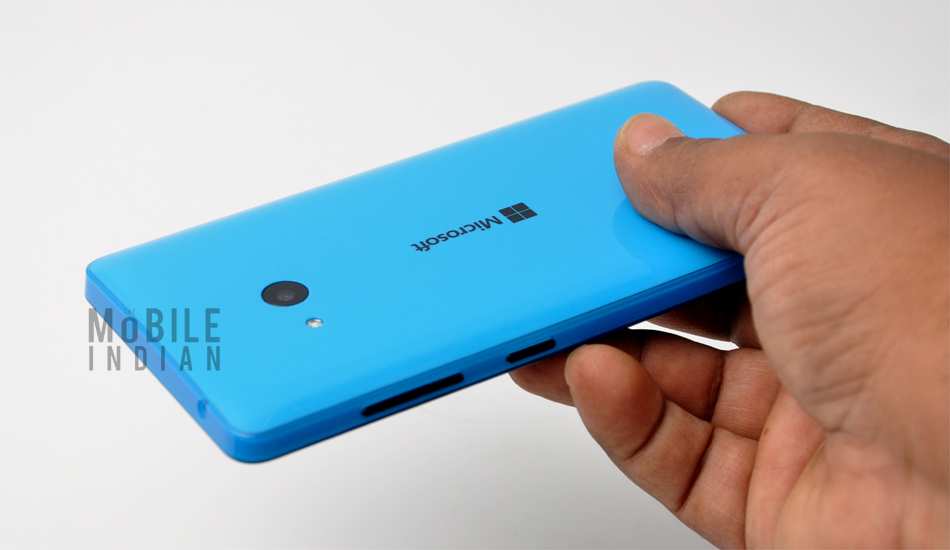 The Lumia 540 currently is based on Windows Phone Denim version and is set to get the Windows 10 OS later this year. We don't know how much the Windows 10 would affect its performance but with a new OS, improvements do come so we are expecting it to get better.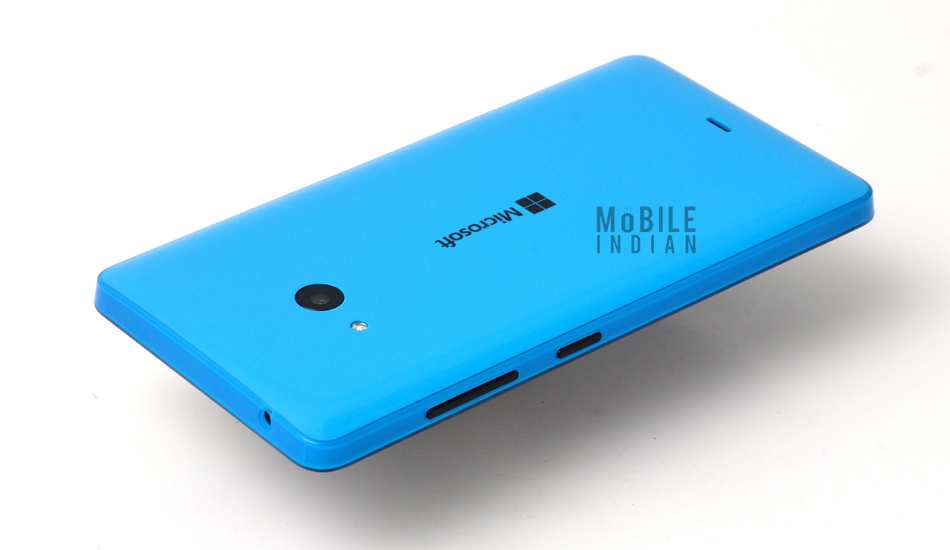 The uniqueness of the Windows Phone is quite well known right now. It isn't as simple as Android but with time you will love it. Here too I would like to underline that the upcoming Windows 10 upgrade for this system is expected to bring lot many features.
Camera
One of my big disappointment with earlier affordable Windows phones was their poor camera output. But this time Microsoft has not repeated the same mistake.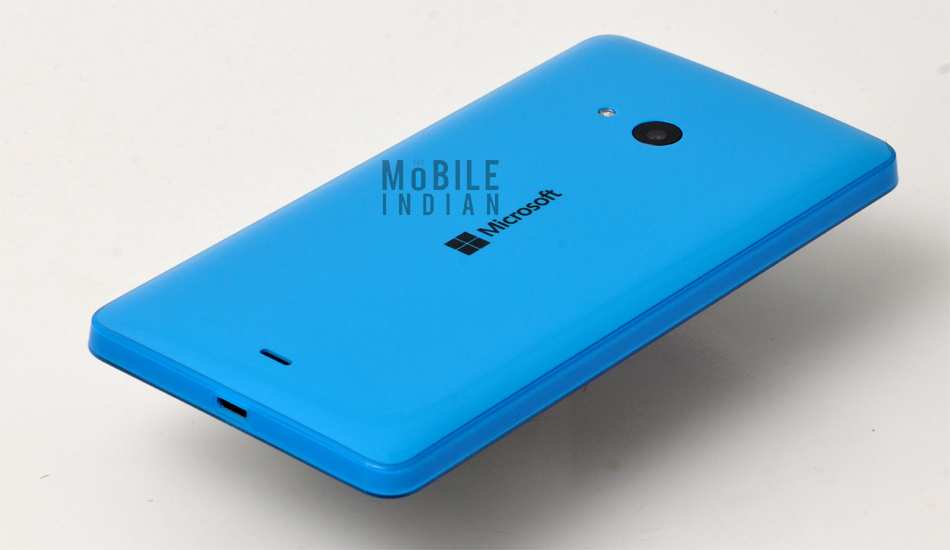 It has armed the Lumia 540 with an 8 megapixel auto focus rear camera along with a flash light and a 5 megapixel wide angle front camera as well. Also the phone has several great camera apps, unique to only Lumia smartphones.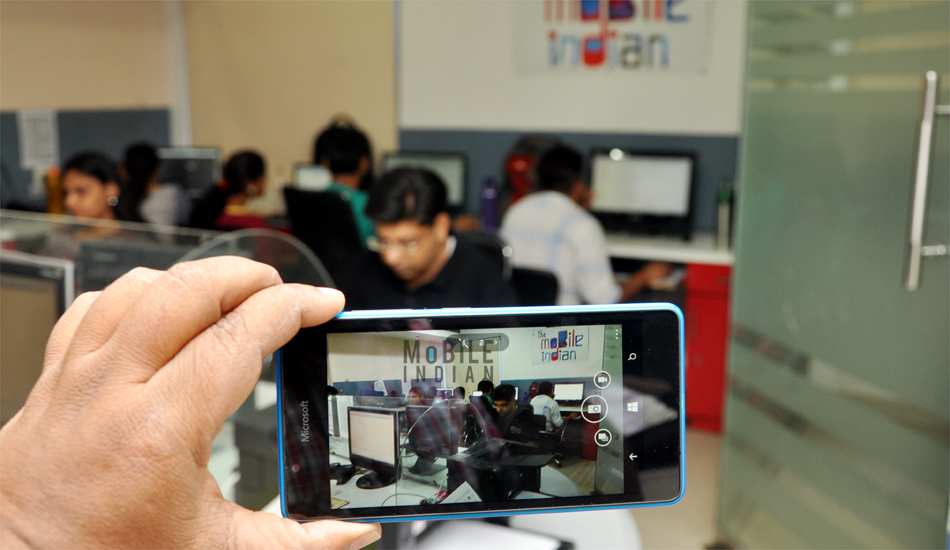 As you can see here, the 8 megapixel unit of Lumia 540 reproduces superb images (for a phone priced at around Rs 10,000). Even its low light output which is a bit grainy, is still better than most smartphones at this price range. The rear camera produces genuine colours and offers a lot of detail and is quite quick to focus on objects. The 5 megapixel is equally great for selfies.
Battery Back Up
The Microsoft Lumia 540 has a 2200 mAh removable battery. For a 5 inch device with a quad core smartphone isn't anything great; its quite common to most Android devices. However, unlike many Android smartphones, the Lumia 540 has great battery life which doesn't seem apparent from the size of its battery.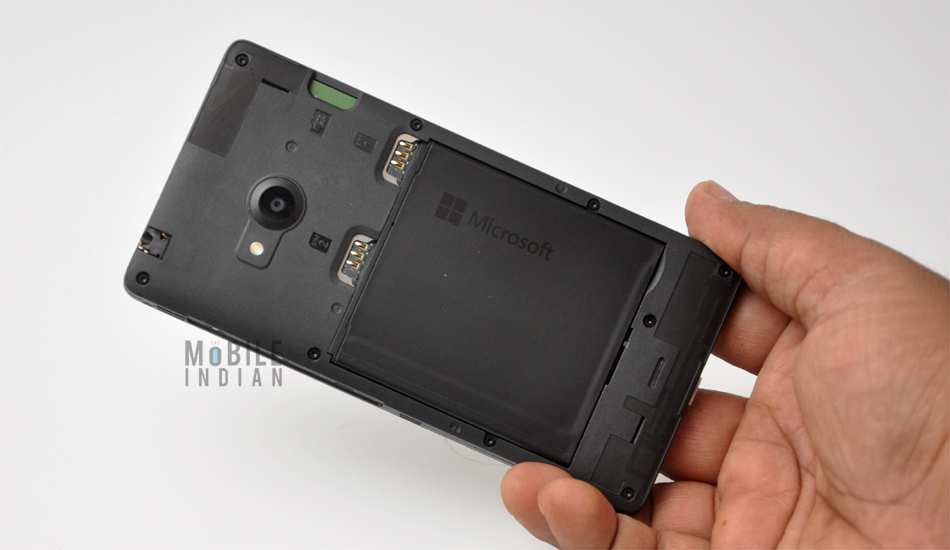 With continuous WiFi and Bluetooth usage, dual SIM, one hour of FM playback, few minutes of gaming and browsing, the phone managed to give us close to two days of back up. Thus even heavy users would get close to 24 hours of back up.
The phone also has got a battery saver feature that is really quite useful in crucial times.
Other Features
The Lumia 540 has two micro SIM card slots, offering 3G connectivity. Ofcourse lack of 4G might dissapoint many and it is up to you to take a call on this. There are plenty of other connectivity options though like WiFi, WiFi Hotspot, Bluetooth, micro USB 2.0 port, and an audio jack. For peer to peer file sharing, there is Lumia Beamer, Lumia Storyteller, and Play To DLNA apps. For navigation, there is AGPS with GLONASS.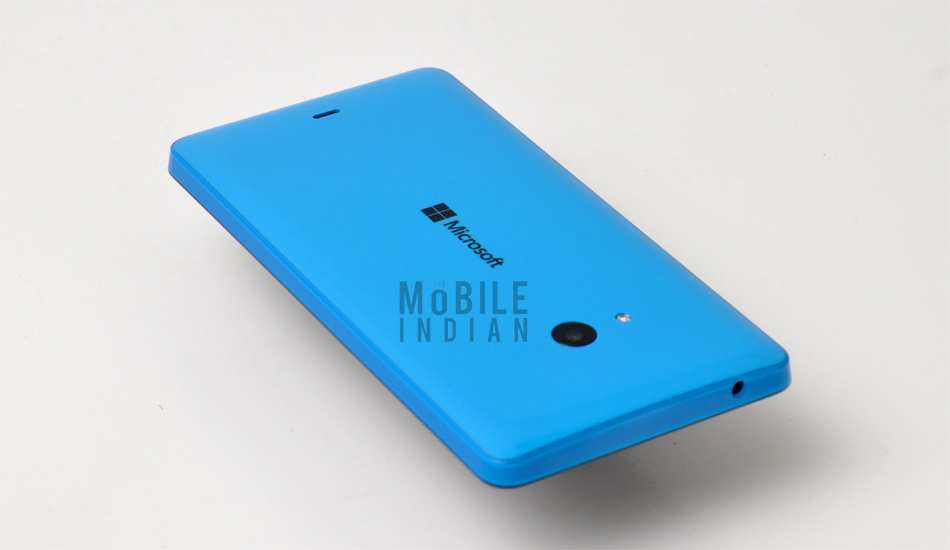 Storage wise particularly it looks good with 8 GB of internal storage and an expandable storage slot that can hold a micro SD card of superb 128 GB!
The Lumia 540 also comes with equaliser. There are several presets like bass boost, bass cut, vocal boost, treble boost, electronic, hip hop etc. I infact particularly enjoyed listening to FM and my music on this phone.