Just before the festival of light and colour, Dipawali, almost all the Indian and international handset players launched top of the range handsets for the Indian market. LG also joined the party with its latest flagship smartphone LG G2.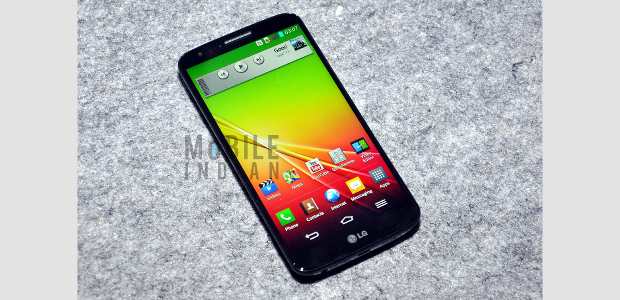 LG G2 is available in two storage variants 16 GB and 32 GB, and is priced at Rs 41,500 and Rs 44,500 respectively.
Specs
LG G2 comes with a 5.2 inch IPS LCD display with 1920 x 1080 pixel resolution. This massive display is powered by a quad core 2.26 GHz Qualcomm Snapdragon 800 processor and 2 GB LPDDR3 RAM that runs Android 4.2.2 Jelly Bean. Here's the good bit-the display has a dedicated graphics RAM for better visual performance.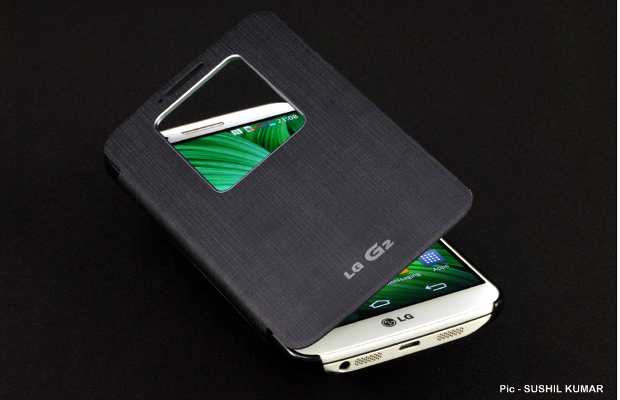 Besides, the LG G2 has a 13 megapixel camera at the back with optical image stabilisation that is said to click high quality photos in low light. There is an LED flash and auto focus to aid better images. By default, the camera can record full 1080p HD videos. In the front there is a 2.1 megapixel camera that supports HD video calling.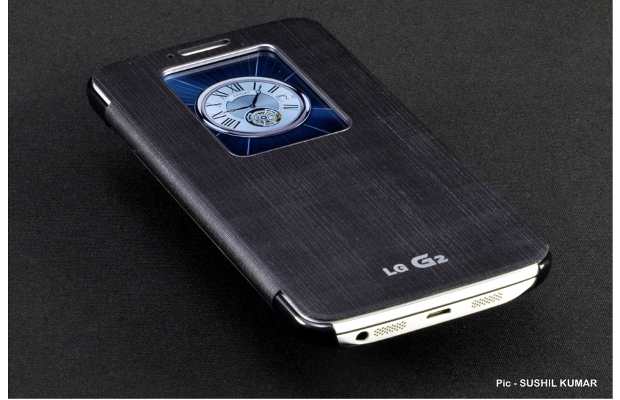 LG has packed a 3000 mAh battery, which is quite big for a smartphone. There is no expandable memory slot in the LG G2. The smartphone comes with WiFi, Bluetooth, DLNA and GPS. It has only a single SIM (micro SIM) slot.
Look and feel
LG G2 looks somewhat like Samsung's Galaxy S4. It has a body made of plastic but the major attraction of the device is that one will not come across any physical buttons on the side panels; instead the volume rocker and power button are placed on the back panel just below the camera, and can be accessed with the index finger.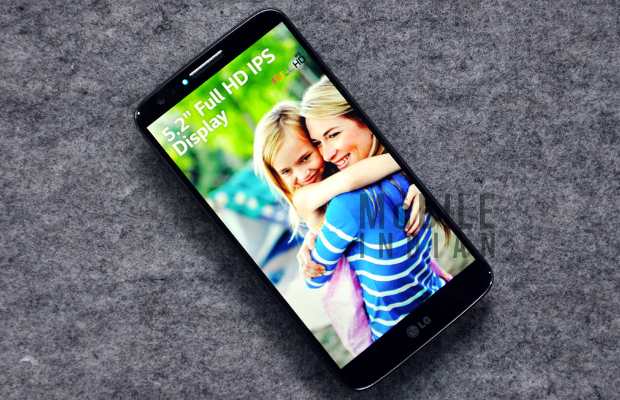 Initially one might not be used to having the power button on the back panel of a phone and may face difficulty in positioning the index finger to access the power button and volume rocker. To reduce the effort LG has incorporated a nice feature in which one would need to tap the screen of G2 twice to awaken the phone, thus avoiding the need to access the power button. This feature is available in Windows Phone as well.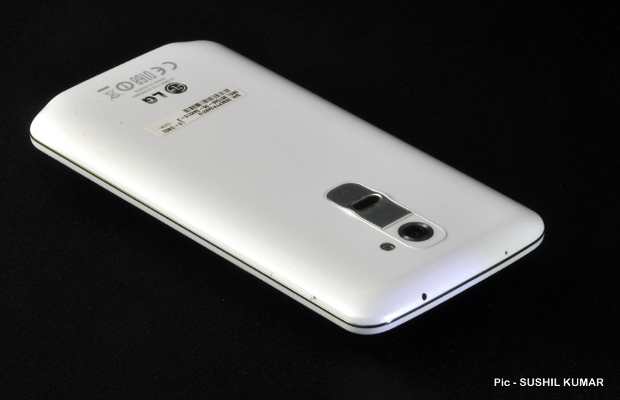 The bottom panel of the G2 houses a 3.5 mm headset jack, micro-USB port, speaker grill and microphone. On one of the side panels you will find a micro Sim slot. The back panel of the phone is not removable.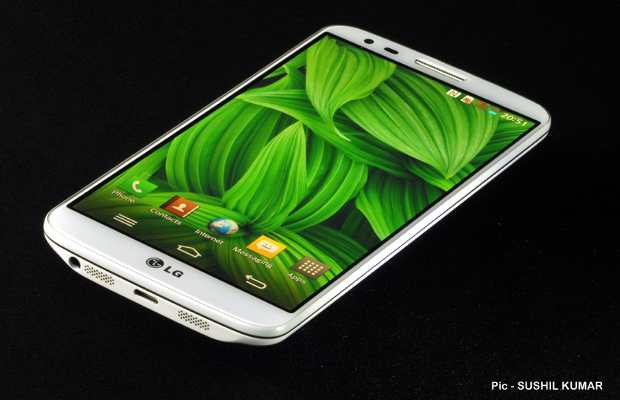 The 5.2 inch display doesn't look like a tower; instead it is quite manageable and easy to use.
Overall in terms of design the unique placement of the power button and volume rocker is the USP of the device. Bezel is minimalistic and the display screen covers almost the entire front.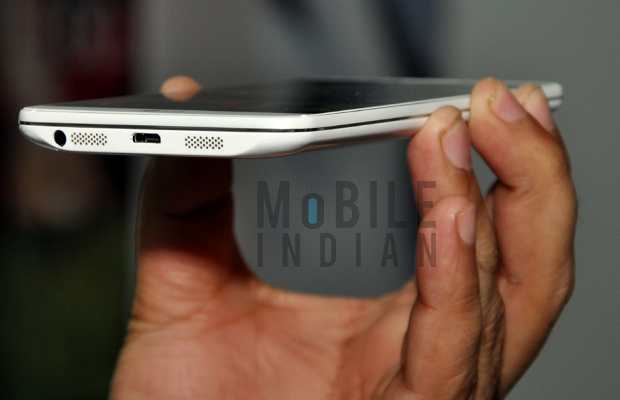 Since G2 is made of glossy plastic it is quite susceptible to fingerprints and smudges but interestingly LG G2 in white colour is less prone to fingerprints. Also, the loud speaker could have been better.
Display
LG G2 has a 5.2 inch HD IPS display with 920 x 1080 pixel resolution. The colour and sharpness are quite good. LG has also put in some efforts to improve viewing at different angles, compared to Optimus G Pro. The entire front panel has Corning Gorilla Glass 3, which gives additional protection to the display.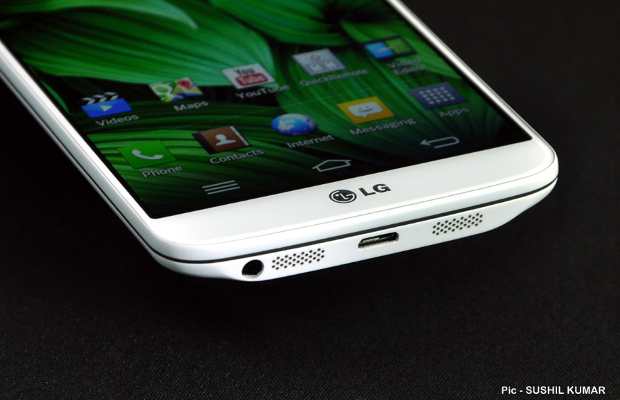 To protect the screen LG is offering QuickWindow flip covers with the G2. QuickWindow covers feature a small window, which makes the 5.2 inch display screen into around a 2.5 inch display through which one can access the music player, check notification, clock widgets and even receive calls.
Innovation
The power/lock combo at the volume rocker's center in the back panel is a nice innovation, though one will take some time to get used to it. According to LG the new innovation in the placement of physical keys is a result of learning how people use their index finger. The new design philosophy is also meant to make the phone more secure against accidental drops when we're looking for buttons on the side panel.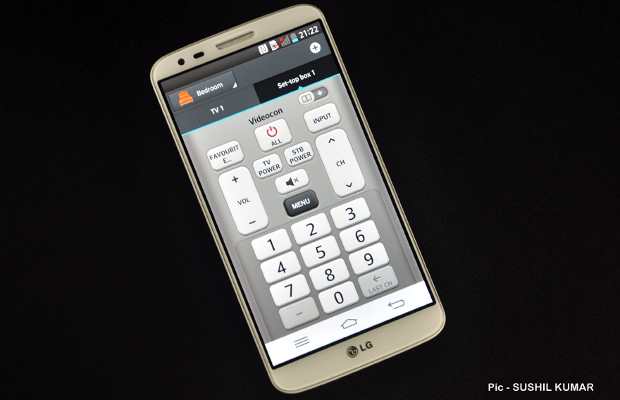 In simple terms placement of the power button and volume rocker on the back panel is a good innovation for protecting the device and for single handed operation.
Camera
LG G2 has a 13 megapixel camera at the back with optical image stabilisation that is said to be able to click high quality photos in low light. There is an LED flash and auto focus to aid better images. By default, the camera can record full 1080p HD videos. In the front there is a 2.1 megapixel camera which can support HD video calling.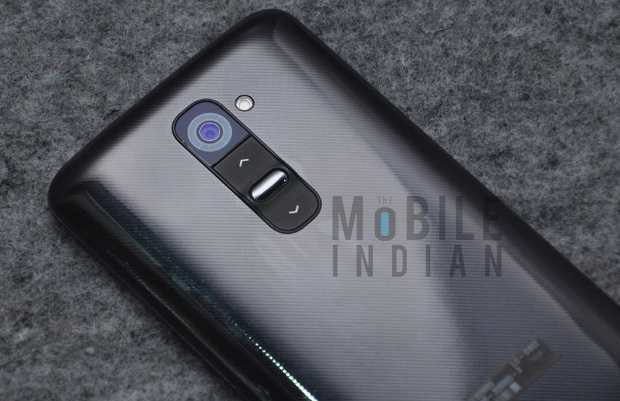 In the camera app one will find 12 shooting modes: Normal, Shot and Clear (erases something from a picture), HDR, Panorama, VR Panorama (Photo Sphere shot), Beauty shot, Dual camera shot, Night scene, Sports, Time catch shot and Intelligent auto mode, which automatically selects the right scene.
LG G2 in terms of camera output is quite good. We tested the camera quality in different modes and different lighting conditions, including pitch dart setup. We were quite happy with the camera's ability to take snaps in low light. Both front and rear cameras impressed us.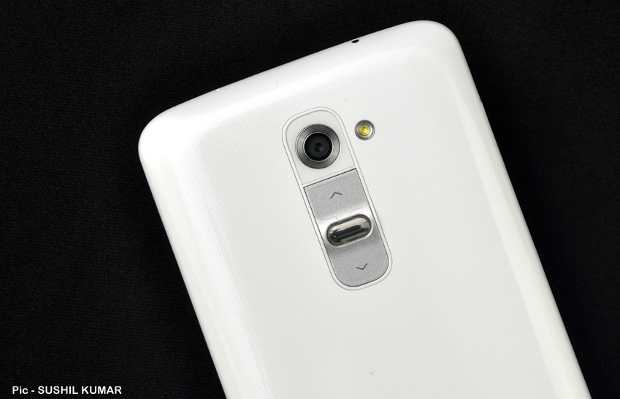 In terms of video recording we didn't face any issue with output either. The recording was quite crisp and the camera was able to handle jerks efficiently.
Connectivity package
The LG G2 supports 3G as well as 4G networks, but from India's perspective it does not support TD LTE network on which Airtel is offering and RIL Jio will offer 4G services. Apart from Bluetooth and WiFi, G2 also supports Miracast wireless display protocol, DLNA, WiFi Direct and WiFi Hotspot.
Another interesting addition to LG G2 is a USB port – it enables USB On-The-Go. This feature is quite useful in expanding storage on the phone or transferring the phone's content to a pen drive. One will need an adapter for accessing it as there isn't one in the box.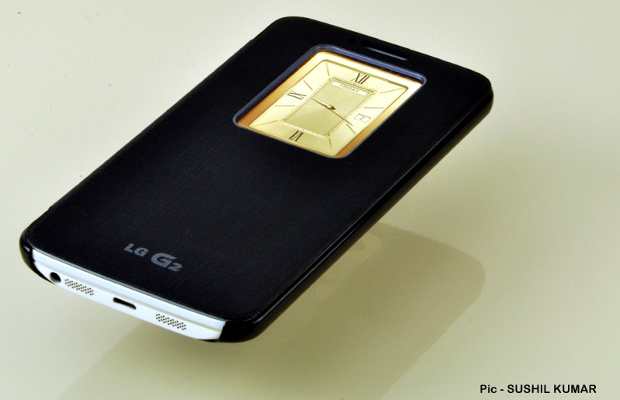 Since G2 has an infrared port it can also be used as a remote control to manage the TV, music system, AC STB and DVD player using a QRemote app that comes pre loaded in the phone.
Performance
LG G2 is powered by Android 4.2 and runs on a Qualcomm Snapdragon 800 chip, which contains a quad core 2.26 GHz Krait 400 CPU. Navigation and response to touch is an amazing experience and even accessing apps is a smooth affair. The only time you will face delay is when you access an app that requires a mobile network, like Dear Hunter.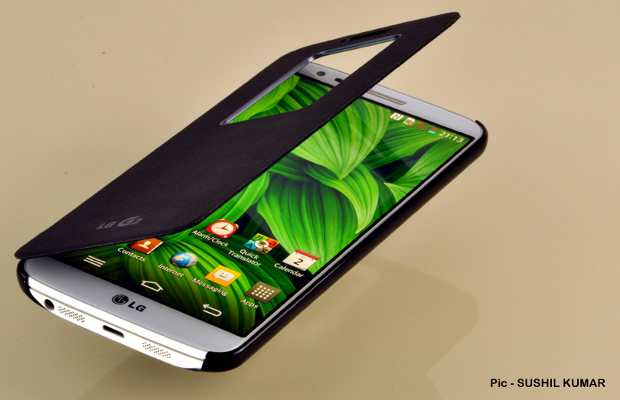 Android 4.4, also known as KitKat, is expected to be available to Indian uses in the coming days and will bring improvements to the UI.
Battery
We were quite happy with the battery performance of the device. With standard usage we were able to use the phone for approximately two days on a single charge.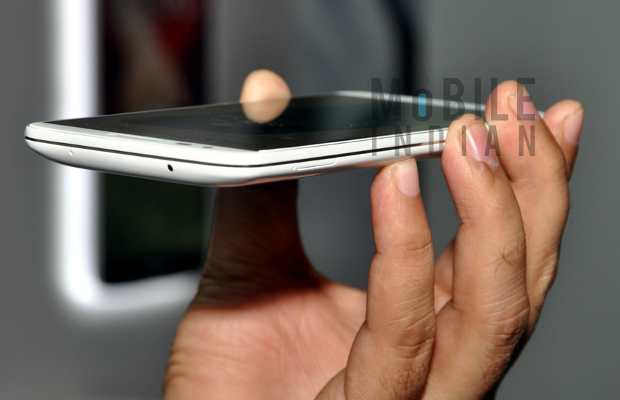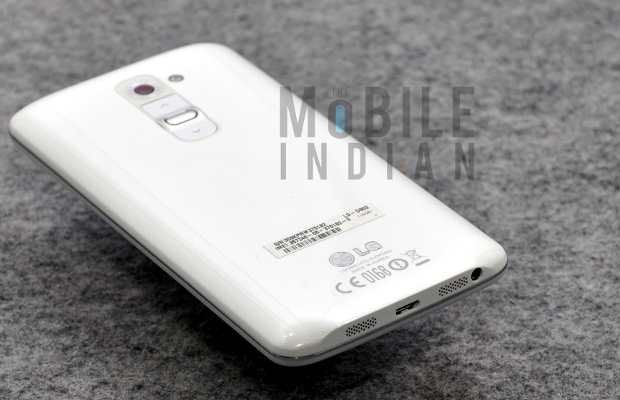 When we had kept the WiFi and 3G network on for a whole day, had surfed for around 3 hours, played games for about 1 hour, watched videos for around 1.5 hours and had talked for 2 hours we were able to get back up for 1.5 days.
Images by Sushil Kumar