There are currently a dozens of tablets in under-Rs 10,000 category. A few of them come with quad core processor while others have 1 GB RAM; others come with calling facility and/or good displays. But very few come with balanced features and one of them is the Lava E-Tab Ivory.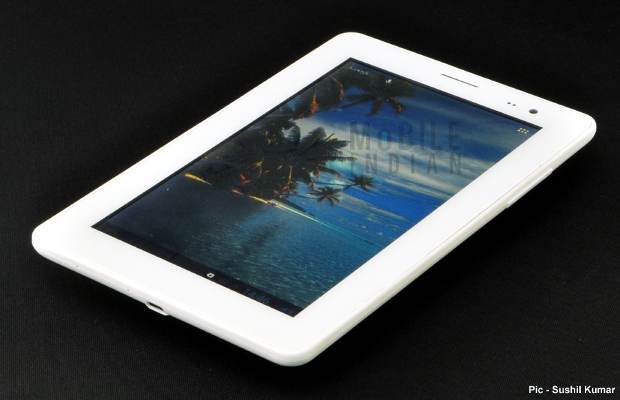 For instance, though the tablet has a dual core processor but for good performance, Lava has fitted the tablet with 1 GB RAM. Also, it has dual camera, decent storage facility, 7 inch display with 1024×600 pixels resolution, Android Jelly Bean operating system etc.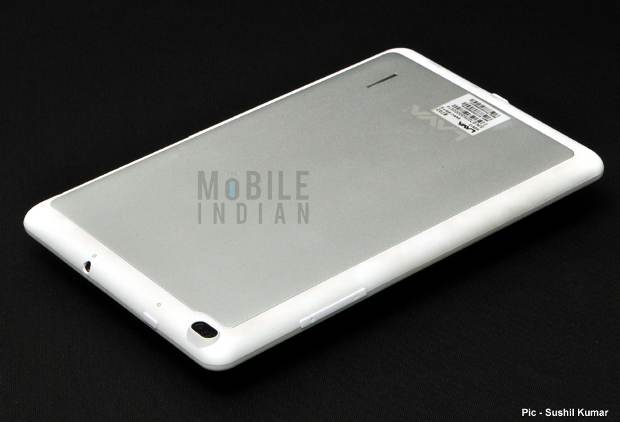 But is this tablet actually a good bargain for about Rs 9,000 over the likes of Nexus 7 and Lenovo Idea tab? Here is a detailed review of the tablet which will answer this question.
Design
It is undoubtedly the best thing about the tablet. Though is priced below Rs 10,000, the tablet comes with a rich look and is comfortable to use. First of all, it has a nice aluminium back panel which covers most part of the rear side but is surrounded by matte finish plastic that negates the slipperiness of the metal back panel while giving a good grip.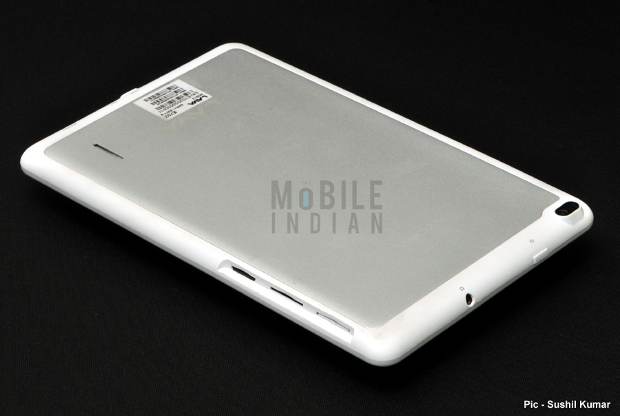 The rear panel houses both the SIM slots and the micro SD card. On the rear panel, towards the bottom, located the micro USB port, mic, and the reset button. The volume rocker is located at the top right hand side while the power button is at the top along with the 3.5 mm jack.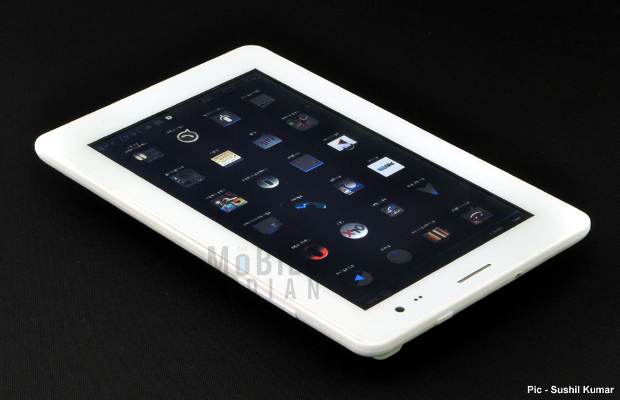 The tablet has 10.8 mm thickness and weighs 360 grams which is decent for a 7 inch tablet. In short, it is quite light weight and is suitable for long hour usage.
Display
The Lava E-Tab Ivory comes with a 7 inch display. The display has only 1024×600 pixels resolution which means it has only 169.55 ppi pixel density. The low resolution mars the fun of watching movies or playing games on the tablet. The display's brightness is not that high and you even have to keep the brightness at maximum even indoors which in turn drains out the battery faster. The display has also low viewing angles that makes it difficult to play some games like racing and running where you need to tilt the device.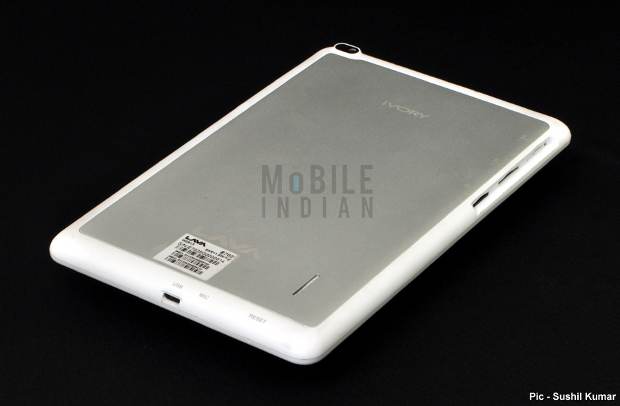 The display though has good touch sensitivity and responds to every command.
Storage
In a tablet, storage is most important as users are expected to play a lot of games apart from storing a lot of movies, ebooks and documents. Lava E-Tab Ivory comes with 4 GB ROM out of which 1.53 GB is allotted for users. You can though expand its memory to up to 32 GB using its micro SD card slot.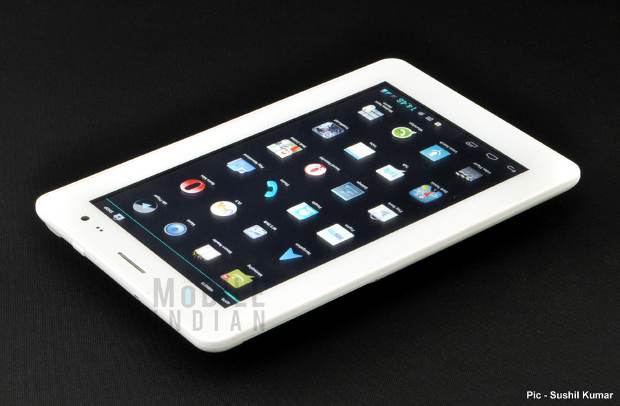 Though the storage capacity of E-Tab Ivory is nothing exciting, but its competitors are no better. For instance, the Nexus 7 2012 (WiFi, 16 GB) though offers 16 GB of internal storage, it has no expandable storage slot. Many others come with the same combination – 4 GB ROM+32 GB expandable.
Performance and OS
The Lava E-Tab Ivory has 1 GB RAM which instantly lit-up eyes and promises good performance. However, it has a 1.2 GHz dual core processor and PowerVRSGX531 Ultra GPU. The combination gives a decent performance when it comes to normal functioning but the moment you will open up games, you will see the lag.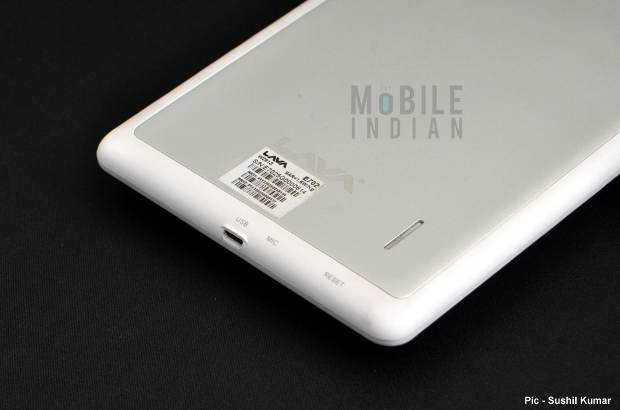 Its not that you cannot play games; we played games like Stick Tennis, Stick Cricket, Total Recall, Temple Run Oz etc. But it stutters while playing high end games like Deer Hunter – especially as it does not have a powerful GPU.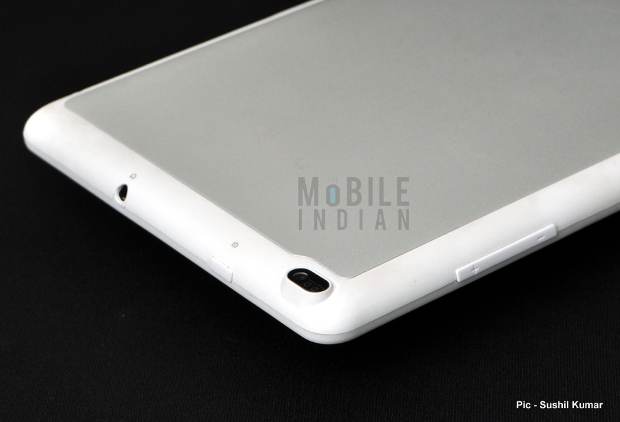 True it is lot better than many tablets which are available for less than Rs 10,000, but when Tegra 3 based Nexus 7 is available for the same price point, Lava should have armed the tablet with a quad core processor.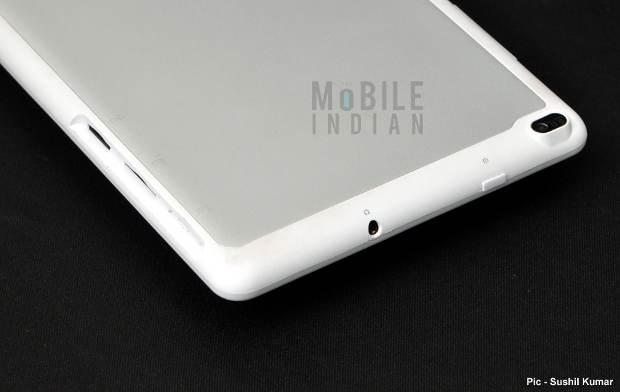 The tablet has Android 4.1 Jelly Bean operating system which is becoming a norm for most devices these days.
Camera
This Lava tablet has a 2 megapixel rear camera and a 0.3 megapixel front camera. Usually tablets do not come with rear camera so Lava needs to be patted. The front camera is decent for video chatting but there is nothing special to talk about either the front camera or the rear camera. But anyway the cameras will prove handy in many occasions and it is anyway better having something than nothing.
Battery
The E-Tab Ivory comes with a 2800 mAh battery. For a 7 inch tablet this is definitely on the lower side considering the fact that now smartphones even come with more than 3000 mAh battery. Also many of its competitors have much bigger batteries.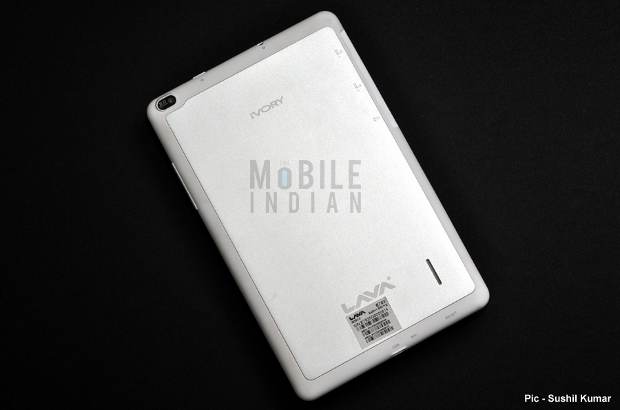 As expected, the smaller battery was not able to keep juice for the tablet for longer times. The tablet needs to be charged twice a day even with minimum usage. It discharges 25 per cent charge within half an hour of gaming.
Connectivity & Other features
Lava has wisely armed the E-Tab Ivory with calling facility which automatically pushes it into a niche segment of calling tablets and thus keeps it out of the grasps of some fierce competitors like Nexus 7. As I said above, it comes with two SIM slots-another plus for the E-Tab Ivory as most calling tablets have one SIM slot. You can use any operators SIM card to access 3G on this tablet.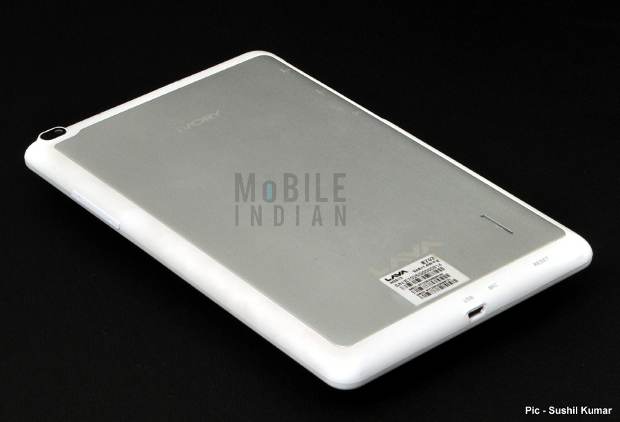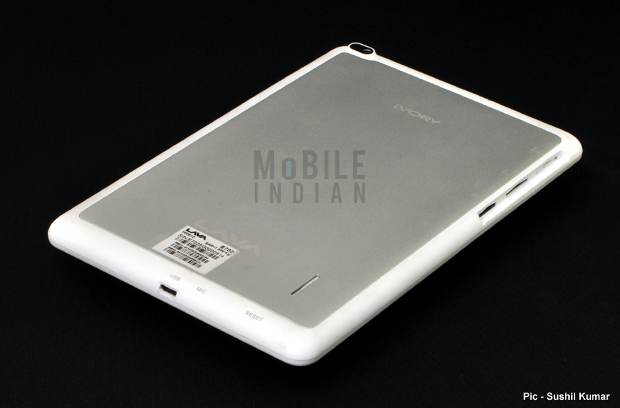 Besides, the tablet has WiFi for internet connectivity. You can use its micro USB to connect it to a computer to share data files. Else use its Bluetooth connectivity to transfer files.
Another highlight of the Lava E-Tab Ivory is FM radio which is becoming a rare thing to find in both smartphones and tablets.
Images by Sushil Kumar