Good camera phones have always been equated with MNC handset makers. Though Indian handset makers managed to up the ante in the performance segment by bringing octa core processor based smartphones to challenge the dual core and quad core offerings of MNC guys but they have not been able to challenge MNC guys when it comes to camera department.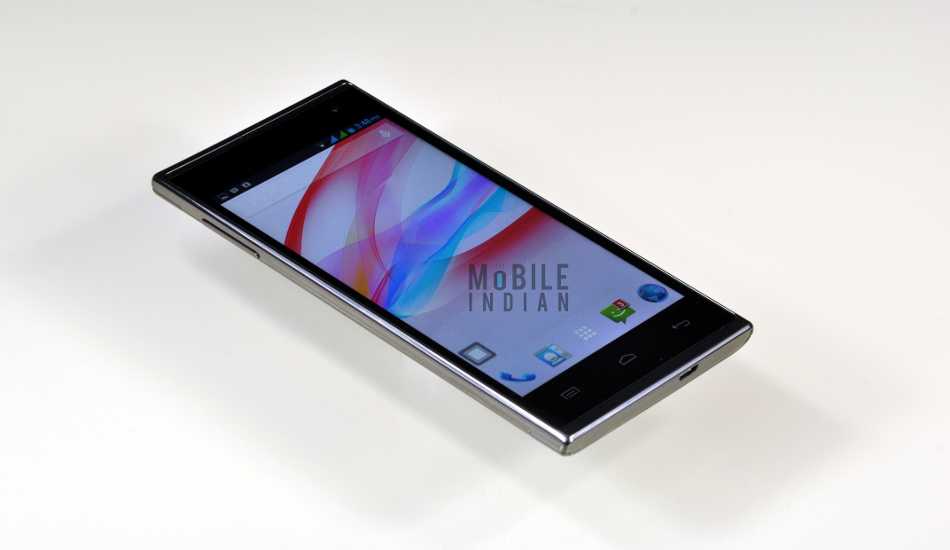 So when Lava announced its Iris 504Q+ with Sony Exmor sensor for Rs 12,999, it became an instant headline. This handset also comes with decent features that make it look like a complete handset. For instance, it has a 5 inch HD touchscreen, dual SIM, Android Jelly Bean operating system, a quad core processor, 10 megapixel rear camera, 2 megapixel front camera, 2000 mAh Li-Po battery, 1 GB RAM, 8 GB ROM, and a 32 GB micro SD card slot.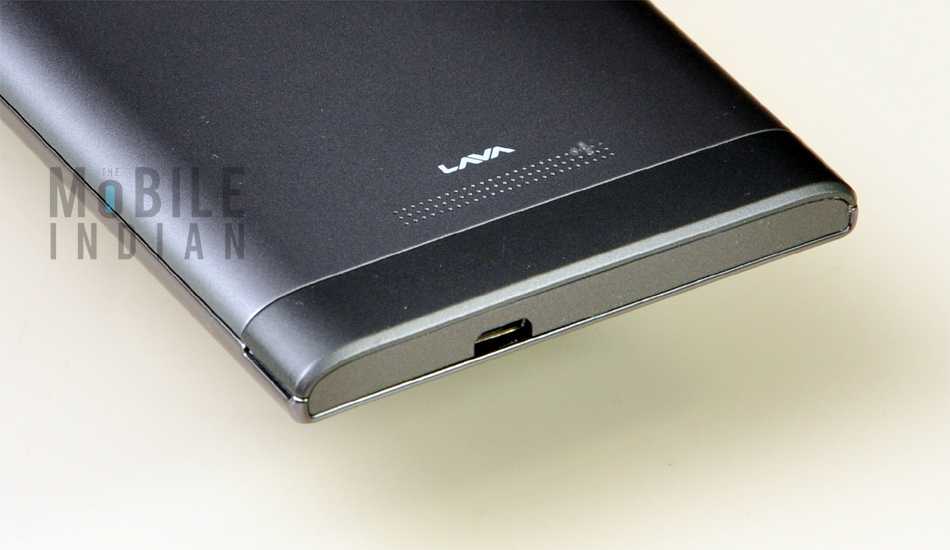 We thus used it extensively for about three weeks and here is what we have found.
Design
The Iris 504Q+ comes with a aluminum made back panel but it is removable, giving access to the dual SIM, micro SD card slot, and the removable battery. The metallic rear panel is not slippery and feels smooth in hand. So don't worry if you have got sweaty hands. Moreover, the panel has got a smooth feeling and is not slippery. Plus the rear panel has curved right and left edges, hence it gives good grip contrary to the sharp side edges which are relatively a bit difficult to hold on to.
Curiously, the back panel is designed so to make it appear three distinct parts – the upper and lower parts are in black colour contrasting well to the grey colour middle portion. Also, these two thin parts are made to look like as if they are cut from the middle part. So the first time I saw that I thought that only the middle portion is removable but that is not the case to be- the entire back panel is one unit only and you have to use the groove just at the right hand side bottom to open it.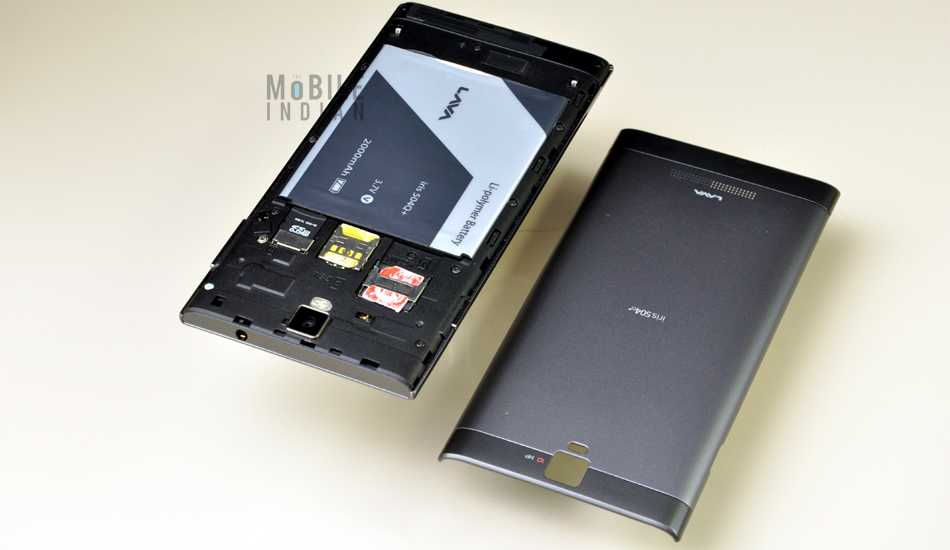 The upper and lower parts are much broader than the side ones and have the 3.5 mm jack and the micro USB port respectively. On the right and left hand side you will see the power and volume rocker respectively. Lava has also wisely armed it with one full and a micro SIM card. A full sized speaker grill, like the HTC handsets, is at the top of the display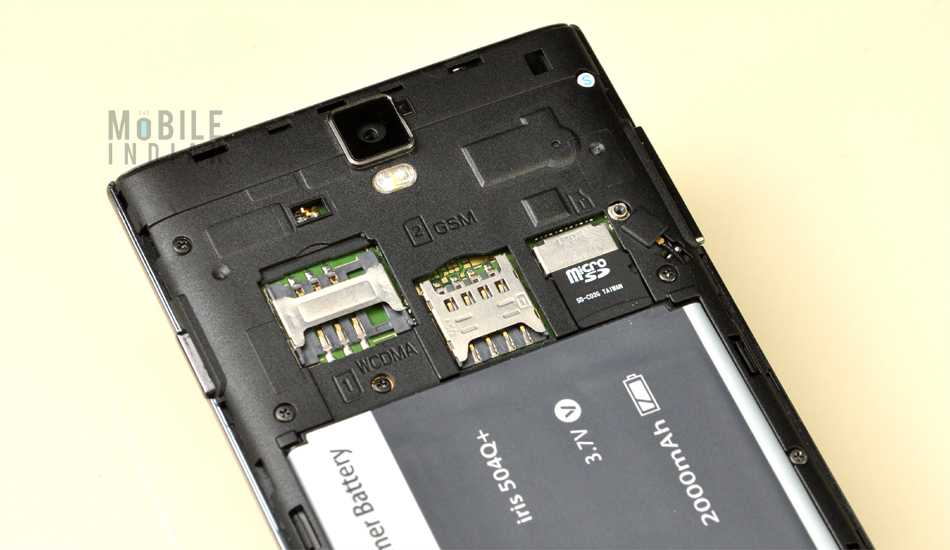 The display though is a fingerprint magnet but that is acceptable and is quite common to most handsets, even the costlier ones. At 149 grams, the Lava Iris 504Q+ is a bit heavy but you will forget this part once you get used to the phone. All in all, the phone is well designed, it looks well, it isn't plastic, and it looks good. Lava should also be praised for making a metal bodied phone which does not gets heated up on long usage and for arming it with a removable panel.
Rating for design 8/10
Display
The Lava Iris 504Q+ comes with a 5 inch touchscreen. This display has high definition (1280×720 pixels) resolution and thus it has decent 293 ppi pixels density. Though HD resolution is good enough for most HD games and videos but full HD would have made it a lot better. But considering its price tag, we do not have any qualms. The response of the screen of Iris 504Q+ is appreciable too.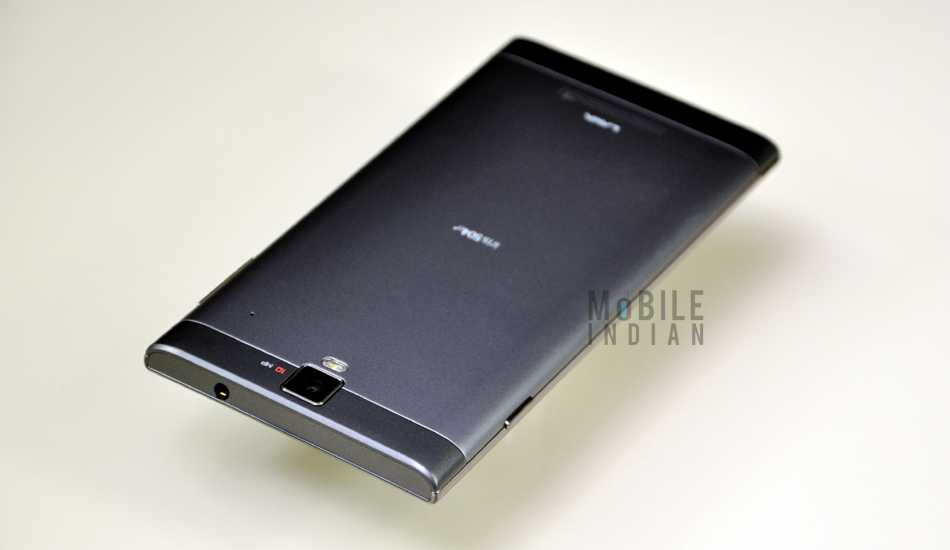 Another important thing about the screen of Iris 504Q+ is the coating of scratch resistant Asahi Dragon Trail Glass which is said to be tougher than the Corning Gorilla Glass. However, during the review it got few fine scrtaches so it is better to have a protective cover on it, like a screen guard.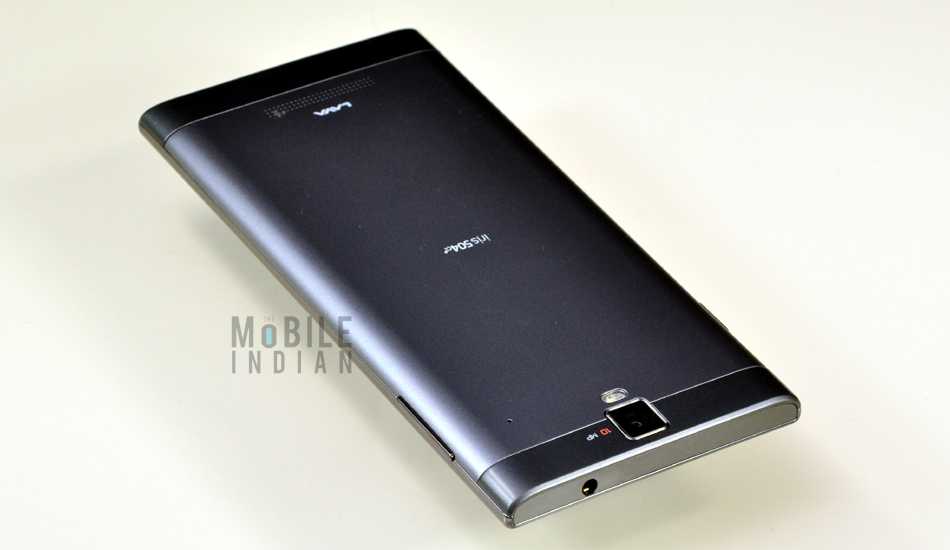 It did not disappoint when it comes to brightness though. You can use it outdoors in bright sunlight but with maximum brightness ofcourse.
Rating for display: 8/10
OS and Processing Power
The Lava Iris 504Q+ comes armed with Android 4.2.2 Jelly Bean operating system. It has the native Android user interface which is simple and hailed by many. There are few 'extra' things though. For instance, it has got "one hand' mode which is like the multi-window feature found in Samsung smartphones. However, being a new age device, Lava should have armed it with Android 4.3 or Android KitKat version.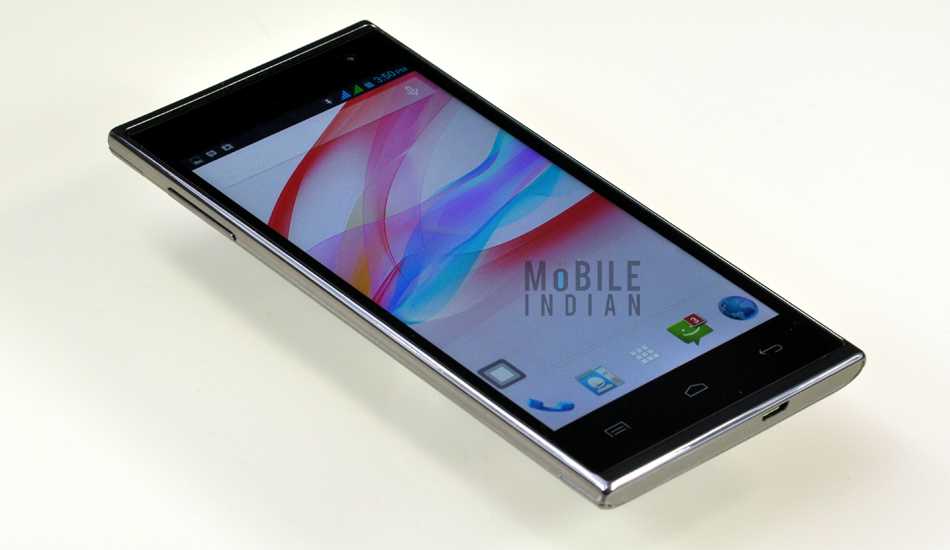 The Iris 504Q+ is armed with a 1.3 Ghz Mediatek MT6582 quad core processor which is coupled with Mali 400 MP GPU and 1 GB RAM. The specification is quite common to most smartphones and offers decent performance which is quite palpable from its Antutu benchmark of 16998. However, while running high end games like Asphalt 8 Airborne lags were visible.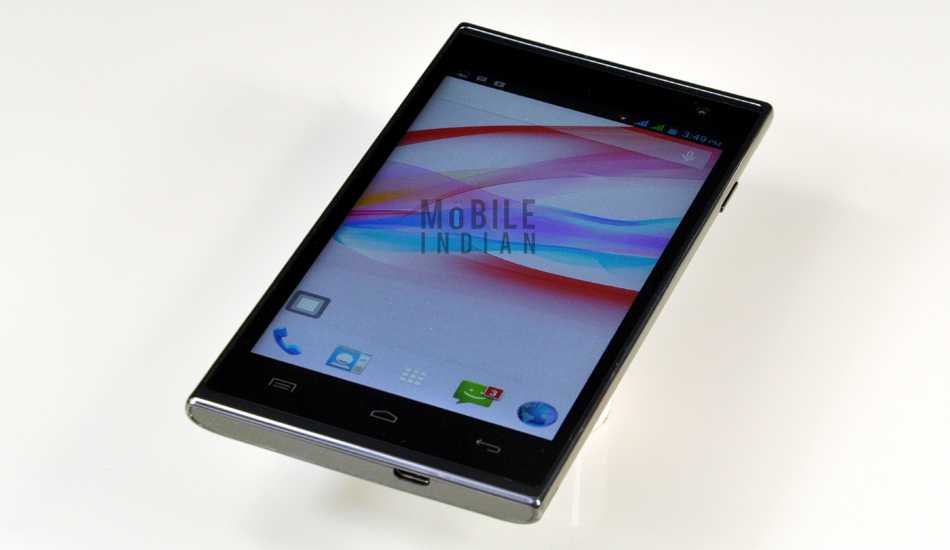 The device however does not get heated up even under extensive use which is definitely a plus for a device with a metal back panel.
Rating for performance: 6/10
Camera
The Lava Iris 504Q+ boasts a 10 megapixel rear auto focus camera and a 2 megapixel front camera. There is an LED flash besides the rear camera for illuminating objects near by. Like most Android smartphones, it too has Geotagging, HDR, Panorama, and Beauty Face camera features. Mind you, it comes with Sony Exmor sensor and thus hit the headlines.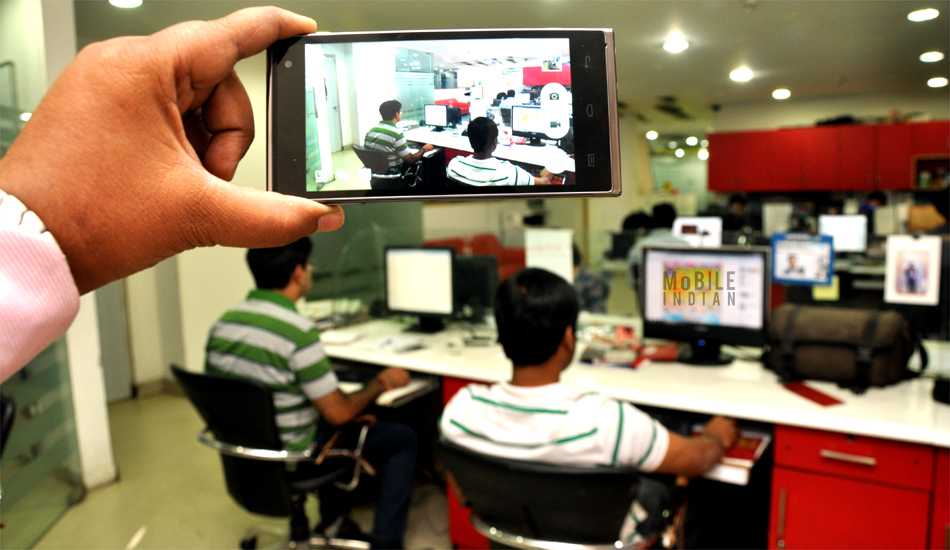 The camera application though is a bit different. On the left hand side, just below the capture button, there is a shortcut to select specific mode – Beauty Face, HDR, Panorama etc. Above the capture button lies the Gallery icon. On the left hand side lies a setting icon that gives quick link to adjust different parameters like ISO setting, modes (auto, daylight, incandescent etc). At the bottom, there is a QR code scanner as well which is unique to this phone and is not a common Android feature.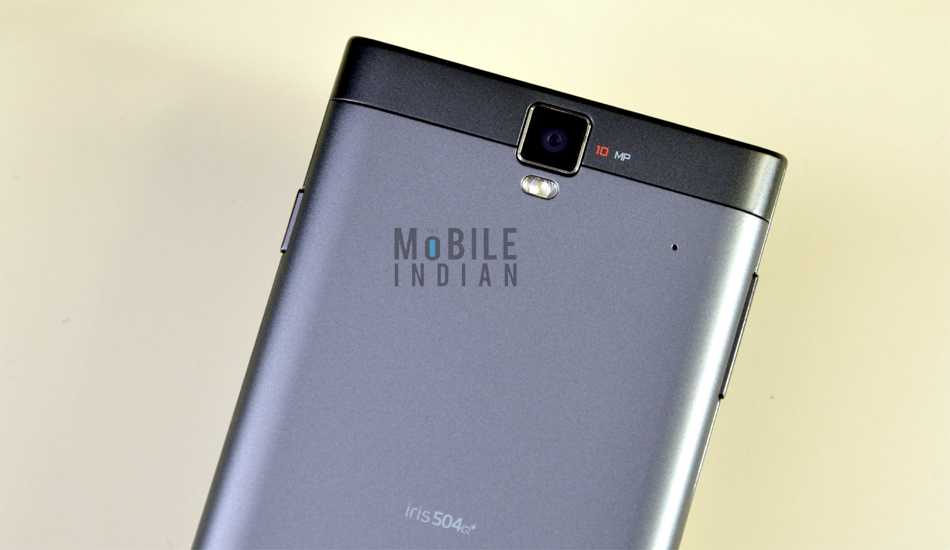 The phone manages to capture decent images in well-lit conditions but the moment light drops, the quality of the images go for a toss. Though there is a flash light in the phone as well but it is so loud that it completely ruins the picture. It is not also a phone where you could zoom to click some distant images as they would not be recognizable at all. The front camera is okay for video calls but not for selfies at all. So all in all, the Iris 504Q+ is a device which is very good for close ups in good lighting .
Rating for camera: 6/10
Battery
The Lava Iris 504Q+ comes with a 2000 mAh Li-Po battery. It is a removable unit and hence can be changed by the user itself incase it gets damaged. The battery back up of Iris 504Q+ is though is neither good or bad. With medium usage involving half an hour of gaming, browsing, and calling, it manages to stay a whole day (12 hours) but stretch it to about one hour of gaming and browing, the battery will loose charge much quickly. Hence, it is advisable to keep the charger handy all the time.
Rating for battery: 6/10
Connectivity
The Lava Iris 504Q+ comes armed with two SIM slots. Lava has wisely kept one for a full sized SIM while the other is meant for a micro SIM card. The full sized SIM card is meant for 3G network (HSPA) and during our review process it has never shown any problem with internet connectivity. There were no call drops either but call volume is quite low that makes it very hard to hear what others are saying.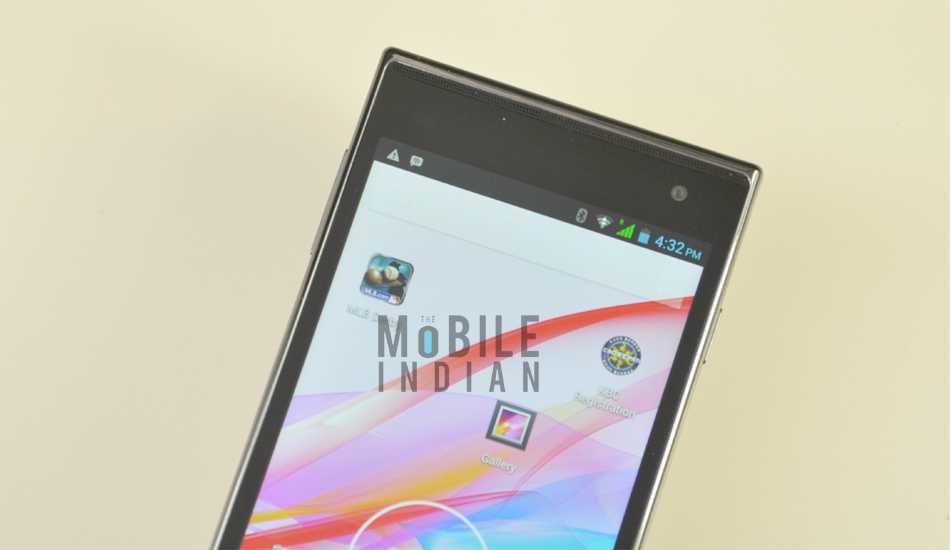 Besides, it has WiFi, WiFi hotspot, Bluetooth 3.0, and a micro USB port for connectivity.
Rating for connectivity: 6/10
Storage and others
The Lava Iris 504Q+ comes with 8 GB internal storage of which 5.48 GB is made available for users to store their stuff. There is an expandable storage slot as well which can accomodate a micro SD card of upto 32 capacity. It does have USB on-the-go facility so you can use a pen drive directly with it.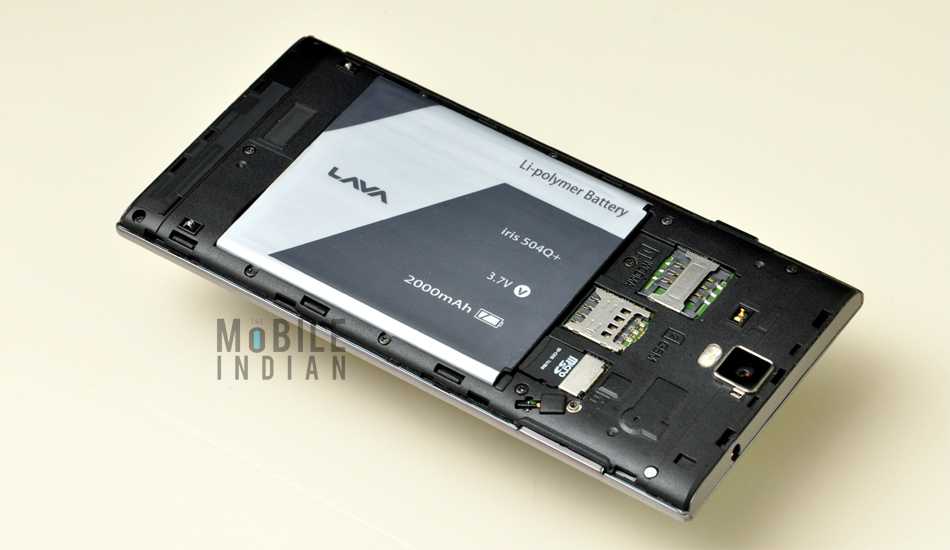 The storage facility is definitely above average and can be terms sufficient but at a time when handset makers are arming their phone with 128 GB and 64 GB micro SD cards apart from huge internal storage amounting to 16 GB and 32 GB, this cannot be terms as the best. But it is definitely better than many Android devices that come with just 4 GB internal storage.


It comes with video/music player and FM radio for entertainment.
Rating for storage: 8/10
Images by Sushil Kumar