What would you want in a device which costs same as a low end ultrabook? I would say nothing less than 'perfection'. That is what struck me the moment I got my hands on the HTC One which comes with a quad core processor, 2 GB RAM, Android Jelly Bean operating system, the much talked about Beats Audio, a new Ultrapix camera technology and lots more.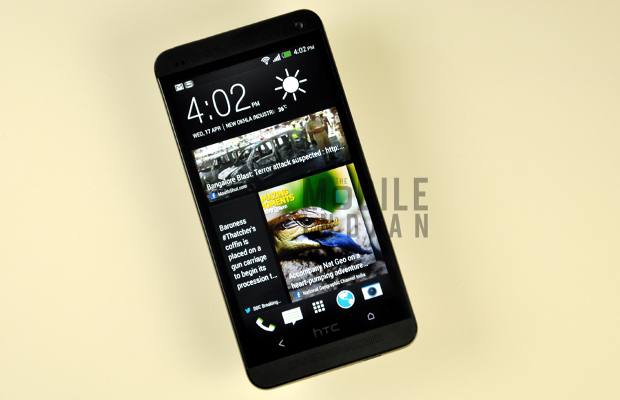 From the specification, ofcourse it looks like the 'one' phone that everyone with a desire for the best should vouch for. But is it really the one for which you should spend RS 42,900? Here is our take on the HTC One which was launched in India earlier this month.
Design
HTC's products have always been beautiful and the HTC One is no different in that regard either. Its front part is highlighted by the 4.7 inch display; on the top and bottom of which lies thick metal parts, housing the speakers. Its back panel is made of metal and is gently curved that gives a good feeling while holding it.
Unlike other smartphones, in HTC One the keys are not raised, so they won't get damaged during day to day usage. It has a unibody and hence battery is not removable while the micro SIM slot lies on the left hand side. The power button and the 3.5 mm jack are on the top while the volume rocker is on the right hand side; the micro USB cum charger port is at the bottom panel.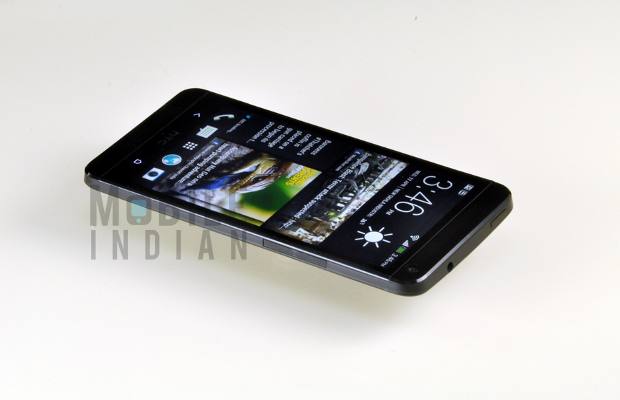 For Indian conditions, the HTC One is a perfect device as its display is not a finger print magnet. Its body has also that smooth feeling and is not slippery. But the biggest plus point of its design is that despite having a large screen it is very easy to hold and operate this phone in just one hand.
However, if you are the one who love to boast about the slimness of your handset, then the HTC One would disappoint you as it has 9.3 mm thickness which though itself is on the lower side but is not the lowest in itself as the Samsung Galaxy S4 – its prime competitor – has just 7.9 mm thickness.
However HTC One is not as wide as the Galaxy S4 as it has 68.2 mm width compared to the 69.8 mm of the later. Thus it would be easier to hold the HTC One than the Galaxy S4.
Display
The HTC One comes with a 4.7 inch display with full HD resolution, which means that it has 468 ppi pixel density which is way above the Samsung Galaxy S4 (441 ppi) and the Xperia Z (441). Even the HTC Butterfly comes with 441 ppi pixel density. Needless to say the HTC One managed to produce awe-inspiring visuals. Even the brightness is so high that you could easily manage to operate it under bright sun light.
User Interface
One of the main attractions of HTC One is its Blinkfeed user interface which brings the Live Tiles like UI of the Windows 8 operating system. But unlike Live Tiles, I rather enjoyed the Blinkfeed home which clubs updates of Facebook, Twitter, Linkedin, Flickr etc along with news items of various categories from the likes of Associated Press, Reuters etc in one roof in the form of tiles which are stacked in a very intuitive way on the home. You can also personalise the Blinkfeed home as you wish.
There are other home screens as well like the normal Android handsets.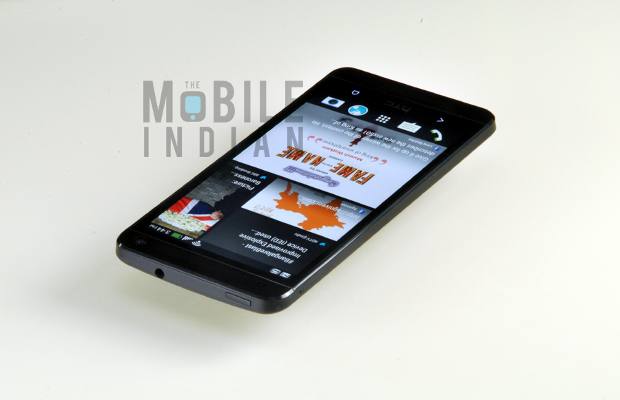 However, two big omissions that I rater dearly missed is the notification bar. In the notification bar of HTC One, you would only get notifications and a shortcut of Power Save and the Settings options which means that in order to turn on/off the WiFi and Bluetooth, you will have to go to the settings page.
Many have complained about the absence of a third capacitive button just below the display which normally found on most other Android handsets but I had no problem with it. Of course, you will initially struggle a bit to get used to it. For instance, I had a nightmare in finding the recent apps button for which, in HTC One, you have to double tab the home button to open. A long press on the home button will instead open the internet.
But in a nutshell, the HTC One is innovative vis-Ã -vis its interface which is good but will put the users in strain initially.
Processor and performance
HTC One comes with the Qualcomm APQ8064T Snapdragon 600 chipset which also featured in the quad core version of the Samsung Galaxy S4 and the LG Optimus G Pro. The HTC One's 1.7 GHz quad core chipset is further assisted by 2 GB RAM and Adreno 320 graphics processing unit.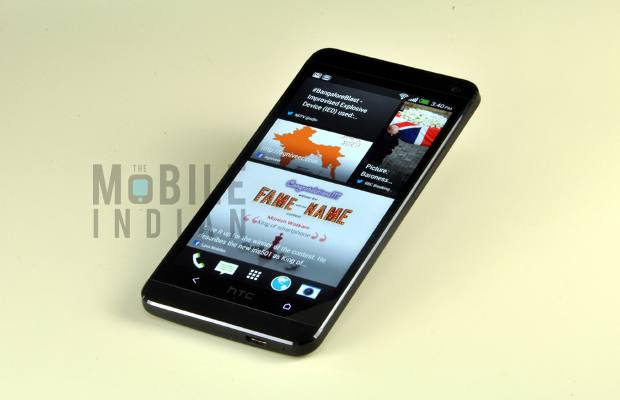 With such a hardware, obviously the phone zoomed through much of the tasks but the HTC One gets heated up very quickly a bit more than many other of its competitors that we had used in the past.
On the Antutu benchmark, the HTC One got a score of 22037 and is second to the Samsung Galaxy S4, for obvious reasons.
Camera
Another highlight of the HTC One is its camera functionality. The HTC One has a 4 megapixel rear camera and a 2.1 megapixel front camera – which suggests a different picture altogether. But the notable factor is that HTC has used something called Ultrapixel technology in this handset.
Ultrapixel is nothing but a term coined by the company. HTC One infact has the same size camera sensor as is found in phones like iPhone 5, Galaxy SIII etc. However, unlike other such handsets, in HTC One there are less pixels. Having less pixels in same size camera sensor enables the HTC One to capture more light which allows it to capture good photographs in low light conditions. However, in bright sunlight, this goes against the HTC One as it tend to get over exposed to light and thus shadows do not get properly highlighted.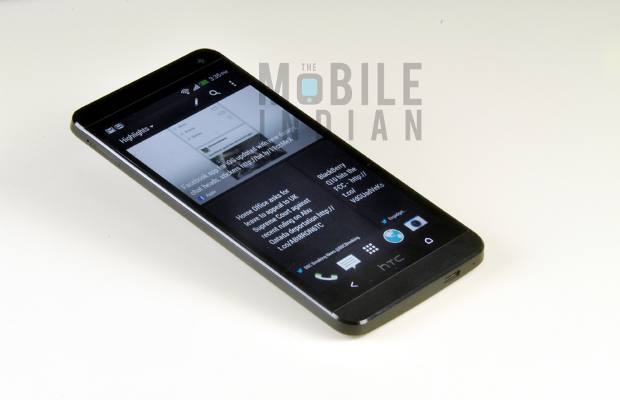 HTC One has something called Zoe which is actually 3.6 second video. Also, it comes with innovative Object Removal feature so suppose while capturing a group shot an unwanted person comes in, you can remove the person from the picture by editing the photo later on in just simple step – just go to the edit section and click Object Removal option.
The phone is also able to capture 20 pictures in the burst mode within 2-3 seconds. The front camera is also far much better than its competitors. Also, the camera app is much user friendly than other handsets'. All in all, full marks to the HTC One over the camera functionality.
Memory
The HTC One comes with 32 GB and 64 GB variants but there is not micro SD card slot which would definitely piss off many.
Battery
There is a 2300 mAh Lithium-Polymer battery in the HTC One. Though officially HTC has not said anything about it's output, we had conducted a small battery test. After charging it fully, we had played a 1.30 hours movie on it keeping the auto brightness, WiFi and Bluetooth on. At the end of the movie, it consumed 20 per cent of its charge so we guess that the HTC One can give video playback time of around 10 hours.
And for gaming, we found that the HTC One provides around 10 hours battery back up time.
Connectivity
HTC One is quite a rich handset when it comes to connectivity. It has Bluetooth 4.0, WiFi (b/g/n), DLNA (for wirelessly streaming media to a compatible TV or computer) and micro USB 2.0 port that also acts as a HDMI port through a MHL cable.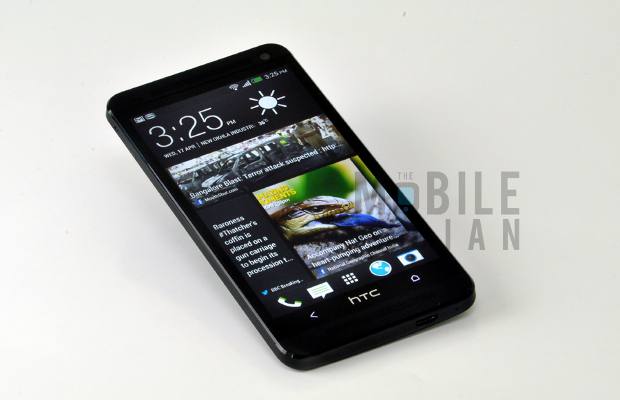 Also, the HTC One has NFC and the HTC Connect feature which like DLNA allows streaming audio and video from a HTC device to a compatible in-home or in-car devices.
Entertainment
HTC One is a dream device as far as entertainment is concerned. The first thing is that it comes with Beats audio support and unlike in older HTC handsets, you get to enjoy the Beats technology with any headset. Even when you are playing videos and audio files on speakers, Beats audio comes in to play but some third party applications like VLC would not support Beats Audio. Anyway, its dual frontal speakers with built-in amplifiers are too good. Even at the highest volume, which is quite loud too, the speakers managed to produce crustal clear sound.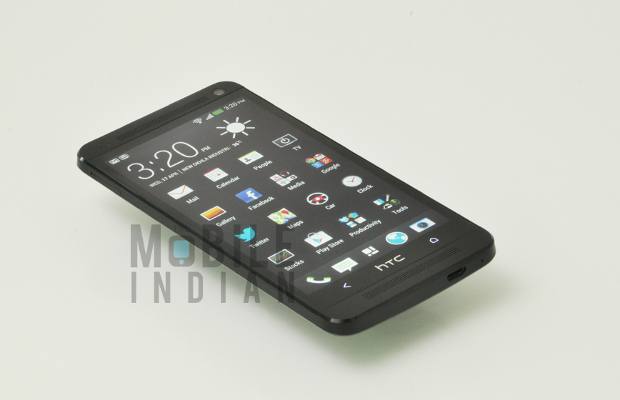 The 4.7 inch is just awesome for watching movies and videos. We had a quite a good time playing games like Home Run Battle 2, Shadowgun Deadzone, Blood and Glory etc – all of which have very high demands in terms of graphics as well as processing power – on the HTC One.
Conclusion
All is well that's priced well. At Rs 42,900, we had no qualms considering that it has premium features but as in Einstein's theory of relativity, a smartphone's attractiveness is drawn in comparison with its competitors.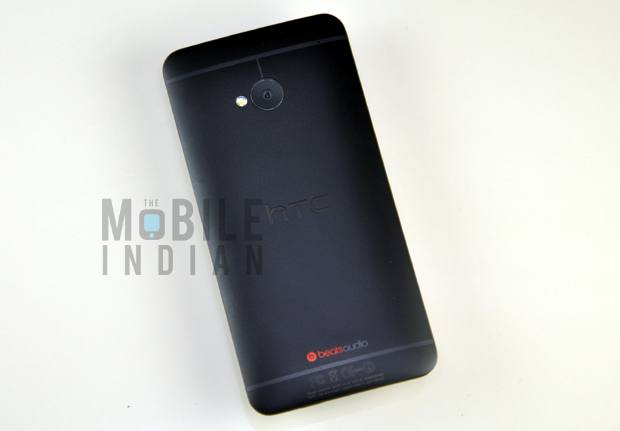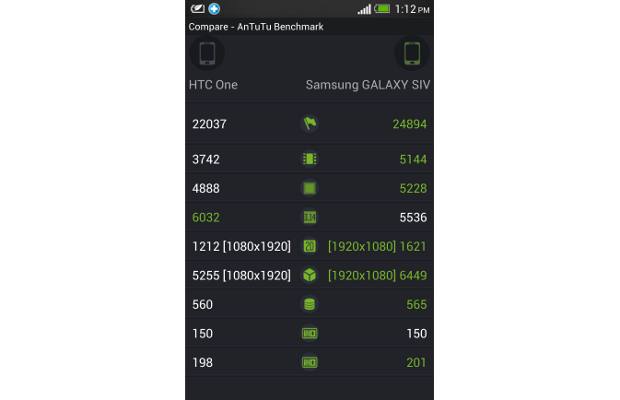 In this case, the HTC One has the Samsung Galaxy S4 which is priced at Rs 41,500. Look wise, HTC One has hardly any problem but as I said earlier, the octa core processor of Samsung Galaxy S4 leaves little room for the One to compete in the arena of computing power. You can read our earlier story to see a detailed comparison of both the devices.