The movie Ra One, featuring Bollywood actor Shah Rukh Khan, has been creating a lot of buzz. To cash in on the popularity, developers have now started developing games and related content for smartphones and other devices. One such game we got to lay our hands on is called as Little G.One! Adventure. Yes as the name sounds the game is a perfect replica of that. The game requires the players to play as G One – the main hero of the movie, who is in the quest to collect Blue Orbs and increase the score as much as possible.
The game play all in all is inspired by the movie and the character in the game, as similar to the movie character, gets thruster boots to fly in the sky while collecting the orbs. To make the game play a little difficult, there have been obstacles added in between the otherwise smooth game play in the form of grenades, missiles and a few others.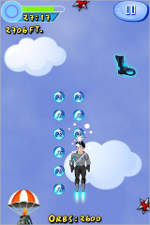 The main objective, as I mentioned earlier, is to collect blue power orbs which in turn help users to increase their score. And in order to do that the in game G One character flies on the thruster boots which also require power ups to keep flying. In between the game the developers have added a few unique power ups as well that include a rocket and a spring board as well which will help the character soar new heights in case the power in the boots run out.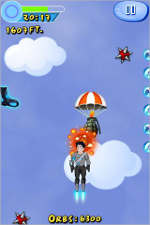 There are no complicated controls for the game and all the users need to do is tilt their accelerometer enabled phones to control the vertical movement of the character and receive power ups. The game changes the level of difficulty after every few orbs and at times becomes really difficult as well.
The downside of the game is that there is no online game play and all you can do is compete against your own highest score to make it better so the game becomes a little repetitive after a point of time. But for a free game, the Little G.One! Adventure offers much fun and entertainment and you can obviously compete against other people using the same phone.
The Little G.One! Adventure game is available for download on the Android Market and it is a free to use application with compatibility for all devices running Android version 2.1 and above. Users can also follow the direct link to download this application on their devices or can locate the application through the android marketplace as well.