The company had claimed that the printer can print A4 size monochrome prints at 12 paise/page and coloured prints at 20 paise/page
Advertisement
Pros
Good quality photo prints
Wide range of connectivity options
Fast printing
Large ink tank capacity
Cons
Loud noise while printing
Quality of buttons could have been better
Epson had launched its flagship All-in-one Duplex printer, L655, in India a few months back. It comes with four functionalities -printer with copy, fax, printing and scanning capabilities. The company had claimed that the printer can print A4 size monochrome prints at 12 paise/page and coloured prints at 20 paise/page.
Along with duplex printing, which allows you to print on both sides of a page in a single command, it even has an ADF (automatic document feeder), that scans documents automatically by placing them on document feeder.
Advertisement
Design
The overall design of Epson L655 is no way compact but it so many options to choose from one cannot complain about the bulky design. The top portion of the printer houses controls, ADF and scanner bed while printing and paper cartridge unit are at the bottom. The ink tank is placed on the right side and ports are placed on the back panel.
If we talk about the control panel of Epson L655, It has a bunch of buttons which include navigation buttons for choosing different setting, colour print, black and white print, stops and redial along with a 2.2-inch monochrome LCD backlit display. The paper cartridge can hold the paper in the range of A4 size sheets and 3.5×5-inch photo papers. Different paper size adjustment clips are available inside the tray and the tray can also be detached from the printer.
The quality of material used in manufacturing printer is good but the quality of the scanner lid and button tray in control panel could have been better. The lid is quite shaky and it hinges doesn't seem to be strong enough and the button in the control panel are not smooth and bit noisy.
The printer has an Ethernet port along with wireless connectivity via WiFi. Apart from that the regular USB A male to B male type printer cable can also be used for connecting the printer to PC.
The refillable tanks which are located in a separate detachable unit on the side have four tanks - black, magenta, cyan and yellow. Refilling the tanks is not as easy as the traditional cartridge-based inkjet printers but over a period of time, one will get used to it. You need to be really careful not to spill the ink or end up mixing it with the ink in the nearby tank.
It took us around 20 minutes to complete the task. And after that, the printer takes more than 20 minutes to get ready for printing.
Setting up:
Setting up the printer is fairly easy on both laptops and smartphone. The moment you connect Epson L655 to the computer using a cable it automatically detects the printer and starts installing the software. However, you will need the CD which comes along with a printer to install full features. Having said that, for adjusting or modifying the settings key follow the instruction on the LCD panel using navigation keys and button as the screen is not touch-enabled.
On mobile, you can download the Epson iPrint application from play store or Apple store and then connect the L655 to it via WiFi and get going with printing.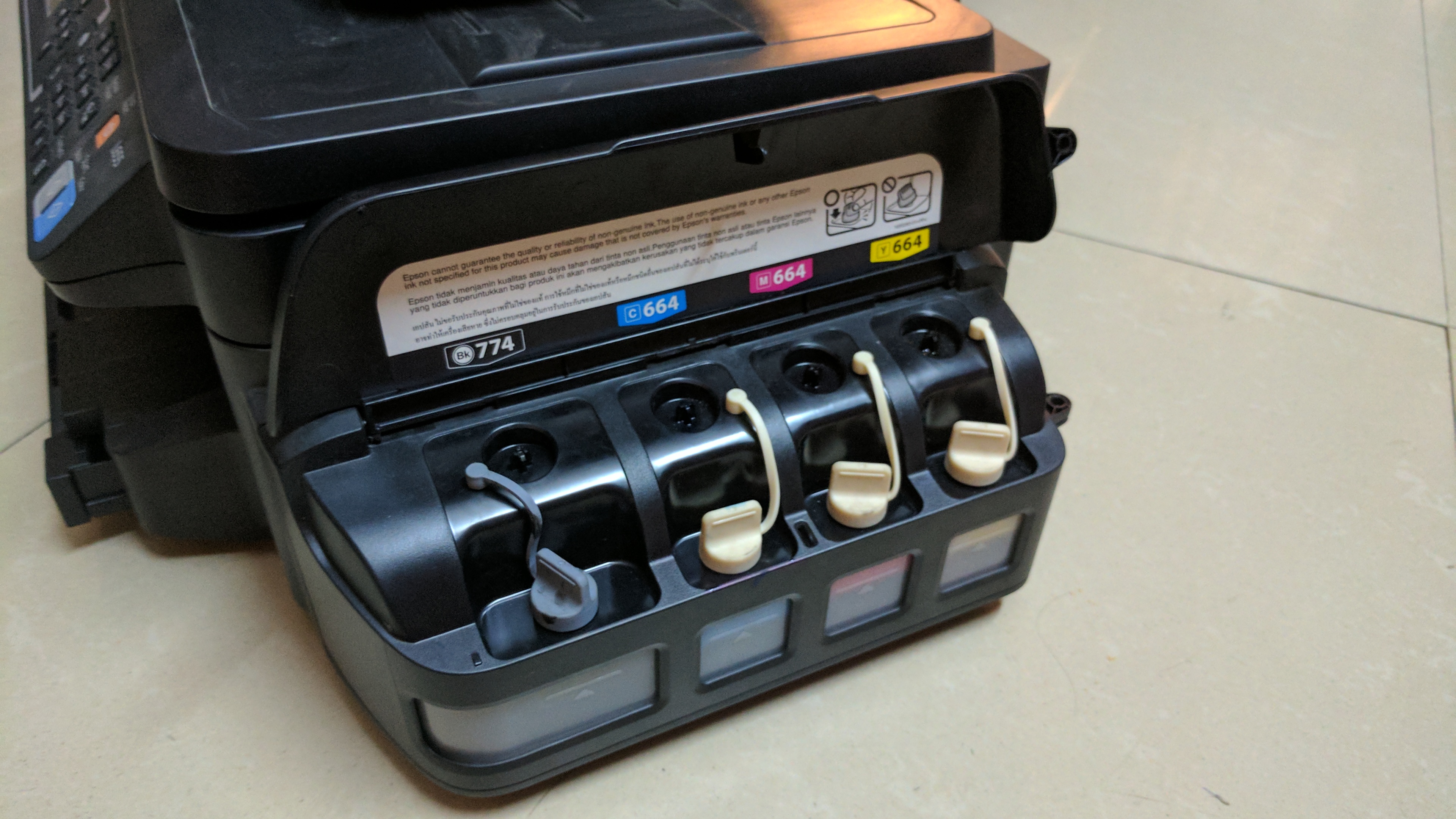 Performance:
The printing quality of Epson L655 is impressive. It has Dye colour and pigment black inks that dry quickly offering smudge-free prints and fulfils all the business and home needs. The text is sharp and colours reproduction is quite accurate in the printouts.
Interestingly, If you print pictures in glossy papers you will get a lab like output with precise detailing and vivid colour reproduction. The printer gives a trouble-free performance except that it is a bit noisy and shaky during printing.
Printing a colour page at its highest quality setting takes just over one minute while duplex printing takes more than two minutes. If you are planning to take a single page monochrome printout it will take around 30 seconds. On a single refill, one can print nearly 6000 monochrome documents and 6500 coloured documents and a new refill pack will cost around Rs 350.
Advertisement
Verdict
Epson L655 all in one printer cost around Rs 23,500 and in our opinion it is a value for money proposition especially for small businesses who typically will take around 30-40 printouts per day. The quality of printout, in spite of affordable pricing, is top notch with emphasis on detailing and colour reproduction. The coloured photo-prints are as good as lab prints. The only thing that Epson can take care of in future models is to reduce the noise generated while printing.