S18 stereo Bluetooth headset has a unique design that is both comfortable and stylish in its own unique way.
Advertisement
Pros
Comfort
Voice quality
Battery life
Cons
Unconventional design
Proprietary charging port
Distributor turned device maker True Blue Voice launched its range of Bluetooth headsets in both stereo and mono mode last year in India and since then the products have become really popular because they are priced just right. True Blue Voice has yet again launched a new line of Bluetooth headsets of which we have the TBV S18 headset for review today. Talk about unconventional designs-the TBV S18 features a unique design which has so far never been used by any headset manufacturer in India. But design is not all there is.

With the advent of multimedia cellphones and smartphones the interest in stereo Bluetooth headsets has increased multifold. Stereo Bluetooth headsets offer all the functionality required by a user to make calls and listen to music while on the move. So let's check out the TBV S18 headset.

Design

As we earlier said, TBV S18 has the most unconventional design for a stereo Bluetooth headset. It features a retractable folding spring-like bridge between the two earpieces that makes the device easy to store and carry around; While the same design opens up to become the neckband for the headset, providing a snug fit for the user's ears.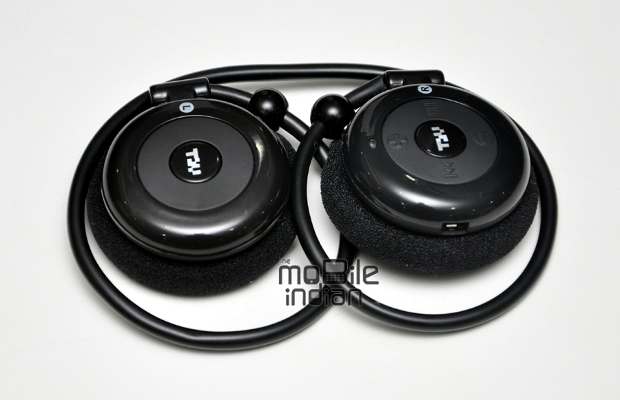 The headset is black all over. The outer casing or shell of the earpieces is casted in glossy black and there is a rubberized ring accented with a glossy button at the center of the shell. The earpieces come with soft foam caps that protect the delicate internals from dust and sweat, which makes the headset comfortable for users to wear for long durations.

The controls are very simple and are placed on the right earpiece. TBV S18 has a five button design with the power/play button in the centre, surrounded by volume control and media control keys.


Advertisement