In India, price plays a vital role in the popularity of any product. And with the Funbook, Micromax has been spot on as far as pricing is concerned. Retailing at around Rs 6,500, Micromax Funbook has in a very short time become popular with many potential tablet buyers aspiring to get their personal Funbook.
We got a lot of queries from many eager buyers about the device and here's a comprehensive review of the Funbook- the cheapest Android tablet in India.
First looks
Micromax has a knack of making its devices eye candy, which means many people fall in love with its products. Same is the case with Funbook. The 7 inch tablet is without doubt sleek and stylish with a dual tone colour scheme that adds a touch of class to it.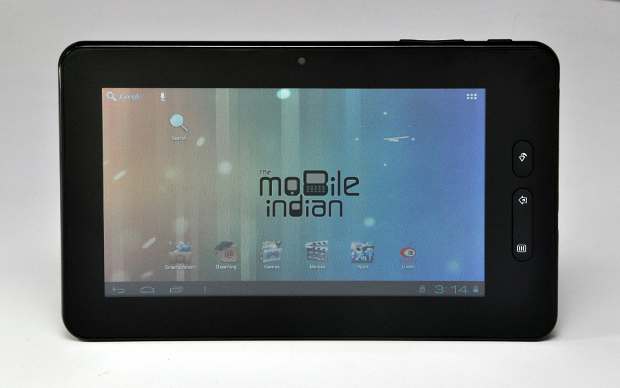 In terms of weight, Micromax has managed to keep the tablet at less than 400 grams, which comes in real handy while traveling or holding the device for long. The display has been protected with a scratch resistant layer, which runs EDGE to edge giving the device a flush and neat front.
###PAGE###
Design
With the 7 inch tablet segment growing bigger by the day there are many manufacturers in this arena. Funbook too is one of them.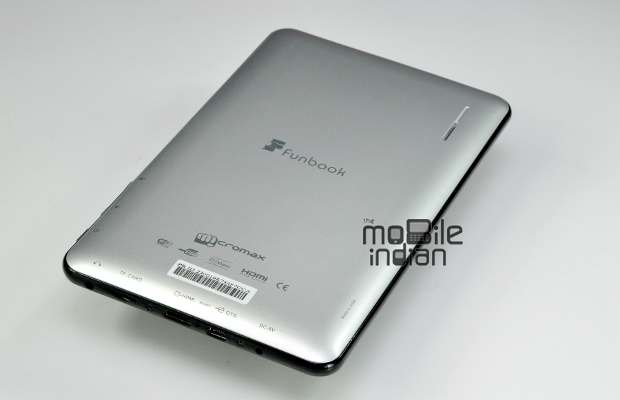 Funbook has a simple yet functional design that combines a two piece casing in which the tablet's internal components are secured. The tablet comes in two colours, slate grey and midnight black. The one we got was the slate grey version. The front of the tablet, however, remains the same in both variants with a glossy colour finish. The gloss adds a touch of class but with that makes it prone to a lot of touches and smudges as well. The back panel has a matte finish that can take more scratches as compared to a glossy one before showing signs of damage.
Some of the buttons are placed on the right side of the Micromax Funbook making them extremely handy to use. They comprise six hardware keys, of which three are for volume and power /standby, and the rest are in the front for interface control such as home, return and the menu/option short key.
###PAGE###
The screen
Micromax Funbook has a 7 inch display with 800 x 480 pixel resolution. The Resolution is certainly on the lower side but since it is a low cost tablet, we have no regrets with that as the display performed well in most scenarios. In terms of colour reproduction, the display is a bit disappointing, but when it comes to brightness levels, it is highly impressive and complements every application or game that is run on the device.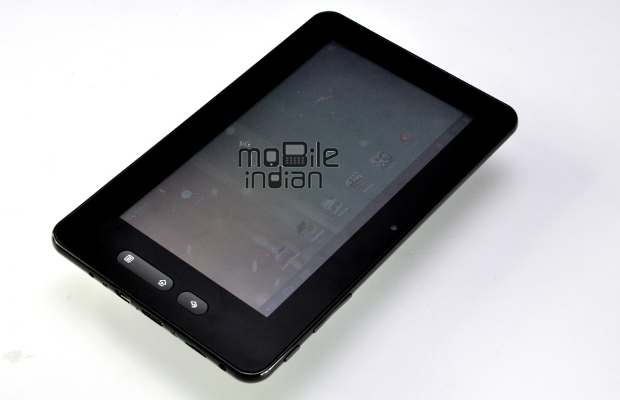 Although resolution has been kept lower, the manufacturer has incorporated a multi point touch input system on Funbook. Multi point touch is especially important for applications and games that require multiple inputs at times and it is extremely good for high speed typing as well. The touch however lacks some accuracy and sometimes during use the touch misses its location. We faced this issue too: while trying to run one game App we accidentally started another application.
Another plus point of Micromax Funbook is the inclusion of a dual core 400 MHz graphic processor, which makes the device ready for full HD 1080p video playback, but then again the display resolution is too low for enjoying high definition content and users will have to make use of the mini HDMI port for enjoying content on a bigger screen. There is no HDMI adaptor bundled in the package so users will have to buy one.
Build quality
The build quality of Micromax Funbook is good and is very similar to the quality of devices that we have seen in the past coming from this brand. The body features a polycarbonate shell that is both lightweight and sturdy; the device can handle accidental falls from a few inches but the display is likely to get damaged if the device falls face first.
It is advised that while making the purchase users must invest in a good quality soft artificial leather case for making sure the tablet continues to perform well.
###PAGE###
Hardware and operating system
Featuring a dual core processor which is based on ARM Cortex A8 architecture and runs at 1.2 GHz, the Funbook is speedy enough to handle most tasks and multitasking requirements with light to medium usage. The processor is coupled with 512 MB of DDR3 RAM, which is a must have for the device, but we somehow feel that it should have had more RAM for faster performance.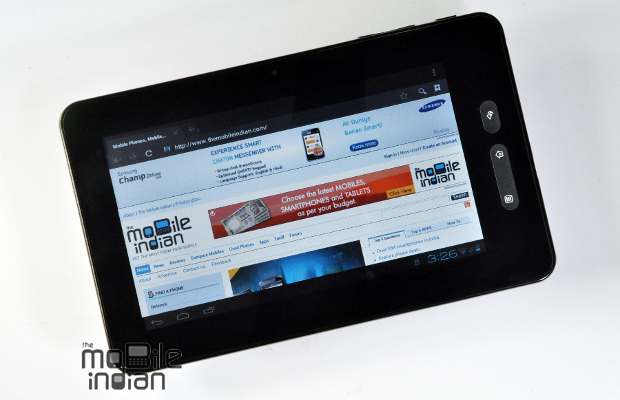 The operating system featured on the device is Google Android Ice Cream Sandwich 4.0 in its native state without any additional user interfaces. Even though the ICS is built for devices that can have minimal or no hardware buttons, Funbook features three hardware buttons. Having additional buttons does not cause any problem or harm but yes you lose out on the appearance of the device and more importantly it increases the size and weight of the device.
Funbook is a Google Play registered device, which means that it can download and play all the compatible applications. Also, Google will be quite accurate for the device's compatibility as far as applications are concerned so you won't end up paying for any application that is incompatible or non functional on your device.
###PAGE###
Performance
The device performs well under normal conditions, but once you start stressing the device with multiple applications multi tasking starts slowing down because of the low RAM. Operating system optimisation for the device is spot on and you won't face any compatibility issues.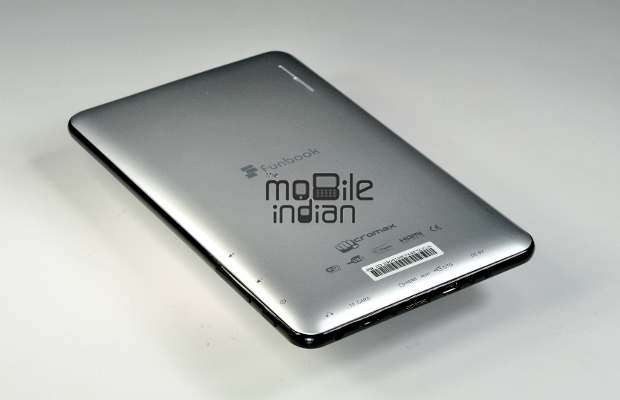 The 1.2 GHz processor is capable of handling any task, including gaming, multimedia etc, with great ease, but the lack of RAM memory becomes quite evident. While playing Temple Run, the tablet showed considerably longer load time along with a slight jerky start and slow reloads as compared to a standard ICS tablet running with 1 GB of RAM.
###PAGE###
Multimedia and connectivity
Micromax Funbook is great in terms of multimedia performance due to the inclusion of ICS 4.0 as most of its applications can be installed on an SD card, which frees up the system memory and thus helps the device perform faster.
The device supports most audio and video codecs supported by the operating system natively, but users can easily download applications like Mobo Player from Android marketplace to further enhance the multimedia capability of Funbook. The device features 4 GB of internal storage memory, which can be expanded up to 32 GB via SDHC card as well.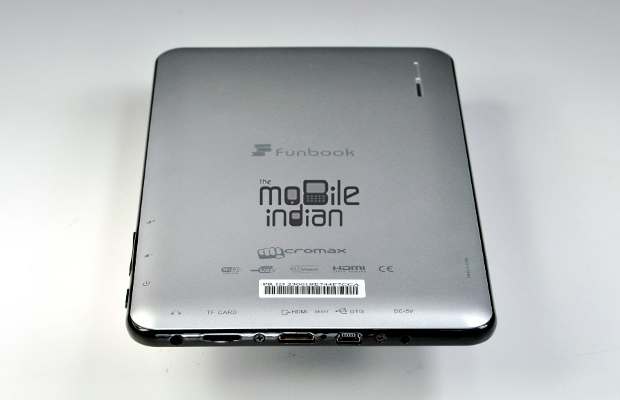 Funbook features a nice 0.3 Megapixel front facing camera which is good enough for video conferencing. The quality of the camera is good in bright light but the low resolution really kicks in in low light, making it useless for taking pictures and videos alike.
For internet connectivity, you can use WiFi or USB dongles. Funbook provides good and speedy WiFi connectivity while USB dongles provide speed based on the data plan you have and till now the faster data plans cost slightly on the higher side. Also, you will not require to separately purchasing a USB adaptor to use data dongles or USB drives as the box includes one.
###PAGE###
Battery life
The battery level of the Funbook disappointed us slightly. The small 2800 mAh battery failed to power this device for sufficient time. In one complete charge, the device is good for a day's worth of normal usage or up to 3-4 hours of continuous use or video playback, or up to 4 hours of web browsing with WiFi.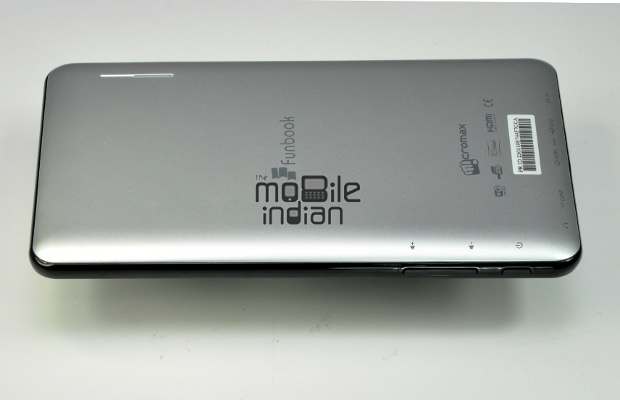 The device comes with a supplied charger, which takes around 3.5 hours to fully charge, but it gets 50 per cent charged within the first 1.5 hours.
###PAGE###
Verdict
Touted as the cheapest ICS tablet in India, Micromax Funbook comes as a refreshing break for Aakash tablet aspirants and for some extra bucks you can get a supercharged tablet. But in contrast with other ICS tablets, the Funbook looks pale.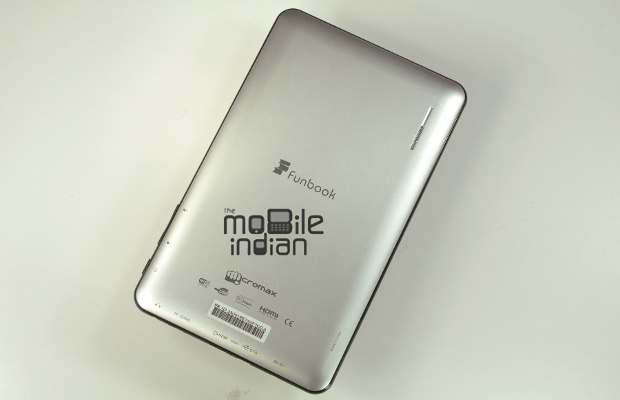 In comparison with our recently reviewed iBerry Auxus A02, the tablet is on the slower side but it is also cheaper by Rs 3,500. Micromax also provides educational content with this tablet, which can be purchased separately based on use.
All in all, the Micromax Funbook is a great product that offers superb value for money and features that would definitely put users in the fast lane.