Nothing has made a strategic move to enter the budget devices segment while maintaining its premium brand identity. To achieve this, the company has launched a new sub-brand called CMF, which stands for Color, Material, and Finish. The CMF by Nothing Watch Pro is a smartwatch with premium-grade features at an affordable price, according to the company. It is priced at Rs 4,499 in India and $69 in the USA. However, it faces tough competition from Indian brands with a considerable market share in the budget wearable segment. Today, we present the review of the CMF by Nothing Watch Pro for you to make an informed decision about whether to buy it or not.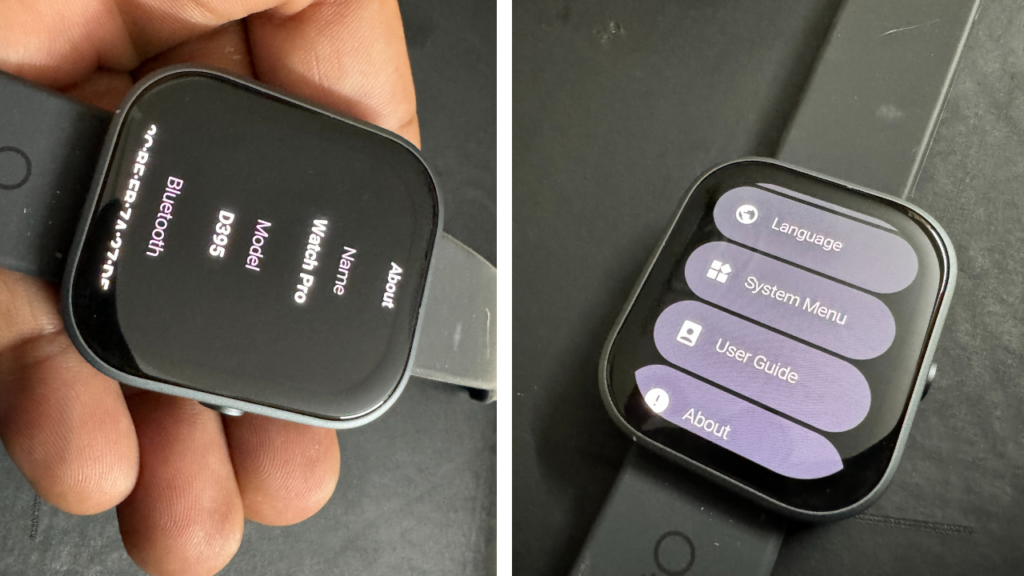 CMF by Nothing Watch Pro Specifications
Let's delve into the specifications of the CMF by Nothing Watch Pro first before going ahead with the review:
Display: A 1.96-inch 58Hz AMOLED Display featuring a 410 x 502 resolution.
Build: An aluminium alloy frame accompanied by a plastic back.
Bluetooth Version: Bluetooth 5.3
Sensors: Equipped with GPS, accelerometer, heart rate sensor, and SpO2 sensor.
Microphone and Speaker: Includes both microphone and speaker functionalities.
Additional Features: Offers 110 sports modes, sleep tracking, and smart notifications.
Battery: Powered by a 340mAh battery
Weight: Weighs in at 32 grams.
Build and Comfort
The CMF by Nothing Watch Pro's frame is made from aluminium alloy, while the back panel is plastic. This combination is quite common in the budget segment, but built quality has been maintained, which gives it an edge.
The watch is available in two colours: orange and dark grey. The Dark Gray variant, which has a matte finish, looks much more premium. Apart from that weighing in at 32 grams, it offers comfortable wear for extended durations. The smartwatch has IP68 water resistance.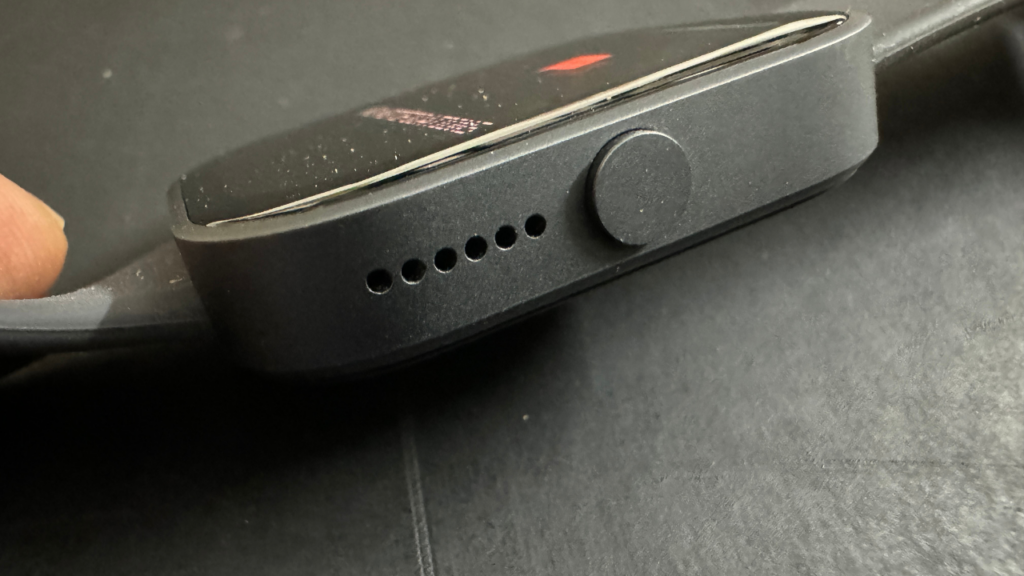 Regarding the strap, it is a 22mm interchangeable Band that is both lightweight and made of skin-friendly material. The strap's quality is good, and it can be effortlessly replaced with any standard 22mm watch band of your preference due to its quick-release pins that are easy to detach.
On the right side of the watch, there is a single function button with a metal finish. This button can be used to wake up the watch, go back, open the menu, and pause workouts. The speaker is located below the button and the microphone is located on the other side. Pressing the function button will reveal a menu that includes options for exercise, exercise records, heart rate, blood oxygen, activity, sleep, stress, phone calls, music, camera remote, weather, breathing, voice assistant, stopwatch, timer, alarm, flashlight, find my phone, and settings.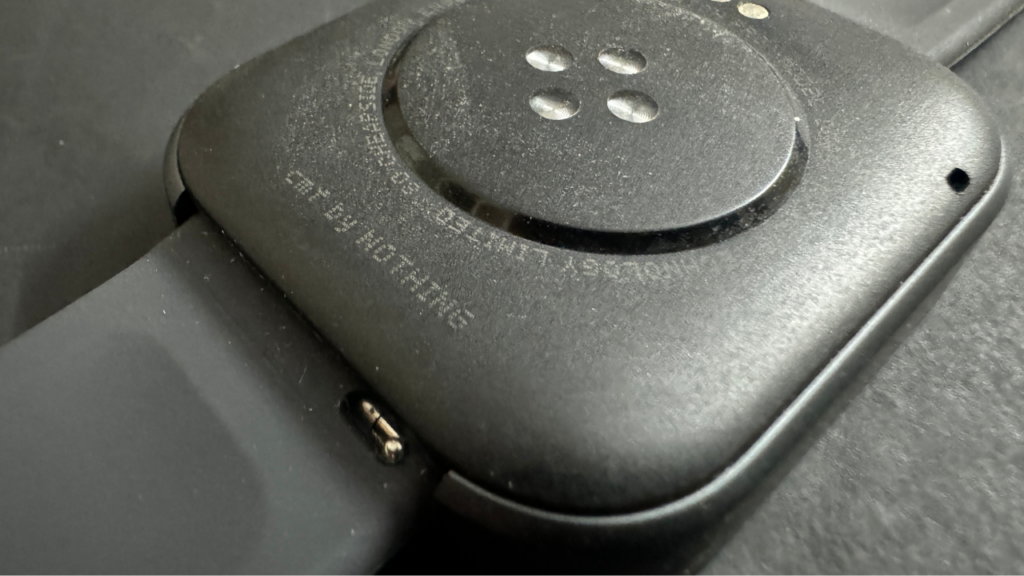 A Visual Treat
The CMF by Nothing Watch Pro boasts a 1.96-inch 58Hz AMOLED display with a Resolution of 410 x 502 and a peak brightness of 600 nits. It also offers an always-on display feature that allows for customization. While it does have bezels encircling it, they are consistent and do not detract from its aesthetic appeal.
The screen brightness is exceptional, ensuring readability even in direct sunlight. Touch responsiveness is robust, and the user interface is fluid, enhancing the visual experience.
However, it's worth noting that the smartwatch is available in only one size, which may feel bulky on individuals with smaller wrists.
Seamless Software Experience
One of the standout attributes of the CMF by Nothing Watch Pro is its software. While it shares similarities with other budget smartwatches, the software delivers a remarkably smooth and polished user experience.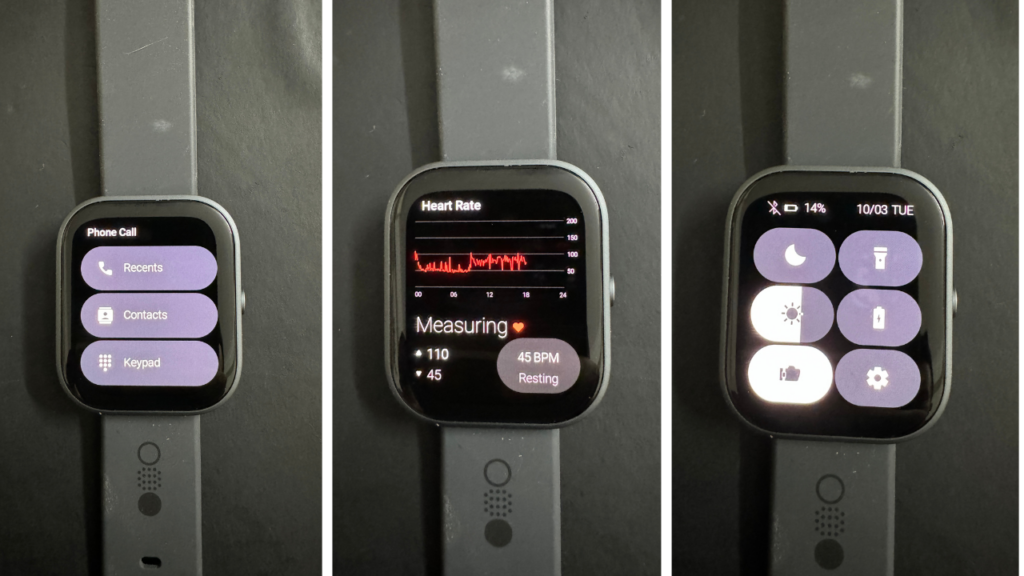 The smartwatch's software interface on smartwatch is distinguished by its cleanliness and smooth operation, imparting a premium feel to the overall user experience. Nonetheless, it lacks an auto-brightness sensor, necessitating manual brightness adjustments. Users may find the inability to expand workout or sleep data on the watch itself somewhat inconvenient, as it requires the use of a separate application.
One more thing, you can't expand the text on the watch you can only see who messaged you, but for some reason, you won't able to see more details.
To access quick settings on the Watch Pro, simply swipe down from the top of the screen. This menu offers a variety of useful options, including Night mode, Flashlight, Brightness adjustment, Power saver, raise to wake toggle and settings.
Swiping left from the home screen reveals different widgets, such as activity, heart rate, weather, sleep, and phone calls. Additionally, the watch features music controls that allow you to play, pause, skip tracks, and adjust volume when listening to music or watching videos on your connected phone. You can even control your phone's camera from the watch.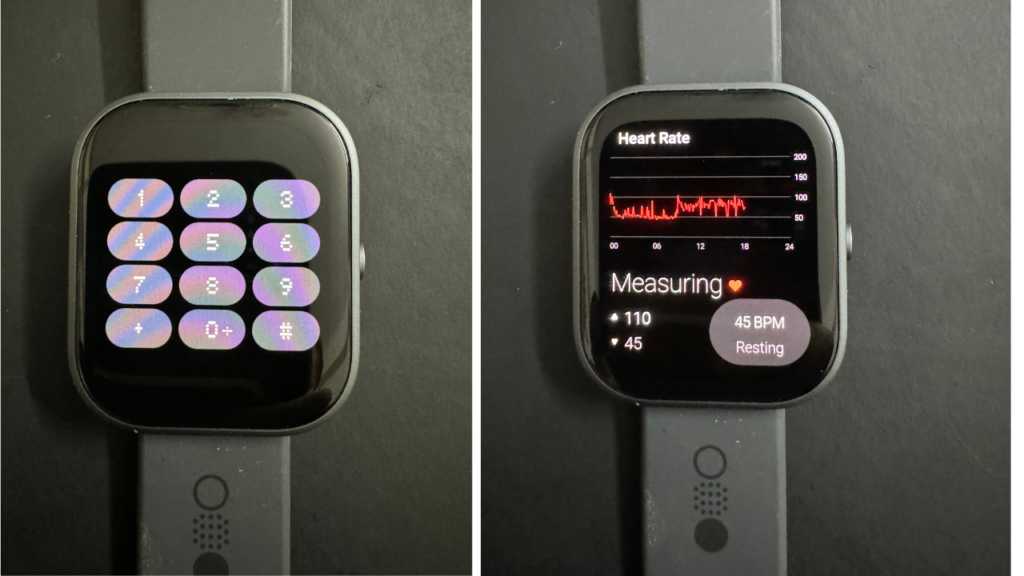 Also, during my usage, I felt the GPS was taking a bit longer to lock the position, and a few times, I had to wait for some time to start my walk after switching on the GPS.
App Interface
The CMF Watch Pro uses the CMF Watch app, available for both Android and iPhone. The health tab on the home screen displays all the important details, including steps, minutes, calories, distance, and tabs for exercise, stress, blood oxygen, heart rate, and sleep. The exercise tab allows you to launch workouts from the app, while the device tab shows battery life, watch faces, and more. The dial gallery offers a wide selection of unique watch faces that match Nothing's design language.
You can add up to 20 contacts to your watch for quick dialling, but unfortunately, there is no search option. Therefore, you would have to scroll through your contact list manually, which can be tedious if you have many contacts. However, the watch does not display the names of incoming callers even if they are in your contacts and you've granted contact permissions.
You can also manage your sports list, toggle 24/7 heart rate or blood oxygen monitoring, and enable auto-stress monitoring. Additionally, you can receive notifications for any App or incoming calls, set up reminders to stand up or drink water, and even set alarms.
Accuracy and Health Monitoring
The CMF by Nothing Watch Pro incorporates built-in GPS, heart rate monitoring, sleep tracking, SpO2 monitoring, step counting, and support for 110 sports modes. While it is important to acknowledge that budget smartwatches may not deliver medical-grade precision, this device yields reasonably accurate data.
Sleep tracking displays core sleep, deep sleep, awake time, and REM sleep. However, there may be issues if you wake up in the middle of the night and go back to sleep, as the tracking may only calculate data from when you fell asleep again.
Bluetooth Calling
The CMF by Nothing Watch Pro offers standard Bluetooth calling functionality, featuring one microphone and one speaker. While it facilitates the activation of voice assistants like Siri or Google, it does not fully address background noise concerns often encountered in crowded settings. Nonetheless, call quality remains satisfactory in quieter environments.
When your watch is connected to your smartphone, you can make, receive, and end calls from it.
Battery Life
Equipped with a 340mAh battery, the smartwatch is purported to last up to around 10 days, according to CMF by Nothing's claims. Real-world usage, however, reveals variations based on individual usage patterns. Without intensive features like Bluetooth calling and continuous heart rate tracking, it can provide between 9 to 10 days of battery life. Activating these features will reduce battery life to an estimated 2 to 3 days. While results may differ among users, they are expected to align closely with the figures observed here. It will take 2.5 hours for CMF by Nothing Watch Pro to charge completely from 0%.