Asus can be considered as one of those few brands who has a vast portfolio of computing devices ranging from budget-centric laptops to high-end gaming PCs and it is one of those few who was able to capitalise a new class of computing devices known as the 2-in-1s. The 2-in-1 devices, which is a perfect combination of tablet and laptop, become a rage after Microsoft introduced its latest Windows 10 operating systems. Asus did launch some interesting 2-in-1's in the past and now the company has come up with its hybrid laptop offering known as Asus ZenBook Flip UX360CA. The laptop comes with a 360-degree rotatable touch screen coupled with some interesting internals at a price point of Rs 59,990. But will it be able to prove to be a worthy 2-in-1? Let's find out.
Design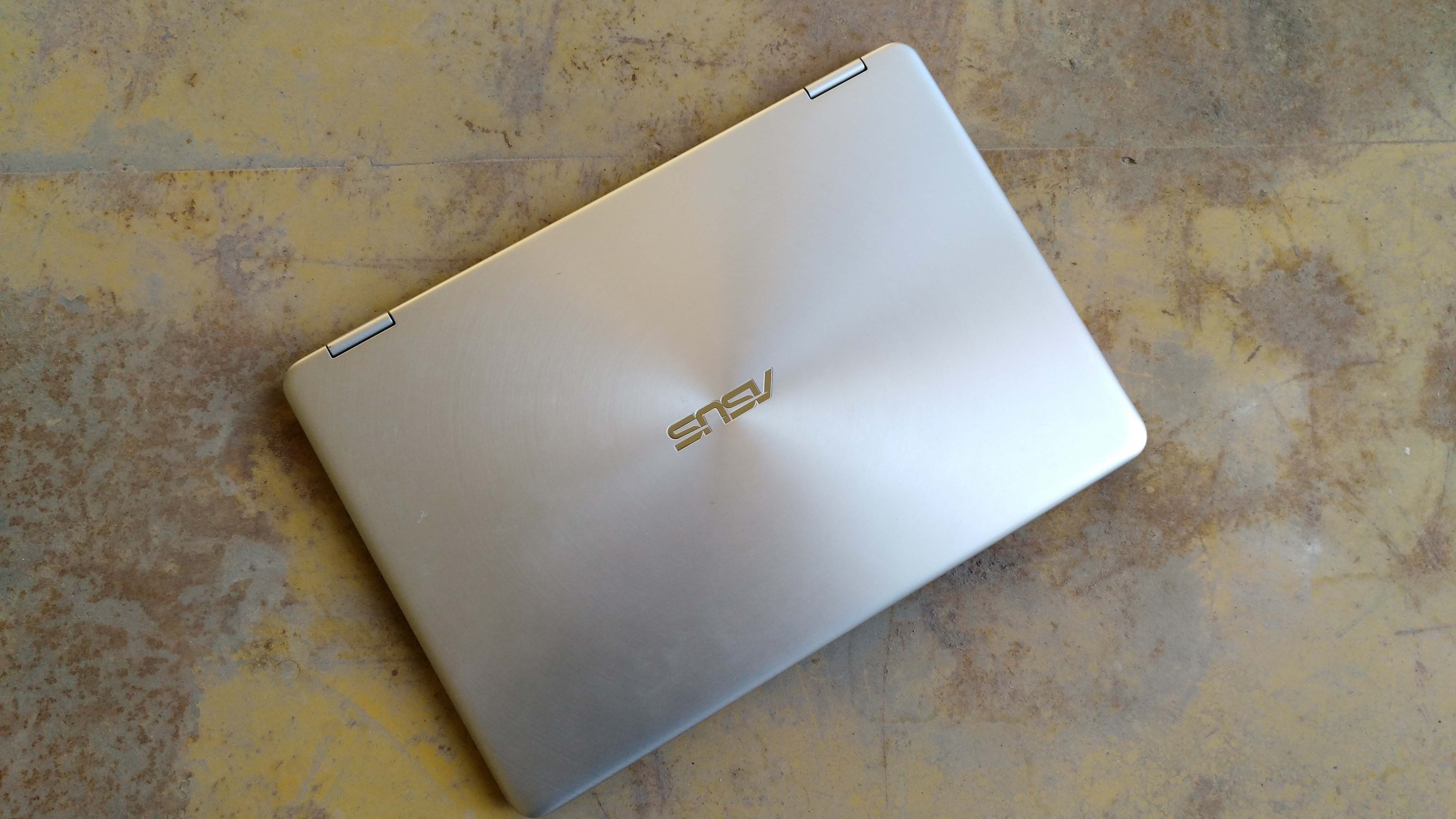 With the advent of 2-in-1s in the market, the form factor of the hybrids become thinner and lighter and this one is no exception. We got the champagne gold variant for review and it, indeed, gave a premium look from all angles. The laptop gives a tough fight to the MacBook Air with its 13.9mm thickness and 1.3 kg weight. The sheer light weights and thickness makes it a highly portable device and gives a very slick look.
The star of the show is the touchscreen display with a 360-degree rotatable hinge. Like any 2-in-1 device, the laptop can be used as a tablet when you flip the metal lid around and one can also use it different orientation including a tent mode, which makes it convenient to watch a movie while laying back on a bed or while travelling.
The device is crafted from aluminium and dons company's trademarked concentric circles around the logo that sits right at the centre. On the left, you will find power on/off button, volume rocker, status LEDs, SD card slot and a single USB 3.0 port. Moving on the right of the device, there is headphone jack coupled with micro HDMI, USB Type-C, USB 3.0 and DC power input ports.
The base of the laptop is attached with a hinge which comes with good build quality and is able to hold the screen and makes the transaction from the laptop and tablet mode quite smooth. But one might find the edges to be a bit sharp and this gets noticed when you use in tablet orientation. Also, using the laptop during the tablet mode was a bit uncomfortable at the starting, but don't worry you will get used to it. Overall, the laptop scores some good marks in the design department.
Display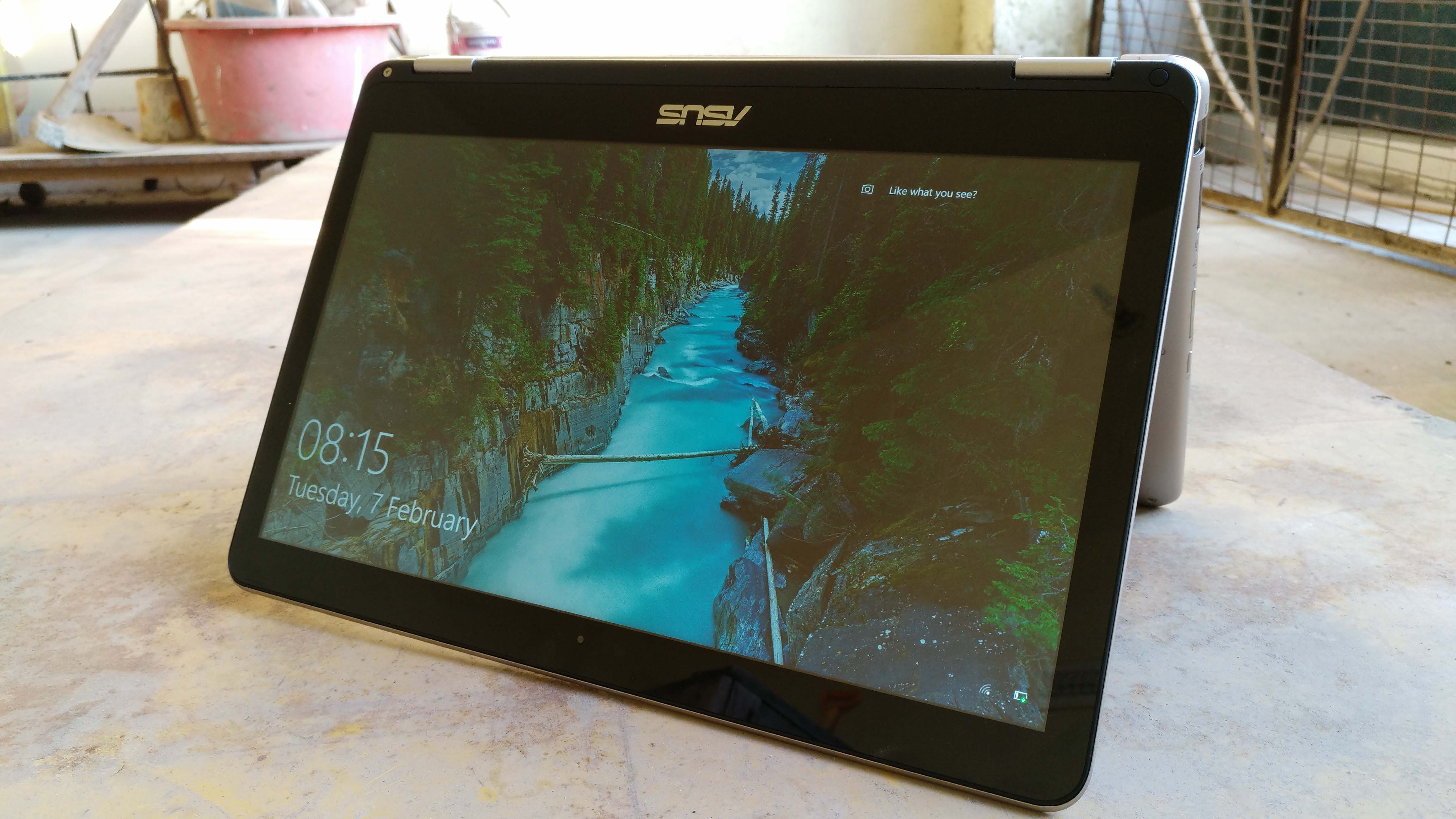 On the display front, the ZenBook Flip 13.3inch LED backlit Full HD display with a screen resolution of 1920×1080 pixels. When you put a full HD screen under a 13.3-inch screen, you get a display which produces vivid colours. That's what Asus has done with this notebook. Whether watching movies or using indoors, the display performance is pretty good and you get rich colours coupled with some strong contrast and deep blacks, though I feel the display has a bit warmer tint, which sometime oversaturate colours. The device also has some good viewing angles. But what is its biggest drawback is the reflectiveness of the display.
The display is highly reflective in nature and even in some modest light conditions, one is able to see the room around his/her back quite easily, which is seriously a distracting thing. Things get worse when you use in bright light conditions, where even if you hit the brightness level to the full, you will find it difficult to read things on the display and you might have to adjust a bit here and there to get a proper view. That said, if you are ready to avoid this, then the overall display performance is good for a 13-inch laptop-cum-tablet.
Keyboard and Trackpad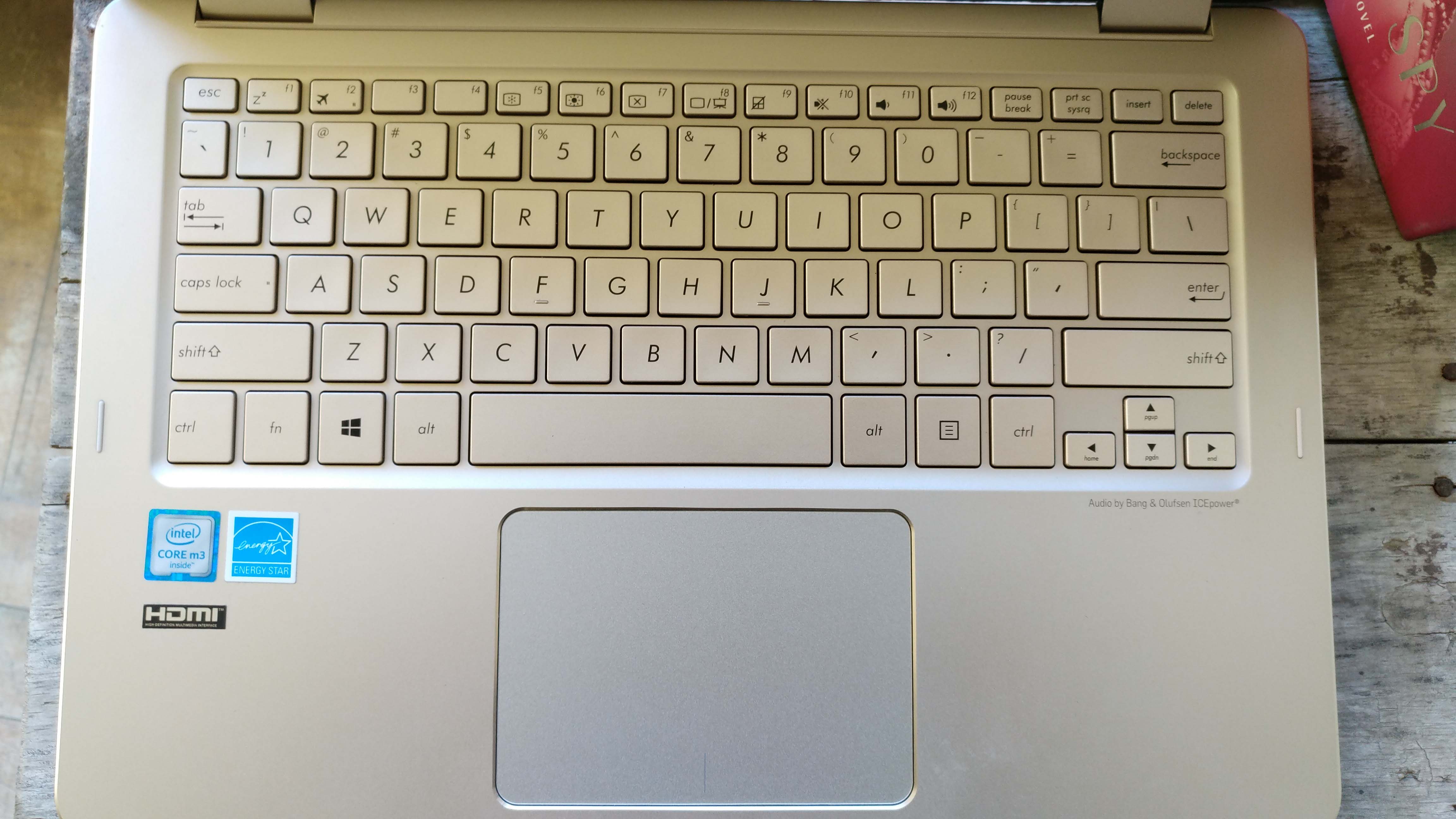 The keyboard used in the ZenBook Flip is of respectable quality. The keys are well spaced and are of good size, which is a welcome move. You plenty of travel on each key. But there are few issues with the keyboard. To start with, the keyboard is itself a bit spongy at the centre and whenever you press the centre keys, the keyboard tends to bend inwards, which is really a bad thing for a laptop. This also affects the typing experience at some point in time when you typing real fast and apply some pressure on the keyboard, which in turns becomes spongy thus spoiling the mood. The keyboard is not backlit in nature as well, which hinders the usage in low-light conditions.
But that said, the trackpad is of good quality. Asus has a history of many some spongy trackpad in the past, but it seems that the company has finally taken the cue and has finally addressed this problem. This combined with the touchscreen, gives a delightful experience for navigation, though I feel that the button clicks at the bottom could have been better. But overall the performance of the trackpad is quite satisfactory.
Performance and Software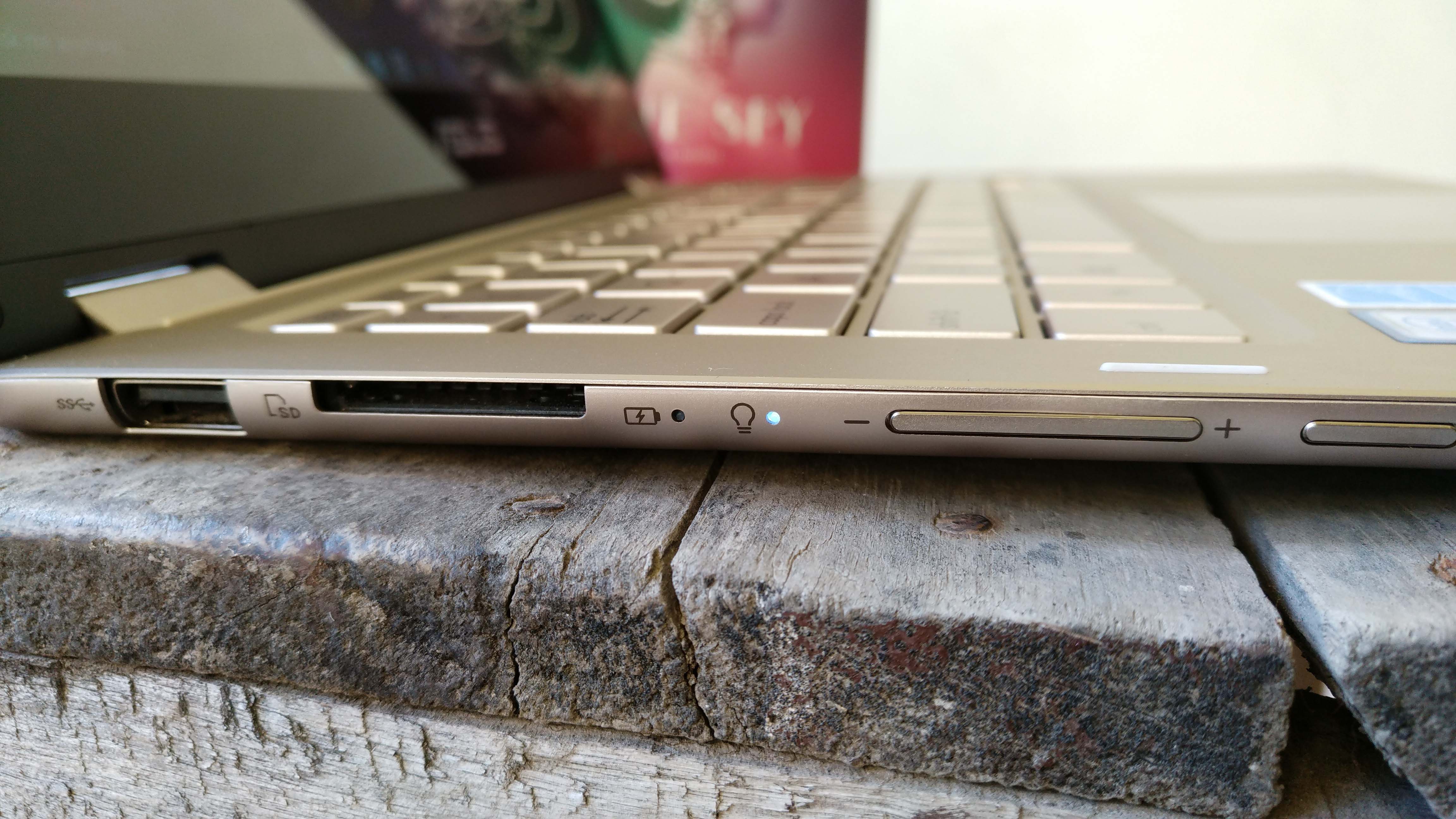 The ZenBook Flip is powered by a sixth-generation Intel Core m3-6Y30 'Skylake' processor (4M Cache, up to 2.2 GHz) coupled with an integrated Intel HD Graphics 515. The laptop is backed by a 4 GB RAM and 512GB GB SSD storage options. At a time when competitors are offering an Intel Core i3 or i5 at similar price point, Asus is stuck with Core m processor. But that said, the device is able to handle all the tasks we throw at it.
Whether it be word processing, web surfing or video playback, the device is fast. Even if you open multiple tabs and program and do some basic Photoshop, the processor is able to handle all this without breaking a sweat. But mind you, the device is not meant for some high-end gaming but it can handle some titles pretty well. The company has opted for a passive cooling system to make the device sleeker, but I think the system is not quite effective as the base of the laptop gets warm when you use it for a quite a long time or doing some work while charging, but this is not at an alarming rate.
On the software front, the device comes loaded with latest Windows 10 Home. Though I faced no problem in the software department while using it in laptop mode as apps were quick to open and multitasking was a seamless experience with this one. But all hell broke lose when you try to switch to tablet mode. If you switch from tablet to laptop or vice versa quite frequently, then the system crashes down and you see the blue screen, which you might never want to see. For this, I think part hardware and part software is to be blamed. But overall, the performance of the device is pretty decent.
Battery and Connectivity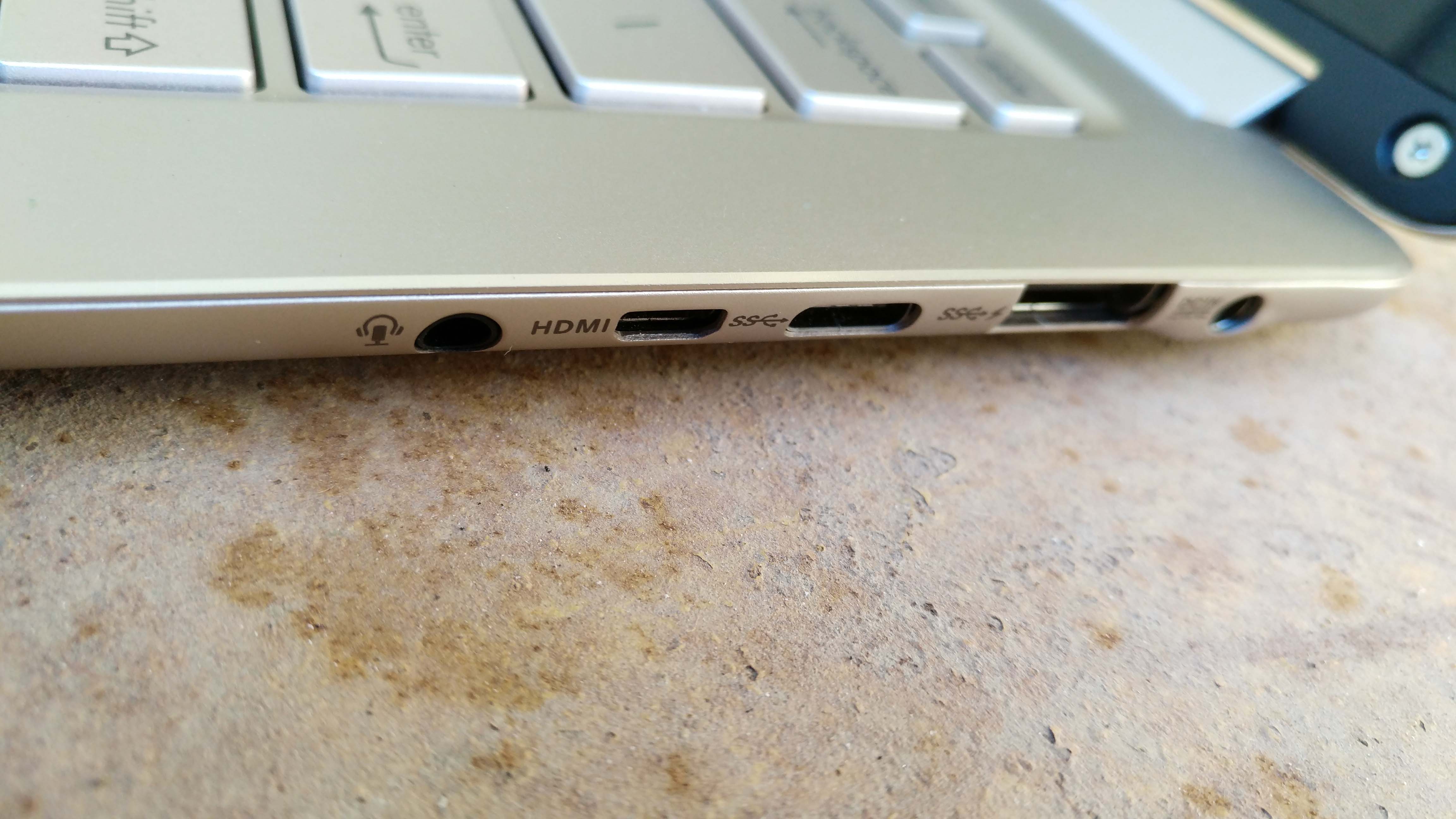 The Asus ZenBook Flip is backed by 3 Cells 54 Whrs Polymer battery. Though the processor might be less powerful, but it is indeed very power efficient. This along with strong battery backup gives a longer battery life, which is a welcome move. During the testing period, the device gave around 7 to 8 hours of battery backup with some heavy use which is impressive provided its sheer sleek form factor. With normal use, one can get a battery support of full day and a little extra till you reach home.
On the connectivity front, the laptop supports ports like one USB 3.1 Type C port, USB-C Gen 1 port, one micro HDMI port, one SD card reader and one AC adapter plug. The laptop also offers Wi-Fi 802.11 AC and Bluetooth v4.1. The device offers some of the standard connectivity ports and for camera lovers, it is a good thing as it comes with full SD card slot.