Most of the Android smartphones today come with capacitive touchscreen based on screen keypads only, which makes it difficult for users to type irrespective of the screen size and touchscreen quality.
However, users can make use of several apps like the Touchpal keyboard for faster typing on their Android smartphones.
The Touchpal keyboard App can be used in place of the default Android keyboard.
Upon installation, the application will appear in the devices' app space. Users can click on the application icon to tweak the settings or personalise the experience as well. The app is slightly on the heavier side with 5 MB worth of data download but you will not regret it as it is worth every bit of data it downloads.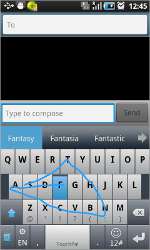 Upon installation, it can be accessed by long pressing the default keyboard to change the input settings or by accessing the input option from the settings menu. The Touchpal keypad looks quite similar to the default keypad except a few additional buttons that crams up the keyboard a wee bit more and reducing the space bar size.
One of the best features of this application is the inclusion of the Swype type feature. The Touchpal keyboard for Android has one of the best and the most accurate Swype input engines that require the users to not to be so careful while typing allowing them to enjoy what they do.
Along with the Swype based input, the keyboard also presents word suggestions as you slide your finger on the keys. The keyboard suggests words to the users with the minimum possible input characters and the company claims that this technology allows users to save up to 80 per cent of typing. Well not exactly 80 per cent but yes the word suggestions are accurate and quite impressive with least possible keystrokes.


The standard multitap keypad is also there in this keyboard app. There are dedicated keys to control Swype input, Dictionary prediction and even the language control key is present. Basically, this keyboard requires the least amount of efforts to do any changes in settings as most of the options are present on the main screen and even if you need to access the settings there is a key for that as well.
For devices running Android version 2.3 and above, this keypad also supports voice recognition. But it does not use any localised voice recognition engine and makes use of the Android system only to make this happen. So people with perfect accent are most welcome to use this feature anytime.
With so much features and advancements, this application rather utility is a must have for Android smartphone users.
The application is available free of cost to early adopters till October 31 and can be downloaded from the Android Market.