Tetris is one of the most popular puzzle games of the last three decades. It was designed and programmed by a Russian computer engineer, Alexey Pajitnov, back in June 1984.
After being made available through several platforms, Electronic Arts released the free and paid version of the Tetris game (in colour) for the Android 1.6 or higher update running handsets. The free version of Tetris can be downloaded from Android Market.
Tetris is a puzzle game that requires arranging the four blocks on the playing field to create a horizontal line of ten blocks without gaps. Each shape comprising of four blocks are known as Tetromino, a geometric shape. There are seven Tetrominoes which keep coming at a random order and the player is required to arrange them at the bottom of the playing field to create a horizontal line of gapless ten blocks.
Sounding as easy as any other puzzle game, Tetris has certain challenges involved though. Unlike the handheld Gameboys of the 1990s, the Tetris game for Android supports gestures, making it tad difficult. Gesture controls are the two edged swords and at times bit abysmal.
The player is supposed to perform certain specific gestures for required output. For instance, tapping on the screen will rotate the dropping Tetromino in the playing field. Slide down gesture will make it drop at the bottom.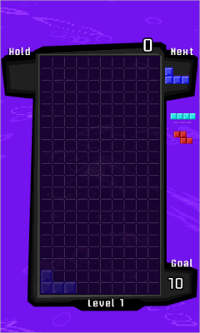 One good feature of this game is the Ghost PC feature in the Options that shows how exactly the Tetromino will appear at the bottom of the playing field, almost like the preview of how each shape can appear when dropped. Users can make the best of this feature and practice to improve the game. Also if you think the upcoming Tetromino doesn't fit with those already in the playing field, then you can tap in the Hold box for pulling that one aside.
The free version of Tetris comes with 15 levels with different gravity speeds. Jumping directly to the level 15 and attempting to play it will certainly kick back your confidence a bit. That's clearly because one needs to tweak and tune the gestures to respond accordingly with the gravity of the Tetrominoes.
Folks looking for a good puzzle game for killing time and also some brain exercise, should certainly try out Tetris. Our only complaint with Electronic Arts would be the full screen ads which are quite irritating to be honest. There should've been an option to use optical buttons as controls instead of gestures.
You can always buy the Tetris full version for Rs 155.99 from the Android Market to get rid of the Ads.