Relying on the meter of an auto or taxi is not really the best thing to do with so much tampering happening these days. There are, however, many applications available for smartphones today that can help one calculate the right fare.
Here is one such application, named Suruk which is quite different for its ability to share the conduct of the driver with other users so that they stay away from a rude driver. Here is our experience with the app.
Let's get straight to the apps look &#151 it has a very simple screen that displays three options and a power button. In the options include Price, Distance Travelled and Time.
The menu options are also very straight forward with just four primary options of Find route', Driver conduct, Settings and About.
Find route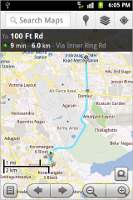 The find route opens a screen where you need to key-in the details of your journey – starting point and destination. The app utilises the Google Map already installed in your Android phone, and gives you the best possible route (whatever Google map suggests). So there is no surprise here. The user interface (UI) apart from the first screen is a Google Map UI and all the Android users will be familiar with that.
Driver Conduct
This is a unique feature of this app, it lets you share the drivers (Auto or Taxi) conduct the last time you travelled. So the next time someone is traveling in the same taxi, he/she can find out how has been the drivers conduct.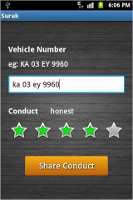 The sharing is also very simple, just enter the taxi's registration number (e.g DL 9S Z 1234) and select the number of stars that you want to give. The number of stars mean the following thing 1=Rude, 2=Greedy, 3=Satisfactory, 4=Honest, 5=Helpful.
While it is indeed a very simple way to let others know of one drivers' conduct, an extra box for specific comment could have been better. This feature alone means that if more and more people start using this app, there would be a good data base to rely on especially for women. This will also become a deterrent for drivers against misbehaviour as it might affect their business.
Settings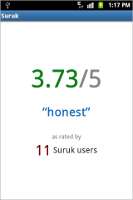 In settings you can change the fare structure. For example, in Delhi, auto rickshaw charges start at Rs 10 for the first Kilometre (minimum fare tab) and per kilometre charges are Rs 6.5, so you just need to key in these details for this app to work properly.
By simply selecting the city, it will give you the tariff however re-check it as it might not be the same as the existing structure in the city.
About
This talks about the developer, you can send a feed back to the developer through this tab if you have any suggestions or complaints.
Verdict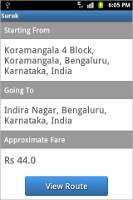 I do not know the meaning of Suruk, and I think most people would have the same thought. So chances of people remembering the name becomes bleak and a more common name would have been better, well that's just a suggestion. But that does not mean there is anything wrong with the name of the app.
Apart from the name, there is nothing that I can suggest to be changed. The application is very simple and the best aspect of it is that it's free. It is designed to perform a task which it does well and that makes it a must download. You can also contribute to better and safer public transport through this app. Share the conduct every time you travel in an auto or taxi this will help users including yourself a lot.
Apart from the Android market the app is also available at Nokia Ovi Store, GetJar and Aircel PocketApps store.