The Right to Information Act was enacted by the Parliament of India in the year 2005. Under this act, an Indian citizen enjoys the right to seek information and ask questions to public authorities, take copies of relevant documents, inspect government documents as well as works, and take samples of material used in any government work.
At times, however, getting information out of government functionaries seems an arduous task and it becomes more difficult if one does not know the right procedure.
RTI India, a forum of strong over 2.3 lakh users, thus provides a platform to guide others. It has recently released an Android App to extend the aid to the Android smartphone users as well.
The RTI India App isn't some fancy looking application with a great user experience to be honest but it certainly serves the purpose &#151 provide information.
RTI India app for Android is an attempt to mash-up the Forum style with social networking features. For instance, the navigation and appearance is like a vBulletin based website but one can post photos, add friends, and other things with one's profile.
First time users need to create an account with the RTI India while the registered users simply need to login and get started with the app.
Pressing the Menu button will reveal three core sections/features of the app which include &#151 Forums, Articles and Blogs. Along with, other social features are clubbed which include &#151 Messages, Notifications, My Profile, Friends and Photos.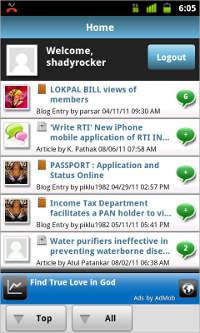 Before moving ahead, we would like to plead that not everyone in the forum would be great at vocabulary, spellings and English. The objective of this app is to share the right information and pass on the correct process to procure information from govt.
The app is quite responsive even on EDGE/GPRS data connections. Green comment count, depicted by speech bubbles, takes one directly to the comments.
While majority of the information is in textual form, several administrators of the forum and comments love sharing URLs which are not clickable at times. That can be a bit frustrating.
Most importantly, there is a dedicated section for new users who wish to learn everything about the format of an RTI letter. Apart from that loads of information about States as well as Central government regulations is being provided and shared every day via forums, articles, blogs and even comments.
RTI India app for Android is quite a helpful app for those willing to explore and educate oneself about everything from applying for passport to format of RTI letter need to try out this application for Android smartphones. The same application is also available for iOS users as Write RTI app.