Ragdoll Blaster 2 game is developed by BlackFlip Studios, who gave us games like Paper Toss and NinJump. The action packed physics puzzle game is the sequel to the heavily addictive and enjoyable game &#151 Ragdoll Blaster. Users are supposed to solve a puzzle by simply firing a Ragdoll from the cannon towards the puzzle pieces that are presented in the machinist style.
Apple App Store is full of all different kind of puzzle games and there is not dearth of puzzle games over the web as well. Ragdoll Blaster 2 stands out with more of mechanical looking puzzles where user needs to shoot a Ragdoll via cannon to hit the target through different obstacles.
Involving lightweight target-based shooting, the Ragdoll starts off with a tutorial that will give you a fair idea on what you may expect from the game. The game comes with over 150 different levels which will challenge you to score as less as possible because this is one of those games where less is more.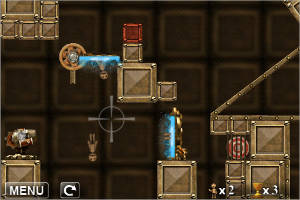 Ragdolls have a character of their own – they moan and at times talk when fired over the boxes, bombs, springs and wheels. The game also packs couple of physics themed deviations that include contraptions, gravity effects and teleporter switches.
This game comes with some replay value as initially one feels the rush of playing through all the levels and then play the game all over again to master the aim. Different metal themed scoreboard certainly will keep the competitively inclined folks in a place to stay abreast with their performance.
At times, the game gets frustrating if you are playing it in public places or while people around you as slightest loss of concentration will cost you an extra shot.
Ragdoll Blaster 2 is quite an addictive puzzle shooter for those who wish to kill time between meetings or just take a break from work.