There are many image editing applications on Android. PicSay is one such app which helps users to insert words, props and titles in the pictures taken by their Android smartphones.
One can also make changes to the image by making colour corrections, distorting the images or highlighting whatever he wants. Users can also share edited images with their friends and family through blog, email or through different photo sharing websites on the Internet.
The newcomers may or may not get used to the app initially, but who have played around a little bit with it can easily use the app to make changes in the images. Those who don't know how to use the app, can access help menu of the app in a mobile browser.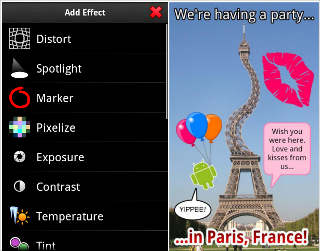 The other features in PicSay include auto rotation of the image from portrait to the landscape mode, and this happens very easily, they just need to rotate the phone, that's all.
Through the word balloon, users can write some text within a thought cloud. There are some Photoshop like features as well which allow good quality photo manipulation on an Android phone. The same PicSay image creations can be easily set as the wallpaper of the phone and saved to the SD card as well.
The interface of the app is easy to use, and the menu can be optimised for the finger or the thumb use as well. To add an image, users need to tap on the picture where they want to place the object such as a thought balloon, and users can also change a single part of the graphic.