When it comes to VoIP (Voice over Internet Protocol) solutions, there are countless developers out there to lure customers. But this market can be broken down into two types of developers &#151 the fresher trying to maximise features as per users' demands and those who actually work on features to make users happy.
Nimbuzz belongs to the second category of service providers and has made its own place.
Recently, the Nimbuzz application for iOS devices got video calling support over 3G and WiFi, which is a big relief to many users as the native Facetime application on Apple devices does not allow users to connect to other users over 3G. We tested video calling for the new Nimbuzz and were very satisfied..
Video transmission over WiFi is smooth and there is no lag between audio and the video being displayed on the other device. The video compression technology allows the application to adjust video quality according to the data source, thus resulting in a smoother video chat experience every time a call is connected.
Video transmission and reception on the other device is not instantaneous but the mere one second lag between the initiation of video calling and reception is definitely superb considering there are no charges associated with it.
Along with free peer to peer calling between iOS devices, the Nimbuzz application also allows users to connect to other phones over 3G networks and for that, users can buy credits from either the Nimbuzz store or via any VoIP service.
Regular text based chatting is also possible with Nimbuzz, and what's better than a single application that manages and connects to various chat services?
Nimbuzz has also recently introduced Bots, which is the short for 'robots'. These robots are electronic assistants. For example, the shopping bot can help users get local shopping tips and offers. For this all the user needs to do is ask bot for details.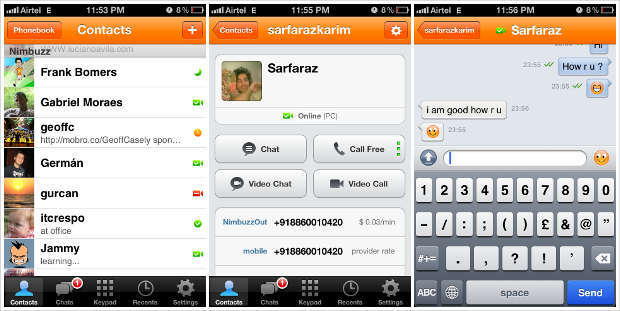 Nimbuzz also offers social gaming on the messenger platform. Players can compete with others from their friends circle and even with people outside it.
All in all, the updated application brings a plethora of features for free and that too without any annoying advertisements. Some of the major highlights of this update include the new video chat functionality which will soon be coming to other devices and platforms as well. Also, Nimbuzz can be used to call other video chat services like GTalk and Yahoo using the same hardware on your iOS device, which makes it a must have application.
This application requires an iOS 4.0+ device and above. You can download the Nimbuzz application on your Apple device manually or can also visit the iTunes Store to do so.
Alternatively, follow this link.
This game is available for iOS, Android and even PCs. You can check out the developer website for more details. www.nimbuzz.com.