How many times it happened to you &#151 you tried to remember something and you can't. One possible solution for this is that keep a writing pad and jot down the information you want. Sure, if it's a picture or an audio clip, you may need a drawing pad and an audio recorder respectively.
Alternatively, install the Evernote app in your Android smartphone. With Evernote, you can create notes which can be simple text or a picture or an audio voice and even a video or a mix of all while saving it to a place from where it is difficult to be lost.
Notes created on Evernote automatically get saved on the cloud which in turn can be accessed anytime later on any computer or a mobile phone using their internet connection.
Evernote for Android is the exact replica and not just a striped down version of the service that is available for PCs. It offers the same functionality that the web version of this service offers.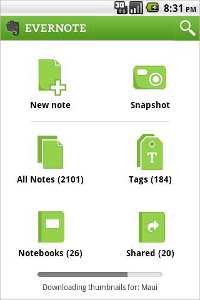 The interface of the application is somewhat inspired by the PC application of the Evernote service. The opening page gives easy and quick access to creating new notes and accessing older notes, notebooks and even the tag on which the notes are tagged. This tagging for the notes can easily be done manually or even automatically done by the service itself.
The Evernote application for Android also allows the users to create notes and tag the location of the note using the smartphones' GPS capabilities.
Overall the Android based application provides an easy and intuitive way of accessing the notes while adding a whole lot of freedom and mobility to the Evernote service.
The Evernote application is available free of cost and can be downloaded and installed on any smartphone with Android v 1.5 and above. The service is available in two different variants. The free variant of the Evernote app offers all the functionality mentioned above and makes sense for all the users who want to make notes and keep them for later use.
But for more advanced users, the paid version of the Evernote service is suitable which will cost $45 or Rs 2,000 approximately for a year. The paid version provides up to 1GB storage space every month along with access to almost any file type including Doc, PPT, and Exl. The files can be accessed using any device (mobile or a computer). The file size restriction of a note also goes up to 50 MB for the paid version from 25MB of free variant.