Out of all gaming genres, Indians love arcade style racing on their mobile phones. Whether it is sophisticated F1 race or a street race, every such game gets equal love.
The new Drag Racing Free is an amazing and addictive racing game that offers more than 50 real cars. However, it's not just about different realistic looking cars but it is also about upgrades and several opponents that challenge your skills in every race. Every millisecond is crucial in the race and this game will make you realise that.
Drag Racing Free offers four self-explanatory menu options – Race, Garage , Settings and Stats. The Race starts off with Level 1 and offers three basic modes – Race offline, Race Online and Pro League. Out of these three basic game modes, if player chooses Race Offline then the opponent can be chosen to be a Beginner, Amateur, Pro or Boss (super expert). For every race won, there is a fixed amount of cash awarded. On beating the Boss in the offline race mode, one gets 10 Respect points as well.

The basic object of offline racing is to get familiar with the gameplay and also practice the timing to be as accurate as possible. Gameplay involves getting a good start and timing the gear shifts perfectly. During the race, even an indicator shows up in the middle of the screen to hint the gear shift required. Also the indicator offers colours to give appropriate boost like the Green gives massive speed boost while blue gives a mediocre bump and red just slows you down.

By default, the game offers over 50 different popular car models to choose from and it also includes the Hennessey Venom GT (1200 bhp). Player can also take a test drive (in game, of course) of the car before hitting the purchase button. The game has been designed in such a way that that the better upgrade you get for your car, tougher the competitor becomes. That keeps things competitive.

At this moment, the game suffers from Tuning bug. So if you are going through Garage, then set the filter to My Cars by tapping all the other boxes to appear silver. Then if you tap on upgrade and choose any other option to tune your car, the app will keep showing you same error. So just skip that at this moment.

Unlocking achievements gets extra cash to purchase the in-game cards and also earning extra reputation points. So the game is simple – win races to earn cash and reputation points. Upgrade your car to win more races against competitive opponents.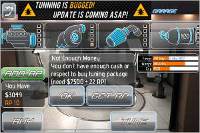 Though the game looks like simple racing one, it does have gripping element of constant competition and rewarding the efforts applied.
Over an hour's time, this game becomes really addictive and challenging at the same time.
Drag Racing Free is available for free for the iOS 3.0 or higher running iOS devices from Apple App Store.