Dolphin Browser HD for Android received a massive update days ago that brought along couple of interesting features. As a third party browser, Dolphin Browser HD already offered pack of options that would make mobile web browsing easier. Most of the features present in this browser are already offered in desktop web browsers. Do not confuse the Dolphin Browser HD with the Dolphin Mini version that is a bare bones version of mobile web browser for pre Android Donut devices.
Dolphin Browser HD for the Android devices measures a measly 2.8MB for the stand alone browser. This mobile browser also supports add-ons just like the ones Firefox for Android supports. These add-ons weigh in some kilobytes and can be quickly added from the Dolphin Browser HD itself or from the Android Market.
On loading it for the first time, Dolphin Browser HD will give you a feeling as if you are using a mobile version of Google Chrome. Swiping the page from left to right gives Bookmarks Panel along with Quick Access Drawer.
Multi-touch support:
Meant for all medium to large screen Android handsets, the Dolphin Browser HD supports multi-touch that is quite helpful for pinch-to- zoom function, with two fingers, for zooming on to a text or picture. Quite a nifty feature especially when the web pages have loads of text. Also it's quite handy to narrow down and choose between multiple links on a single web page.
Smart Address Bar: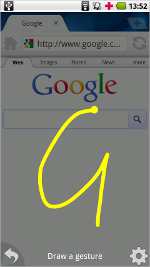 Dolphin Browser HD boasts of a smart Address Bar that autocompletes the URL based on the popularity of the website, user's browsing and bookmarks history. This is quite a handy feature for one doesn't have to type out entire URL and go to the respective page quickly.
Multiple Tabs:
Unlike other native browsers or third-party browsers, there is no browser tab limit for the Dolphin Browser HD. Of course, the more browser tabs you keep running, the more resources they are bound to consume. But considering there is no limit to that, one can easy multi-task between different tabs.
Gestures:
In a way, Gestures is one of the most eye candy as well as useful feature of this mobile web browser. For instance, if you are travelling in a bus or train, it becomes annoying to type out entire URL. Instead, you can make use of the pre-loaded Gestures or add custom Gestures to open up a URL quickly.
For instance, drawing G using fingertip on the mobile screen will load the www.google.com page on the Dolphin Browser tab. This could be further customised the way you want it.
Not only one can add number of Gestures for the web-pages but one can also customise the location of the Gesture panel loader icon. This feature can be pretty useful for the users who consume loads of mobile web content and also save up some tap strokes on the touchscreen.
Webzine: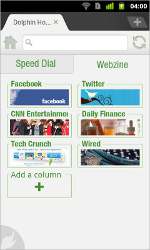 Dolphin Browser HD 6.0 offers a unique viewing interface by arranging the text and thumbnails in form of a stack that gives a neater and cleaner representation of the web pages which also becomes easy to consume for anyone. On choosing the Webzine interface, the web pages get arranged in a cleaner display and then users can press/hold on a particular box-like tab to visit that particular page.
Quite nifty view especially for the RSS enthusiasts as it provides enough snapshot of the text with image. Being said that, users can customise any website or blog into a Webzine.
Add-Ons:
Several Firefox and Chrome browser users simply rely on the nifty add-ons that make browsing experience smoother and quicker. Dolphin offers over 50 different add-ons like AdBlock, Password Manager, Google Translate and so on. One can simply swipe the browser window to left and top on the Side Bar to get more Add-ons. Alternatively, hunt for some in the Android Market itself.
Some Add-ons are simply useful like Read It Later and MyPDF addon which converts any web-page to PDF. There's also bit of fun with Shiny Shake add-on that enables jumping between browser tabs by merely shaking your phone.
Misc: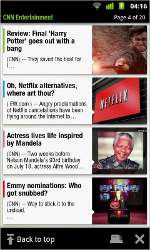 The native interface of the Dolphin Browser HD can be changed by downloading and adding themes to make it suit your visual tastes. Apart from that, it allows importing bookmarks from your native Android browser as well. Also it allows exporting the bookmarks list to the SD card.
Just like several other desktop browsers, it offers a Speed Dial where one can anchor shortcut links to favourite websites. While most Android mobile phones come with minimal possible phone storage, the Dolphin Browser considers that and offers an option to save the Cache on the SD card.
The handsets volume button keys can be mapped to scroll within the web page or switch between the tabs.
Conclusion:
Dolphin Browser HD is really smooth, fast and quick mobile browser that promises an intuitive and engaging mobile web experience. It not only consumes minimal resources when left idle but also works smoothly even when more than four applications are running in the background. In the Settings, there are loads of options to customise the browsing experience are in the offing. Do note that the app experience will be purely dependent on the custom settings chosen.
For those who want an intuitive and more engaging experience while browsing the mobile web, should certainly give a shot to Dolphin Browser HD.