With so many applications available today for the Android platform, users tend to download as many as they could on their devices. This sometime seriously affects device's performance.
So should you change your usage pattern? Well not exactly, all you need is the Netquin Android Booster Free application installed on your device. The application takes care of devices' performance by optimising it as per user's need.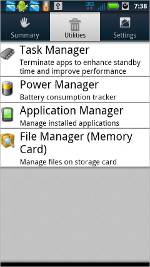 The application comes from a reputed brand (Netquin) and has been recognised across the globe as one of the best performance booster application.
Netquin Android Booster Free has the simplest possible user interface which allows users to get used to this application within the shortest possible time. The app also comes with a widget for the device which can be placed on the home screen and accessed from time to time to keep your device performing optimally.
The application download size is 1 MB only, hence costs less to the users. Also, due to applications' small size, it gets installed easily and fast on the device.
The Android Booster Free is an all in one Android system optimisation tool that helps the user maintain the optimum performance of the device. It also features battery saving features and task manager capabilities, all rolled in to one simple to use application.
One of the best features of this application is the inclusion of the bandwidth manager. The bandwidth manager is a small utility of this application that monitors the bandwidth or data usage of the device and helps users keep a tab on their data consumption as well. Users can use this feature as it is or they can also input their monthly allowance in the application and the application will prompt them when they will be nearing completion.
The utility is available free of cost and requires Android version 2.1 and above. The application can be downloaded directly from the Android Marketplace or alternatively user can also follow the link to download it.