Google Android, conceived by Andy Rubin and Rich Miner, has really taken the world by surprise. In just a couple of years, it has surpassed the sales of Symbian and Windows Mobile phones.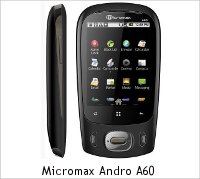 Today there is an Android model in almost every level of smartphone in the market–be it a basic smartphone or the most complex one available. Here we have the top five Android phones currently available in India at less than Rs 10,000.
Micromax Andro A60 (Rs 6,800) (Android V2.1)
Rightfully named 'My First Android', Micromax Andro A60 is the most economical Android smartphone in India. The phone is unique in terms of both features and looks.
Its shape, which is thick at the top and slimmer at the bottom, is easy to grip. Hardware consists of a 600 MHz processor and 150 MB of internal storage or RAM.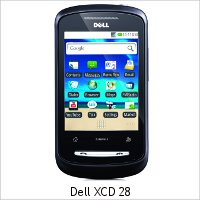 Connectivity is standard in this dual band phone, which uses Wifi, Bluetooth and HSPA networks. The on-board memory can be expanded up to 8 GB. The phone's 2.8 inch restive touch display with standard 280 x 320 pixel resolution is somewhat small. The device has a decent 3.1 mega pixel camera.
Dell XCD 28 (Rs 7,500) (Android V2.1)
Dell XCD 28 is the second most pocket friendly Android phone available in India. One reason to buy this phone is for its dedicated graphics engine.
Other features include a standard 2.8 inch resistive touchscreen, 256 MB each of RAM and ROM, and 200 MB of internal storage.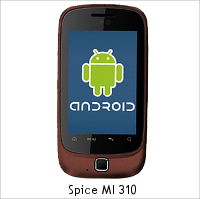 Dell XCD is bundled with a 2 GB memory card, which is expandable up to 8 GB. Surprisingly this is a quad band phone and features HSPA data access along with Wifi and Bluetooth wireless connectivity.
Spice MI 310 (Rs 9,000) (Android V2.2)
This is the only phone that features big surprises at a low price point. It has a big 3.2 inch display with a sufficiently high resolution of 320 x 480 pixels. And it features an optical trackpad, something that is otherwise unavailable for less than Rs 10,000.
Another highlight of this phone is the inclusion of Froyo or Android 2.2, which is welcome at this price.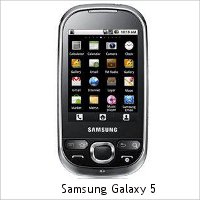 The processor is a 600 MHz chipset. Another very good feature of Spice MI300 is its Wifi hotspot functionality. With 3G, users will be able to use this as a pocket Wifi router to connect laptop and other Wifi enabled devices to the internet.
Samsung Galaxy 5 (Rs 9,300) (Android V2.1)
Before Spice MI 310 came into the picture, Samsung Galaxy 5 was the only smartphone with a capacitive touchscreen. The phone has a 600 MHz processor along with 170 MB of internal memory or RAM, a 2 mega pixel camera and HSPA capabilities, along with Wifi and Bluetooth connectivity.
The device has a 16 GB memory card slot. However, it is advisable to use at most an 8 GB card for smoother operation.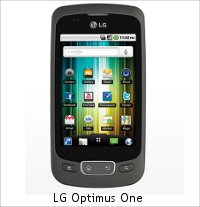 LG Optimus One (Rs 10,000) (Android V2.2)
Finally Optimus One — which made its way to the top five list by a very slim margin. Featuring Android V2.2 (upgradable to 2.3), Optimus One stands tall among the phones in the list, with the only competitor being the less famous Spice MI 310.
Hardware remains standard in this device, which has a 600 MHz processor, but it also has a dedicated graphics engine, similar to Dell XCD28.
Faster performance is expected as Optimus One features 512 MB of RAM and supports up to 32 GB of card memory. But with all other hardware constant, the more storage is added, that much slower does performance get. Unlike the Spice phone, Optimus One features a 3.2 inch display, but it is a resistive screen.